Vietnam News Today (Mar. 28): Vietnam's Retail Market Proves Attractive for Foreign Investors
Vietnam News Today (Mar. 28): Vietnam named among world's Top 5 destinations to visit this summer; Vietnam's retail market proves attractive for foreign investors; Big race for investment in e-commerce logistics; Vietnam targets to have 5 urban cities of international standards by 2045.
Vietnam News Today (Mar. 28) notable headlines
Vietnam named among world's Top 5 destinations to visit this summer
Vietnam's retail market proves attractive for foreign investors
Big race for investment in e-commerce logistics
Vietnam targets to have 5 urban cities of international standards by 2045
Hanoi looks to build trademarks for OCOP products
International Friendship Exchange – Spring 2023 held in Lao Cai
Vietnam wins 17 prizes at International Robothon 2023
Hanoi striving to preserve, promote national treasures
Hue summer festival 2023 opens with colourful carnival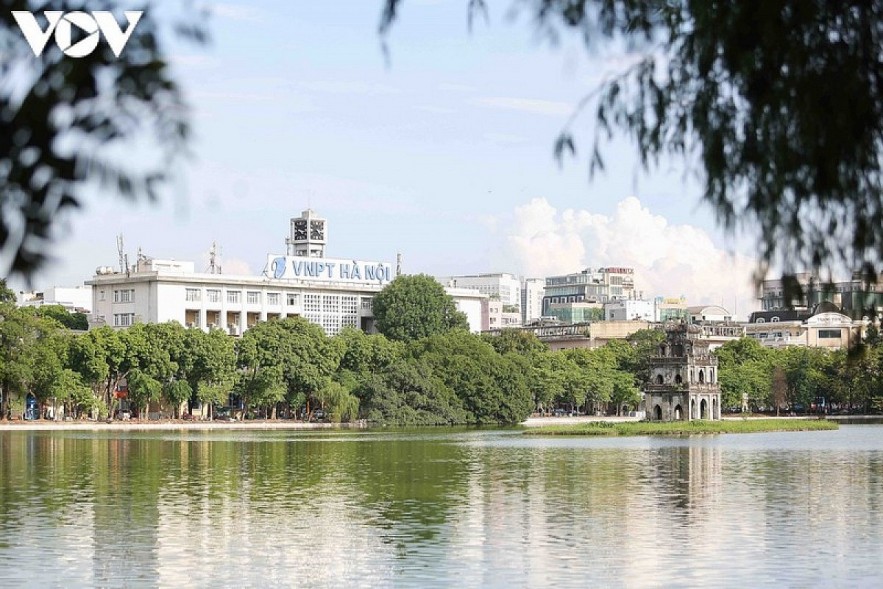 Hoan Kiem Lake is one of the famous tourist attractions in Hanoi. Photo: VOV
Vietnam named among world's Top 5 destinations to visit this summer
UK travel magazine Expedia has listed the nation among its Top 5 international destinations that visitors should visit this summer.
According to information given by the UK outlet, Vietnam represents one of the countries that saw a significant hike in terms of searches and bookings for the summer.
The capital city of Hanoi reached a search and book rate of up to 298%, while Da Nang and Ho Chi Minh City were at 439% and 219%, respectively.
Expedia noted that these searches prove that there is more to the world than stereotypical destinations that people tend to visit every year.
"Hanoi is the country's capital and is known as its art capital. You can find some of the city's most exciting architecture and centuries-old culture," the magazine revealed.
Rounding off the list of the Top 5 is Japan, New Zealand, Italy, and France.
Vietnam's retail market proves attractive for foreign investors
Vietnam is becoming an attractive retail market for companies all over the world with many regional and global FDI investors recently announcing plans to increase capital and expand distribution networks here.
According to the Ministry of Industry and Trade, the Vietnamese retail market is worth 142 billion USD and is expected to increase nearly 2.5 times to 350 billion USD by 2025.
In January, total retail sales of consumer goods and services decreased by 6% on-month to more than 481.8 trillion VND (20.4 billion USD) due to weaker demand as many commodities were purchased ahead of the Lunar New Year. People spent more on festival activities post Tet, said the General Statistics Office.
However, it still rose 13% year-on-year.
For the first two months of the year, the country's total retail sales of consumer goods and services advanced 13% over the same period of 2022 to over 994.1 trillion VND.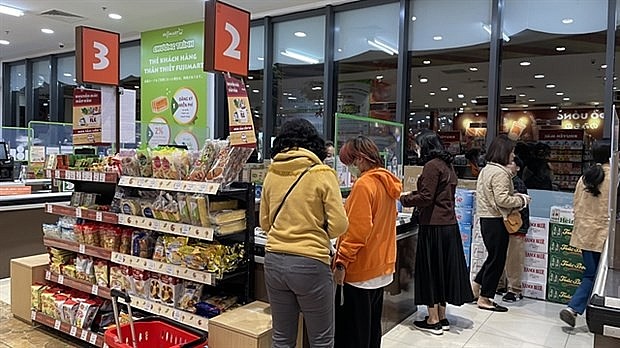 People shop at a supermarket in Hanoi. (Photo: VNA)
With stable and positive growth, the Vietnamese retail market has always been appreciated by foreign enterprises.
Thailand's Central Retail Corporation (CRC) has recently announced a capital increase of 1.45 billion USD in Vietnam. This is the largest investment ever announced by CRC with the goal of doubling the number of stores to 600 in 57 of 63 provinces. In 2023, the company spent more than 4.1 trillion VND in the market, focusing on developing essential foods businesses, stabilising prices, and restructuring electronic stores.
Vietnam is the market, besides Thailand, that brings the largest revenue for the group, about 21-22% of total revenue. Last year, the number was 25%, said Olivier Langlet, CEO of Central Retail Vietnam.
One of the biggest Japanese retail companies, Aeon Co., Ltd is also accelerating the opening of shopping malls in the country to nearly three times to about 16 by 2025, focusing on the food segment, according to VNA.
Last month, Aeon Mall in Hue city was constructed on an area of 8.62 hectares, with a total investment capital of about 169 million USD. This is the biggest complex of trade centres and services in the region.
FDI is one of the important elements to help Vietnam transform itself into one of the most open economies in the region and grow quickly, according to a representative of HSBC Vietnam. Currently, regional and global FDI investors or multinational corporations contribute to more than 80% of total export turnover from Vietnam and about 25% of domestic investment value.
Research from HSBC showed that, by 2030, the Vietnamese domestic consumer market will outstrip Thailand, the UK and Germany.
"In 2023, we will see some multinational corporations in Asia showing their interest in Vietnam, engaging in retail, semiconductors, electronics, mobile components, plastic, renewable energy, and logistics industries. They are looking for ways to expand or make new investments in Vietnam," said the representative.
Big race for investment in e-commerce logistics
A steep increase in online sales has put pressure on the logistics system, thereby triggering the race to invest in Vietnamese e-commerce logistics, according to details given by insiders.
In terms of e-commerce, the logistics system plays the role of the end-to-end connection of the entire supply chain system, whilst an effective logistics system represents the "key" to increase customer's shopping experience.
However, in a recently published e-commerce report it was pointed out that current logistics costs in e-commerce remain still quite high.
Accordingly, logistical costs for retail businesses account for a large proportion of the cost, ranging from 10% to 20%.
In relation to logistical costs, transportation costs have the highest contribution rate, hovering between 60% and 80%, in addition to other costs such as loading and unloading, storage, and order division.
For logistics costs, transportation costs have the highest contribution rate, ranging from 60% to 80%, along with other costs such as loading and unloading, storage, and order division.
Furthermore, the nation's e-commerce market is in the process of growing rapidly, with the number of daily transactions of e-commerce sites reaching tens of thousands of orders, requiring an increased logistics system for the industry as a whole.
Realising the great potential of the market, many businesses have actively invested in opening modern transit centres in accordance with e-commerce standards.
As part of this race, foreign brands such as BEST Express, J&T Express, Lazada, and Shopee are dominating, VOV reported.
These businesses tend to increase their investment in logistics by applying advanced technologies such as machine learning, artificial intelligence (AI), Internet of Things (IoT), and blockchain as a means of optimising logistics operations.
These technologies are then duly applied with a focus on improving accuracy, reducing the time and cost of the transportation, warehouse management, and distribution processes, thereby improving operational cost efficiency while simultaneously ensuring service quality remains high.
Furthermore, firms are also expanding their search for reliable logistics partners, investing in infrastructure and high-quality human resources in order to ensure smooth and efficient logistics operations.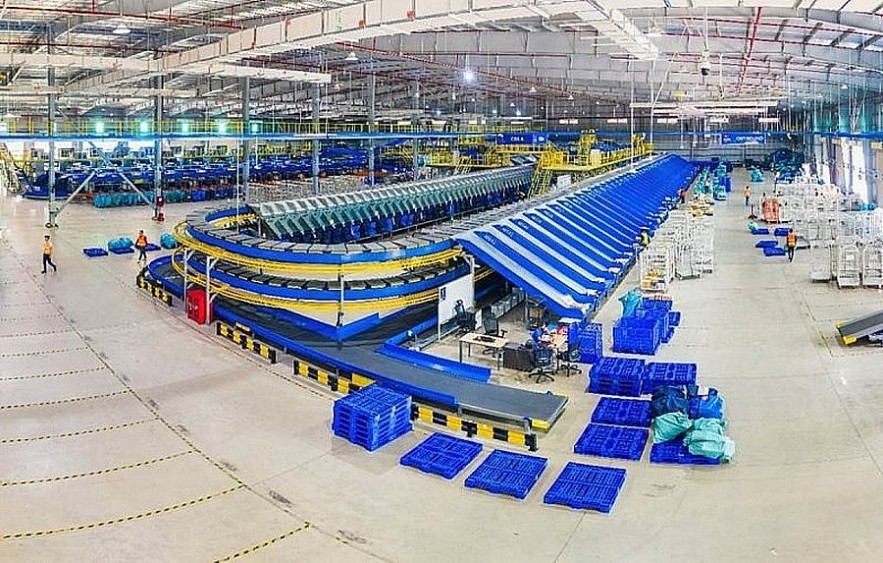 E-commerce logistics segment is attractive to local businesses (Photo: congthuong.vn)
For example, BEST Express currently has 42 large and small automatic sorting centres nationwide which greatly helps to shorten intercity transportation time.
In which, two classification points in Cu Chi in Ho Chi Minh City and Tu Son in Bac Ninh province have the second largest scale of BEST Inc. throughout all of Southeast Asia.
The total area of warehouse that BEST Express is exploiting has therefore increased to more than 100 hectares.
"The construction of 42 centers across the country helps the company significantly shorten the time of handling and transshipment of goods. The enhanced sorting capacity helps us to deliver goods to customers faster and more complete, especially during peak shopping periods," a representative of BEST Express said.
According to Vu Duc Thinh, logistics director of Lazada Vietnam, this new sorting centre is not only a breakthrough as part of the development process of Lazada Logistics, but also marks an important step forward in terms of the country's commercial logistics industry in general.
"With the new sorting center, we aim to bring our customers the best online shopping experience and convenience, with the fastest and most reliable delivery. We believe that with these efforts, Lazada Logistics will actively contribute to building a sustainable e-commerce logistics ecosystem, setting new standards and further promoting the overall development of the industry," Thinh shared.
In addition to Lazada, Shopee has also invested in three centres in Vietnam. According to a representative of Shopee, these facilities are located in strategic locations to ensure 24-hour circulation of goods.
Moreover, they also invest in modern technology at centres to classify each type of goods, such as cooling warehouses and high-value goods storage.
Vietnam targets to have 5 urban cities of international standards by 2045
The country should have a high level of urbanization comparable to ASEAN and Asia by 2045.
Vietnam aims to have at least five cities of international caliber to serve as locomotives for regional and international development networks by 2045, according to an action plan released by the Ministry of Construction (MoC) recently.
Under the action plan, the ministry will execute two resolutions, one by Politburo and the other by the Government, on the sustainable development, management, and construction of urban areas in Vietnam by 2030 with a vision for 2045.
The country plans to build a high level of urbanization comparable to ASEAN and Asia by 2045. The urban system would be integrated, balanced, and sensitive to climate change, natural disasters, and epidemics, while promoting environmental protection and distinctively modern architecture with green and smart elements, according to the action plan.
Other key targets include a national urbanization rate of at least 45% by 2025 and more than 50% by 2030. In addition, the ratio of urban construction land to the total natural land area is expected to reach about 1.5 to 1.9% by 2025 and 1.9 to 2.3% by 2030.
In addition, the MoC expects about 950 to 1,000 urban centers to be established across the country by 2025, and 1,000 to 1,200 by 2030. By 2025, all existing and new urban centers must have master plans, land use plans, programs for urban renovation, beautification, reconstruction, and development, and meet the criteria for urban classification, especially in terms of health care, education, training, and cultural infrastructure.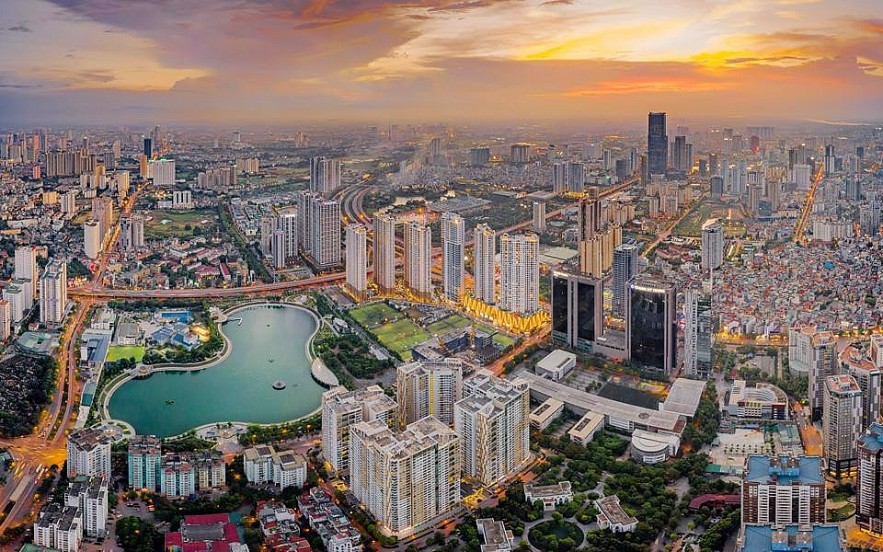 Hanoi from above. Photo: Huu Thang
By 2030, Vietnam should have several national and regional urban centers that meet urban-level targets for health, education, training, and culture equivalent to the average of the four leading ASEAN countries, cited Hanoitimes.
The MoC also set a target for the ratio of transportation land to urban construction land to be about 11 to 16% by 2025 and 16 to 26 percent by 2030. The average green area per urban resident should be 6-8m2 in 2025 and 8-10m2 in 2030. In addition, the average urban dwelling is expected to have a minimum of 28 sqm in 2025 and 32 sqm in 2030.
Urbanization rate in Hanoi to reach 75% by 2030
Consistent with the overall urban development plan of the Ministry of Construction, Hanoi has set ambitious targets to raise its urbanization rate to around 60 to 62% by 2025 and to 65 to 75% by 2030. To achieve this, the city's Party Committee has issued an action program in line with Politburo Decision No. 06-NQ/TW, which aims to plan, build, manage, and sustainably develop urban areas in Vietnam to 2030 and beyond, with a vision for 2045.
The city aims to increase the urban construction area to 30% of the total natural land area by 2025 and to 33-36% by 2030. By 2025, Hanoi will have completed all district planning, satellite city zoning plans, functional area construction zoning plans, and detailed plans for the renovation and reconstruction of old apartment buildings, as well as a program for renovation, beautification, reconstruction, and urban development in the city. In addition, the city aims to establish a complete system of regulations related to planning and architectural management.
The Party Committee of Hanoi emphasizes the importance of long-term, integrated, and modern urban planning that prioritizes the well-being and quality of life of citizens, as well as urban culture and civilization, to lay the foundation for development. The city intends to improve the legal system by contributing to the revision of the Capital Law and the implementation of mechanisms and policies to promote sustainable urban development that leads to rapid and effective economic growth.
To mobilize the resources of the city and society, the Party Committee encourages economic sectors, especially the private sector, to invest in urban development, while strictly dealing with any violations of urban planning, construction, management, and development laws.
Higher quality in planning management is a key factor
To achieve Vietnam's urban development goals, the MoC has outlined a comprehensive plan consisting of five task groups and 25 specific solutions.
The first task group aims to establish a unified understanding and action for planning, building, managing, and sustainable urban development in Vietnam.
To meet the requirements of sustainable urban development, the second task group focuses on improving the quality of planning and management. Specific solutions include innovative urban planning methods and approaches for upcoming major plans, including the construction plan for the Hanoi Capital Region and the urban and rural planning system for the period 2021-2030.
The third group of tasks aims to promote investment in modern, interconnected urban infrastructure systems that are adaptable to climate change. The goal is to have at least 100 cities with perfect, smart, low-carbon, climate-resilient urban infrastructure.
The MoC also aims to oversee the renovation and reconstruction of old apartment buildings, the construction of social housing for low-income people, and the implementation of the National Housing Development Strategy.
The fourth task group is to develop human resources for urban development to meet the growing demand for urban management and development.
The fifth task group will be the development of mechanisms, policies, and legal documents in support of urban development. The focus of this group will be on the drafting of laws on urban and rural planning, management and development, housing, real estate business, water supply and drainage, and underground space management regulations.
Hanoi looks to build trademarks for OCOP products
Relevant departments and sectors of Hanoi have paid special heed to promoting trade promotion activities for products of the One Commune One Product (OCOP) programme, with the goal of building trademarks for such products and increasing consumers' awareness of them.
According to the municipal Department of Industry and Trade, Hanoi leads the country in OCOP products, with nearly 1,700 ranked products from 426 enterprises, cooperatives, and business households in the capital. As many as 80 showrooms for introducing and selling OCOP products have been established in districts and towns, helping widely promote products to consumers and tourists.
Acting Director of the municipal Department of Industry and Trade Tran Thi Phuong Lan said the agency has coordinated with the city's Centre for Investment, Trade and Tourism Promotion and the municipal Department of Agriculture and Rural Development to organise activities to introduce agricultural products of not only Hanoi but also other localities.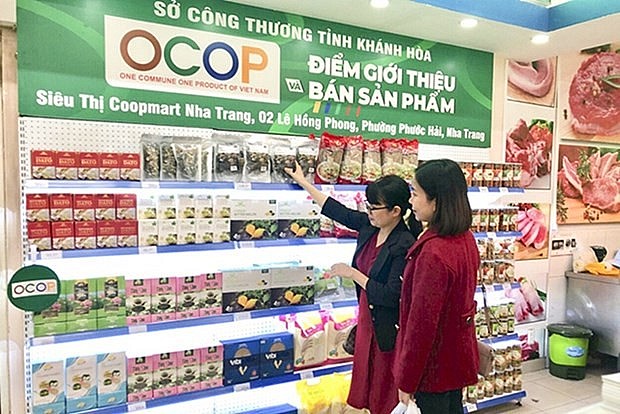 Illustrative image (Photo: nongnghiep.vn)
A series of programmes such as fruit and farm produce festivals, trade and agriculture promotion fairs, and programmes to introduce OCOP products and specialties were organised in 2022, contributing to promoting the products to locals as well as tourists, she said.
OCOP products have established their position in Hanoi's clean food market and become more popular among consumers, said Nguyen Thi Hoi, Director of Phu Thien Tan Food Co., Ltd.
The city plans to build five pilot centres for the design, innovation and promotion of OCOP products in combination with tourism development in Gia Lam, Thuong Tin, Phu Xuyen and Chuong My districts, and Son Tay town.
According to Vice Director of the municipal Centre for Investment, Trade and Tourism Promotion Nguyen Thi Mai Anh, it is necessary to promote the sale of OCOP products through e-commerce platforms, online sales channels, and direct interactive sales (livestream).
The centre has coordinated with the Ministry of Industry and Trade's E-commerce and Digital Economy Agency to deploy a programme to help farmers sell OCOP products on major e-commerce platforms such as Tiki, Lazada, Sendo, she said.
Hanoi has recognised more than 2,140 OCOP products with more than 800 active trade villages, helping to boost economic development in rural areas while generating jobs for local labourers, VNA reported.
The city aims to have an additional 2,000 OCOP products rated three stars and above by 2025.
The OCOP programme, initiated by the MARD in 2008, is based on Japan's "One Village, One Product" programme and Thailand's "One Tambon, One Product". It is an economic development programme for rural areas and also to help implement the national target programme on new-style rural area building.
OCOP products are made based on the combination of local resources, traditional culture, and advanced technology. The programme looks to provide farmers with a chance to come together to form cooperatives, enabling them to create goods with higher quality and better design and packaging that meet higher standards and market demand.