Vietnam News Today (Mar. 29): Vietnam to Issue E-visa to Foreigners of All Countries
Vietnam News Today (Mar. 29): Vietnam to issue e-visa to foreigners of all countries; Vietnam, China beef up defence ties; Outbound tours prove popular during April holiday; Vietnam International Travel Mart 2023 to spotlight cultural tourism.
Vietnam News Today (Mar. 29) notable headlines
Vietnam to issue e-visa to foreigners of all countries
Vietnam, China beef up defence ties
Outbound tours prove popular during April holiday
Vietnam International Travel Mart 2023 to spotlight cultural tourism
Vietnam warns against downgrading COVID-19 status due to risk of new variants
VUFO hosts chiefs of Vietnamese representative offices abroad
Largest French cuisine festival in Vietnam comes to Hanoi in April
Vietnam targets 100% of Internet subscribers using IPv6 service by 2025
Da Nang targets annual growth of 9.5-10% by 2030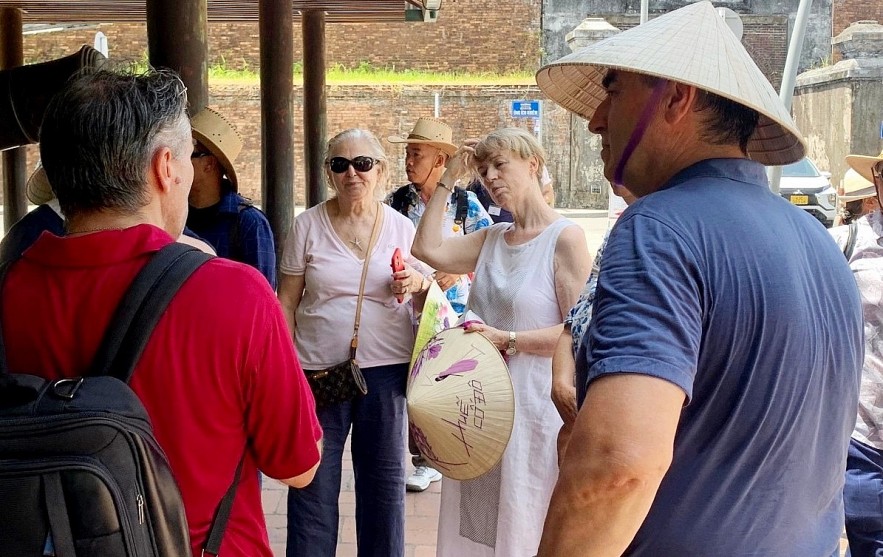 Vietnam is likely to issue an electronic visa (e-visa) to foreigners of all countries and territories across the globe.
Vietnam to issue e-visa to foreigners of all countries
Vietnam is likely to issue an electronic visa (e-visa) to foreigners of all countries and territories across the globe.
The agreement was reached by Government members at a working session in Hanoi on March 27, discussing the law-making programme.
The e-visa will be valid for one time or multiple times for a maximum of 90 days instead of 30 days at present.
The Government will decide on a specific list of countries and territories that allow e-visa issuing.
Vietnam is also likely to increase the time limit for granting a temporary residence card to people entering the country at border gates from 15 days to 45 days. This policy is only applied to passport holders that enjoy the unilateral visa exemption.
These proposals will be submitted to the National Assembly for consideration and approval at its fifth working session in May.
Currently, Vietnam has issued the e-visa to citizens of 80 countries and territories with a duration of no more than 30 days and only one-time entry, cited VOV.
The Ministry of Public Security earlier proposed that the Government revise the law on entry, exit, transit and residence of foreigners in Vietnam, in order to attract foreign visitors.
Last year, Vietnam received nearly 3.7 million foreign visitors, meeting only 70% of the set target.
In 2023, it aims to welcome 8 million international visitors, and experts believe the target will be within reach if the visa bottleneck is removed.
Vietnam, China beef up defence ties
Deputy Defence Minister Sen. Lieut. Gen. Hoang Xuan Chien hosted Chinese Defense Attaché to Vietnam Colonel Pan Tao in Hanoi on March 28.
At the meeting, Chien affirmed that the Vietnamese Party, Government and Ministry of National Defence always attach great importance to the comprehensive strategic cooperative partnership between the two countries, according to VNA.
At the event (Photo: VNA)
He noted that such relationship forms a premise to promote the expansion and deepening of the bilateral defence cooperation in line with the spirit of a joint statement on continuing to promote and deepen the Vietnam-China comprehensive strategic cooperative partnership issued on the occasion of Party General Secretary Nguyen Phu Trong's official visit to China last year.
Despite being affected by the COVID-19 epidemic, the bilateral defence ties have been actively maintained through flexible forms of exchange and contact, he told the Chinese attaché. Chien recommended the sides carry on with the promotion of such cooperation activities, especially delegation exchanges, and sign a number of documents serving their joint works in the field of navy and border guard.
The two sides should soon coordinate in preparing for and organising the 8th Vietnam-China border defence friendship exchange, he said.
Agreeing with Chien's suggestions, Pan said the Chinese Ministry of National Defense has identified cooperation activities with Vietnam in a cooperation plan and directed its relevant agencies to work with units under the Vietnamese ministry.
He informed his host that the Chinese ministry plans to invite Politburo member, Deputy Secretary of the Central Military Commission, and Minister of National Defence Gen. Phan Van Giang to pay an official visit to China on the occasion of the 2023 Xiangshan Forum.
Outbound tours prove popular during April holiday
Outbound tours to both Asia and Europe seem to be particularly interesting for Vietnamese travelers during the coming five-day break marking National Reunification Day (on April 30) and May Day (May 1).
Vietluxtour, a local travel company in Ho Chi Minh City, reports the number of bookings for outbound tours for the coming public holiday has risen by 40% to 45% compared to the same period last year.
Meanwhile, Travel agency TST Tourist's figures indicate that outbound tourists have outnumbered inbound tourists, with 61% of 2,000 guests booking tours for the break choosing tours overseas.
28-year-old Hai Nam of Ho Chi Minh City is pondering whether he should spend the holiday in Thua Thien-Hue province or the Republic of Korea. What worries him most is that during the public holiday, domestic tourist destinations tend to be overcrowded, whilst airfares, food, and room prices also increase, reported VOV.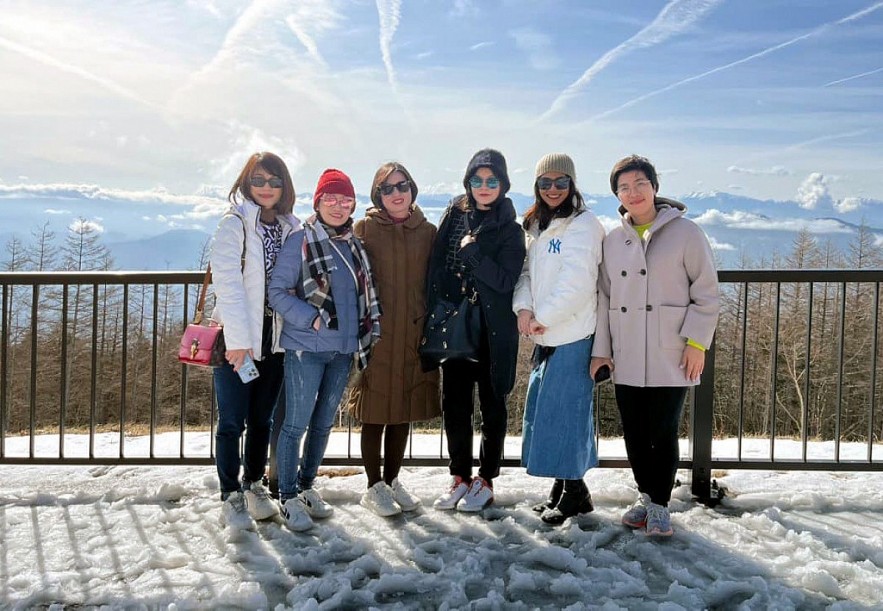 Japan is one of the favourite destinations for Vietnamese travelers. (Photo: Dream Travel)
Furthermore, the open-door policies of many foreign countries can be viewed as the main reason in attracting an increasing number of Vietnamese travelers during the holiday period.
Local people tend to choose to go to Northeast Asian or Southeast Asian countries as it is suitable for a five-day holiday, noted Tran Bao Thu, marketing director of Vietluxtour.
According to Agoda.com data, since 2022 Vietnamese tourists have been very fond of travelling abroad, with their top 10 holiday searches all relating to international destinations. Among them, popular destinations include Bangkok, Tokyo, Kuala Lumpur, Seoul, Osaka, Jakarta, Taipei, Hong Kong (China), and Pattaya.
Travelling abroad involves visa procedures, meaning customers often register early for travel agencies to prepare the process for them, although many companies have stopped accepting travelers seeking to go to the European or Japanese markets due to a time-consuming process for visa issuing.
There are therefore only a few routes in Southeast Asia such as Thailand, Singapore, and Malaysia which remain open to receive guests as no visa is required.
Vietnam International Travel Mart 2023 to spotlight cultural tourism
The Vietnam International Travel Mart (VITM) themed "Cultural tourism" will take place on April 13-16 at the Cultural Friendship Palace in Hanoi, featuring 450 pavilions from over 50 localities nationwide, and 15 countries and territories aroundthe world.
The event is expected to attract over 60,000 visitors, and representatives from 2,500 businesses, that are interested in seeking cooperation opportunities and partners, cited VNA.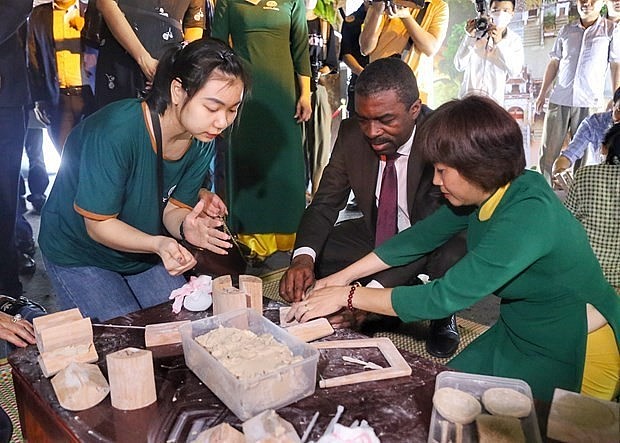 Tourists experience making clay arrows on the opening ceremony of the Hanoi Tourism Festival 2023 on March 24 (Photo: VNA)
Speaking at a press conference in Hanoi on March 28 to announce the event, Chairman of the Vietnam Tourism Association Vu The Binh said this year's event aims to encourage travel firms to invest in developing new tourism products through making the most of unique traditional culture and culture heritage values of Vietnam.
The difference in culture, customs, production activities, and daily life of 54 ethnic groups in Vietnam is always attractive to domestic and international tourists, Binh stressed, expressing his hope that VITM 2023 will help bring tourism into an important part of the cultural industry, thus contributing to preserving the value of Vietnamese cultural heritage.
Within the event's framework, a forum on Vietnamese cultural tourism development will be held on April 14, with the participation of local and international delegates.
Notably, a seminar on reducing plastic waste in the tourism industry will be also arranged, focusing on measures to promote sustainable tourism development associated with environmental protection.
Meanwhile, tourism promotion programmes will introduce attractive cultural tourism tours to in Taiwan (China), Nepal, and Indonesia; and cultural tourism attractions in Ninh Binh, Thanh Hoa, Nghe An and Ha Tinh and Thai Nguyen of Vietnam.
Domestic and international art troupes will also gather for music performance programmes held in the framework of the event.
Vietnam warns against downgrading COVID-19 status due to risk of new variants
The Ministry of Health has stated that while the COVID-19 situation is currently under control within the country, the risk of new, more dangerous variants emerging is too high to downgrade the status of the virus yet.
The representative from the ministry made this assertion when responding to questions regarding reports of the World Health Organization's (WHO) plans to downgrade COVID-19 from a public health emergency of international concern, which is the highest level of alert, to the same level of risk as the flu.
Vietnam has recorded over 11.5 million cases of coronavirus infections and 43,100 deaths, representing about 0.37 per cent of the total caseload.
Vietnam has not recorded any deaths from COVID-19 since the beginning of the year and many days pass without any new infections. The outbreak situation trending down both in numbers and geographical locations.
The ministry, however, pointed out that there are still new cases of COVID-19 scattered across the country and that there could appear virus variants that can spread faster or evade vaccines' immunity, leading to a spike in the number of infections, severe cases or deaths, and elevate the risk of an outbreak.
The Ministry of Health has developed a plan to ensure medical work if the COVID-19 pandemic has a more dangerous new variant, a strong outbreak on a large scale, exceeding the capacity of the health system that is ready to be deployed when needed.
The country will continue with the Government's Resolution No 38, issued on March 17, 2022, on the COVID-19 prevention and control programme, in the spirit of 'risk management' and 'ensuring the harmony between pandemic prevention and control efforts and socio-economic recovery.'
To deal with COVID-19, the health ministry will continue to maintain close surveillance of the situation of domestic and international infectious diseases; strengthen monitoring of diseases right at border gates, in the community, and at medical examination and treatment establishments, VNS reported.
There will also be an increase in the sampling of suspected cases for testing and gene sequencing to detect diseases early, especially when new virulent variants arrive.
The health ministry will continue to encourage the vaccination against COVID-19, especially for high-risk groups, children aged 5 to under 12 years old, especially in big provinces and cities and important areas or tourist destinations with a high number of international visitors.
Medical facilities and medicines supplies will be ensured in case of a COVID-19 spike.
The health ministry also stresses its coordination with the WHO and US CDC and other international experts and organisations in the assessment of COVID-19 levels.
COVID-19 prevention and control measures can be adjusted when the pandemic situation becomes predictable and stable, the health ministry said.
Vietnam has lifted all COVID-19 restrictions, both for people in the country and for international arrivals.