Vietnam News Today (May 15): Halal Industry to Boost Vietnam's Links with Muslim Countries
Vietnam News Today (May 15): El Nino to return and impact Vietnam this year; Halal industry to boost Vietnam's links with Muslim countries; Second shipment of VinFast VF8 vehicles reaches US port; The Travel: Vietnam among most attractive destinations in Asia.
Vietnam News Today (May 15) notable headlines
El Nino to return and impact Vietnam this year
Halal industry to boost Vietnam's links with Muslim countries
Second shipment of VinFast VF8 vehicles reaches US port
The Travel: Vietnam among most attractive destinations in Asia
Vietnamese dong one of most stable currencies in Asia: Experts
Vietnam seeks stronger educational cooperation with Northern Ireland
Foreign tourist numbers on the rise
Bach Dang pile yard added to dossier seeking UNESCO recognition for Yen Tu complex
Vietnam actively contributes to strengthening ASEAN solidarity: Indonesian scholar
Vietnamese people are bracing themselves for more strong heat waves this year as El Nino is returning.
El Nino to return and impact Vietnam this year
El Nino is set to return in late May or early June, with the weather pattern likely to last till early 2024, according to the National Centre for Hydro-Meteorological Forecasting of Vietnam.
El Nino is the warm phase of the El Nino–Southern Oscillation (ENSO) and is largely associated with a band of warm ocean water that develops in the central and east-central equatorial Pacific.
It is accompanied by high-air pressure in the western Pacific coupled with low air pressure in the eastern Pacific. Its phases are known to last close to four years.
Reality shows that El Nino impacts the global climate and causes disruption to normal weather patterns, which as a consequence can lead to intense storms in some places and droughts in others.
During the El Nino cycle, droughts and prolonged heat often occur in western Pacific countries, such as Vietnam, the Philippines, Malaysia, Indonesia, Thailand, Laos, and Australia. As a coastal country, Vietnam is located in the zone of monsoon systems and is strongly affected by changes occurring in atmospheric and oceanic conditions, including the El Nino phenomenon.
Studies conducted on the effects of global warming on rainfall and temperature worldwide indicate that El Nino leads to increased wet and dry spells, prolonged heat waves, and warmer winters, and Vietnam is no exception, cited VOV.
Strong heat waves hit the country between 1997 and 1998, as well as between 2014 and 2015 when El Nino returned, with daytime temperatures reaching a record high of 39.6℃ in the northern and southern regions, climbing to as high as 41.5℃ in the north-central region.
After three years of the La Nina weather pattern which is the other phase of ENSO, meteorologists predicted that the El Nino phenomenon is likely to return in late May or early June, with a probability of up to 80%, and this phenomenon may last into early 2024. This year is predicted to be hotter compared to 2022, and the fifth or sixth hottest year on record.
The early days of May saw many localities nationwide experience their first strong heat waves of the year, with daytime temperatures rising sharply to nearly 40℃. Notably, 44.2℃ was recorded at the weather station in Nghe An province, marking an all-time high in the country.
Nguyen Van Huong, an official of the National Centre for Hydro-Meteorological Forecasting, says that heat waves this year will come early and tend to be much more intense compared to previous years.
"The heat is likely to increase its intensity from May to August, mainly in the Northern and Central regions. The number of hot days in 2023 may be more than in 2022. It is likely that the highest temperature values observed in previous years will be broken this year," says the meteorologist.
The hot weather in the northern and central regions is predicted to last from May to August, with the hottest months falling in June and July. The average heat wave is anticipated to last between two and four days, or even longer.
Halal industry to boost Vietnam's links with Muslim countries: official
With sound partnerships with Muslim-majority countries, the Halal industry will become an important field of cooperation, helping further promote Vietnam's substantive ties with such partners and contribute to common development and prosperity, said former Deputy Foreign Minister Pham Quang Hieu.
Hieu, who is now the Vietnamese Ambassador to Japan, made the remark during a recent interview granted to the press about the implementation of the plan on enhancing international cooperation to develop the Halal industry of Vietnam by 2030.
The Ministry of Foreign Affairs coordinated with other ministries and sectors as well as consulted domestic and international experts, Vietnam's overseas representative agencies, localities and businesses to make the plan, which was approved by the Prime Minister on February 14.
Hieu said this is the first plan to outline national-level orientations for mobilising international resources for building and developing the Halal industry in a methodological, professional, and comprehensive manner.
It also set up a new direction for implementing economic diplomacy, tapping into the highly potential global Halal market, and creating a new impetus for sustainable economic development, especially when traditional markets of Vietnam are grappling with difficulties due to inflation and economic recession.
In that context, diversifying export markets by exploring new ones is considered the "golden key" to bolstering export and contributing more to national economic development.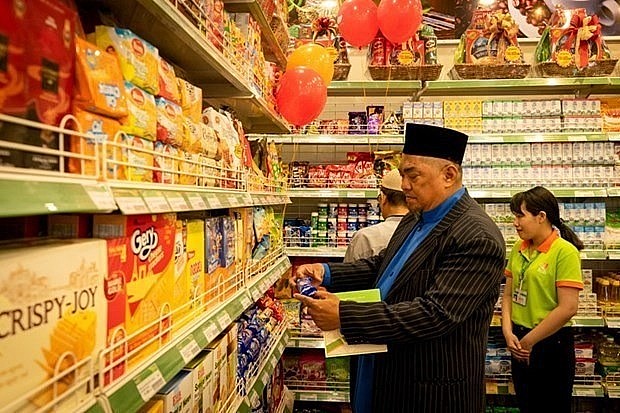 The global Halal market's value stands at 7 trillion USD last year and is expected to reach about 10 trillion USD by 2028. (Photo: congthuong.vn)
Besides, the plan implementation will help further intensify Vietnam's relations with large Halal product consuming countries such as Indonesia, Malaysia, and Saudi Arabia, thereby contributing to raising the role and stature of Vietnam and its enterprises in the global Halal market, the official noted.
He went on to say that to Vietnam, opportunities in the global Halal market are considerable as this market had some 1.94 billion people in 2022, or nearly one-fourth of the world population and still growing.
Its value stood at 7 trillion USD last year and is expected to reach about 10 trillion USD by 2028. Halal products are consumed worldwide, from Muslim to non-Muslim countries, according to VNA.
Spending on those products has also been on the rise because they meet many criteria for food safety, quality, and environmental protection. In addition, most of the biggest Halal product manufacturing countries are non-Muslim.
A number of Halal product consuming or exporting countries such as the Republic of Korea, Saudi Arabia, Indonesia, and Malaysia have also shown interest in and wish to boost cooperation with Vietnam in developing the Hala industry here.
Vietnam also holds numerous ideal conditions for developing this industry, including a favourable geographical location, strengths in agriculture, food, tourism, and services, along with intensive and extensive economic integration into the world through its participation in many leading regional economic connections, including new-generation free trade agreements. The Government has also paid great attention to assisting enterprises to explore and effectively engage in the global Halal market, according to Hieu.
The official added by joining the global Halal market, Vietnamese enterprises will have a chance to develop tourism, bolster the overseas shipment of the products they are strong in, and attract foreign investment to the country. They can also improve their capacity, competitiveness, and human resources quality while further equipping themselves with production and transportation technologies meeting Halal standards.
Second shipment of VinFast VF8 vehicles reaches US port
The second shipment of VinFast's 1,879 VF8 electric vehicles reached Benicia port in the US state of California on May 12 (local time), according to VinFast, the leading EV manufacturer in Vietnam.
Of the total, 1,098 EVs will be delivered to US customers, and the remaining 781 EVs will continue to be shipped to Canada in the following days.
All the VF8s this time are said to have a higher driving range than 999 VF8s in the first run delivered in late 2022. Accordingly, the Eco and Plus models boast the rages at 264 miles and 243 miles per charge respectively.
The Eco might boast the longest driving range but the Plus model delivers the most luxury features, including a panoramic glass roof, leather upholstery, and second-row captain's chairs.
With regard to the after-sales programme, VinFast says it will provide 10-year/125,000-mile warranty coverage or 10-year/unlimited mileage for the vehicle, along with mobile repair and 24/7 rescue service during the warranty period.
According to VinFast, all of its VF8s have passed tests in accordance with the regulations of the National Highway Traffic Safety Administration of the US.
The firm has also completed the procedure to market its VF8s in the US. It is expected that the firm will hand over the VF8s to customers from June 2023.
VinFast, a member of the Vietnamese private business conglomerate Vingroup, was founded in 2017 and envisioned to drive the movement of global smart electric vehicle revolution, VOV reported.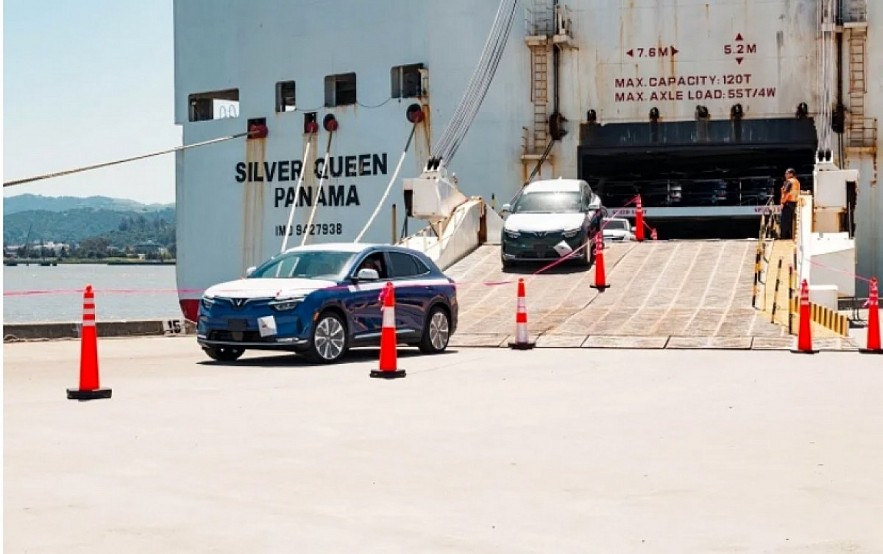 First VF8s leave Silver Queen afte reaching Benicia port, California.
The firm manufactures and exports a full portfolio of e-SUVs, e-scooters and e-buses across Vietnam, North America, and, soon, Europe. it operates a state-of-the-art automotive manufacturing complex in Hai Phong city that boasts up to 90% manufacturing automation and annual production capacity of up to 300,000 units in phase 1.
VinFast is committed to its mission of creating a sustainable future for everyone. It converted into a fully EV manufacturer in 2022, and has delivered four EV models: VF e34, VF 8, VF 9 and VF 5 to customers in Vietnam to date.
VinFast recently crossed an important milestone on the journey to becoming a recognised global EV brand with the first VF8s exported to North America earlier this year.
The firm on May 12 entered into a business combination agreement with US firm Black Spade Acquisition Co (Black Spade). After the transaction, VinFast will have an equity value of over US$23 billion and be listed in the New York Stock Exchange (NYSE).
Black Spade, listed on the NYSE as BSAQ, was founded by Black Spade Capital, which runs a global portfolio consisting of a wide spectrum of cross-border investments, and consistently seeks to add new investment projects and opportunities to its portfolio.
The Travel: Vietnam among most attractive destinations in Asia
The Travel, a well-known travel site in Canada, has ranked Vietnam in the fifth place on a list of the top 10 most attractive destinations in Asia.
Vietnam is home to a plethora of natural wonders. Among the most notable of these are the limestone islands with unique shapes in Ha Long Bay, Phong Nha Cave in Phong Nha - Ke Bang National Park, and the charming rivers in the Mekong Delta.
Photo: VOV
Additionally, Vietnam boasts vast paddy fields and bustling floating markets, both of which are must-visit destinations.
The Southeast Asian country is also home to architectural works, with century-old historical and cultural imprints, that are sure to leave a lasting impression on visitors.
Other countries in Asia on the list include Japan, Indonesia, Thailand, Laos, the Republic of Korea, the Philippines, Singapore, and China.
Vietnamese dong one of most stable currencies in Asia: Experts
Amid fluctuations in the global financial market, the exchange rate in Vietnam has remained stable in the first four months of this year, and the Vietnamese dong is considered one of the most stable currencies in Asia, according to experts.
Market analysis reports released by Mirae Asset Securities Vietnam showed that in April, the USD/VND exchange rate dropped 0.2 per cent and the average exchange rate hovered around VND23,500 per US dollar during the month. The rate has remained stable throughout the January-April period.
The United Overseas Bank (UOB) rated the Vietnamese dong as one of the most stable currencies in Asia, despite significant changes in the Fed's interest rate hike expectations as well as concerns about a global recession and instability of the US banking system.
Mirae Asset noted that the State Bank of Vietnam had bought a large volume of foreign currency in the first four months, raising the foreign exchange reserves to around US$90 billion.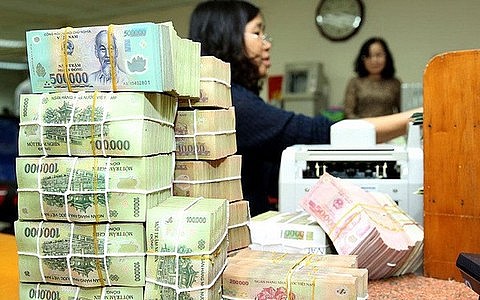 The USD/VND rate has remained stable throughout the January-April period. Photo laodong.vn
Dao Xuan Tuan, head of the Foreign Exchange Management Department under the State Bank of Vietnam (SBV), said that since the end of 2022, the foreign exchange market has developed positively and gradually become stable.
The USD/VND exchange rate tends to decrease and stabilise again, he said, adding that the recovery of the Vietnamese currency against the US dollar since December 2022 was similar to that of many other currencies in the region such as the Japanese yen, Chinese yuan, the won of the Republic Korea and the Thai baht.
Tuan said that the increase in foreign currency supply enabled the SBV to buy more foreign currencies for the foreign exchange reserves.
In the first four months of this year, the SBV bought nearly $4.9 billion from credit institutions, up about $1 billion from the amount recorded at the end of the first quarter of 2023.
Experts from VNDirect forecast that Vietnam's foreign exchange reserves will recover to reach $102 billion by the end of this year, VNS reported.
Meanwhile, Moody's Investor Service has forecast that Vietnam's forex reserves excluding gold will rebound to $95 billion by the end of the year as the State Bank of Vietnam rebuilds its stockpile.
Nishad Majumdar, an analyst in Singapore, held that the recent appreciation of the dong, which reflects the improved external position, will give the central bank space to rebuild the forex buffers that were spent down during the US dollar's rally last year.
Vietnam's reserves stood at $88.3 billion in January, according to the International Monetary Fund.
Majumdar held that the recovery in tourism and steady foreign direct investment inflows will help boost the nation's reserves even as exports weaken.
The dong has advanced 6 per cent in the past six months, joining a rally in Asian peers, as the US dollar has weakened.
He recommended that Vietnam prioritise exchange rate stability as a means to stabilise inflation and create certainty for inbound investors.
A stronger dong reduces the local-currency value of the Government's external debt, which still accounts for about a third of overall Government borrowing, he said.
It will also likely mitigate the impact of higher import and manufacturing input costs into domestic inflation, giving the authorities further space to pursue a more accommodative monetary policy, the expert added.