Vietnam News Today (May 19): Vietnam, Japan Foster Cooperation in Aerospace Supporting Industry
Vietnam News Today (May 19): Vietnam enhances role in addressing regional and global challenges; Vietnam, Japan foster cooperation in aerospace supporting industry; Forum seeks to enhance Vietnam-US economic cooperation; Vietnam enhances bilateral cooperation with Tanzania.
Vietnam News Today (May 19) notable headlines
Vietnam enhances role in addressing regional and global challenges
Vietnam, Japan foster cooperation in aerospace supporting industry
Forum seeks to enhance Vietnam-US economic cooperation
Vietnam enhances bilateral cooperation with Tanzania
Longer e-visa validity will boost Vietnam's tourism: Govt
Hot weather continues scorching Vietnam
Vietnam, Philippines talk maritime, ocean concerns in 10th meeting
Vietnam drawn in Group C of Paris Olympics second women's football qualifiers
Prime Minister receives WTO Director-General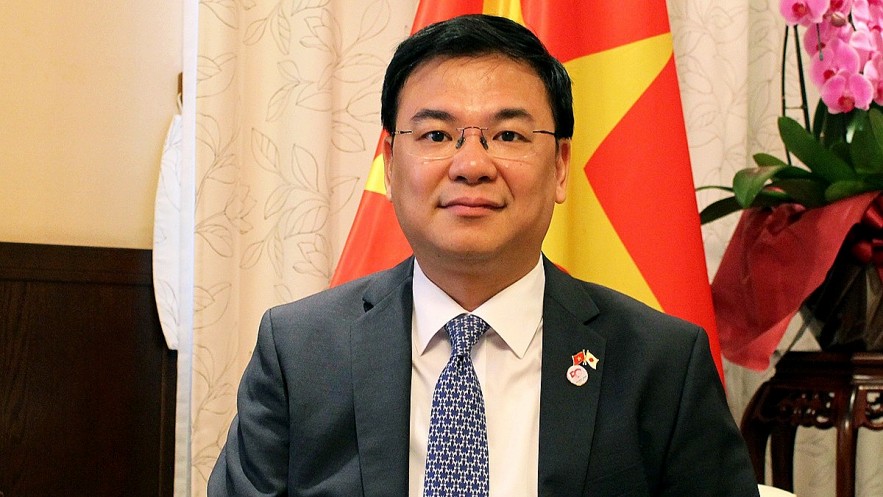 Vietnamese Ambassador to Japan Pham Quang Hieu.
Vietnam enhances role in addressing regional and global challenges
Vietnam's engagement in the coming expanded G7 summit in Hiroshima at the invitation of the Japanese Prime Minister shows the international community's acknowledgment of the country's increased role and position globally, has said Vietnamese Ambassador to Japan Pham Quang Hieu.
Prime Minister Pham Minh Chinh will lead a high-ranking Vietnamese delegation to the expanded G7 Summit in Hiroshima from May 19-21 at the invitation of Japanese Prime Minister Fumio Kishida.
Vietnam is one of eight countries invited by Japan, as the rotating president of the group of seven industrialized countries, to attend the summit in Hiroshima. In Southeast Asia, Indonesia - the incumbent ASEAN Chair – has also been invited, along with Vietnam.
Hieu, in an interview with the press ahead of the summit, noted that Vietnam has been praised internationally for its constructive and responsible contribution to addressing global issues such as sustainable development, climate change response, food security, and energy security, among others.
Vietnam has recently adopted comprehensive measures to implement its energy transformation and green and circular economy–based growth models to realize the net zero emissions commitments by 2050. The National Steering Committee for implementing its COP26 commitments headed by the Prime Minister has been established to mobilize and coordinate recourses, cited VOV.
G7 members have agreed to include Vietnam on the list of priority countries for energy cooperation, presenting an opportunity for the country to access investment, and at the same time strengthen cooperation with G7 countries to transform the economic model and recover its post-pandemic economy, said the ambassador.
In his view, all members of the G7 and the expanded group attach great importance to and wish to strengthen multifaceted cooperation for mutual benefits with Vietnam in order to promote the group's influence in Southeast Asia in particular and the Asia-Pacific region in general
The diplomat said the Japanese invitation also shows Japan attaches great importance to its extensive strategic partnership with Vietnam, as well as to Vietnam's role and position in the region. It expects Vietnam will continue to coordinate and support Japan at multilateral forums, and at the same time have an active voice and contribution to resolving common international and regional problems.
Since the two countries established diplomatic relations in 1973, bilateral relations have developed constantly in many fields, from politics, diplomacy and defense-security to trade, investment, labor, education, culture, health, science and technology, tourism, local cooperation, and people-to-people exchanges.
Vietnamese expatriates, the second largest expat community in Japan with nearly 500,000 people, have lived stably in Japan, and have made practical contributions to their host country and bilateral relations.
According to the ambassador, Vietnam - Japan relations have 'infinite potential', and the two countries are working closely together to further cement their extensive strategic partnership in the future.
Vietnam, Japan foster cooperation in aerospace supporting industry
A conference was held on May 16 at the Kobe Chamber of Commerce and Industry (KCCI) headquarters in Japan to seek measures to promote Vietnam - Japan cooperation in manufacturing components and products of the aerospace industry.
Addressing the event, Chairman of the Hanoi Supporting Industry Association (HANSIBA) Nguyen Hoang highlighted the advantages of the two countries in economic cooperation, including the Vietnam - Japan extensive strategic partnership, Vietnam's strong workforce and various bilateral and multilateral economic agreements, and Japan's rich experience in the aerospace industry.
He said that the conference was part of activities to specify Vietnam's industrialization program within the Vietnam-Japan cooperation framework, especially in supporting industries and high technology, aiming to connect businesses in the supporting industry of Hanoi and Vietnam and their partners in Kobe and Japan in these fields.
Jon Liljia, Boeing's Supply Chain Business Development Manager, expressed his hope to directly work with Vietnamese manufacturers.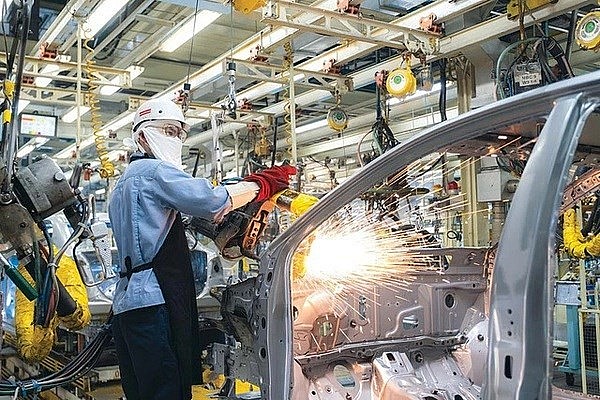 Illustrative image (Source: vtv.vn)
Meanwhile, Ishida Takayuki, a representative from Onaga Japan Company, underlined the potential of Vietnam's aviation component market amid rising traveling demands both inside the country and in the region.
Onaga Chairman Onaga Masaru affirmed that the company will continue to work closely with Vietnamese businesses in the supporting industry to manufacture high-technology components such as aircraft spare parts, VNA reported.
In order to remove obstacles facing Japanese investors, members of the HANSIBA has formed a supporting unit. The unit is tasked to coordinate with Japanese firms in processing administrative procedures such as requesting for investment, construction, and import licenses, and supporting them in recruiting and human resources training following Japanese standards.
Hoang held that the Vietnamese supporting industry community has recorded positive development with the manufacturing of products joining the production chains in Japan and the world, along with aerospace components, renewable energy products and smart products serving the marine economy.
Forum seeks to enhance Vietnam-US economic cooperation
The United States is one of Vietnam's leading partners in key cooperation fields, reaffirmed Hoang Anh Tuan, Vietnamese Consul General in San Francisco, at the Vietnam - US Business Forum 2023 held in the State of Oregon on May 18.
Addressing hundreds of Vietnamese and US business executives at the forum, Tuan underscored the importance of international trade and investment for Vietnam's economic growth and development. He emphasized that Oregon is well known as a pioneer in innovation, technology, and sustainability with a hub for start-ups.
With a number of similarities, Tuan expressed his belief that the partnership between the two sides is expected to create fresh opportunities for businesses moving forward.
For his part, Vince Porter, Economic Development and Workforce Policy Advisor to Oregon Governor Tina Kotek said Vietnam is one of Oregon's leading trading partners, as it has become an important production base for the world's leading companies based in Oregon, including Intel, Nike, and Columbia Sportswear.
Vietnam and Oregon also boast huge potential for cooperation in agricultural, food, and beverage development, said Porter revealing that a business delegation from Oregon is expected to attend the Vietnam Food Expo 2023 in Ho Chi Minh City this November, cited VOV.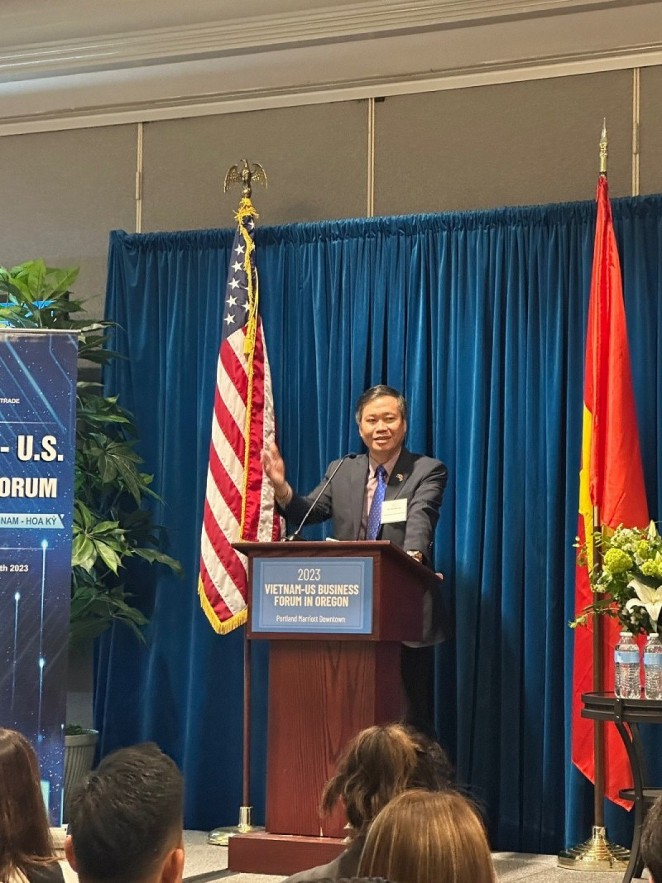 Hoang Anh Tuan, Vietnamese Consul General in San Francisco addresses the 2023 Vietnam - US Business Forum.
Sharing this perspective, Nguyen Hong Duong, deputy director of the Europe-America Market Department under the Ministry of Industry and Trade pointed out that there is plenty of room to build further ties between the two sides in traditional fields such as renewable energy, manufacturing, and education.
The two governments will work together and discuss cooperation frameworks with partners, including the Indo-Pacific Economic Framework to reinforce economic cohesion and generate benefits for businesses of the two countries, Duong stressed.
At the forum, participants touched upon issues related to the local investment climate and shared experience in market development and capacity building so as to meet the stringent requirements and technical regulations set by the US market.
Experts also put forth a range of solutions aimed at developing import and export activities and attracting the supply chain and FDI inflows from the US in the future.
Vietnam enhances bilateral cooperation with Tanzania
President Vo Van Thuong on May 18 received Abdulrahman Omar Kinana, Politburo member and Vice Chairman of the ruling Chama Cha Mapinduzi (CCM - Party of the Revolution) of Tanzania, who is on a working visit to Vietnam.
Welcoming the delegation right after the CCM's 10th National Congress, Thuong said that this is an opportunity for leaders of the two Parties and countries to exchange ideas and evaluate the international situation, bilateral relations, and orientations for cooperation in the coming time.
He affirmed that Vietnam keeps a close watch on the situation of Tanzania and is pleased to witness the country's achievements in maintaining economic development momentum, improving people's living standards, and enhancing its reputation and role in East Africa in particular and Africa in general, cited VNA.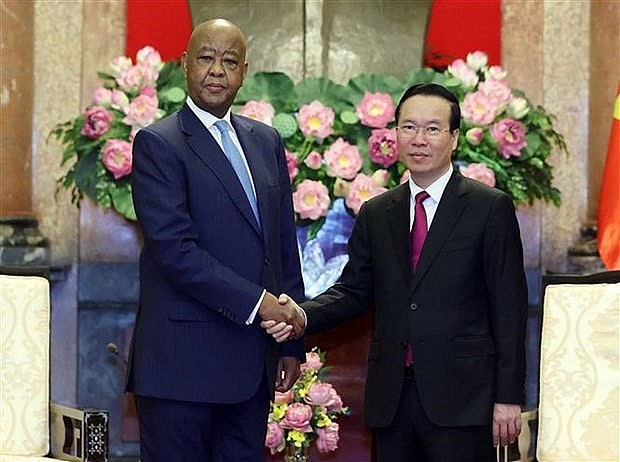 President Vo Van Thuong (R) receives Abdulrahman Omar Kinana, Politburo member and CCM Vice Chairman. (Photo: VNA)
Abdulrahman Omar Kinana affirmed the consistent policy of the CCM and the State of Tanzania in consolidating good traditional relations and promoting substantive cooperation with the Party and the State of Vietnam.
He spoke highly of the contributions by Halotel, a telecommunications joint venture invested by Viettel Military Industry and Telecoms in Tanzania, to the country's socioeconomic development, and committed to creating all favorable conditions for business and investment activities of Halotel in particular and Vietnamese enterprises in the country.
The two sides agreed to expand and improve the effectiveness of bilateral cooperation, including exchanging delegations at all levels, sharing experience in leading the nation, personnel training, facilitation of trade and investment activities, and in the fields of agriculture, processing, science - technology, telecommunications, and digital transformation.
They also pledged to promote cultural cooperation and people-to-people exchanges, closely coordinate with each other at international multilateral forums, and serve as a bridge for each other to expand collaboration with the two regions, for the benefit of each Party and country, and for peace, stability, cooperation, and development.
Longer e-visa validity will boost Vietnam's tourism: Govt
The Government said that the proposal for extending the e-visa validity to 90 days would help attract foreign tourists and investors who want to explore investment opportunities in Vietnam.
On behalf of the Government, General To Lam, Minister of Public Security, has submitted a report to the National Assembly explaining the proposal to revise immigration procedures, e-visa issuance, and visa exemption for foreign visitors.
The current 30-day validity period of e-visas is short, making it hard to bring more foreign travelers to the country. Extending the e-visa validity to three months with single or multiple entries would attract tourists who want to spend more time in Vietnam and create favorable conditions for foreigners to conduct research, and market or investment surveys, according to the Government, Saigon Times reported.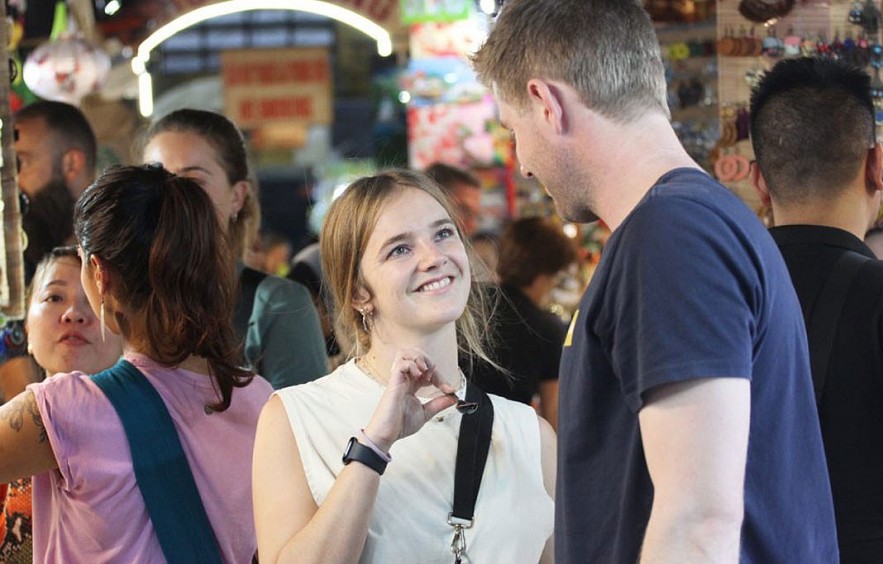 Foreign tourists in HCMC. Photo: Le Vu
The e-visa validity extension would make it easy for those foreign individuals responsible for establishing a commercial presence, service providers, and service suppliers to have enough time to stay in Vietnam, as outlined in the country's commitments under Free Trade Agreements (FTAs).
Regarding the proposal to lengthen the visa-free stay for foreign tourists to 45 days from the current 15, the Government explained that visitors from international markets such as Europe often prefer vacations that last 15 days or longer.
According to the Ministry of Public Security, the number of foreign nationals applying for e-visas has steadily increased since 2017. Since the Government resumed the pre-pandemic immigration policy, the issuance of e-visas has surged by 46.6 times.
Currently, single-entry e-visas are issued by the Immigration Department, with a maximum duration of 30 days. Vietnam currently grants e-visas to citizens of 80 countries.
The proposal will be presented to the National Assembly session, expected to begin on May 22.