Vietnam News Today (May 17): Vietnam and Russia Step Up Economic and Trade Co-operation
Vietnam News Today (May 17): Vietnam and Russia step up economic and trade co-operation; Vietnam becomes global production centre thanks to boom of foreign investment; Vietnam calls for stronger ESCAP commitments to realise SDGs; Vietnamese enterprises try to enter markets with new products.
Vietnam News Today (May 17) notable headlines
Vietnam and Russia step up economic and trade co-operation
Vietnam becomes global production centre thanks to boom of foreign investment
Vietnam calls for stronger ESCAP commitments to realise SDGs
Vietnamese enterprises try to enter markets with new products
National programme on cultural development approved
Workshop seeks measures to boost Vietnam-Russia economic, trade cooperation
Vietnam promotes multilateral cooperation with UNESCO
Vietnam win SEA Games women's football title for fourth consecutive time
Ample room remains for Vietnamese exports to Africa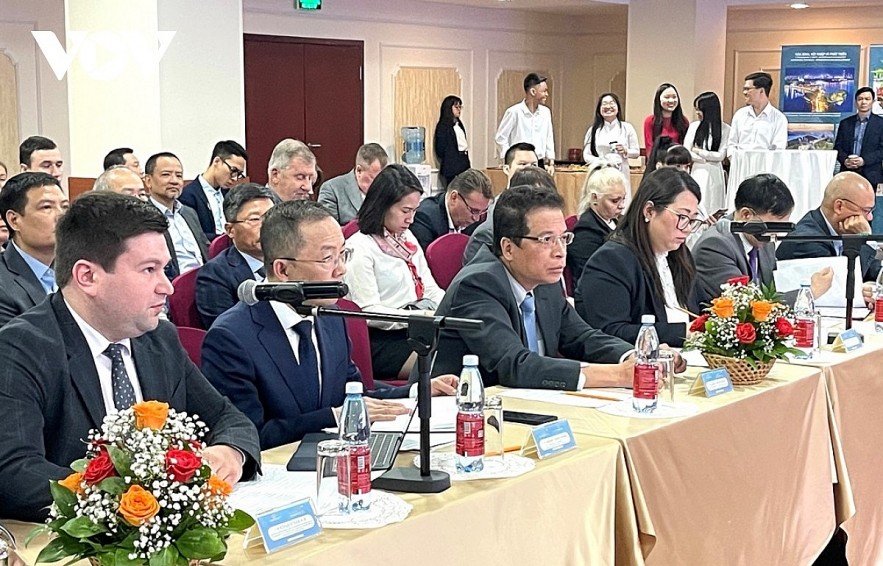 An overview of the seminar.
Vietnam and Russia step up economic and trade co-operation
The Vietnamese Embassy in Russia has hosted a seminar aimed at seeking ways to remove hurdles in economic and trade cooperation between Vietnam and Russia.
At the May 15 event, Duong Hoang Minh, Vietnamese Trade Counselor in Russia, said that joint trade turnover in 2021 hit a record high of US$7.1 billion, although it fell to only US$3.6 billion in 2022 due to the negative impact of Western sanctions placed against Russia.
In the opening four months of 2023 two-way trade turnover showed signs of undergoing a slow recovery, reaching more than US$1 billion.
Minh therefore advised businesses of both countries to fully tap into the advantages that exist to increase investment and production of goods in each other's markets.
Vietnamese enterprises must pour further investment into fields such as processing agricultural products, food, seafood, garments, and wooden products in Russia, along with getting more involved in specialised trade fairs and exhibitions in Russia, he noted.
Vyacheslav Kharinov, chief representative of the Russian Trade Office in Vietnam, pointed out that since the beginning of 2022, both sides have faced challenges in terms of logistics, transportation, and bilateral payments due to ongoing global uncertainties.
He stressed the need to facilitate the implementation of cooperation initiatives, establish joint ventures and accelerate the deployment of projects on energy, infrastructure, information, and space technology, cited VOV.
For his part, Nikita Kondratiev, director of the Department of Multilateral Economic Cooperation and Special Projects, emphasised that a lack of information is one of the major obstacles to the implementation of new cooperation projects.
He recalled that Russia's FESCO Corporation launched a sea route from Vietnamese ports to Vladivostosk port last year to facilitate trade the two countries, while TransContainer company has also transported consumer goods by rail from Vietnam to Russia recently.
Addressing the event, Vietnamese Ambassador to Russia Dang Minh Khoi underscored the importance of promoting the bilateral trade cooperation mechanism, noting that the Vietnamese Ministry of Economic Development and the Central Bank of Russia will strictly coordinate with the Vietnamese side in a bid to seek solutions for issues on payment and the issuance of visas.
It is also important to strengthen the training of human resources and enhance people-to-people exchanges moving forward, he said.
Vietnam becomes global production centre thanks to boom of foreign investment
Despite impacts caused by the COVID-19 pandemic, foreign direct investment (FDI) is still being poured into Vietnam, contributing importantly to turning the country into a new production hub of the world.
Registered capital, disbursement boom
Over the past five years, since Vietnam reviewed its 30-year foreign investment attraction, the FDI flow into the nation has not ceased increasing.
Statistics from the Ministry of Planning and Investment (MPI) show that from January 2018 to April 20, 2023, the registered FDI in Vietnam totaled 180 billion USD, equaling 40.3% of the accumulated investment capital over the last 35 years.
As of April 2023, Vietnam had attracted 37,065 foreign-invested projects with a total registered capital of 445.87 billion USD, with 279.8 billion USD of the total being disbursed.
HSBC, in its report on attracting foreign investment in ASEAN in the middle of last year, highlighted a boom in foreign investment into ASEAN, saying that Vietnam and ASEAN are the two markets receiving the most of foreign investment capital.
Over the last five years, the total FDI disbursement hit 107.47 billion USD, equaling 38.4% of the total disbursed capital over the past 35 years. About 19-20 billion USD of FDI is averagely disbursed every year during the reviewed period. A record of FDI disbursement was set in 2022 with 22.4 billion USD.
The quality of foreign investment into Vietnam has also improved significantly.
Becoming new production centre
According to Minister of Planning and Investment Nguyen Chi Dung, more and more multinationals and big investors have continuously invested in Vietnam.
Economists said that the foreign-invested economic sector has made an important contribution to the added value of industrial products thanks to international economic groups' investment in many large-scale projects which use high technology, and modern services.
Dozens of research and development (R&D) centres, innovation hubs, and technology incubators have been established, making it easier for domestic firms, especially small- and medium-sized enterprises, to connect with foreign businesses, they noted.
When it comes to success economic stories driven by foreign investment, Vietnam is a prominent example, HSBC said, highlighting that Vietnam turned itself into a rising star in global supply chains, gaining substantial global market share in such sectors as textiles, footwear and consumer electronics.
The bank also mentioned large-scale investments of Samsung, Pegatron, Foxconn, Luxshare, and Goertek, stressing that Vietnam is transforming itself into the world's technology factory.
Not long ago, Quanta Computer of Taiwan (China) signed an agreement with the People's Committee of the northern province of Nam Dinh on developing a large-scale computer production project in My Thuan Industrial Park, which is expected to have an investment capital of 120 million USD. This is Quanta's 9th factory globally and the first in Vietnam.
Quanta is a MacBook manufacturing partner of Apple, so the appearance of this corporation in Vietnam means that Apple is continuing to shift its production to the Southeast Asian nation, according to VNA.
More and more multinationals and big investors have continuously invested in Vietnam. - Illustrative image (Photo: VNA)
Foxconn, another partner of Apple, is also planning to set up a new factory in the central province of Nghe An, to expand its production in Vietnam after it successfully invested in the northern provinces of Bac Ninh and Bac Giang.
Samsung is a good example of the foreign investment scale in Vietnam. So far, the group's total investment in the country has hit 20 billion USD.
Meanwhile, LG's investment in Vietnam totaled 7.5 billion USD in the last five years. The group has continuously added capital to its factories - LG Display, LG Innotek, and LG Electronics.
Foxconn, Pegatron, Winston, Goertek, and Amkor have continuously increased their investment capital in Vietnam, including billions-USD commitments.
According to Christopher J Marriott, CEO of Savills Southeast Asia, Vietnam is considered one of the prominent destinations for high-value industries with production capacity that meets the expectation of international investors and technology corporations.
Last year also marked another important turning point when Lego Group of Denmark officially started construction of a project worth over 1.3 billion USD in Vietnam. Given that Vietnam has committed to cutting emissions to net zero by 2050, Lego's first global carbon-neutral project is seen as a start of green investment in the Southeast Asian nation.
Vietnam calls for stronger ESCAP commitments to realise SDGs
Vietnamese Deputy Foreign Minister Do Hung Viet attended the 79th session of the Economic and Social Commission for Asia and the Pacific (ESCAP) in Bangkok, Thailand, on May 15-16, examining ways to accelerate climate actions for sustainable development.
Addressing the meeting, Viet highlighted opportunities and challenges for socio-economic development as well as the implementation of the 2030 Agenda for Sustainable Development, emphasizing challenges caused by climate change in the Asia-Pacific region and in Vietnam in particular.
He expressed concern about the profound impact of the COVID-19 pandemic and current global challenges such as conflicts, food and water insecurity, natural disasters, and biodiversity degradation, and environmental pollution to socio-economic development and recovery, especially the implementation of the Sustainable Development Goals (SDGs).
In this context, Viet suggested strengthening regional cooperation in 'climate-smart' trade and investment, tourism, connectivity, energy transformation, digital transformation and sustainable urban development. He called on developed countries to make stronger commitments in terms of financial support, technology transfer, knowledge sharing and practical experience, at a global Sustainable Development Goals Summit to be held in New York in September 2023, and the 28th UN Climate Change Conference (COP28) due to take place in Dubai, the United Arab Emirates (UAE), this year.
The Vietnamese diplomat proposed that ESCAP bring into full play its role to promote those commitments, and at the same time assist countries in reviewing SDG implementation and improving statistical capacity, VOV reported.
On this occasion, Deputy Minister Viet expressed Vietnam's special thanks and suggested the international community continue to cooperate and support Vietnam in implementing SDGs and COP26 commitments, as well as the Just Energy Transition Partnership agreement. He affirmed that Vietnam will continue to work closely with ESCAP and other international partners to promote peace, stability and prosperity in the region and the world at large to ensure 'no one is left behind'.
While staying Thailand, Deputy Minister Do Hung Viet met Palau President Surangel S. Whipps Jr. and Japanese Vice Minister for Foreign Affairs Akimoto Masatoshi.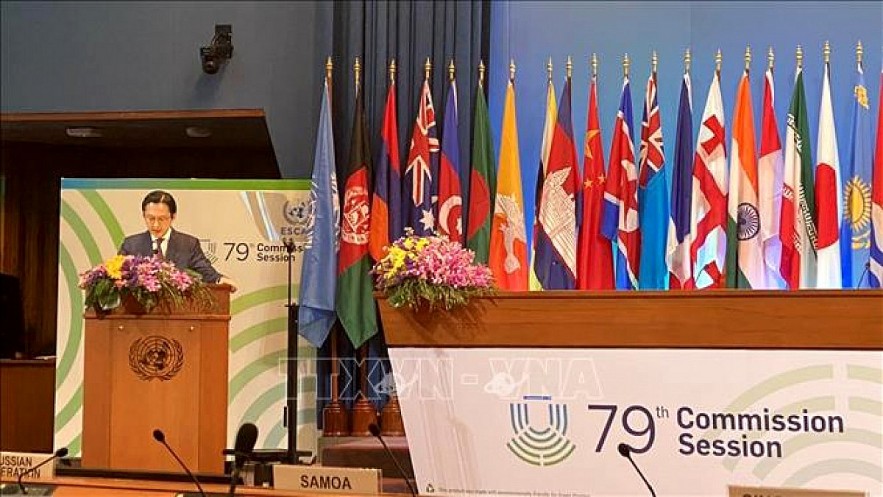 Deputy Foreign Minister Do Hung Viet addresses the 27th session of the Economic and Social Commission for Asia and the Pacific (ESCAP) in Bangkok, Thailand. (Photo: VNA)
At a meeting with Whipps, Viet affirmed that Vietnam wishes to strengthen relations with South Pacific island nations, including Palau. He suggested both Vietnam and Palau strengthen visit exchanges and increase cooperation in the fields of trade, investment, tourism, and labour in order to further promote bilateral relations.
Whipps spoke highly of Vietnam's socio-economic development achievements and said that the two countries still have a lot of potential to further enhance bilateral relations. He suggested that Vietnam soon open direct flights between the two countries to boost people-to-people, tourism and trade exchanges and to examine labour supply for infrastructure construction projects in Palau in the near future.
At the meeting with Akimoto, Viet suggested the two sides work closely together to successfully celebrate the 50th anniversary of the establishment of their diplomatic relations this year. He thanked Japan for inviting Vietnam to attend the coming G7 Summit in Hiroshima and the Future of Asia Summit in Tokyo.
Akimoto for his part emphasized that Vietnam is Japan's important partner in the region. He suggested the two sides strengthen close coordination both bilaterally and multilaterally.
Vietnamese enterprises try to enter markets with new products
As the economic downturn remains unpredictable and purchasing power weak, Vietnamese enterprises have been trying every possible way to seek new partners and potential export markets by making specific products for each market.
Nguyen Hoang Dat, director of Vinahe in Binh Phuoc, which produces, processes and exports cashew nuts, has finished a 4-day fact-finding and trade promotion trip in Mondulkiri in
Dat said this is a potential consumer for cashew nut products. There is not much processed farm produce in Cambodia and local needs are mostly met by imports.
The Cambodian partner, after trying Vinahe's produce, decided to import and distribute the produce in the locality, through supermarkets, restaurants and hotels.
Transport is expected to be very favorable with the Hoang Dieu international border gate in Binh Phuoc in Vietnam and the Lapakhe border gate in Mondulkiri in Cambodia. Just within one day, products from Binh Phuoc can reach the capital city of Phnom Penh.
Dat revealed that businesspeople from 20 other enterprises in Dak Nong, Dak Lak and Binh Phuoc took the trip with him to Cambodia.
Since sales in traditional export markets have become stagnant, businesspeople have had to travel to new places to seek new markets to boost sales.
"I am planning to go to Laos this June," Dat said.
Nguyen Ngoc Luan, CEO of Meet More Coffee, said he has been taking a lot of flights with the distance of thousands of kilometers to seek partners and new markets.
Luan said businesses now need to diversify their lists of export markets. The company not only sells produce in the domestic market, but now also sells to European countries and South Korea, the US, Australia and India. His company is also eyeing the Chinese, Singaporean and Filipino markets.
Good news has come to the textile and garment industry. Pham Van Viet, chair of Viet Thang Jeans, said he sees good signs from the Australian and Canadian markets. The number of orders to Australia has increased by 20 percent. As the US and European markets have not recovered yet, Viet has been seeking alternative markets.
In consumer goods manufacturing, Masan Consumer has distributed the Chinsu spice collection designed specifically for the Japanese market. The products are available at supermarkets in Tokyo, Kanagawa and Saitama.
Pham Hong Son, deputy CEO of Masan Consumer, said his company is boosting exports to markets in the region. Once it successfully enters choosy markets such as Japan, it will be able to access other markets as well.
In 2023-2027, the company targets revenue of VND80-100 trillion, of which 85 percent would be from the domestic market and 15 percent from foreign markets (the figure now is 3-4 percent), cited VNN.
According to The Gioi Di Dong (Mobile World), a mobile phone distribution chain, each Erablue store (a joint venture of the company in Indonesia) brings revenue of VND5 billion a month, which is equal to revenue of the longstanding Dien May Xanh store in Vietnam.
As for prospects of Erablue, its representative said business performance there is very good. Erablue plans to build 500 stores in the next five years (there are five now).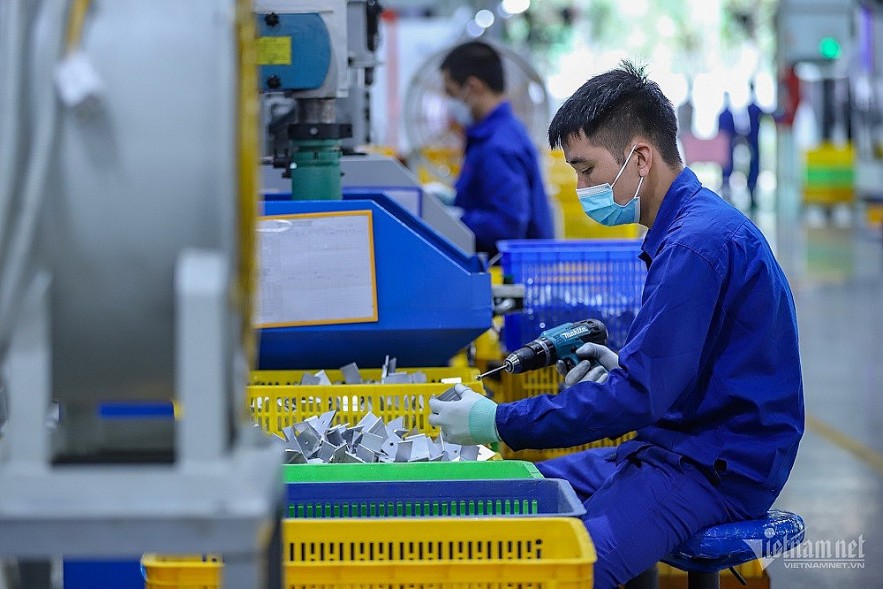 Photo: VNN
HCM City supports export companies
Seeking new export markets and international distribution channels are important for enterprises trying to overcome difficulties.
However, Ly Kim Chi, chair of the HCM City Food and Foodstuff Association, said that economic conditions remain unpredictable and demand remains weak.
Some new markets have great development potential, but there exist obstacles in payment methods, which hinders trade.
Viet of Viet Thang Jeans has proposed that the Ministry of Industry and Trade (MOIT) cooperate with the Ministry of Foreign Affairs and local industry and trade departments to accelerate trade promotion to help businesses access new markets.
The HCM City Industry and Trade Department plans to join forces with associations to organize the Vietnam Forum and Export Product Trade Fair in HCM City on May 25-28. The event aims to find solutions to support export activities of businesses in the city.
It is expected that over 250 stalls from key export items will be displayed at the trade fair, including farm produce, textiles and garments, footwear and handbags, wooden furniture, fine arts, food and beverage, seafood, electronics and others. The state budget will give a 50 percent financial support to the companies to attend the trade fair.
At the event, enterprises will be provided information about the demands from the key markets such as the US, Europe, Japan and South Korea. The trade fair is expected to attract 8,000 visitors.
National programme on cultural development approved
The National Master Programme on Development of Vietnamese Culture in the 2023-2025 period has been approved under a decision recently signed by Deputy Prime Minister Tran Hong Ha.
The programme covers all localities nationwide and a number of countries sharing long-standing cultural relations with Vietnam, focusing on the areas of cultural heritage, fundamental culture, performing arts, fine arts, photography and exhibitions, cinema, library, training, ethnic culture, culture for external relations, and cultural industry.
Major tasks and solutions put forth by the programme include completing the legal and policy system regarding culture; sustainably preserving and promoting national cultural values; improving the efficiency of cultural institutions; building a healthy cultural environment and enhancing the spiritual life of people.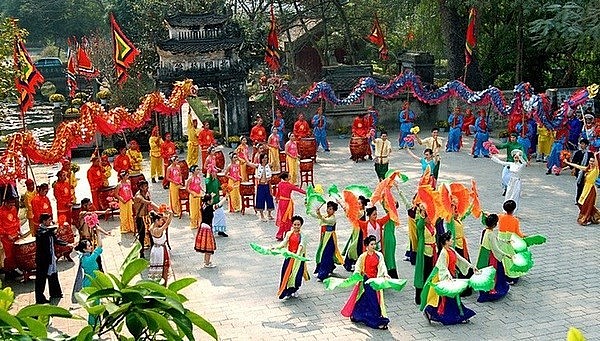 Illustrative image (Photo: baovanhoa.vn)
At the same time, the programme will also concentrate on developing the contingent of artists and intellectuals, personnel training in cultural area, promoting Vietnamese cultural and art products with high values, spreading the image of Vietnam, and its people and culture to the world.
Specifically, the programme will restore and preserve two cultural and natural heritages recognised by UNESCO; 15 special national relic sites that are seriously degraded, while giving urgent support to the repair of about 150 national relic sites, cited VNA.
National thematic museums and a national centre for artifact preservation will be established, while measures to step up the application of IT will also be implement to speed up digital transformation in protecting and promoting values of cultural heritages.
The Ministry of Culture, Sports and Tourism is in charge of collecting data and reporting the progress of the programme, while summarising and proposing solutions to tackle obstacles during the implementation of the programme.
Meanwhile, localities are assigned to ensuring capital and land areas for the construction of cultural works.