Vietnam - Pakistan Hold Ample Opportunities for Educational and Commercial Cooperation
The content was said by Ambassador Extraordinary and Plenipotentiary of the Islamic Republic of Pakistan in Vietnam Samina Mehtab in an interview with the VietnamTimes on the occasion of the 83rd Pakistan Day (March 23, 1940- March 23, 2023).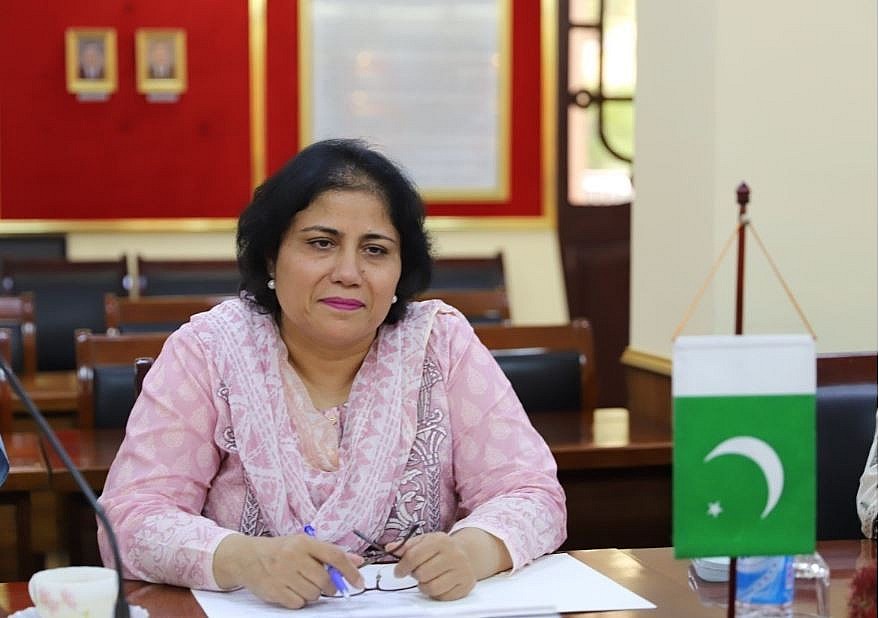 Ambassador Extraordinary and Plenipotentiary of the Islamic Republic of Pakistan in Vietnam Samina Mehtab.
Can you please tell readers of the Vietnam Times about the outstanding achievements that the country and people of Pakistan have achieved over the past time?
Pakistan came into being in 1947. Our forefathers put in efforts day in and day out to make Pakistan the independent, stable, and proud country that it is today.
The people of Pakistan are known for their generosity, kindness, and intelligence. During more than 75 years of our existence, the people of Pakistan have amazed the world with their astounding achievements in the fields of education, engineering, information technology, sports, and entertainment.
Pakistan is a multi-ethnic polity of over 200 million people today. A number of projects have been implemented in Pakistan which have brought about a positive impact on the socio-economic stature of the populace of Pakistan, such as the China-Pakistan Economic Corridor (CPEC), Benazir Income Support Programme dedicated to fighting poverty, Ehsaas Emergency Cash Programme.
To empower its women, Pakistan has taken progressive steps towards the protection of human rights by ratifying most international human rights conventions and introducing pro-women legislation. Due to these legislations and several other women-friendly initiatives by the government, women now make up a sizeable portion of the workforce in all fields be it diplomacy, medicine, education, banking, law enforcement, or administration.
As a country, Pakistan has always lent all possible assistance for world peace and prosperity. Pakistan is proud of its long-standing and consistent contributions to UN peacekeeping spanning over six decades. Since 1960, over 200,000 of our service men and women have served with honor and valor in 46 UN Missions in almost all continents of the world. Through their professionalism and dedication, Pakistani peacekeepers have always distinguished themselves in every mission in which they have participated. 169 of our bravest peacekeepers have made the ultimate sacrifice in the line of duty for the cause of international peace and security.
In the last couple of years, the COVID-19 pandemic and catastrophic floods have had destructive effects on Pakistan. However, I am hopeful that with continuous efforts, we will be able to overcome these disasters and continue to progress and prosper.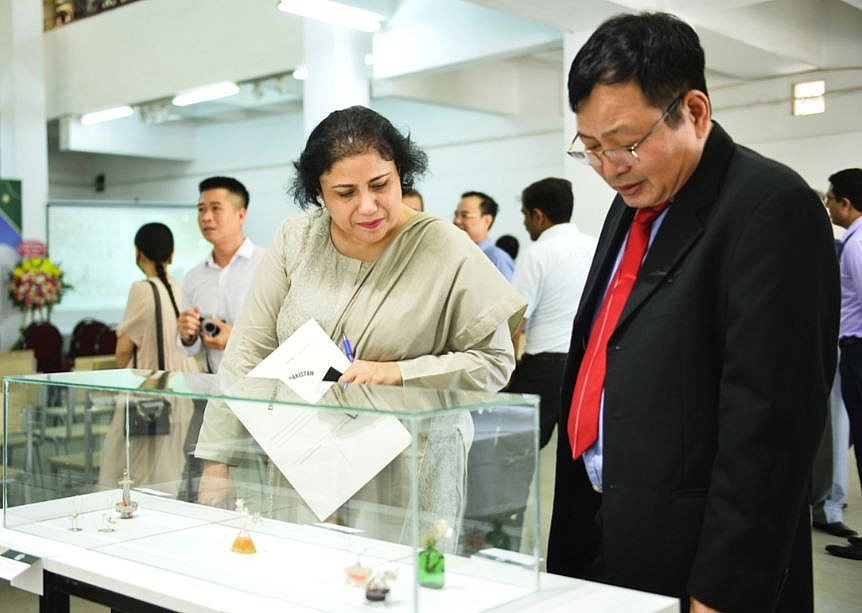 Ambassador Samina Mehtab at an art exhibition at the Hanoi University of Industrial Fine Arts in June 2022.
What can Vietnam learn from Pakistan's outstanding achievements in socio-economic development in recent years?
Pakistan is a multi-ethnic country with over 200 million population. Policymakers of Pakistan have always taken initiatives for the socioeconomic development of Pakistan and have been successful in a number of sectors.
Pakistan possesses state-of-the-art medical colleges that produce one of the best doctors in the world. Medical colleges in Pakistan such as Agha Khan University Hospital and Dow Medical University. Pakistan enjoys the seventh-largest pool of doctors globally and is the third-largest source of foreign doctors in the USA. Vietnam can collaborate with the medical colleges as well as Pakistan Medical and Dental Council for the exchange of doctors, faculty, and students.
Furthermore, Pakistan is home to the third largest English-speaking population in the world. Proficiency in the English language abets Pakistani professionals to integrate more easily into the global economy. Vietnam can collaborate with Pakistan in this area by signing MoUs with relevant institutions on the exchange of faculty and students.
Lastly, Pakistan is also performing exceptionally in the information technology sector. Pakistan's Information technology exports have crossed US$5 billion per annum, which include telecommunication, computer, and information services. Currently, Pakistan has 500,000 plus English-speaking IT professionals and over 25,000 IT graduates and engineers are being produced each year in Pakistan. Vietnam has a huge demand for English-speaking IT professionals, hence both sides can collaborate in this sector. Pakistan is already in contact with Vietnam Software Association (VINASA).
What outstanding results in the cooperation and people-to-people exchange between Vietnam and Pakistan that the two countries have reached so far?
On 08 November 2022, Pakistan and Vietnam completed 50 years of diplomatic relations. These fifty years of bilateral relations are a story of cordiality and cooperation. As a result of continued collaboration in all fields of mutual interest, both countries today have strong political, economic, and people-to-people relations.
Both sides have exchanged high-level visits and our leaderships engage with each other frequently on the side-lines on multilateral fora.
The trade and investment linkages have also been on an upward trajectory since the establishment of diplomatic relations. Our bilateral trade tripled from $331 million in 2013-14 to $907 million in 2021-22 and is expected to reach USD 1 billion in near future.
Pakistan's relations with Vietnam are further consolidated due to solid institutional framework of bilateral political consultations, Joint Trade Commission and Joint Ministerial Commission. We hope to convene the next rounds of all three mechanisms in this year.
Regarding cooperation in disaster management, Pakistan is grateful to Vietnam for the thoughtful gesture of donation of USD 100,000 in January this year for the flood affectees in Pakistan.
Pakistan and Vietnam also possess significant people-to-people exchange. Pakistan offers training courses to Vietnam in the field of banking, diplomacy, railways, and military training. Three diplomats from Vietnam participated in the Short Diplomatic Course held at the Foreign Service Academy in Islamabad last year.
Our tourism linkages are also increasing steadily. I also held meetings with tour operators throughout Vietnam and connected them to tour operators in Pakistan.
Currently, both countries are proactively engaged in all spheres of mutual interaction. I hope that the bilateral relationship will consolidate with the passage of time into a close partnership.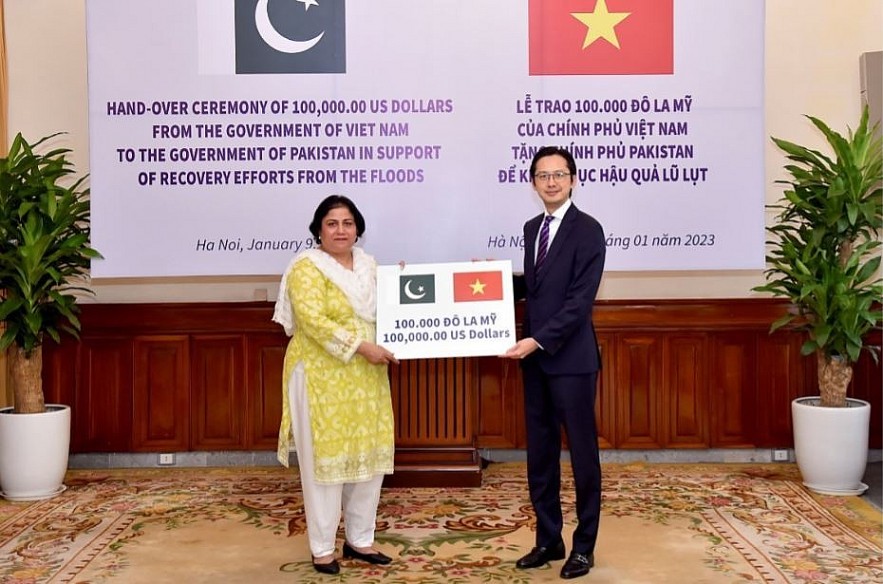 Deputy Minister of Foreign Affairs Do Hung Viet presented USD 100,000 from the Government and people of Vietnam to assist Pakistan to overcome the consequences of the flood in 2022.
What topics and methods should the businesses and people of the two countries to pay attention to for better people-to-people relations in the future?
First of all, I would like to affirm that Pakistan and Vietnam are important trade and economic partners and have immense potential to take bilateral trade volume to new heights. I sincerely hope that we soon achieve the target of USD 1 billion.
In recent years, Pakistani buyers often turn to Vietnam to explore opportunities for cooperation and investment. Pakistani customers are interested in buying Vietnamese products such as mobile phones, tea, pepper, yarn, steel products, and cashew... because of their advantages in price and quality.
Vietnam has been one of the biggest beneficiaries so far of the supply chain diversification thanks to its relatively low manufacturing wages, skilled and well-educated workforce, and good infrastructure. Another important competitive advantage for Vietnam is its plethora of bilateral and regional free trade agreements. Vietnam is also a member of ASEAN and a part of two major regional free trade agreements, the Regional Comprehensive Economic Partnership (RCEP) and the Comprehensive and Progressive Agreement for Trans-Pacific Partnership (CPTPP). Vietnam is in a good position as it has been open to FDI, and FDI regulations have been favorable. Vietnam has proved that it could produce goods and ship and deliver them. Therefore, Pakistani buyers want to get access to an abundant source of goods from reliable exporters and manufacturers of Vietnam.
We are encouraging Pakistani buyers to source quality products from Vietnam for export processing. Furthermore, some of the large enterprises that are well-established in Pakistan are interested to invest in Vietnam.
On the Pakistan side, we have recently gotten the export of our Plant Origin Products registered with the Ministry of Agriculture and Rural Development. We have also submitted another dossier for various fresh fruits and vegetables from Pakistan to be exported to Vietnam. In case of the Animal origin products, especially processed and deboned meat from Pakistan, we have submitted our registration dossier to the Animal Health Department of Vietnam. Lastly, we have also submitted the registration dossier for the export of fisheries to Vietnam. I hope the registration process goes smoothly for all these products. It would tremendously contribute to the consumer welfare of the Vietnamese nation and good quality products would be available to them at a competitive price.
The best aspect of our bilateral trade is complementarity. It is definitely a win-win situation as our exports are not competing against each other, but rather are supporting raw material needs for export processing industries of both countries. I would like to stress that both countries need to diversify their bilateral export basket. We are willing to support Vietnam to diversify its export basket to Pakistan.
I believe there are still untapped opportunities between Pakistan and Vietnam to improve the bilateral trade in different sectors, including animal feed raw materials, plant-origin products, animal-origin products, fisheries, plastics, pharmaceutical products, and surgical instruments.
Besides, I would like to emphasize that, a convenient and easy visa process is necessary for all activities of people-to-people interaction. Pakistan has included Vietnam in the list of countries with e-visas for citizens. I hope Vietnam will soon put Pakistan on the list of countries where people can apply for a visa at the border as well as an electronic visa facility.
Thank you, Ambassador!
The Trade Development Authority of Pakistan, Ministry of Commerce, is organizing the 4th International Textile Exhibition (TEXPO) from 26th to 28th May 2023 at Karachi Expo Center, Karachi, Pakistan. TEXPO Pakistan is the biggest and most prestigious Textile and Leather Exhibition in Pakistan held every year. It is my honor to invite Vietnamese business chambers, production houses, retail chains, and the manufacturing industry of Vietnam in the Textile and Leather sector to visit the TEXPO.
All the information is available on the website of TEXPO, https://texpo.tdap.gov.pk.