Vietnam 'Rice ATM' goes beyond borders to 10 Southeast Asian countries
The exclusive Rice ATM is poised to go beyond Vietnam reaching poor people in other ASEAN countries, after successfully giving free rice to thousands of Vietnamese during the straining COVID-19 period.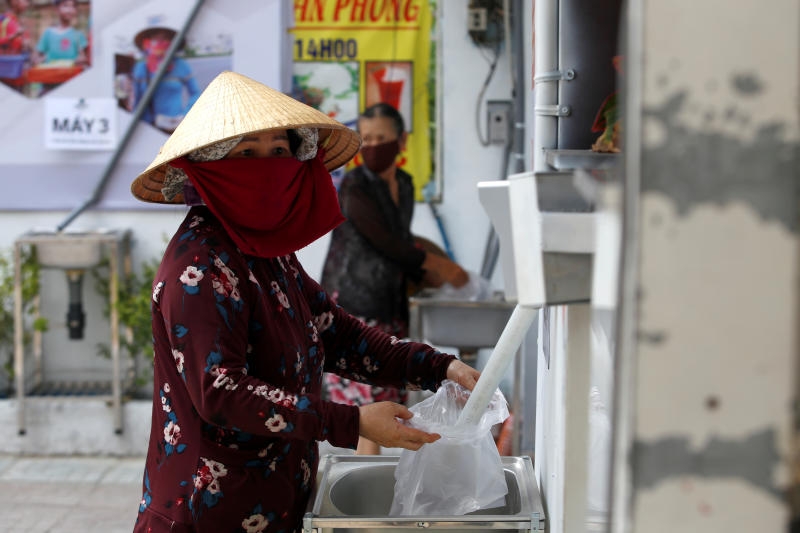 A Vietnamese woman receiving rice from the Rice ATM.
Hoang Tuan Anh, director of an electronic lock company named PHGLock in Tan Phu district, Ho Chi Minh City, who came up with the model, told Thanh Nien "It would be Vietnam's pleasure and honor to introduce Rice ATM to foreign countries. This is set to be our second target after completely installing the model across Vietnam".
"We're planning to give each country two Rice ATMs to continue spreading the compassion and love amidst COVID-19 outbreak", he added.
The Ministry of Foreign Affairs leaders, together with First Secretary Phan Hoa, who is in charge of Consular Affairs and the Vietnamese community in Mexico have helped Tuan Anh realize his wish.
"We highly appreciate Tuan Anh's creative Rice ATM. Therefore, I accepted his request immediately. It had helped many Vietnamese overcome difficulties, now it could be even more meaningful if other needy people in the region could be granted the same favor", she told Thanh Nien, adding that she hasd proposed the idea to the Foreign Affairs Ministry leaders.
"Hopefully, the Rice ATM could reach other continents after its appearance in Southeast Asia", Hoa said.
A Consulate General of Cambodia in Ho Chi Minh city had paid a visit to Tuan Anh's company on May 11, through the connection of Vietnam Ministry of Foreign Affairs. In the meeting, Tuan Anh presented Cambodia four Rice ATM.
The delegation also touring around the company and highly evaluated the Rice ATM.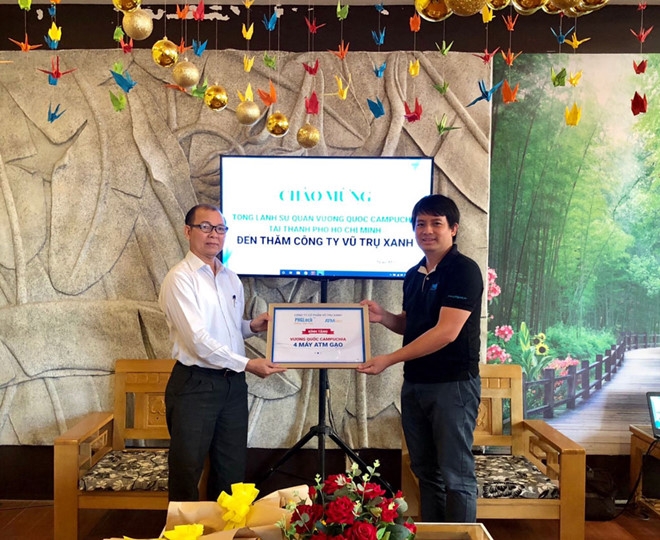 Hoang Tuan Anh (R) presenting four Rice ATMs to the Consulate General of Cambodia in assistance to the poor in Cambodia.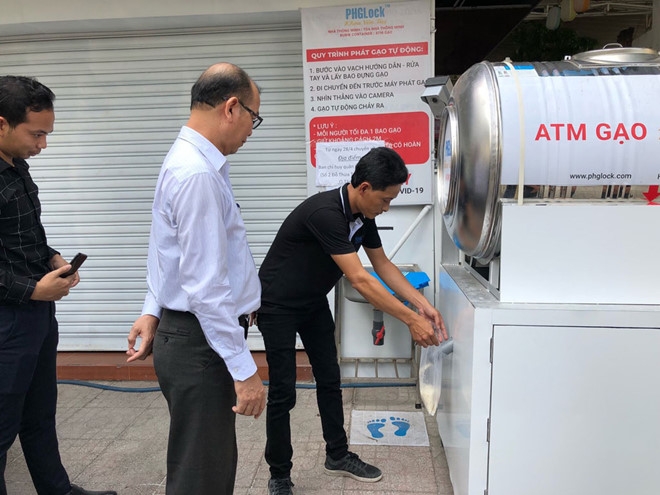 The Consulate General seeing how the rice dispenser operates.
The Rice ATM is expected to make a debut in the Timor-Leste late May. The machine has a distribution capacity to 3,000-4,000 people/day and could be installed and put into service immediately upon arrival.
" We planned to donate 20 machines to 10 countries, 2 for each with our initial resources. When receiving extra requests from Cambodia, we donated 4 machines in assistance to provide more support to people in need. The Vietnamese community in Cambodia also becomes very crowded, and I hope to help Cambodian as well as our Vietnamese fellow-citizens".
"I hope that Vietnamese corporations and businesses in Cambodia could lend helping hands to assist the poor in Cambodia as machine delivery from Vietnam to Cambodia faces some big obstacles of high cost , export procedures as well as seeking sources of rice giving in the destinations", shared Tuan Anh.
In early May, Vietnam's Rice ATM has been replicated in Indonesia as a way to support the poor people most affected by the COVID-19 pandemic.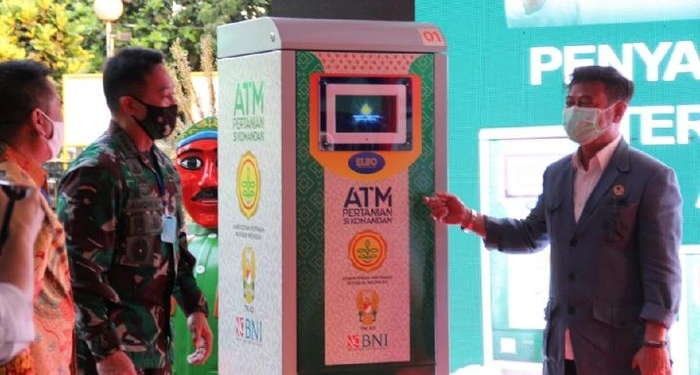 Vietnam's Rice ATM replicated in Indonesia. Photo: Indonesia's Agriculture Ministry.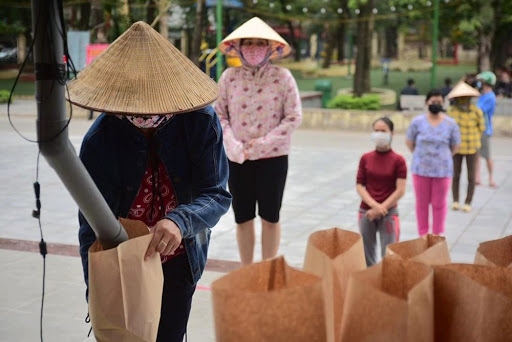 People stay at a proper distancing while waiting for their turn in front of the Rice ATM.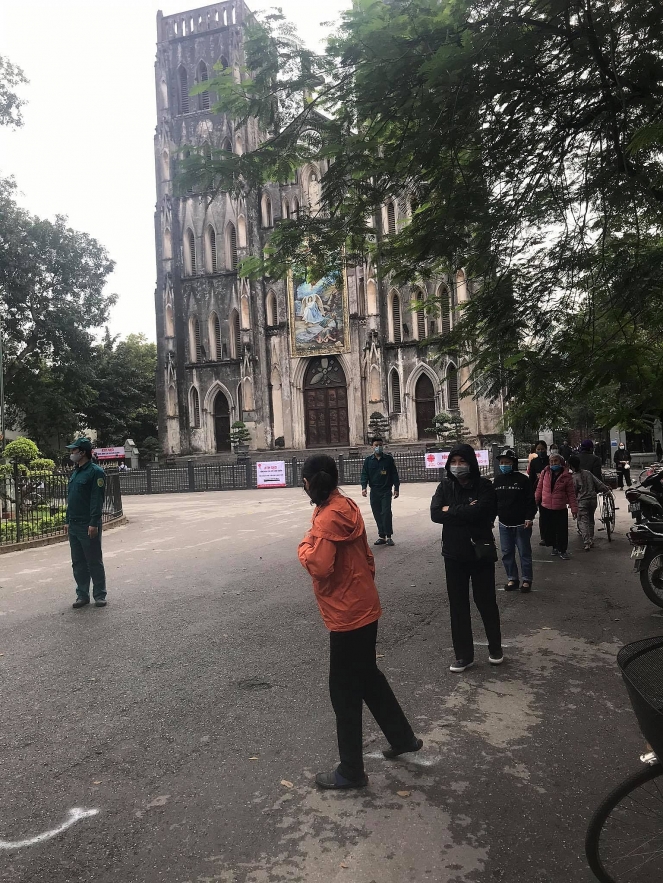 A long queue of people waiting for donated rice in front of The big church of Saint Joseph Cathedral in Hanoi on April 25.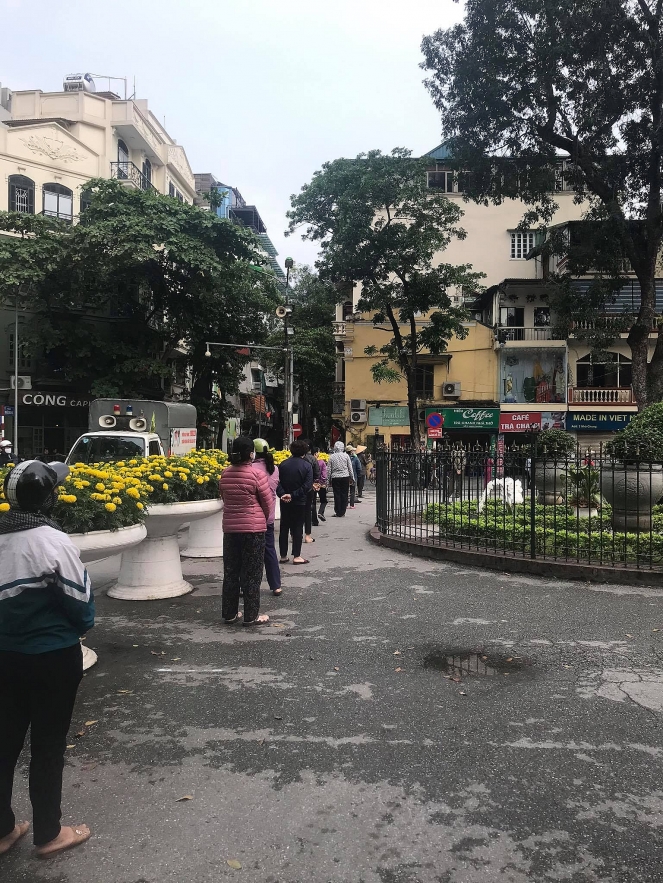 The big church of Saint Joseph Cathedral in Nha Chung Hanoi is famous to foreign tourists and seen many tourists daily but during the pandemic, it became a place for rice ATM. Police and local officials were assigned to support them to make sure anyone could get her rice.
A long queue of people waiting for donated rice in front of The big church of Saint Joseph Cathedral in Hanoi on April 25, supported by local officials when all shops were required to close due to social distancing.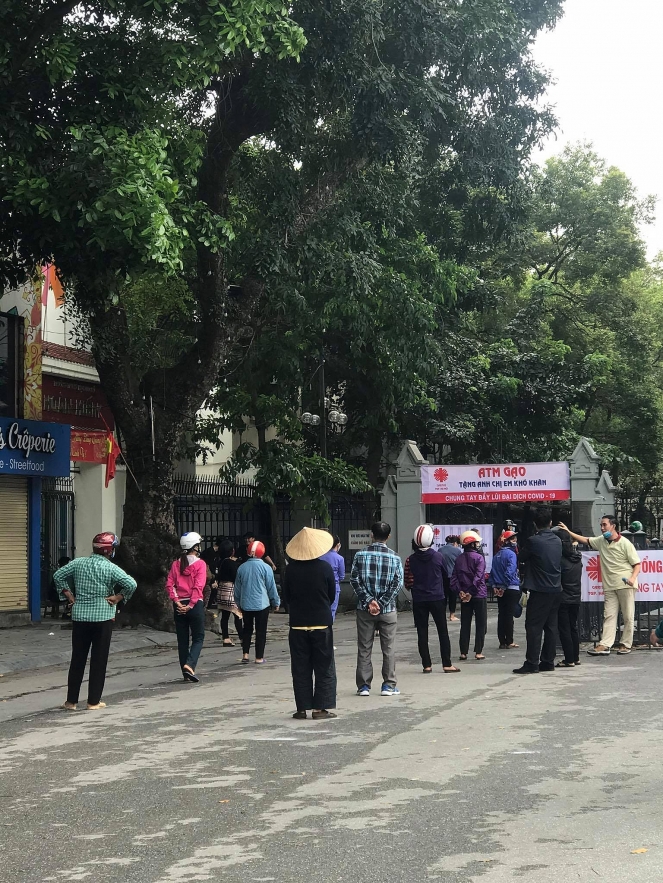 People in difficulties due to the covid-19 pandemic came there in hope of receiving free rice assisting them to continue their life amid the pandemic.
The Rice ATM, which made a debut in Ho Chi Minh City in early April, was quick to be multiplied and installed across Vietnam.
For the past month, the novel model has been automatically dispensing free rice 24/7 to people badly affected by the COVID 19 pandemic, drawing praise and support nationwide. Tons of rice have been given freely to the poor across the country daily.
The number of Rice ATM and their operation time have, however, been reduced since late April when Vietnam ended its prolonged social distancing period, "as people could come back to normal life at that time", according to Tuan Anh. As of now, Vietnamese citizens can still receive one free bag of rice on a weekly or monthly basis.
The rice dispenser has made international headlines, with major news agencies like CNN, Reuters, etc., lauded the idea as "it sounds too good to be true".
Exclusive 'book ATM' launched in Hanoi

The first-ever free book ATM makes a debut in Thai Ha bookstore Friday morning, aiming at serving book lovers and the underprivileged and spreading the ...