Vietnam seeks international support for flood-hit Central region
Deputy Prime Minister Trinh Dinh Dung on Monday hosted a reception for ADB Country Director Andrew Jeffries, UNICEF Representative in Viet Nam Rana Flowers, and UNDP Resident Representative in Viet Nam Caitlin Wiesen.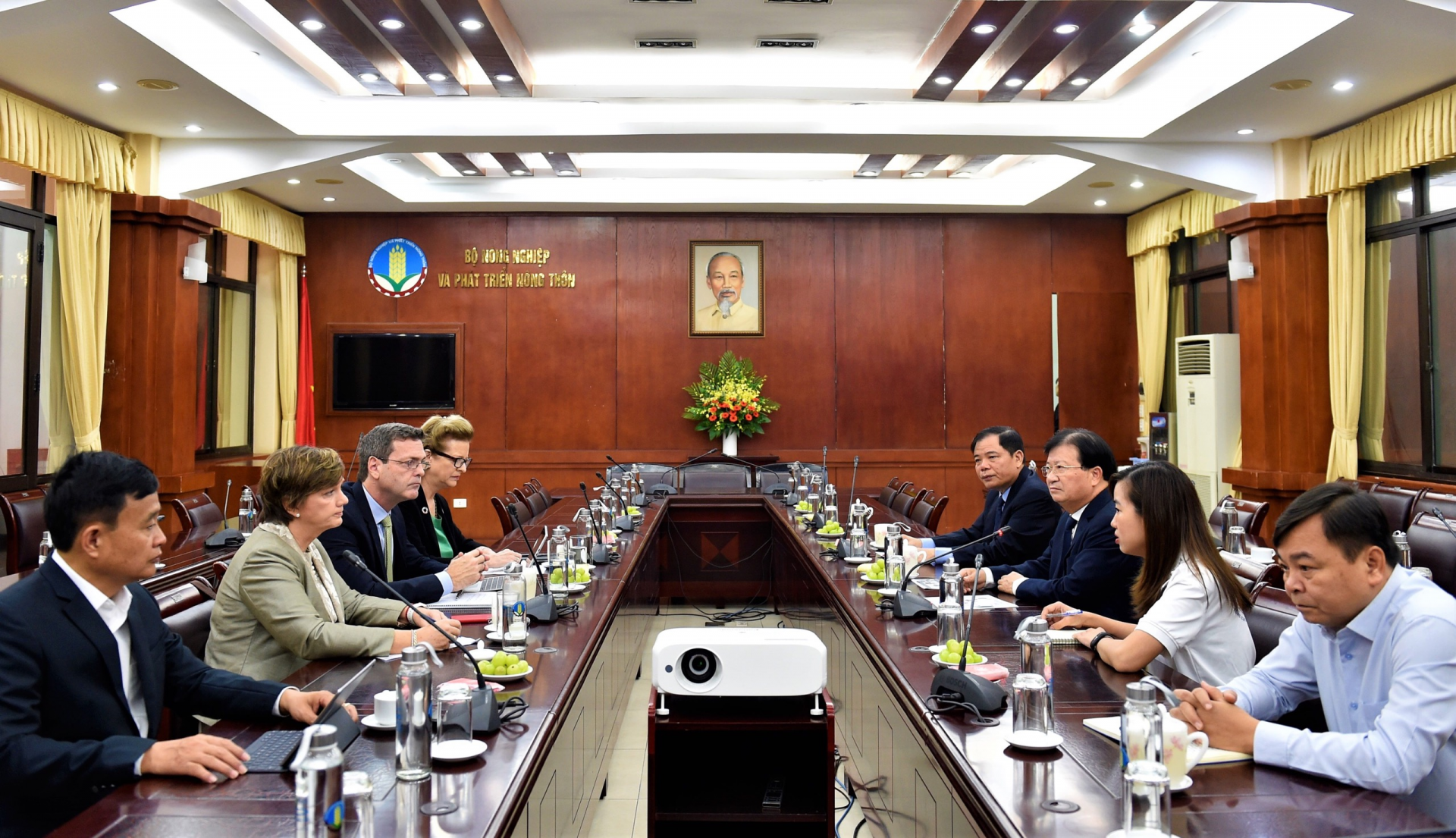 Deputy Prime Minister Trinh Dinh Dung hosts a reception for leaders of UNDP, ADB, and UNICEF in Viet Nam, Ha Noi, October 26, 2020 - Photo: VGP
The representatives from the UN agencies took the occasion to express their sympathies to the loss of lives and properties that the Central region has to endure from the recent cyclones, affirming to stand side by side with the Vietnamese Government to mobilize international support.
Ms. Flowers announced that the UNICEF mobilized US$ 160,000 in aid to provide emergency relief in water, personal and environmental hygiene, healthcare, nutrition, and education, promising to provide more support for the central region in clean water supply, sanitary, nutrition, female and children health.
The UNDP representative praised the program on building over 3,200 storm-resilient houses over the past two years. She also pledged to work with the Green Climate Fund and the ADB to implement similar projects worth about US$ 30 million for local people in response to natural disasters.
Meanhile the ADB Country Director revealed that the lender is mulling over an emergency relief package worth US$ 3 million in an effort to support flood victims in the Central region.
Speaking at the reception, Deputy PM Dung treasured the international support for Viet Nam in response to natural disasters.
He suggested the international donors work with Vietnamese ministries, sectors, and localities to implement long-term projects which would assist people to promptly stabilize lives.
Dung also took the occasion to call upon international organizations to support flood victims to overcome consequences.
The Central Steering Committee for Natural Disaster Prevention and Control reported that the UNDP, the UNICEFF, and ADB provided nearly US$ 3 million of aid for Central flood victims.
Viet Nam is one of the most disaster-prone countries in the world. As of October 21, the number of deaths caused by flooding and landslides in central Viet Nam rose to more than and 26 others are still missing./.
VGP