Vietnam Travel: Five Vietnam Localities To Welcome Forgein Tourists in November
Five localities in Vietnam, which are Kien Giang, Khanh Hoa, Quang Nam, Da Nang and Quang Ninh, will welcome foreign tourists in November.
Kien Giang, Khanh Hoa, Quang Nam, Da Nang and Quang Ninh will welcome foreign tourists starting November in the first phase of Vietnam's roadmap to resume international tourism.
At a Thursday meeting with the Ministry of Culture, Sports and Tourism and authorities of the five localities, Deputy Prime Minister Vu Duc Dam said the resumption of international tourism needs to happen quickly as safely, according to VnExpress.
During the first phase starting November, foreign tourists coming to the five localities must confirm in advance their destinations and places of residence. Those who have completed their itinerary in the first seven days must be tested for Covid-19 before going elsewhere, Dam said.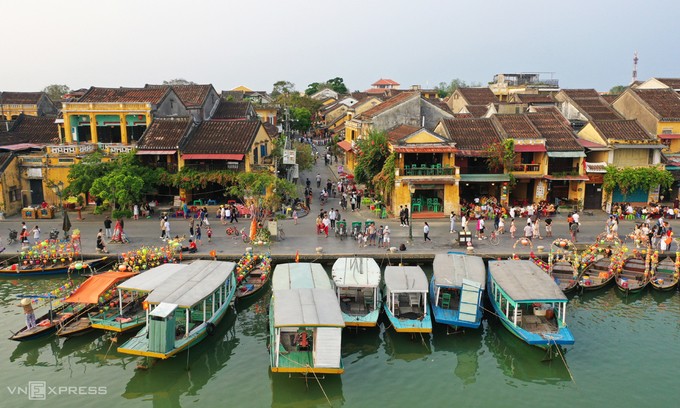 Tourists in Hoi An ancient town in Quang Nam Province in early April 2021, before the fourth wave of Covid hit. Photo by VnExpress/Dac Thanh
All five localities are major beach destinations. Kien Giang is home to the country's largest island Phu Quoc while Quang Nam is particularly known for the ancient town Hoi An and Quang Ninh Ha Long Bay.
Details of which parts of the localities to be open to tourists were not revealed. But the deputy PM said in Kien Giang, foreign tourists will be taken to parts of Phu Quoc.
In the second phase starting January 2022, other localities can sign up to receive foreign tourists, depending on their vaccination and Covid-19 control status. The tourism ministry will decide before January 2022 if the localities are eligible to receive foreign tourists.
Under current vaccine passport policy, even fully vaccinated visitors to Vietnam have to undergo centralized quarantine for seven days.
Vietnam currently accepts Covid-19 vaccine passports from 72 countries and territories, and is discussing the issue with 80 others, the Ministry of Foreign Affairs announced Thursday.
Vietnam Announces Gradual Reopening Plan for International Tourists
Vietnam won't fully reopen its borders until the summer of next year but plans to welcome some vaccinated tourists to major cities by December.
The country hopes to have its borders fully open by June 2022, Reuters reported — more than two years since the coronavirus pandemic forced border closures around the globe.
In November, Vietnam — known for having some of the most beautiful beaches in the world — said it would reopen the island of island Phu Quoc to vaccinated foreign travelers, CNN reported. And in December, Vietnam expects to extend that opening to major tourist destinations like Hoi An, Halong Bay, Nha Trang, and Dalat.
CREDIT: LINH PHAM/GETTY IMAGES
"We are only open when it's truly safe," the government told Reuters in a statement. "We are moving step by step, cautiously but flexibly to adapt to real situations of the pandemic."
Vietnam currently has adopted some of the strictest border rules in the world and tourists from the United States are not allowed to enter, according to the U.S. Embassy & Consulate in Vietnam. Travelers granted an exception must get tested before arrival and must quarantine.
So far, 37.3% of people in Vietnam have received at least a first dose of a vaccine but only 12.7% are fully vaccinated, according to Reuters, which is tracking the vaccine rollout around the world.
Vietnam's decision to open some areas of the country to tourism follows a similar model adopted by nearby Thailand, which opened its Phuket Sandbox program in July, followed by the Samui Plus program on Ko Samui. Last week, Thailand shortened the quarantine period for the programs to only seven days, and on Nov. 1 the country plans to reopen several areas to vaccinated tourists, including Bangkok.
Vietnam isn't the only country to push off a full reopening until next year. Australia has also said it won't welcome foreign tourists until at least some time in 2022.
What to see in five localities
1. Kien Giang
If you are someone who likes new experiences, do not miss the opportunity to explore these wonderful tourist destinations of Kien Giang. Before choosing a travel time in Kien Giang. You should be aware of the storms or refer to the weather forecast to make sure the trip to Kien Giang is not affected by storms.
From April to September:This is the summer break for students also this is summer holiday for Vietnamese tourist. So you can make a family trip to Kien Giang. In April to September, Kien Giang tourism will be in high season and the number of tourists coming also very high.
From October to February:Although the number of tourists at this time has decreased. However, if you like a comfortable tour. There is not "touristy". This is the right time to travel to Kien Giang.
Places to see in Kien Giang
1. Phu Quoc Island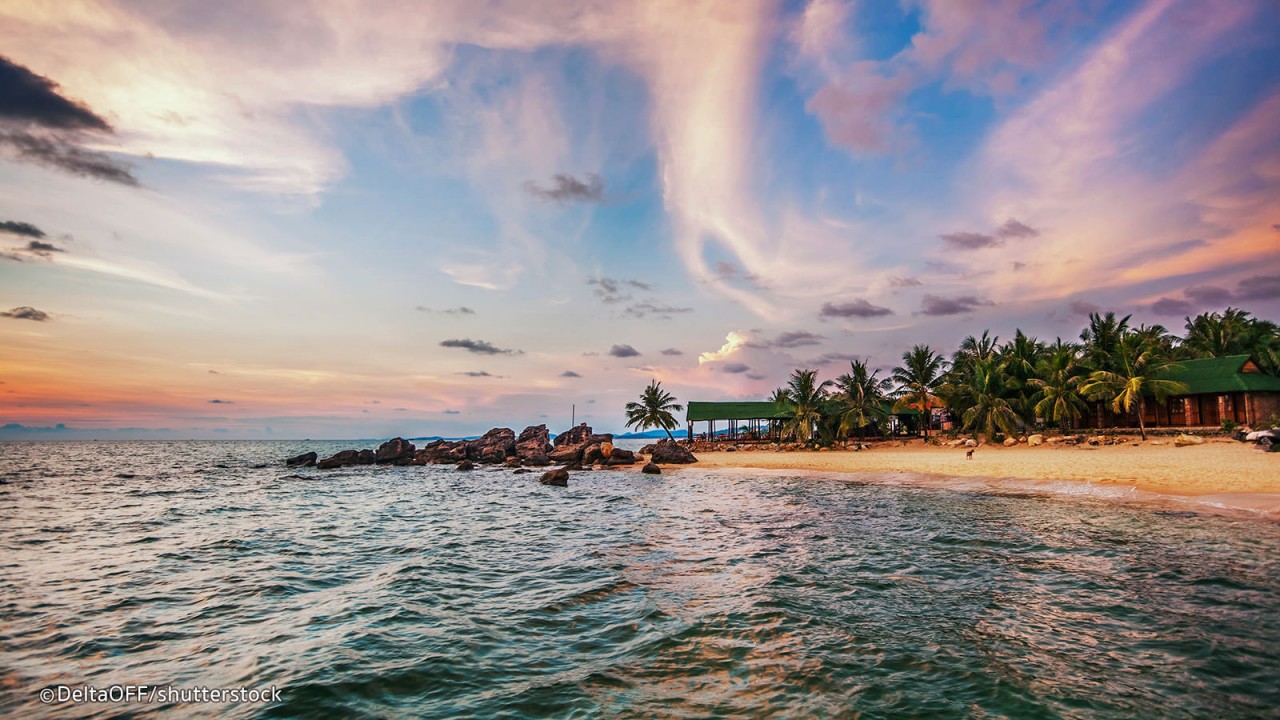 Photo: Shutterstock
Phu Quoc Island is known as a tourist destination in Kien Giang that is most visited by domestic and foreign tourists when they travel to Kien Giang. With the advantage of the weather as well as clear blue sea water, many rich dishes.
There are also famous beaches such as Sao beach, Dai beach, Truong beach, …
Ha Tien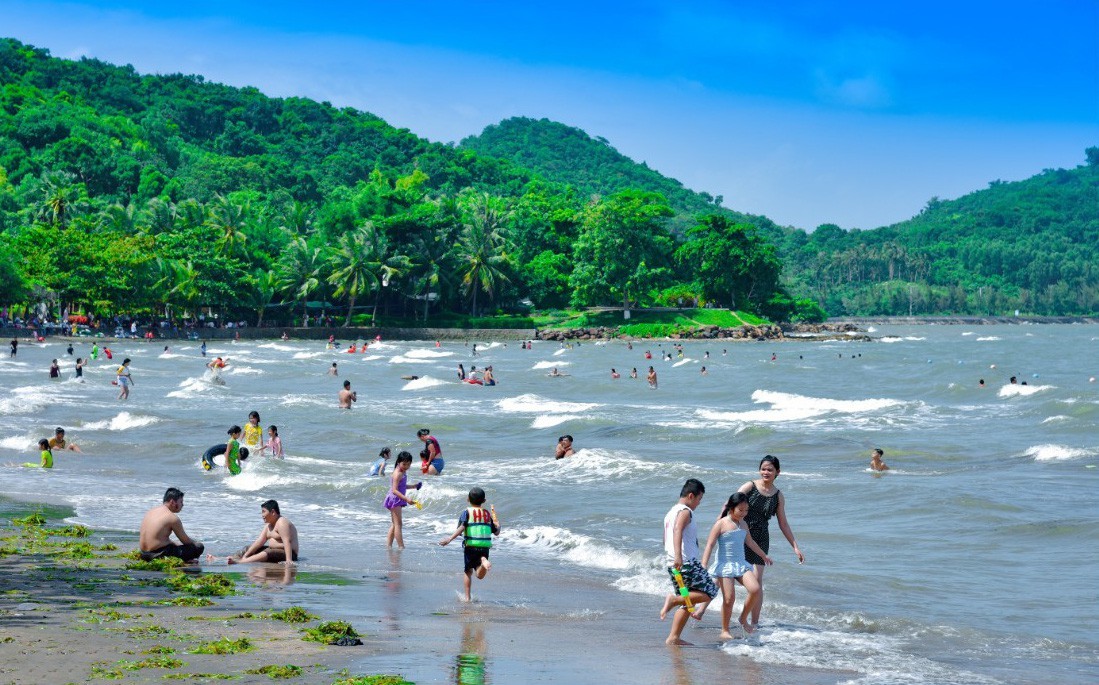 Photo: Nguoi Lao Dong
Ha Tien tourist destination is famous for its beautiful landscapes, mountains and fresh nature, delicious specialities at the night market near Giang Thanh River. In Ha Tien, visitors can enjoy the tour at Mui Nai beach, Binh San mountain, …
Pirate Island
This is a mysterious island that makes anyone think of pirate movies when they hear the name. This tourist destination in Kien Giang is home to a wild and attractive landscape for tourists. Guests have an unforgettable experience once coming here.
There are 16 small islands about 40km away from Phu Quoc with many beautiful and romantic beaches. Also, visitors here can organize overnight camping or small parties.
Rach Gia
In the tourist destinations of Kien Giang, Rach Gia is the place chosen by many tourists as a destination that cannot be ignored. Here, you can move to mysterious and pristine islands or you can walk around the urban centre of the sea, Nguyen Trung Truc communal house, shopping at the commercial centre, … There is nothing special about playing places in Rach Gia, but ensuring Rach Gia cuisine will make you unforgettable. Some of the dishes you must try in Rach Gia are fish vermicelli, fish sauce hot pot, pancakes, crab ball soup, herring salad …
2. Khanh Hoa
Possessing an endless coastline of more than 200km, along with countless large and small islands, Khanh Hoa becomes an attractive destination for tourists. If you are wondering about planning to explore Khanh Hoa, the following information will be very helpful for you.
According to those who have been to Khanh Hoa, April – May is the most ideal time to visit Khanh Hoa. Because the weather at this time is sunny, but not too hot, little rain, very suitable for swimming and visiting the city.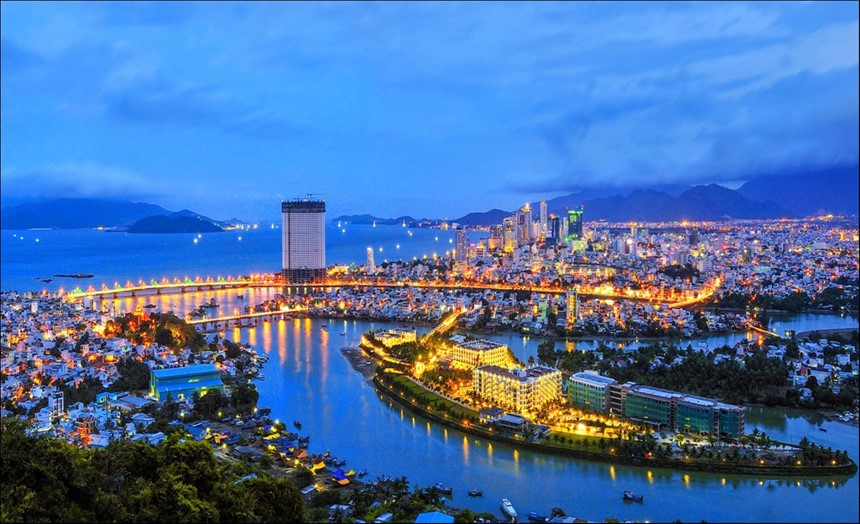 Photo: giaoducthoidai
Do not travel to Khanh Hoa in June – August, because the temperature is high at this time, averaging about 36 – 40 degrees Celsius. And September – December should also limit travel because this is the rainy season, it will affect your trip.
Nha Trang is the most famous and favorite tourist destination in Khanh Hoa. Especially Nha Trang Beach, this place is known as the most beautiful bay in the world. Fresh natural space, blue sea, white sand, paint a beautiful picture of nature. Besides, Nha Trang Beach has many other tourist attractions such as Vinpearl Land, Ponagar Tower, Nha Trang Institute of Oceanography, Mun island.
With an area of over 60 square kilometers, Cam Ranh Bay is favored by nature with beautiful and romantic natural landscapes. From afar, the bay looks like a smooth, blue silk strip, lying under the yellow sunlight.
Dai Lanh Beach is also on the list of beautiful, famous beaches in Khanh Hoa. This place is the connection between the mountains and the sea, far from the sea are fishing boats, adding to the romantic picture of nature. You are sure to have a wonderful and memorable experience when coming here.
About 15km from the center of Nha Trang city, Monkey Island belongs to Nha Phu Bay. The reason for the name monkey island is that there are about 1000 monkeys living on the island. Therefore, this place always arouses curiosity and attracts tourists.
3. Quang Nam
Experiencing the ups and downs over the years, Quang Nam still preserves the unique historical and cultural remains of the past along with rich human values. Some of the typical cultural sites include: Hoi An Ancient Town, My Son Holy Land, Tra Kieu Old Champa Capital, Cham Towers in Khuong My and Chien Dan, which record the remains of Sa Huynh, Champa and the Dai Viet civilization.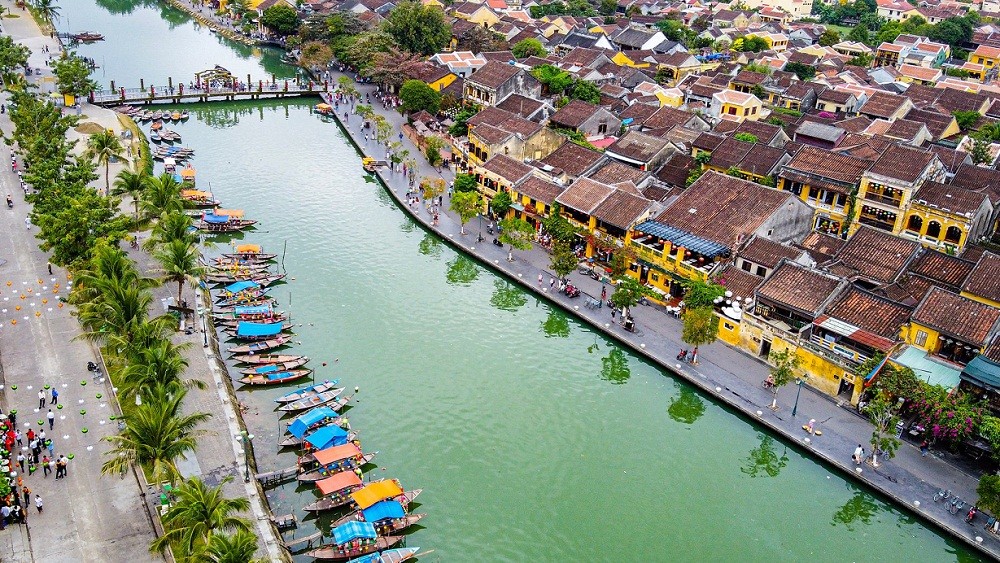 Photo: Baodautu
Quang Nam is located in the middle of Central Vietnam and is surrounded by Thua Thien-Hue, Quang Ngai, and Kon Tum provinces. The Truong Son Mountains, Laos, and the East Sea also border the province.
Quang Nam has various of mountains and hills (covers 72% its surface) with many high mountains such as Lum Heo Mountain of 2,045m, Tion Mountain of 2,032m, Gole - Lang Mountain of 1,855m. Main rivers run from Truong Son Range to East Sea as Vu Gia , Thu Bon, Tam Ky rivers.
Experiencing the ups and downs over the years, Quang Nam still preserves the unique historical and cultural remains of the past along with rich human values. Some of the typical cultural sites include: Hoi An Ancient Town, My Son Holy Land, Tra Kieu Old Champa Capital, Cham Towers in Khuong My and Chien Dan, which record the remains of Sa Huynh, Champa and the Dai Viet civilization.
During many wars, Quang Nam was one of the cradles of the revolutionary movement. Bo Bo, Nui Chua, Vinh Trinh, Cho Duoc, Chu Lai and underground tunnels of Ky Anh, the Ho Chi Minh Trail have gone down in history as the destinations for tourist to stop and visit the former battle fields.
The province possesses 120km of coastline stretching form Dien Ngoc to Dung Quat with many beautiful, clean and deserted beaches. The beaches of Dien Duong, Cua Dai, Binh Minh, Tam Thanh, Ky Ha and Bai Rang together with the lake of Phu Ninh, the rivers of the Thu Bon and Truong Giang and the island of Cham are ideal tourist attractions.
Hoi An Ancient Town and My Son Cham Towers have been recognized as World Cultural Heritage since 12/1999.
4. Da Nang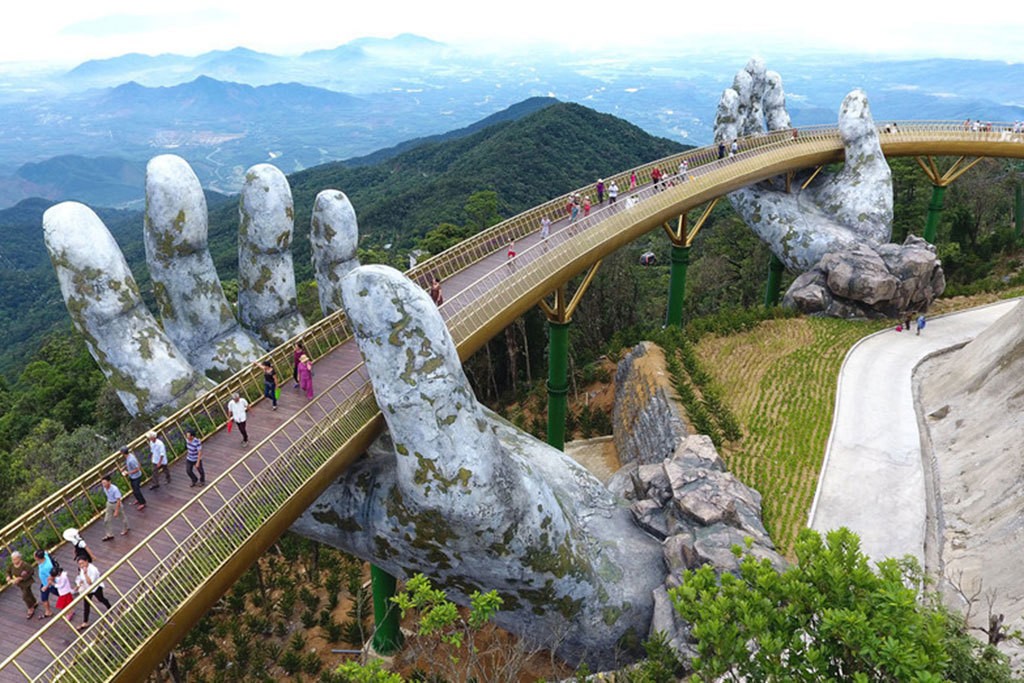 Photo: Time Out
Da Nang is a city of bridges, growing rapidly with resort construction attempting redefine itself from the transit center to the destinations. The Hue Imperial City, rich in political history is two hours drive north. At the other direction, the cultural jewel of Hoi An is just forty minutes south. Both are notable travel destinations, which absolutely merit a visit.
Da Nang's 1 million residents and hotels' construction boom are left somewhere in an awkward middle ground. Although boasting a few temples and government buildings, some modern bridges really puts Danang on the international map.
That leaves the beaches, which, for just as far as I sound like a negative Nancy, are actually quite striking. Da Nang has 92 kilometre of coastline. There are roughly 3 separate beach regions of varying popularity and features: The North part of Da Nang includes Xuan Thieu Beach and Thanh Binh Beach facing Da Nang Bay. Both are offer incredible white sand, blue water and fewer tourists, additionally lack many facilities. It is the best beach for the picnic or a cooler for the day.
The Son Tra Peninsular includes the eastern mountainous area that divides the north and south regions of the city's coastline. It includes smaller, nearly empty, although sometimes rocky beaches like Bai Con, Bai Nam, Bai Bac, Bai But, Bai Rang, and Tien Sa Beach. Day trips here are usually along with visits to Linh Ung Pagoda or up to the top of Monkey Mountain to take in the view over the area. If you consider yourself a bird watcher, a nature lover or fishermen, this is where you would like to be.
The South part of Da Nang encompasses Pham Van Dong Beach, My Khe Beach, Bac My An Beach and Non Nuoc Beach at the southern end. Collectively, they cover an impressive 30 kilometre, are in closest proximity to most accommodations within the city as well as beach front dining options.
In the end, if you consider yourself a bit of beaches, or are looking to take a high class break out of flash packing around Vietnam, this just will be the perfect weekend getaway. The beaches all get top marks for cleanness, although the strong surf and resulting rip current of East Sea might make swimming in certain areas. Regardless if you decide on public areas of the beach or private hotel areas, a lot of sofa seat options for choice and relax. Let enjoy a cold drink from the seaside.
There are a couple choices for skiing rentals and some other activities, but in general, Da Nang is beaches, and beaches alone.
5. Quang Ninh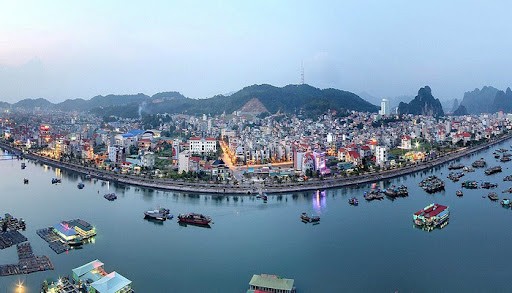 Photo: VGP News
The home to Ha Long Bay, one of the first Vietnamese heritages claimed by UNESSCO, Quang Ninh is famous for attracting tourists for a long time. But apart from the elegant stones of Ha Long Bay, Quang Ninh also has Tuan Chau Island with a road from the town straight to the island, a white sand beach with plenty of entertainment services for visitors. And should guests want something more adventurous and wilder, they are supposed to have a trip to Co To island with natural beauty and very few traces of man-made objects found here. Another noted place is Cua Ong Temple in Hon Gai, which worship Tran Quoc Tuan's son: Tran Quoc Tang who is considered as the god of all Quang Ninh people.
Some outstanding attractions in Quang Ninh province are listed below:
Halong Bay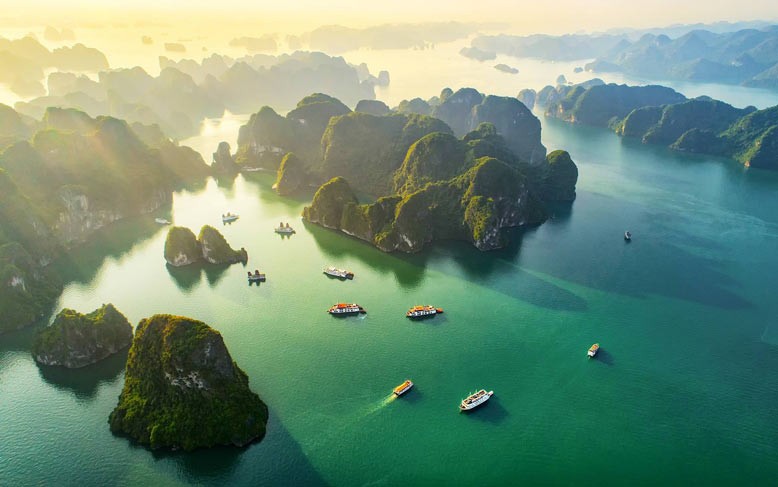 Photo: Gia Bao Group
Halong Bay covers about 1,553 km2 with 1969 islands. The World heritage Site is in the area of 434 km2 including 788 islands with high value on culture, biology, geology and economy. There are various attractive activities, beautiful landscapes and services that enables for tourism to develop continuously. For example, Halong Bay complex includes: Sung Sot cave, Trinh Nu cave, Dau Go grotto, etc. Here tourists will enjoy plenty of activities such as: swimming, kayaking, kite surfing, etc.
Tuan Chau island
Tuan Chau Island is located in the South- West of Halong city. With the area of 400ha and being adorned by nature, Tuan Chau owns stretch of soft sand with the length 6km; crystal blue water and more than 200ha area of green pines, etc. In addition, with various services and resorts, Tuan Chau is worth to be the ideal place to relax and travel. Besides, in Tuan Chau, tourists will enjoy beautiful beach named Tra Co and many attractive outside activities like: swimming, surfing, volleyball, climbing mountains, etc.
Cua Van fishing village
Coming to Cua Van fishing village, you not only immerse in peaceful and charm space of poetic sightseeing, but also explore traditional culture and simple daily life of fishermen. In details, tourists can easily catch the sight of old boats, simple small house of local people, fisherman netting fish, and innocent kids helping their parents on doing housework, etc.
Therefore, tourists can feel the small happiness in simple life and all worries and noise of urban life seem to be washed away.