Vietnam welcomes signing of Biden's Hate Crimes Act
Vietnam welcomes the signing of the Covid-19 Hate Crimes Act by US President Joe Biden to aim at curbing violence against the Asian Americans and Pacific Islanders, said Le Thi Thu Hang, spokesperson of Vietnamese Ministry of Foreign Affairs.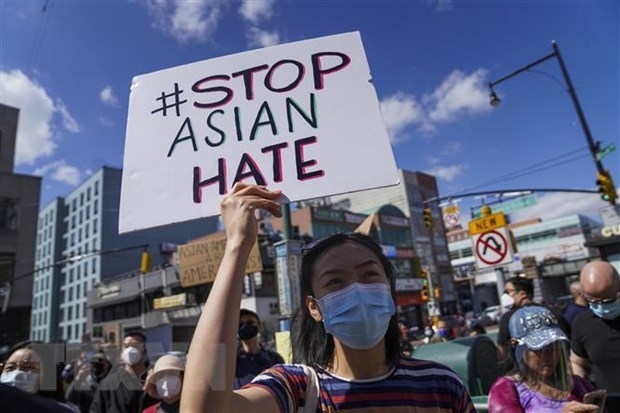 Protest against Asian Hate. Photo Xinhua
She made the statement at the regular press briefing of the foreign ministry on Thursday.
Hang said Vietnam "pays keen attention to the protection and upholding of stability, safety, and the lawful rights and interests of the Vietnamese community overseas".
"Bearing this in mind, we welcome US President in signing off the Act," Hang stressed.
Vietnam hopes that the Asian communities – including people of Vietnamese origin communities – who are residing, working, and studying in the US would have their safety ensured and that they would have equal access to healthcare, education, social services, and jobs, so that they can continue to make active contributions to their host country, which in turn, will help foster the US-Vietnam Comprehensive Partnership, the spokesperson remarked.
According to the White House, on May 20, US President Joe Biden signed into law S. 937, the "Covid-19 Hate Crimes Act," which requires the Justice Department to facilitate expedited review of hate crimes and authorizes grants to State, local, and tribal governments to prevent, address, or respond to hate crimes.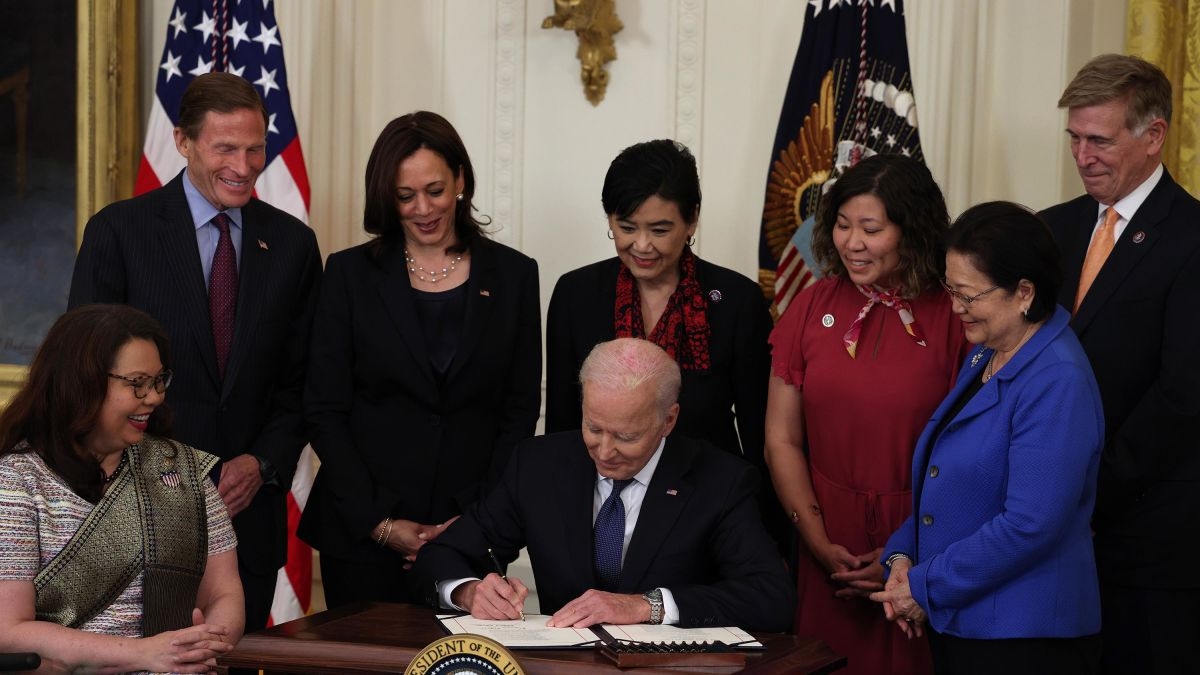 US President Joe Biden signs the Covid-19 Hate Crimes Act on May 20. Photo CNN
At the signing ceremony, US President Joe Biden said the law "will help state and local governments ensure hate crime information is more accessible to the public".
"Hate can — I mean this from bottom my heart — hate can be given no safe harbor in America. I mean it: no safe harbor," he said.
The signing comes two days after the House of Representatives passed the Covid-19 Hate Crimes Act by a vote of 364-62; all 62 votes against the bill were from Republicans. The Senate approved the legislation last month, with near-unanimous support; Missouri Republican Josh Hawley was the sole senator to vote against the bill, NPR News cited.
Asian Americans have faced a dramatic spike in violence throughout the pandemic.
Stop AAPI Hate, which tracks reports of racism and discrimination against Asian Americans, says it has received more than 6,000 firsthand complaints since last year. The group began tracking violence and harassment on March 19 last year as more Asian Americans were verbally and physically assaulted while erroneously being blamed for the Covid-19 pandemic.
Stop AAPI Hate praised the legislation for investing in "community-centered solutions and provisions to mitigate anti-Asian rhetoric" but said further legislation is needed to address the "root causes of systemic racism and oppression"./.