Vietnamese Dishes Made by Algerian Hands
Vietnamese and Algerian citizens shared recipes, compliments, and a few laughs at the multicultural event.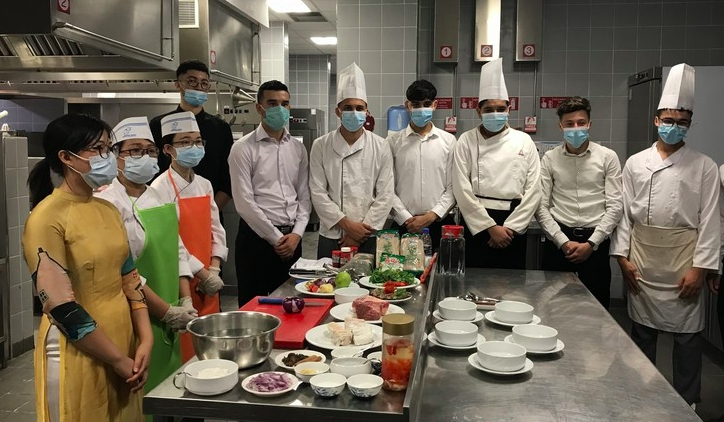 Officers, staff of the Embassy and students of ESHRA at the event.
The Embassy of Vietnam in Algeria together with the School of Hotel and Restaurant Management of Algiers (ESHRA) held an event on Vietnamese and Algerian cuisine on July 25.
Attending the event, on the Embassy side, there were Vietnamese Ambassador to Algeria Nguyen Thanh Vinh, the Ambassador's wife and officials and employees of the Embassy. On the side of ESHRA, there were the Director of the Cluster of Colleges of Hotels and Restaurants AlgiersHaouchine Mustapha, Principal of ESHRA School Badis Bendeddouche, Head of International Cooperation Department Mustapha Rahmani, leaders of some faculties, departments, and students of the university participating in this event.
At the event, the organizers gave direct instructions on how to prepare two traditional Vietnamese dishes, including spring rolls and beef noodle soup, two Algerian traditional dishes, Méchoui (oven-roasted lamb) and Hamis salad.
Méchoui (oven-roasted lamb) and Hamis salad.
Speaking at the event, Ambassador Nguyen Thanh Vinh hoped that through sharing dishes, the people of Vietnam and Algeria would gain more understanding on how to make each country's dishes, thereby further promoting cultural exchanges between the two countries. Ambassador Nguyen Thanh Vinh expressed his wish that Vietnamese dishes will appear in restaurants and hotels in Algeria.
ESHRA Principal, Badis Bendedouche, appreciated the initiative of the Vietnamese Embassy in Algeria in organizing the culinary exchange. According to school leaders, the Vietnam-Algerian culinary exchange has helped teachers and students of ESHRA learn about Vietnamese cuisine and culture despite the geographical distance.
The organization's officials, staff and students appreciate two traditional Vietnamese dishes. At the same time, they believe that cultural and culinary exchange with the Vietnamese Embassy in Algeria is an effective way for the people of the two countries to enhance their common understanding of the culture and traditions of each nation. Through dishes, messages about Vietnam's culture, people and nature have been conveyed to Algerian friends.