Vietnamese food among top 10 healthiest in the world
Vietnamese cuisine
has been listed among the 10 healthiest cuisines globally by UK travel website The Culture Trip.
Vietnam spring rolls and a bowl of sauces.
Fresh, vibrant, light, and tasty are some of the adjectives used to summarise the delicious taste of Vietnamese cuisine.
The majority of dishes feature herbs and chili, all of which serve to infuse dishes with healthy nutrients and a mouth-watering taste, UK travel website The Culture Trip states, adding that Pho is a noodle-based soup rich in antioxidants and nutrients.
It said: Pho is a noodle-based soup rich in antioxidants and nutrients; although it can be quite sizable, it's low in fat and has easy-to-digest ingredients. Vietnamese noodles are rice-based making them easier to digest than their gluten-based counterparts. Many of the dishes are served with sides such as peppers, green onions, chicken and pork, which are added to the main body of the dish as per the individual's preference. The ingredients aid digestion, fight inflammation, and, along with the dining style, aid portion control.
According to nutritionist Antoine Yvon,Pho, the most famous Vietnamese food, is certainly one of the most balanced dishes he know. Eaten all day long, it contains carbs, good proteins (beef or chicken), few fat, a lot of water, a lot of dietary fibers, vitamins, minerals (herbs and vegetables) and antioxidants (spices, chili, lemon).
The broth should be drunk because a lot of water-soluble vitamins and minerals are dissolved in the water during cooking. They are intact inside the broth (except for the B1 vitamin, B3 and C that are partially altered), a gold mine full of nutritive ingredients.
The broth is as important as other ingredients of the pho. It is a source of water and thus hydrates and cools the body (just like nomads in the desert drink hot tea: a hot brew cools and hydrates the body better than cold water). The body reacts to hot liquids with several cooling processes (perspiration, transpiration, more efficient digestion, etc.).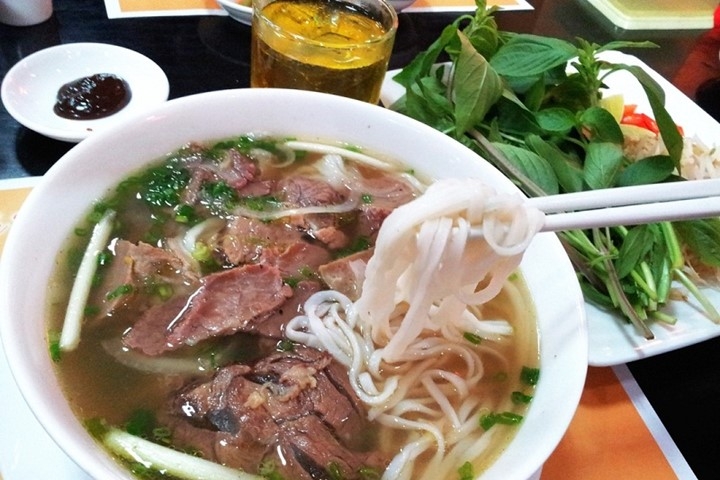 Pho is a healthy and balanced Vietnamese dish.
Antoine said: Vietnamese food is one of the most healthy and balanced in the world. As a professional, I have seen that dishes and ingredients used in Vietnamese cuisine can cover all the dietary needs on protein, lipids, carbohydrates, vitamins and minerals because there is a great natural persity of agricultural products. It is this persity and variety that are the foundations of a healthy and balanced lifestyle.
The way to eat food is also a very important factor that can influence the nutritional value of food. Eating with chopsticks, using multiple dishes, and sharing with people allows you to eat more slowly, to chew the food longer and in the end causes a better digestion and assimilation of nutrients, without overloading the digestive system.
Therefore, the social and cultural aspect of eating Vietnamese food is a reason why eating Vietnamese food is healthy, he added.
Finally, as long as you eat traditional food, there is not food that you should avoid. You must just make sure to avoid processed food as much as possible. It is also best to avoid deep fried food and those grilled on a barbecue.
The most healthy dishes are the soups (among which are pho), spring rolls, fruit and vegetable salads, claypot dishes, rice dishes with meat or fish cooked in sauce and fresh fruit juices, he stressed.
The 10 Healthiest Cuisines In The World
Chad.
Greece.
Israel.
Japan.
India.
Thailand.
South Korea.
Spain.
Sweden.
Vietnam.
40 delicious Vietnamese foods: CNN

The U.S. Cable News Network (CNN), one of the largest news networks, named 40 delicious Vietnamese dishes in an article of the same title.