Vietnamese leader extends sympathy over flooding in Cambodia
Vietnamese leader sent a condolence message to Cambodian Prime Minister Hun Sen regarding the heavy human and property losses caused by serious floods in the country.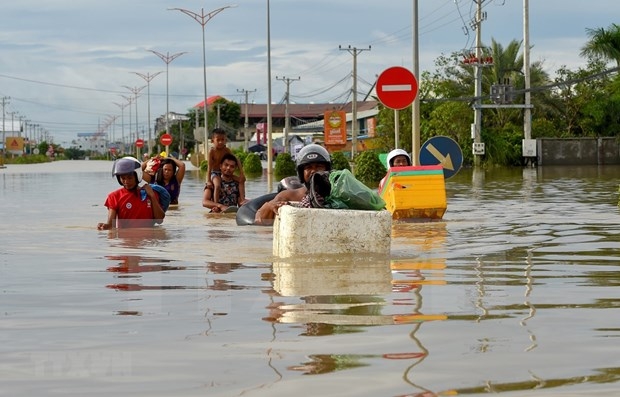 Widespread floods led by heavy rains have taken a heavy toll on 19 of the 25 provincial-level localities of Cambodia. Photo: AFP/VNA
Prime Minister Nguyen Xuan Phuc on October 18 offered sympathies to his Cambodian counterpart Hun Sen on the heavy human and property losses caused by serious floods in the country.
In his message, the Vietnamese PM extended condolences to the Cambodian people and expressed his belief that under PM Hun Sen's leadership, they will overcome current difficulties.
Floods in Cambodia have so far left 18 people dead, including eight children, and forced the evacuation of 25,192 people, according to the country's National Committee for Disaster Management.
Tropical storm-triggered rains caused floods in 19 of the country's 25 cities and provinces since the beginning of the month. The worst-hit provinces included Pursat, Battambang, Banteay Meanchey, and Kandal as well as the southwestern suburb of Phnom Penh.
Transportation has also been disrupted, as several major roads in the worst-hit provinces have been closed.
Local authorities have carried out necessary relief measures to support the people.
Floods usually hit Cambodia between August and October. Last year, floods claimed 30 lives and storms killed eight people and injured 131 others, according to the NCDM.
Central Vietnam floods, landslides leave 84 dead, 38 missing. Source: VOV
In Vietnam, flash floods and landslides triggered by downpours in the central region have claimed 84 lives and left 38 others missing, according to the Standing Office of the Central Steering Committee for Natural Disaster Prevention and Control.
In addition, torrential rainfall submerged more than 52,930 houses, destroyed and swept away 106,616 hectares of subsidiary crops, alongside over 461,620 cattle and poultry. Rescuers have so far evacuated over 11,575 out of 35,787 local peoples from the northern province of Quang Binh to Thua Thien Hue from dangerous areas to safer ground.
The landslides early this week killed 13 officials and soldiers at Ranger Station 67, and two construction workers and left 15 others missing at Rao Trang 3 hydropower plant in Thua Thien – Hue province. Moreover, a landslide occurred early October 18 in Huong Hoa district, Quang Tri province, which buried 22 officers and soldiers of Defence – Economic Division 337 under Military Region 4.
As of 4:45 pm on October 18, 14 bodies of 22 soldiers buried by a landslide earlier the same day in Huong Hoa district, the central province of Quang Tri had been found.
Search and rescue forces are working to deal with landslide-hit areas along the road running to the landslide site in Huong Phung commune of Huong Hoa district. The road is set to be cleared on October 19 morning, making it possible for competent agencies to bring the victims to a local hospital.
Downpours are forecast to continue in the coming days, posing a high risk of landslides and flash floods in the central and Central Highlands regions./.