Vietnamese Parents' Day to be Held Online Amid Surging Pandemic
This year Vietnamese' Parents Day, or Yulanpen Festival, is likely to be held online for the second time since the pandemic began.
Photo: Gia Dinh Moi
Vietnamese Parents' Day
The festival, celebrated on the 15th day of the seventh lunar month, which falls on August 22 this year, provides children the opportunity to honor their parents and ancestors.
The day is dedicated to the parents and children make every effort to make the best out of the day. It's the day when they make their parents feel special. While parents enjoy all the addoration poured onto them, their children love pampering them rather, than being pampered by them. Parents Day celebrations in Vietnam are quite similar to those of Mother's Day and Father's Day.
On this day, both the parents are revered by their children. It's the day when children express their love and care for their parents in a grandiose way as compared to the rest of the days. They make them feel special and happy. They spent time with their parents and indulge in activities that would reunite the family once again. With people running out of time, even for their own selves, a day like 'Parents Day' is necessary to give the children a break from the regular chores of life and an opportunity pay regards to your parents, according to Parents Day.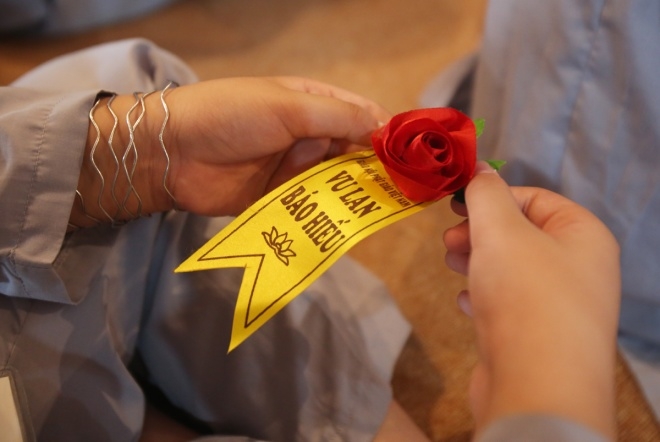 Vietnamese Parents' Day is celebrated on the 15th day of the seventh lunar month. Photo: Binh Phuoc
Despite the fact that there is no holiday for celebrating Parent's Day in Vietnam, children do their bit to make their parents happy. They gift flowers and cards to their parents. A bunch of carnations, with a hand made card, puts across one's feeling in the best possible way. They even take their parents out on dinners and lunch and spend quality time with them. Some of them encourage fun-filled activities at home, bringing back the happy memories of infancy. In short, they let their parents know that they care for them!
The legend of Vietnamese Parents' Day
The legend behind the festival dates back to the earliest of Buddhism. One day when he was meditating, Muc Kien Lien, one of the Buddha's ten principle disciples, saw his late mother suffering the tortures of hell, condemned because of the evil deeds she had committed during her life.
He saw that his mother was starving, but she had nothing to eat but fire. Muc Kien Lien summoned all his spiritual powers to bring her a bowl of rice - but the food was burnt to ash before she could bring it to her mouth.
When he arrived back in the physical world, he asked for the Buddha's guidance to help his mother and fulfill his duty as a pious son. The Buddha advised him to collect a gathering of monks and devotees and get them to pray together on this day (which this year falls on August 15 in the Western calendar).
The combined prayers proved to be so powerful that they achieved the release not only of Muc Kien Lien's mother, but also for countless other souls. Ever since, on the festival of Vu Lan - Wandering Soul's Day- the gates of hell are believed to be thrown open to give the tormented souls 24 hour holiday, Vietnam Bamboo Travel reported.
Photo: Pattern Telling
Why is the festival so important in Vietnam?
According to Pattern Telling, in Vietnamese culture, "hiếu thảo" – which means "to love and treasure parents, and to always be thankful of them" – is a word that is very commonly used. From centuries ago, children are expected to listen to their parents, to be thankful, and to repay them later in their lives. Parents are compared to as real life Buddha in each family, and that they are the most important people in every child's life.
Because it is a Buddhism festival, one of the representatives of the festival is the Lotus flower, representing the purity and nobility of parents' love for children. However, it also has another representative. It is the rose flower. In Vietnamese culture, mothers are always a little more appreciated than fathers, mostly because of their sacrifice for children. Therefore, in the 1960s, Thich Nhat Hanh, one of the most well-known monks in Vietnam and in the world, decided to put red roses on the hearts of those who still have their mothers, and white roses on the hearts of those who lose theirs. This eventually becomes one of the unique and meaningful cultures of Vietnamese people.
A solemn sharing and celebration
Parents Day season (Mua Vu Lan in Vietnamese) is believed to be the spirit month in Vietnamese culture as a way of honoring the dead. On this day, souls are believed to return to their former homes.
From this assembly, many Buddhist countries developed the custom of offering food, clothing and other items to hungry spirits in the month when the realms of Heaven, Hell and the living are open.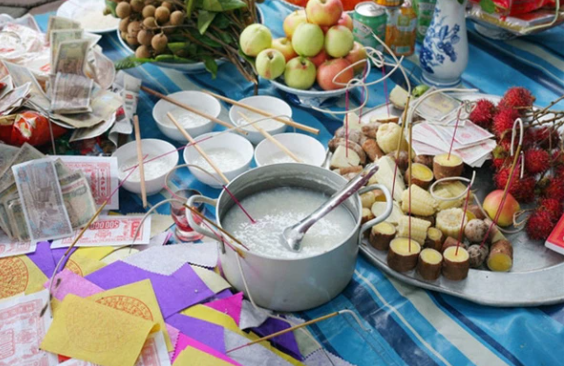 Photo: Yan News
The object of this ceremony is to feed the hungry ghosts and to pray for their salvation. This ceremony is a way for people to meet their compassionate filial duty. During the ceremony, offerings are made to rescue up to seven generations of ancestors from whatever misery they might be suffering. During the month, every family can choose a day to present a feast and burn joss paper and incense in front of the house to invite the spirits to eat.
A feast offering to the ancestor on Vietnamese Parents' Day. Photo: Awesomebabe
The most distinguished feature of the ceremony is the "offering snatching." After the incense burns down, the neighborhood children are allowed to grab the food. No one will stop them as it is believed the spirits may be angered if they do so. The ceremony is also a great chance for people to express their gratitude to their parents, Vietnam Bamboo Travel said.
One more tradition of this day is for people - Buddhists and non-Buddhists alike - who wish to express their gratefulness and appreciation towards their mothers, to go to a pagoda, often wearing a rose. Thousands of people flock to pagodas wearing red roses if their parents are alive or white roses if their parents have passed away. The rose has been a symbol of love and sharing among parents and their children regardless of social background.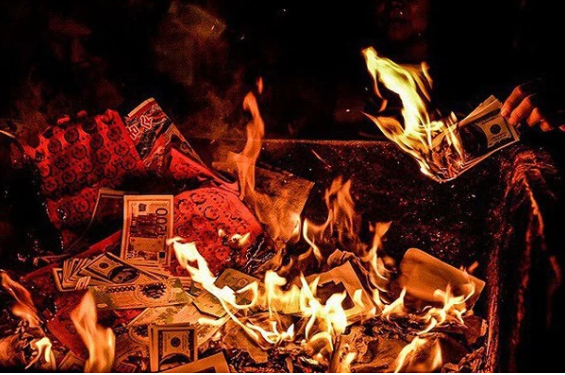 Photo: Tin Tuc Nam Dinh
They prepare offerings of food, clothes and votive papers, and release animals such as birds or fish. They also buy presents and flowers to show their deep love and gratitude towards their parents, Da Nang today said.
Pagodas are usually crowded during the festival day because Buddhists gather for the monks' lectures. In the lectures, the monks explain the responsibility of children to pray for their parents, whether they are alive or dead. Buddhists receive a pink, red, or white plastic rose to pin on their shirts, with the first two colors indicating that the mothers of the wearers are alive, whereas the white rose signifies that their mothers have passed away.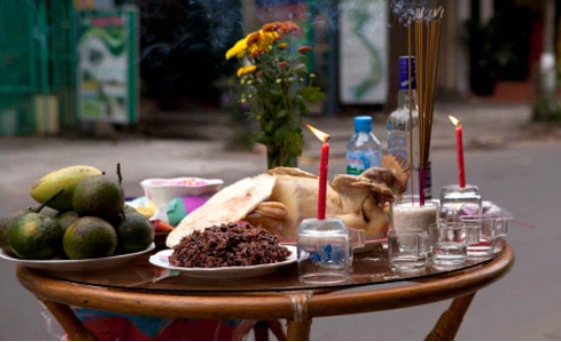 Photo: 24h
In the evening, a tray filled with food is set out in front of the house. The householder lights incense and prays for the homeless souls, wishing them rest in peace.
At night, candle-lit lanterns are released onto the river to float with the current. Vietnamese people believe that, by doing this, their wishes for their parents will come true. The ceremony creates a wonderful scene with the river sparkling in a holy ambiance.
Online celebration during Covid-19 pandemic
However, with the development of the Covid-19 pandemic, the festival was moved online last year to avoid gatherings. Religious places are asked to stop gathering people for the celebration and strictly follow anti-pandemic measures.
Last year, many families also adopted online rituals for the Parents' day celebration, maybe for the first time in their life. Family members of Pham Viet Thoi, 70, gathered at his home in Hanoi's Ba Dinh District in the morning to virtually attend Yulanpen Festival in Lac Hong Vien Cemetery Park, Hoa Binh Province. In previous years, Thoi's family had rented a 16-seat car to visit the ancestral tomb, equipped with a tray of vegetarian offerings. Last year, due to the ongoing pandemic, the family had to resort to online celebrations.
Using a smart device, the patriarch can now arrange incense lighting, flower delivery, food offerings, joss paper burning, and specially composed prayers for the deceased, VNE reported.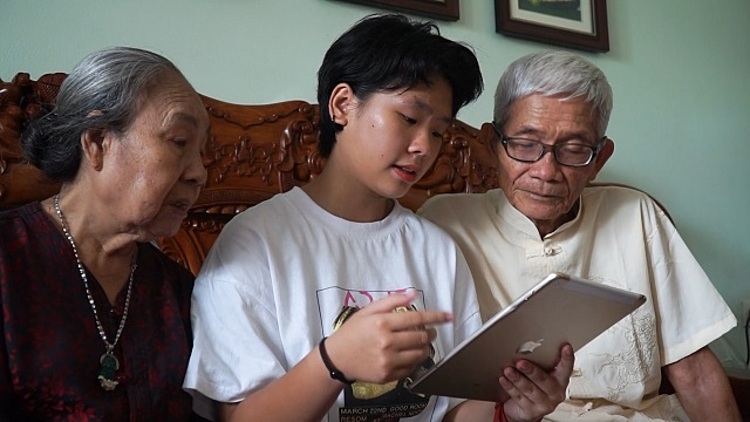 Thoi and his family members watch festival proceedings via a tablet. Photo: VNE
This year's Vietnamese Parents' Day is just a fortnight away. With the current complicated Covid-19 situation, especially when Hanoi and HCMC are undergoing Directive 16's social distancing order, the festival will likely be held virtually, with families performing the rituals for the deceased via technological devices instead of preparing vegetarian offerings and attending at the pagodas.
It will be the second year Vietnamese people celebrate the festival online due to the Covid-19 pandemic.