Vietnamese students join battle against Covid-19 pandemic
In the situation of increasing coronavirus cases in Hai Duong Province, Vietnam's authorities have enlisted university students to battle against Covid-19 pandemic.
University students enlisted for the race to contact trace possible victims
According to Vn Express, with coronavirus cases mushrooming in Hai Duong, authorities have enlisted university students for the race to contact trace possible victims. It was around noon on Saturday when Tran Kieu Trinh, 21, and 20 other university students were typing away on their laptops.
Six rows of tables stretched across a room at the Center for Disease Control (CDC) in the northern Hai Duong Province, and the students were cross-referencing data on lists containing thousands of names.
They have been enlisted by authorities to contact trace Covid-19 cases amid fresh outbreaks across the nation since last week. Their job is to retrace the movements of infected people and identify everyone who might have come into contact with them.
Students at the Hai Duong Medical Technical University stay at the Hai Duong Center for Disease Control (CDC) in the eponymous province for contact tracing Covid-19 cases, January 30, 2021. Photo by VnExpress/Trung Son.
Trinh, who is in her third year at the Hai Duong Medical Technical University, decided to stay back instead of going home in the northern Tuyen Quang Province since she wanted to be part of the Covid-19 fight, and did so by joining the Covid-19 contact tracing team right at her school.
The team of 25, including students, teachers and CDC personnel, are on the phone all day to figure out the itineraries of people who are possibly infected and determine who should be quarantined to reduce the burden on field tracers on the ground.
Their job is vital since collecting accurate data about infected people and people who came into close contact with them will play a major role in deciding on quarantine measures. Every day the team tracks down 40-50 infected people.
Trinh said: "The work is not as hard as those of doctors and nurses on the frontline. But it needs to be done quickly and meticulously so that no one's movements slip through our fingers."
When they started, Trinh and the rest were most worried about ensuring they did not miss a single link. With Tet getting closer, many people travel a lot to shop, party and the like.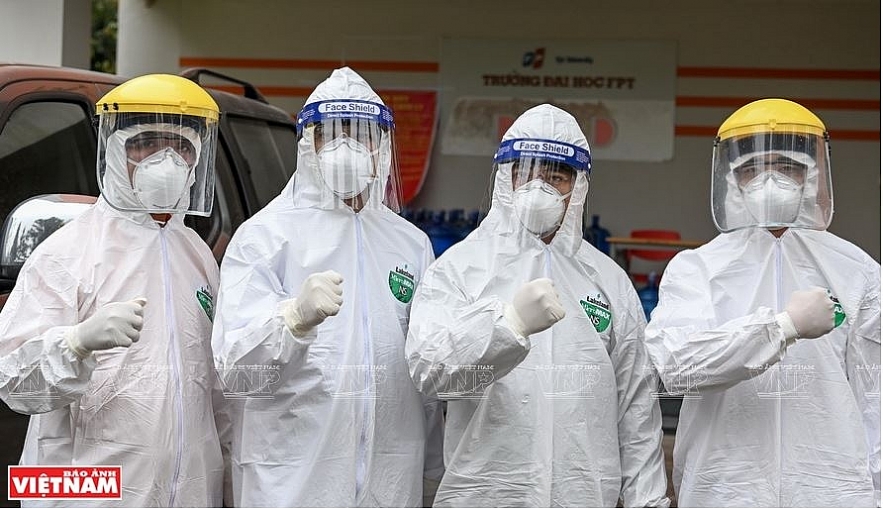 Doctors on the frontline are ready to fight COVID-19. Photo: Nguyen Tien Anh Tuan
"Some people required three calls before we could gather all the relevant data."
Many do not remember their movements accurately enough, she said. But she said the toughest challenge is the pressure to contact trace quickly enough to keep up with the surge in number of infections in Hai Duong.
A typical day for the team begins at 8 a.m. and ends at 6 p.m. with a two-hour break at noon. Truong Thi Thu Huong, a statistics teacher in charge of the phone tracing team, said the students only received brief training but are doing their job efficiently. By Saturday the team has mobilized 600 students from the Hai Duong Medical Technical University.
16 news cases of Covid-19 infection
reported in Hai Duong Province
According to Vietnamnet, the northern province of Hai Duong has reported 16 new cases of Covid-19 infectin in community, bringing its total number to 242 cases.
Mr. Pham Duy Tuyen, Director of Hai Duong province's Center for Disease Control (CDC Hai Duong) told VietNamNet that of the new cases, there are 9 in Chi Linh City (the country's largest epidemic hotspot), 6 in Cam Giang district and 1 in Kinh Mon district.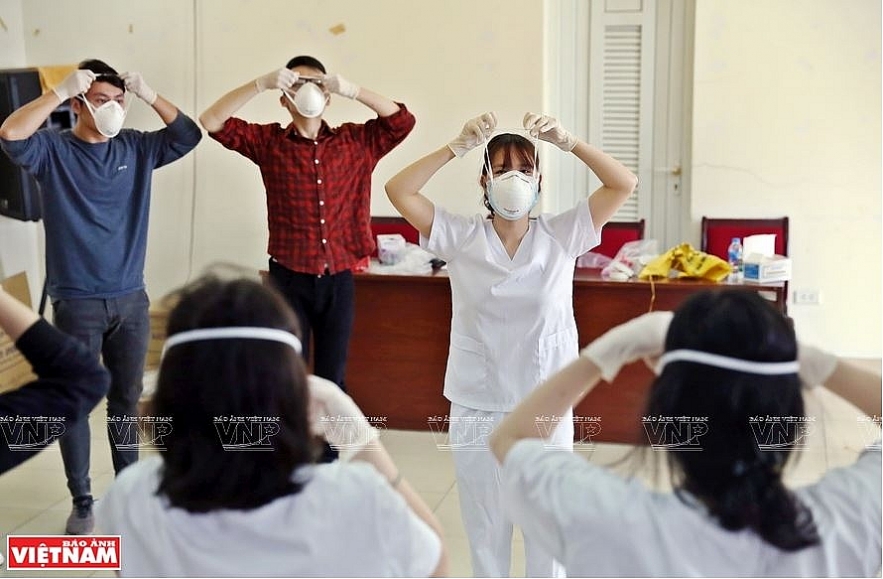 Showing students at Hanoi Medical University how to do anti-COVID-19 exercises. Photo: Cong Dat / VNP
Mr. Tran Van Quyet, Chairman of the People's Committee of Cam Giang District, told VietNamNet that all 6 new cases in Cam Giang are F1 of patient No. 1851.
Patient 1851 is a 41-year-old man, residing in Lai Cach town, Cam Giang district, who was confirmed as a Covid-19 patient by the Health Ministry on February 2.
Mr. Quyet said that 3 cases are the man's family members, including his mother-in-law, his wife and his child, a 4th grader. The others had close contact with him.
More than 100 students of Lai Cach Town Primary School, where the man's son studies, have been isolated. So far, Cam Giang district has recorded 7 cases of Covid-19 in the community. The 16th case is a 21-day-old baby whose father is a Covid-19 patient in An Phu ward, Kinh Mon town. These 16 cases have not been announced by the Ministry of Health.
Since January 27, Hai Duong has recorded 242 cases of Covid-19 to become the largest Covid-19 hotspot in the country. Thanks to the support of 1,200 experts from the Ministry of Health, Hai Duong province has initially controlled the epidemic. Currently, the province can conduct up to 10,000 tests per day.
Medical workers take infection risks because they have to take patients' samples for testing. Photo: Nguyen Tien Anh Tuan
Speaking at the Cabinet meeting on February 2, he stressed that the most important task is to track individuals who came in close contact with the infected cases, VGP reported.
The Deputy PM voiced support for the Ministry of Health's proposal to impose mandatory health declaration and those who fail to do so will be strictly fined in order to raise citizens' sense of responsibility. Local authorities nationwide must ensure that all citizens wear masks. The two clusters broke out on January 27, resulting in a surge of community cases (272 in nine provinces and cities), mainly attributed to a new variant similar to the UK strain.
Minister of Health Nguyen Thanh Long told the meeting that stronger measures should be applied to deal with the development of COVID-19 as it is spreading quickly.
He reported that the ministry has requested all people wear facemasks as a compulsory preventive measure.