Vietnamese Woman Exchanges 2,000 Wild Orchid Pots For Pandemic Supplies
In just a month, over 1,000 pots of wild orchids in Nguyen Ha Mai Thao's garden were exchanged for mineral water, face masks, and instant noodles to donate to staff and volunteers fighting Covid and people in need.
An initiative born out of a luxurious hobby
In the weekend mornings, Nguyen Ha Mai Thao, 34, from Ngu Hanh Son district in Da Nang city, puts new growing medium into the wild orchid pots, with help from her family. At noon, Thao places these pots in a truck and drives them to the customers' house in exchange for hundreds of boxes of necessities such as instant noodles, mineral water, face masks and other types of food. These items are donated to people struggling due to Covid. Water and face masks are given to staff and volunteers at Covid preventing stations and areas under lockdown.
"Each pot of wild orchid costs between VND 500,000 – 1,000,000. I do not sell them because paying that much money for wild orchids during the pandemic is such a luxurious hobby. When I exchange wild orchids for necessities, people can still take home their favorite flowers and give something to society. They do not have to wait until they have a lot of money to do good deeds," Thao said.
Thao, who owns a real estate company, also opened a wild orchid shop two years ago to expand her business. The fragrantful venture satisfyied her passion for collecting this type of flower. When her community began afflicted by Covid-19, Thao and her family used their money to purchase necessities and give to people in need.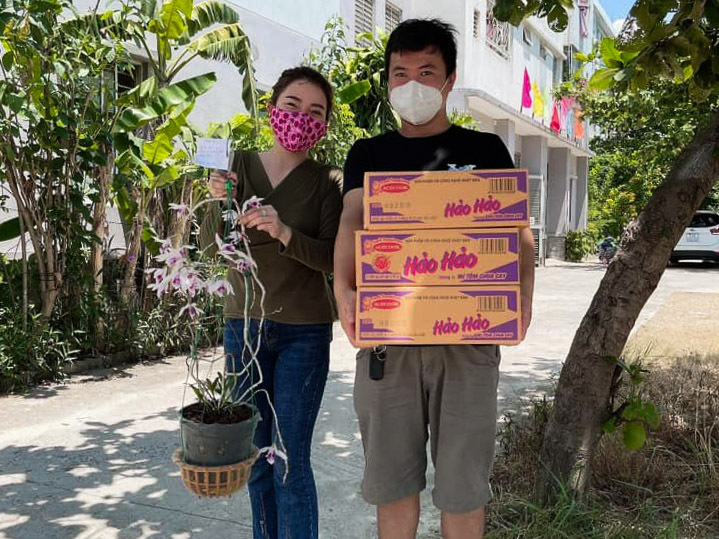 With customers in Da Nang, Thao does not accept money for wild orchids. Customers in other provinces can transfer their donations to Thao's accounts, with which she will purchase necessities, then deliver the orchids to the customers. Photo: Mai Thao
When new cases emerged in Da Nang this year, more lockdown areas and Covid prevention stations were set up across the city. Observing the police and medical workers standing under the scorching sun to check every vehicle entering and leaving the city, Thao thought she had to do something.
At first, Thao sold her wild orchids to earn some money to donate to the Covid prevention staff. After a while, she realized she would not be able to help much on her own. An idea suddenly came to Thao: She could exchange her orchids for necessities, thereby attracting more support.
When Thao posted a photo of her orchids on her Facebook page, a customer immediately agreed to exchange two boxes of mineral water bottles for one pot of wild orchids. When her helper told Thao, "My husband loves wild orchids but never dares to buy one. I have two boxes of instant noodles. Can I exchange them for one pot?" she agreed without hesitation. Little by little, Thao's orchids find their new homes. She drives her truck containing wild orchids to customers' houses several times a week and brings home face masks, mineral water and instant noodles.
"Some people exchanged some kilograms of rice and a bottle of cooking oil for my flowers. Some people living 20km away from my house wanted to swap one box of instant noodles. I drove to their house anyway and bring back noodles. In this way, everyone can contribute to fighting against Covid within their capacity," said Thao.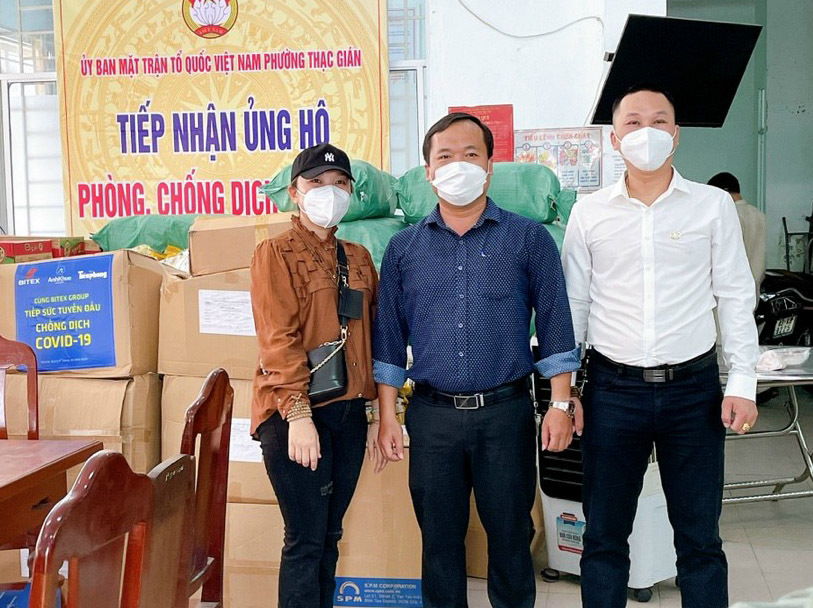 Thao (in brown shirt) brings necessities gained via wild orchid exchange to Thac Gian ward on June 24.
Photo: Mai Thao
Determination goes a long way
One week after carrying out her initiative, Thao brought home hundreds of boxes of necessities. Thao suddenly received messages from wild orchid traders, telling her the initiative was breaking the market. She could only gain back something that cost too little compared to the orchids. Disappointed, she thought of giving up, but more customers kept coming to Thao, not only in Da Nang city but also from other cities and provinces.
Thao told herself, "If I do not do this, many people will be disappointed, particularly poor workers." Thao, her family and staff were determined to take good care of the orchids to deliver the best flowers to the customers.
Thao's initiative attracted both wild orchid lovers and newbies. Doan Thi My Hanh, 33, has been exchanging tens of boxes of instant noodles and mineral water for over 20 pots of orchids. Never growing wild orchids before, Hanh had to install extra frames and auto sprinkler systems. She was elated to see her new plants growing well, even though orchid flowers hadn't bloomed yet.
"Had Thao simply accepted donations, I probably would not have donated so much. I think her initiative is very meaningful. It brings happiness to everyone," Hanh said.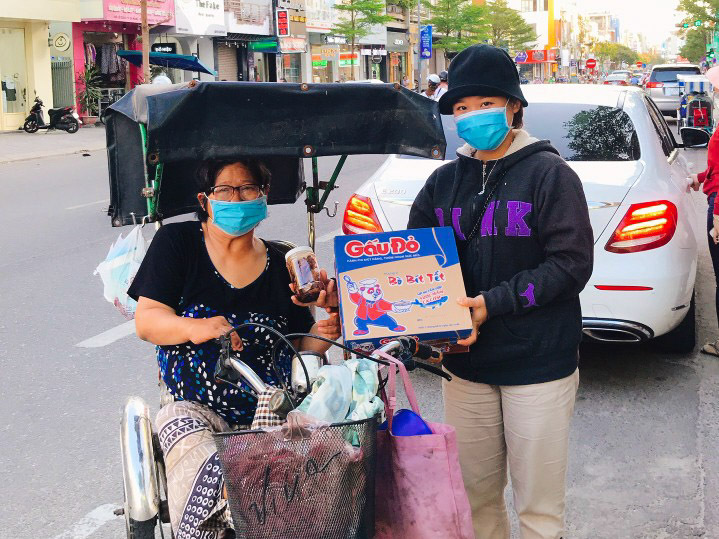 Food collected in exchange for wild orchids is distributed to vulnerable people in Da Nang. Photo: Mai Thao.
For customers living in Da Nang, Thao does not accept cash for her orchids, only necessities. Customers from other areas can transfer to Thao's accounts an amount of money equivalent to the values of the food, drinks or facemasks they want to donate. Thao will purchase these necessities on their behalf.
"By now, I have had a good grasp of the costs of many types of instant noodles. In the past few days, I have also given advice to those who do not know much about wild orchids," Thao said.
Over 1,000 pots of wild orchids have been exchanged for necessities in the past month. Thao still has roughly 1,000 pots in her garden and plans to exchange them until she runs out of wild orchids. Those who blamed her for destroying the market now change their mind and want to work with her on the initiative.
"However, I refused because I wanted them to do it by themselves. Not only orchids, but people can also exchange anything valuable in their house for necessities. When I run out of wild orchids, I will collect clothes, handbags, shoes from my friends to expand this initiative," Thao said.