Vietnam's 10 most adventurus tho incredible mountain passes
It is clear to admire the incredible bird-eye view of every mountain passes across Vietnam but there are also dangers hidden there. Here are 10 places that any travelers would long for conquering in the country.
Ma Pi Leng (Ha Giang Province) is dubbed as atop of the dangerous passes in Vietnam. The 20 kilometers pass locates in the Dong Van geopark complex. It is considered one of the four great mountain passes in the Northwestern mountainous region, which challenges any travelers because of the long road around the back of the mountain. Moreover, the two sides have rocky cliffs of Nho Que River and the most majestic canyon in Southeast Asia.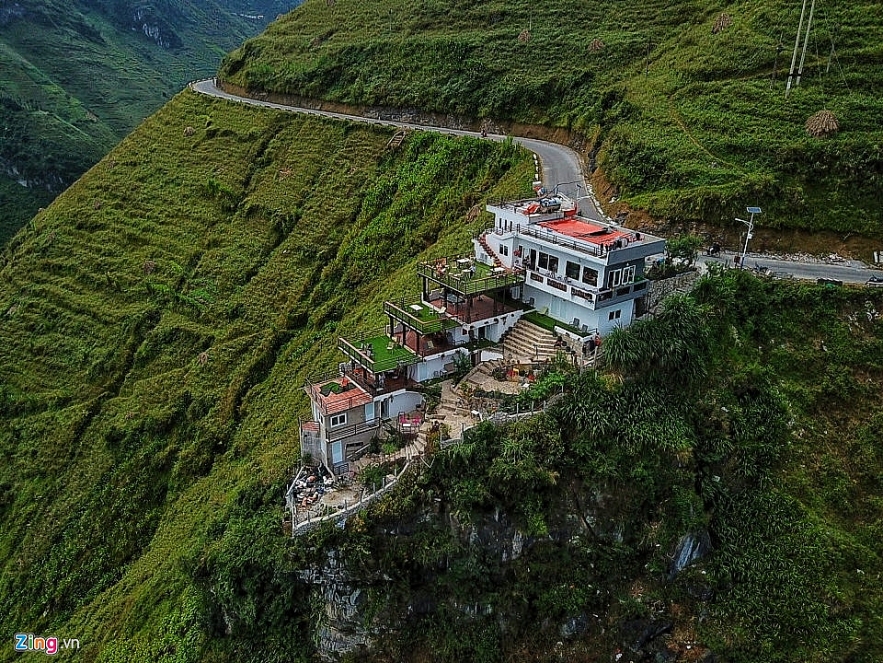 Photo: Hiệp Tân.
Being famous for the length of 50 kilometers, O Quy Ho Pass (Lai Chau-Lao Cai Province) holds a record for the longest of its kind in the Northwest mountainous region. This pass is located on the National Highway 4D that crosses the H Itoang Lien Son range, connecting the two provinces of Lao Cai and Dien Bien. is known as Heaven Gate because its location is in the middle of a mountain of clouds at a height of 2,000 meters. This place is foggy all year round and the scenery is beautiful like a dreamland. On days of low temperatures, the top of the pass can be covered with ice and snow, obscuring the view and causing danger to move.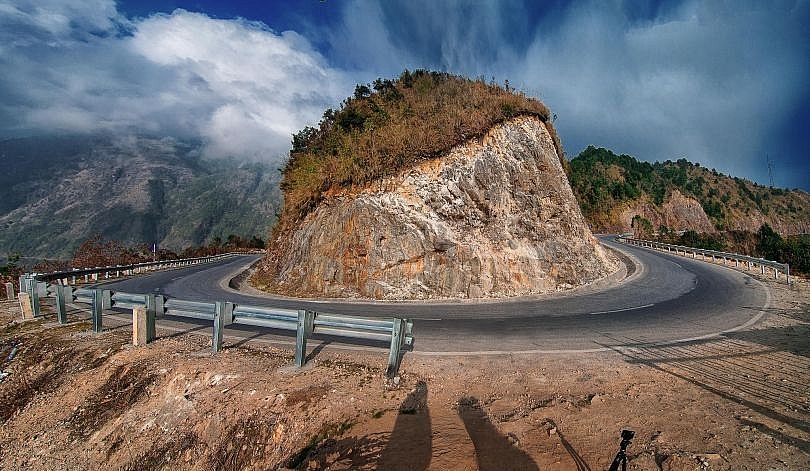 Photo: Dulich
Pha Din pass (Dien Bien Province) possesses terrain with one side is a steep cliff, the other side is a deep abyss and countless steep curves. This is the reason why this place is known as one of the most dangerous passes in the Northwest. At an altitude of more than 1,000 meters above sea level, visitors will admire the full picture of nature, adorned by identical mountain ranges, spread throughout the space.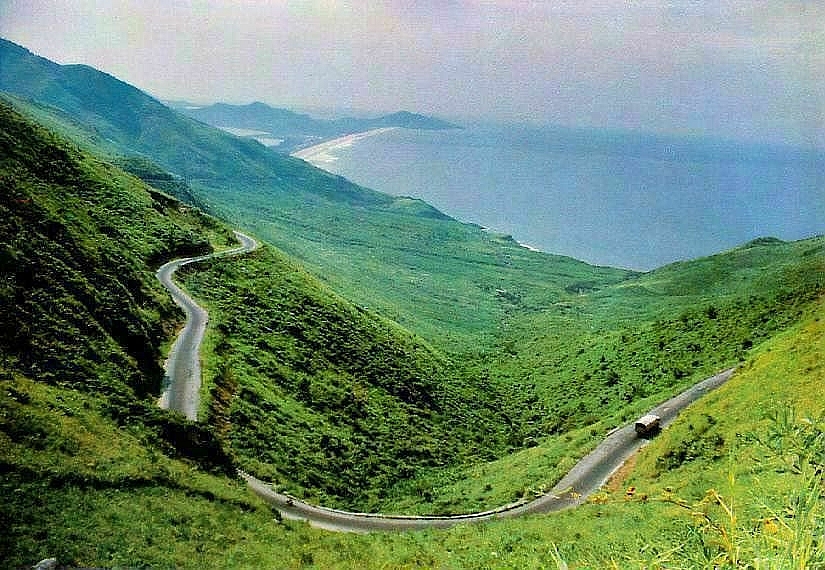 Photo: Mytour
Khau Pha Pass (Yen Bai Province) is one of the four great mountain passes in the North, located in the border area between Van Chan district and Mu Cang Chai district. This is a road that passes many famous landmarks such as La Pan Tan, Mu Cang Chai, Tu Le ... From the view on Khau Pha pass, visitors can fully admire the scenery of terraced fields. With the most winding and steep mountain passes in Vietnam, this place would be a challenge for any driver.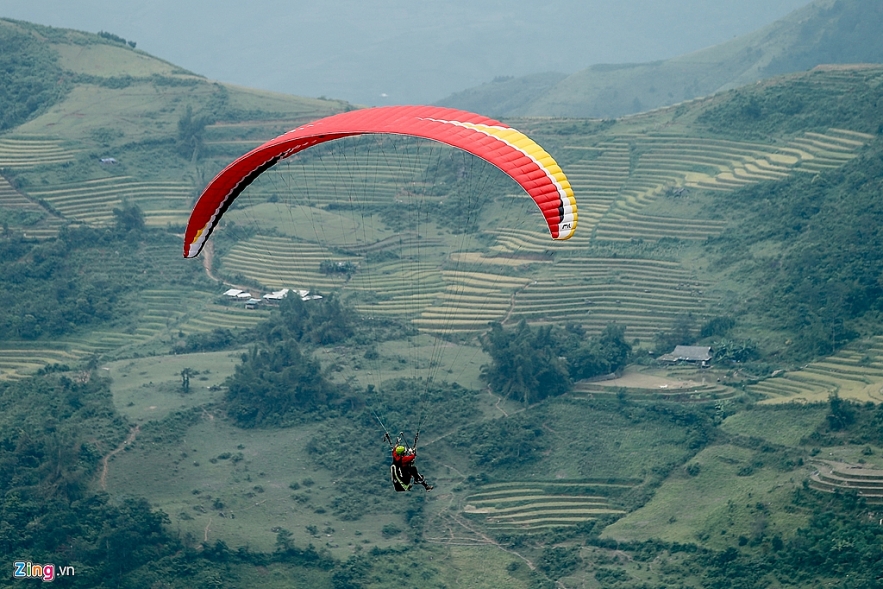 Photo: Hoang Viet
Ma Phuc pass is located about 20 kilometers to the east of Cao Bang city. This is the most beautiful pass on Highway 3 from Phu Lo to Ta Nung border gate. With winding passes along the limestone mountains, it is the heavenly treasure of Cao Bang Province. Although it is not as dangerous as O Quy Ho or Ma Pi Leng, Ma Phuc pass also makes drivers be careful on the first ride.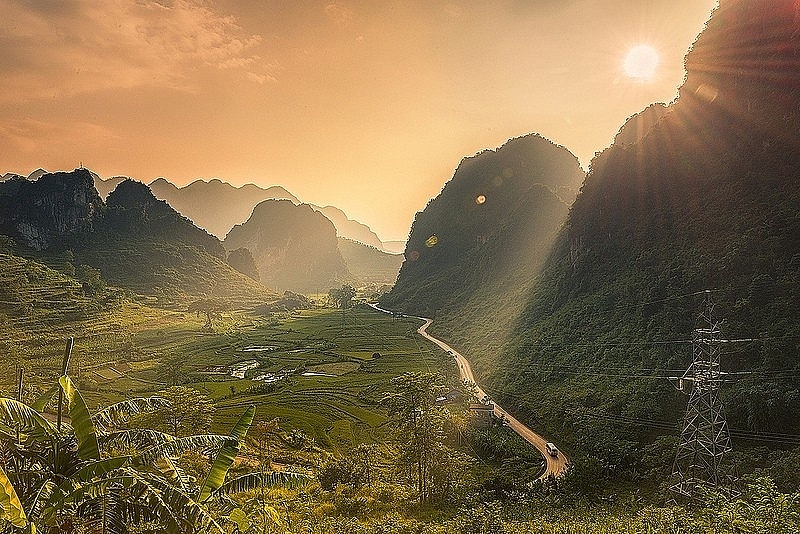 Photo: Khoahocphattrien
Besides Ma Phuc pass, Me Pia pass owns an equally dangerous road in Cao Bang Province. The road is located on Highway 4A connecting Xuan Truong commune to the center of Bao Lac border district. 14 floors of the pass are 14 sharp and erect bends, the two sides are high mountains. Tourists should not move here at night due to unexpected accidents, limited visibility and difficulties in controlling situations related to speed.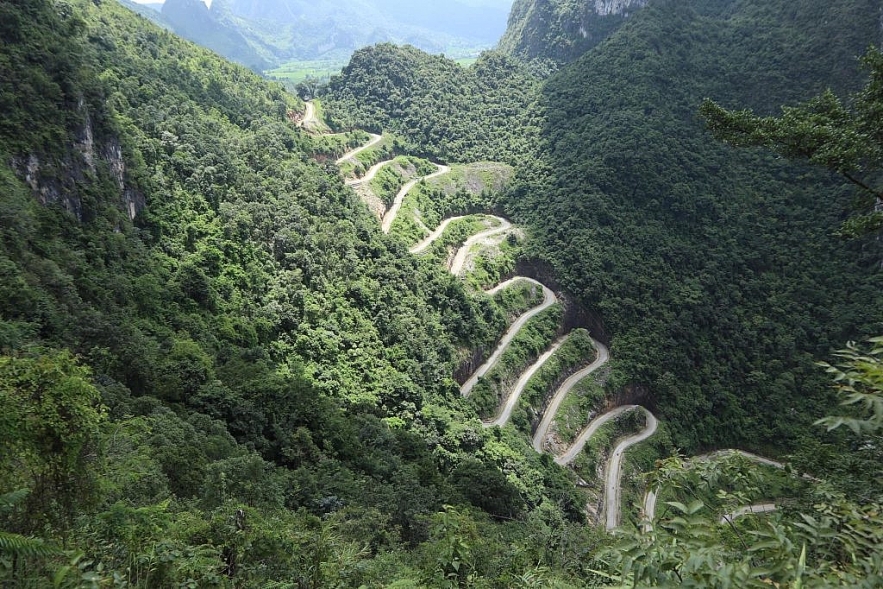 Photo: Vietravel
Thung Khe Pass (Hoa Binh) is known as one of the most beautiful roads in Hoa Binh Province. There are no steep inclines or curves "burning brakes" but hidden many dangers by large traffic vehicles going up and down every day. Limestone layer falls on white, erasing a cliff, fog and clouds cover all year round, making this place as beautiful as a fairyland. Anyone moving through the pass would like to stop to check-in and watch the natural scenery from above.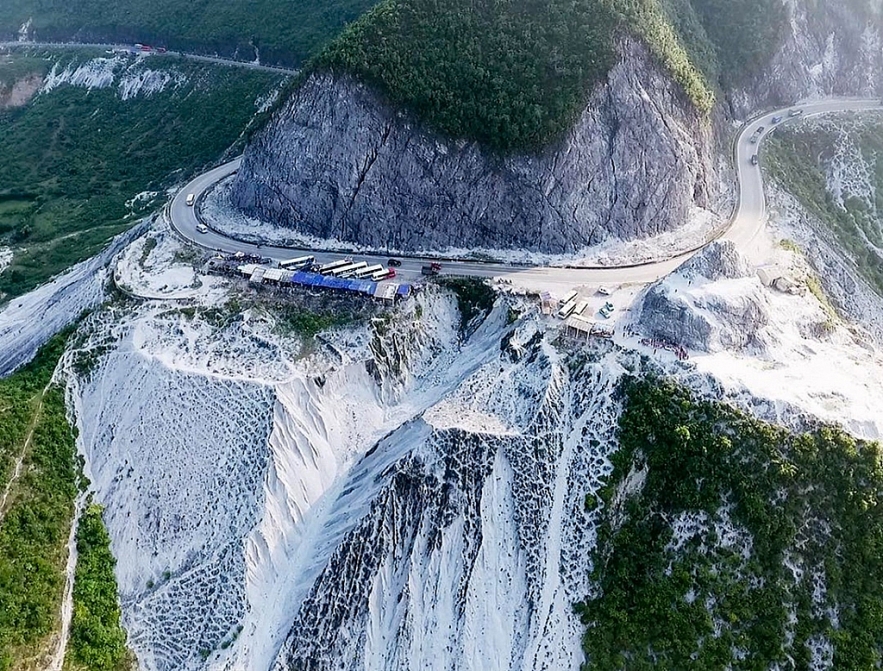 Photo: Dulich
Hai Van pass is located between the border of Thua Thien Hue Province and Da Nang city, in the Truong Son range. From the peak of nearly 500 m, visitors can admire the Lang Co fishing village and the panoramic view of Da Nang city. Although there are now road tunnels through the mountain pass, many visitors still prefer to travel by motorbike on this road to enjoy the view. Traveling by train to Da Nang is recommended for those who want to slow-motion view of the mountains and sea at Hai Van pass from above.
Photo: Quynh Trang-Tien Dat
Ngoan Muc Pass (Ninh Thuan Province), is also known as Krong Pha pass, connecting Ninh Son valley and Langbiang plateau (Lam Dong). The winding pass along the hillside creates a ring of waves, stretching for 18.5 km. This place has the largest slope in the southern provinces, creating excitement for adventurous drivers on the journey from Dalat to Phan Rang city.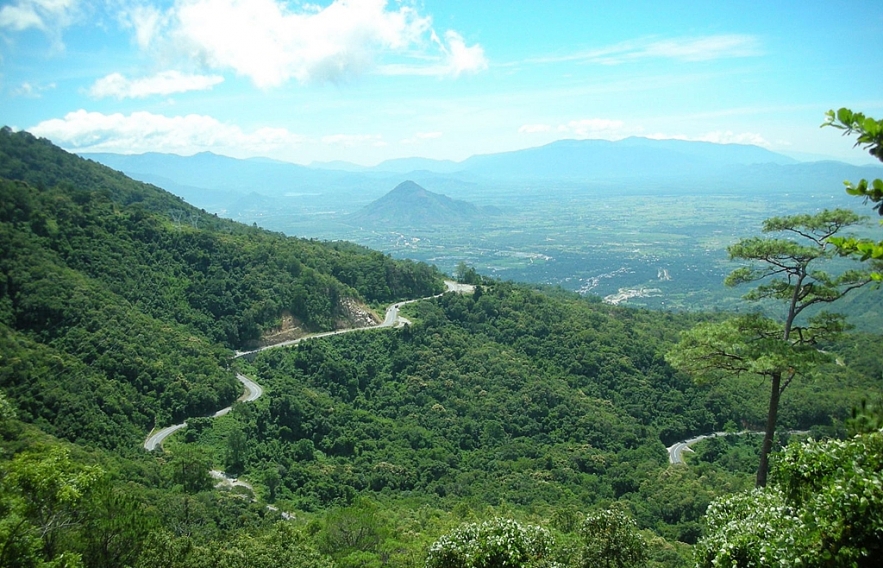 Photo: Golden Lotus
Cu Mong Pass is the main pass between Phu Yen and Binh Dinh. The road is 7 kilometers in length, 245 meters in height. It has many sharp curves with the two sides being high mountains. The terrain is rugged, but thanks to its wild, majestic and cool beauty, this place is always a must-visit destination for many tourists.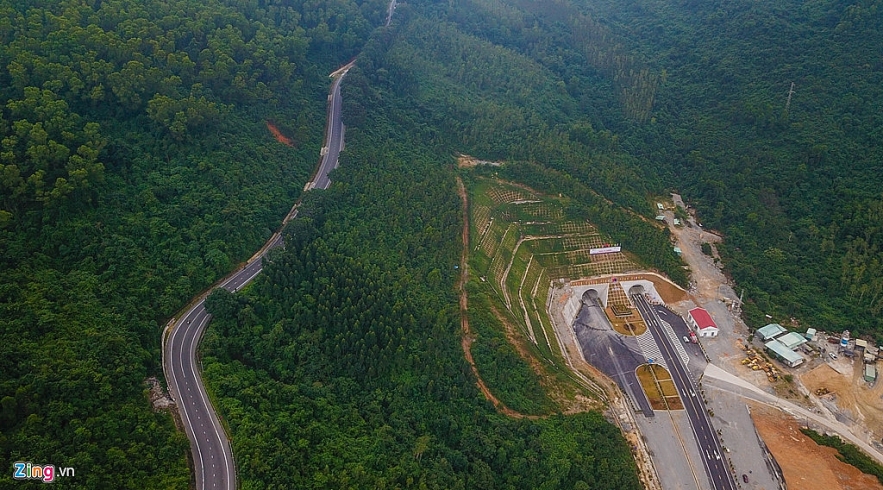 Photo: Zing News
Travel
With more than 40 countries, it is clear that no one can summarize Asia in a few short lines. Among the best and most beautiful destinations in Asia voted by CNN, Da Lat City and Lan Ha Bay in Vietnam are called the "hidden gems" that are worth discovering.
June 06, 2023 | 07:19
Travel
The Saigon Central Post Office (Ho Chi Minh City) landed second place in the list of 11 most beautiful post offices in the world, announced by American architectural magazine Architectural Digest.
June 05, 2023 | 22:04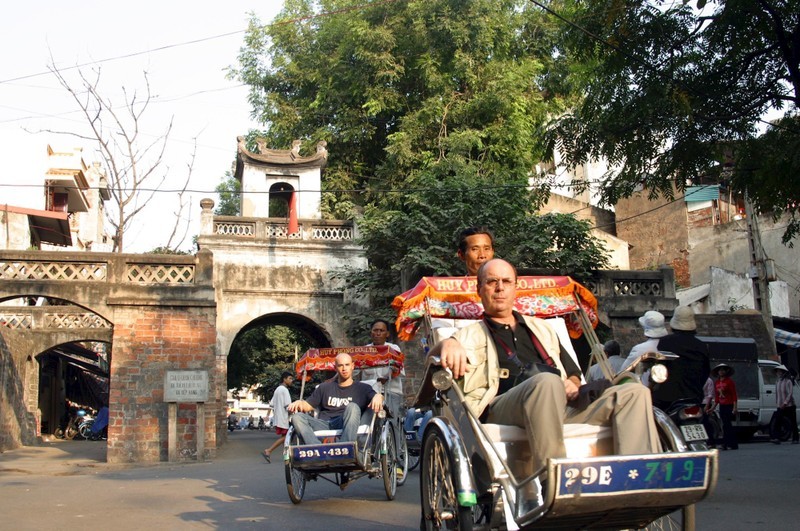 Travel
One of the top choices of British travellers is
Vietnam
with its diverse natural beauty, said The Independent, a British online newspaper.
June 05, 2023 | 09:31
Travel
The US's travel website Travel Off Path has called the Ho Tram beach tourism area "the perfect getaway for those looking to unwind and escape the hustle and bustle of the big city, if only for a long weekend."
June 04, 2023 | 19:53