Vietnam's Artillery Team Train for 2021 Army Games
Come rain or shine, the Vietnamese Artillery Team is ready for the upcoming International Army Games hosted by Russia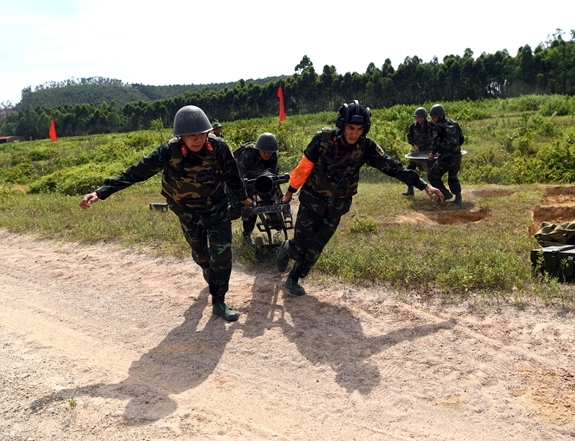 Teams perform complex combat training tasks to improve their artillery skills. Source: PANO
Vietnam's artillery soldiers have been training hard for the 2021 Army Games at the Tank and Armor Combined Training Center in Vinh Phuc province, according to PANO the online newspaper of the Vietnam People's Army.
The outdoor temperature is over 40 degrees Celsius, while the temperature in training vehicles is up to 70 degrees Celsius.
The whole five-man team gets into the vehicle, races against time, racing and above all surpassing itself to accurately perform fire tasks from machine gun, 120 mm mortar, B41 and AK-74M rifle.
A number of tactical exercises using rockets and mortar artillery take place.
Clearly defining the mission and goal, everyone in the artillery team practices with great attention. Weight loss is common among the team, but for high-intensity training, pressure under outdoor weather up to more than 40 degrees Celsius is a different story.
Colonel Kieu Van Minh, deputy chief of staff of the Artillery Corps and head of the Artillery Team 2021, "said that after the team ran two laps, finished the shooting exercises, their socks got all wet and soggy."
"The team always knows how to be proactive and flexible in organizing practice. If necessary, we practice from 3 a.m. The troops also practise at night. Nobody minds anything because they all want to prove their ability and are determined to achieve the highest possible results at the upcoming event," Colonel Minh said.
Major General Thai Van Minh, director general of the Department of Military Training, spoke highly of the team's sense of responsibility, determination and endeavour to surmount difficulties during training.
Commander of the Artillery Arms Major General Nguyen Hong Phong said that team members needed to be aware that participating in the Army Games was not only an honor and pride but also a heavy responsibility. Therefore, each team member needs to focus on training their health and honing their skills further to achieve the best results in the games.
The International Army Games is an annual Russian military sports event organized by the Ministry of Defense of the Russian Federation.
Vietnam sent artillery soldiers to the 2020 games for the first time.
In the framework of the 2021 Army Games, the Vietnamese team will compete in the "Best Gunner of Mortar Battery" category.
The competition is expected to be held in the Republic of Kazakhstan. It consists of three stages. The gunners will demonstrate the accuracy of firing from 120mm mortar, B41 hand-held anti-tank grenade launchers, PKT machine guns and AK-74 assault rifles in the day and at night.
The final stage of the competition was a competition driving armored vehicles while overcoming various obstacles that simulate mined areas, water obstacles and hills.
Each team will have five members: leader, gunner, loader, reloader and driver.