Vietnam's Border Patrol, Fishermen Team Up on the High Seas
Accompanying fishermen on their journey to conquer the sea, border guards are important guides for the intrepid seafarers, assisting them catch their bounty both safely and legally.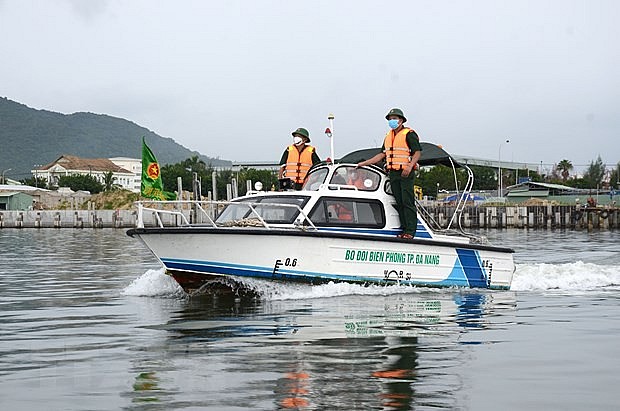 Border guards of Da Nang city patrol at Tho Quang lock. Photo: VNA
With a long coastline and fruitful seas, the provinces and cities in the Central region have powerful amassed powerful fishing fleets that are reaching far and wide day and night, both developing the economy and contributing to protecting the country's sovereignty over sea and islands.
Accompanying the fishermen on their journey to conquer the sea are border guards, ready to assist their countrymen.
Supporting Vietnam's Fishermen
At the Tho Quang lock (Son Tra district, Da Nang city), the captain and owner of the fishing vessel DN-90372TS Dinh Van Loi and 7 crew members have just returned from a long sea trip. Immediately, Loi and the crew were instructed by soldiers of Son Tra Border Station to test for Covid-19; make medical declarations, log journeys, and are assigned to safely berth the ship in the lock.
Captain Dinh Van Loi said that due to the impact of the Covid-19 pandemic, the inspection work for ships is certainly more thorough. In addition to declaring the itinerary, crew members must undergo Covid-19 testing and medical declaration at the Border Guard Station to enter the lock. When anchoring ships, boats or trading seafood at fishing ports, fishermen must also comply with general regulations on pandemic prevention and control. Thanks to the regular checks, visits and reminders of the border guards, fishermen feel safer.
Tho Quang fishing port and lock is one of the largest fishing zones in the Central region, with many local ships and boats regularly anchoring, trading and exchanging goods.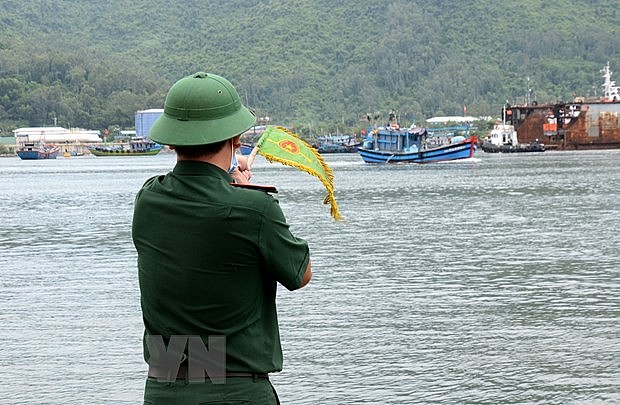 Soldiers at Man Quang Border Guard Station (Son Tra district, Da Nang city) gave orders to let ships enter the declaration station. Photo: VNA
In the early days of September 2021, officers and soldiers of Son Tra Border Station mobilized and coordinated with charity organizations to give 100 gifts to fishermen in difficult circumstances, each gift package includes essential necessities worth VND2 million (US$88.12).
Located off the coast of the East Sea, the Central region has Con Co island district (Quang Tri) and Tan Hiep island commune (Cu Lao Cham island, in Hoi An city, Quang Nam province), both of which are important strategic positions in terms of national security and economic development.
Here, officers and soldiers have contributed together with the authorities and people of Tan Hiep island commune to join hands to sustainably protect the environment and marine ecosystem, becoming an attractive tourist destination on the map of Vietnam.
Helping fishermen firmly grasp the law
In order to equip fishermen with legal knowledge so that fishermen do not violate fishing in foreign waters, Coast Guard troops in central provinces and cities have assisted fishing boat owners, helping them understand complex, international law. Their efforts greatly limit violations at sea.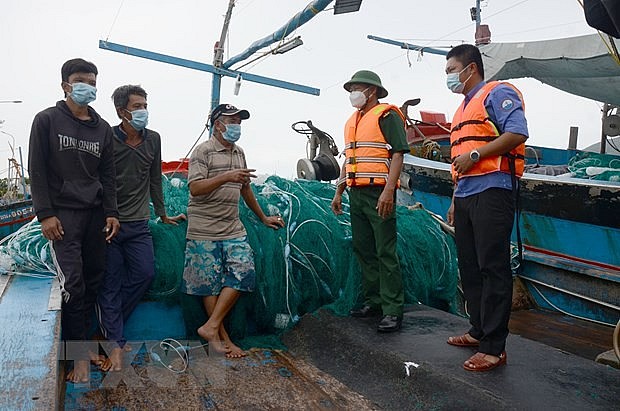 The border guards of Da Nang city promoted information on sovereignty over sea and islands, and Vietnamese laws to fishermen on fishing boats. Photo: VNA
Binh is the captain of the fishing vessel DNa 91095-TS, and also the captain of an offshore fishing team of 14 ships and boats. Recently, thanks to the guidance of the Da Nang Border Guard, Binh and his team members always strictly comply with the regulations on legal fishing, not violating the territorial waters of neighboring countries.
According to Colonel Do Van Dong, political commissar of the Border Guard of Da Nang City, the work of law dissemination and education for fishermen is focused and carried out regularly by units. They focused on introducing the basics of the 1982 United Nations Convention on the Law of the Sea, the Law of the Sea of Vietnam, and regulations on combating illegal and undeclared fishing.
Colonel Hoang Van Man, political commissar of the Border Guard of Quang Nam province said that border guard posts on sea and islands in the province regularly promote information, so that people understand and strictly comply with the law on fishing at sea. They require all ships and boats fishing from the coastal area to install navigation equipment, to avoid violations in foreign waters, as well as for forces to locate, timely support when the ship encounters problems at sea.