Young man conquering mountains on his knees
Despite breaking his bones more than 150 times because of Osteogenesis Imperfecta disorder (OI), Vu Ngoc Anh's dream of conquering and exploring every places he saw on TV still motivates him to climb mountains.
At the foot of Dai Lanh Lighthouse in Phu Yen, the road in front of Ngoc Anh's eyes clung to the mountain side with very steep and rocky steps. Putting the wheelchair aside, he strapped on his knee protectors outside his jeans and started his journey. After 1km of concrete road, Ngoc Anh had to face a narrow pathway about 500m through the woods and cliffs, his knees and hands ached badly as the tiny rocks pierce into the skin.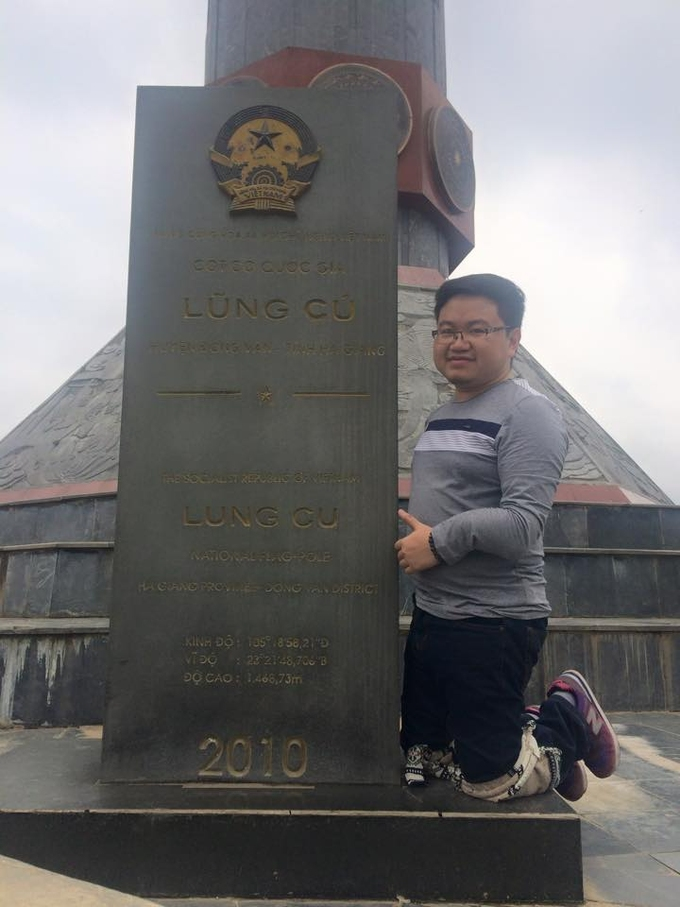 Photo: NVCC
The journey of conquering the roads on the knees
That was the pain and hardships that Ngoc Anh had to go through when he reached his destination at Mui Dien (Dien Cape), Phu Yen 7 years ago. The 1,5 km- long road is easy for a normal person, but it was nearly impossible for someone who had to use his hands and knees to move forward. After the journey, he was hospitalized for 2 days, as his knees were badly injured.
Having to both work for a living and travel, Ngoc Anh's road trips took a long time to finish. About 2 months before the trip to the West Pole, Ngoc Anh arrived to the South Pole at Ca Mau, and it was also the easiet road as they could go by car and wheelchair to reach the destination. One year later, he took the trip to the North Pole – Lung Cu flag tower, Ha Giang and recently the West Pole, A Pa Chai, Dien Bien. He did all the climbing by using his knees.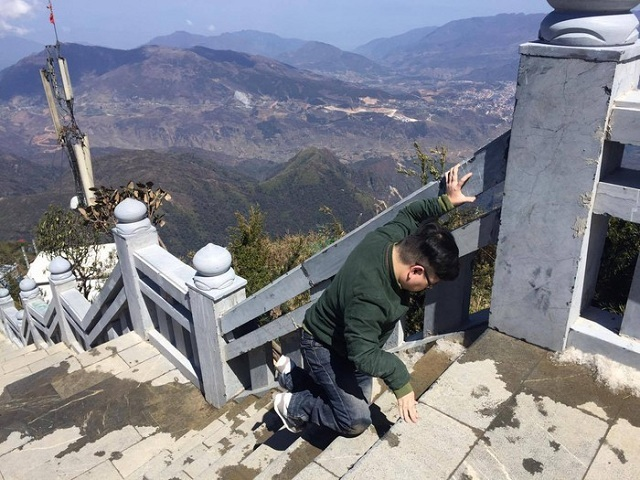 Photo: NVCC
The hardest challenge in Ngoc Anh's journey is to conquer Fansipan mountain peak. In 2011, he had planned to trek to the highest peak that is called "The roof of Indochina", which could last 7 days but wasn't able to do it. In February, 2016, after the cable car was built, he finally got a chance to achieve his dream all along.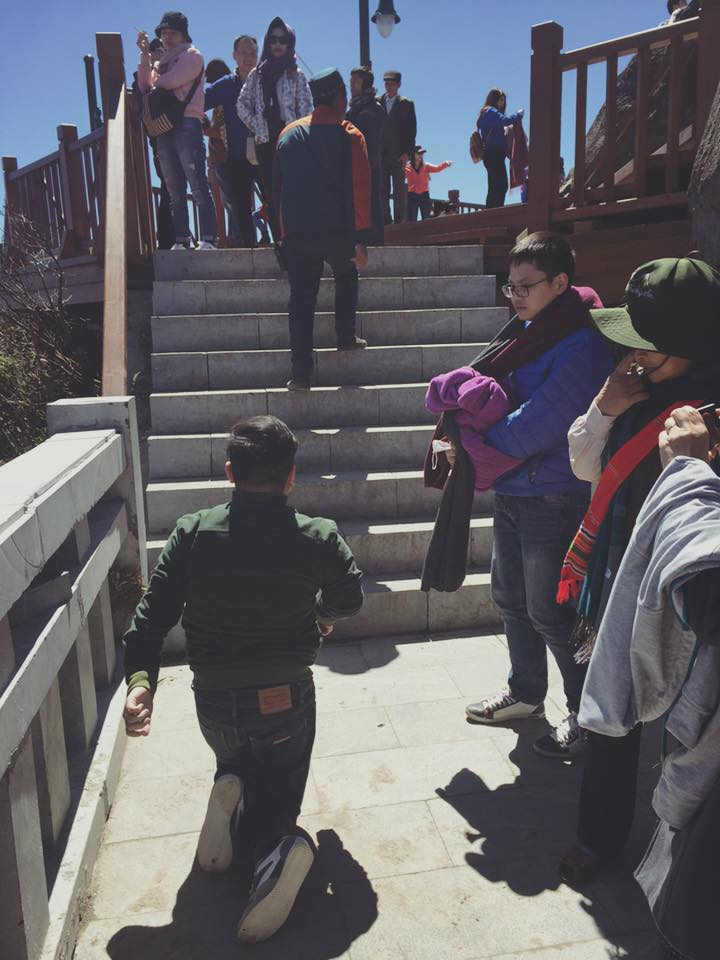 Photo: NVCC
Everytime he reached a destination, Ngoc Anh not only felt a swell of happiness, but also a feeling of loss. "Maybe it's how everyone feels when they finally achieve their purpose", he said. Not only "4 poles 1 peak", Ngoc Anh has travelled to more than 50 provinces across the country and abroad such as Korea, Singapore. To him, there is no destinations that are the most beautiful, as every place has its own distinctive beauty and unique. He always tries to fully enjoy the trip and discover the local culture and beautiful sceneries at each destination that he visits.
While he mostly travels alone, sometimes with his close friends accompany the determined trekker. Ngoc Anh is aware of his physical limitations, that's why he tries to rest as much as he can before taking on the new challenge. His luggage only includes a few pair of clothes, cell phone, and the camera to record the journey.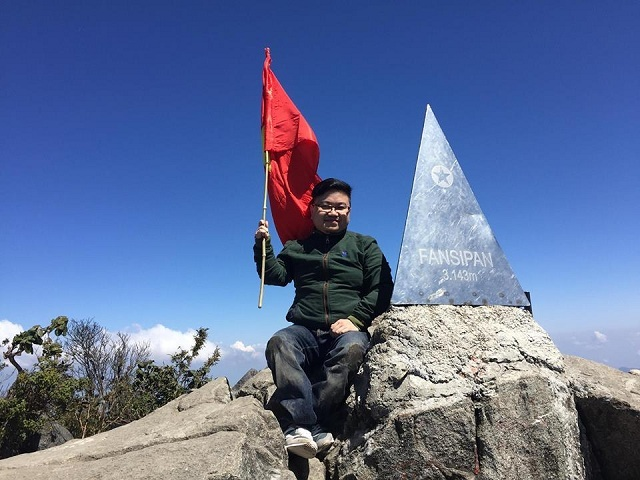 Photo: NVCC
Even though he was cautious and careful about his health and safety, he nearly broke his legs a couple of time, losing control of his wheelchair, even being robbed and mocked by drunken people. After every road trip, he gained more and more experience, and learned to better protect himself.
Childhood on a wheelchair
"A person with limited mobility dreams of going places. It sounds conflicted, but the journey that I took is both to challenge myself and to make my childhood dream come true", Ngoc Anh said when he talked about the purpose of his journey.
When he was near one year old, Ngoc Anh broke his arm and leg while learning to walk. His bone broke the second time in the same spot even when it was not fully healed. The doctors told his family that it was caused due to a lack of calcium. They tried different methods to cure him, but his illness did not improve. A few years later, he was finally diagnosed with OI, genetic disorder that causes increased bone fractures and collagen defects, which was still unheard by a lot of people.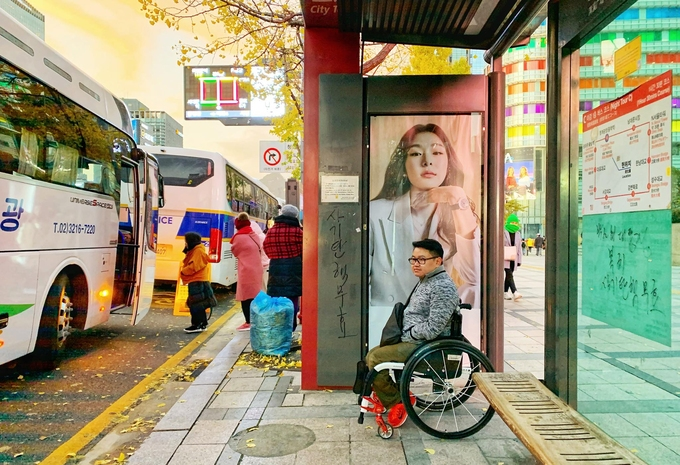 Photo: NVCC
From his childhood years until he went to school, his brittle bones constantly broke. Ngoc Anh remembered all the days laying on the hospital bed with his arms and legs casted in plaster, which made him feel like a zombie. In his years growing up, he suffered greatly from the injuries. There were even times when both of his legs broke, and he had to slowly learn to move around on his knees, but still needed other's help in daily activities.
In the last years of his secondary school, a non-profit organization gifted him a wheelchair, but he refused to use it in fear of people mocking and judging him. He became more quiet and shut down. He wanted to run and play like other kids around him, but could only befriend with books and the TV at home. The dream of travelling and exploring inside him slowly growed. At the age of 18, he passed the univerisity entrance exam, but to think that his parents would have to follow him to Hanoi city to take care of him, Ngoc Anh decided to follow an apprenticeship, which allowed him to both pursueing his passion in bussiness and music.
Ngoc Anh knew that he had to become more independent and move out of his home in order to pursue his dreams. Moving to Hanoi, he found a work and began his journey. After many years, when answering his father's question "Can you do it?", he still replies "I can".
At the moment, Ngoc Anh is still proud of himself for making that decision. The journey meant a lot to him, and it transformed him from a quiet, skittish person to a young man that can chat with a stranger for hours. "Many opportunities will open for you, and you will meet more people. I also achieve a lot of things that I never dreamed of before", Ngoc Anh said with a bright smile.