2 huge bombs safely handled in Quang Tri
Two bombs left from wartime that was found in the central province of Quang Tri have been successfully handled.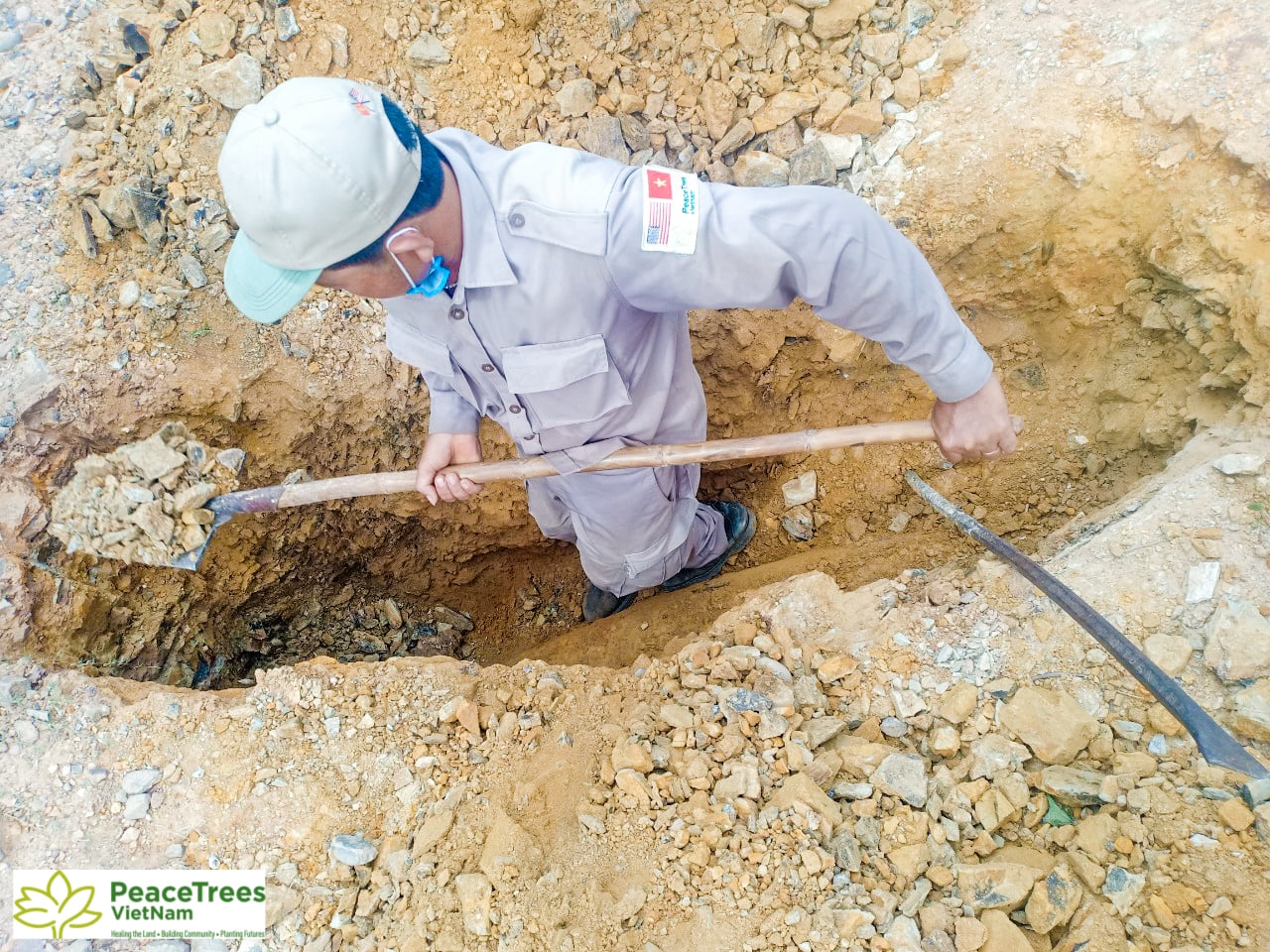 The team made efforts to remove the bomb from the ground. Source: PeaceTrees Vietnam
The US's PeaceTrees Vietnam on May 26 received information and successfully deployed two explosive ordnance disposal spot tasks for big bombs in Huong Hoa and Dakrong districts.
According to VNA, Quang Tri is the most polluted locality in Vietnam in terms of unexploded ordnance (UXO), which are scattered over 81% of its land area and have killed over 3,430 people and injured 5,100 during peacetime.
The first call-out came from the Military Command of Dakrong district about the bomb in Xi Pa village, Ta Long commune, Dakrong district. The EOD 2 team moved to the site and determined it was the MK-82 bomb, weighing more than 220 kg. The bomb was located deeply in the rocky soil of the high hill.
The team's technicians carefully removed each layer of soil to evaluated its fuze was "safe-to-move".
After almost five hours, the team was able to move the bomb from the hill to the parking place, then continued to use the vehicle to transport it safely to the storage.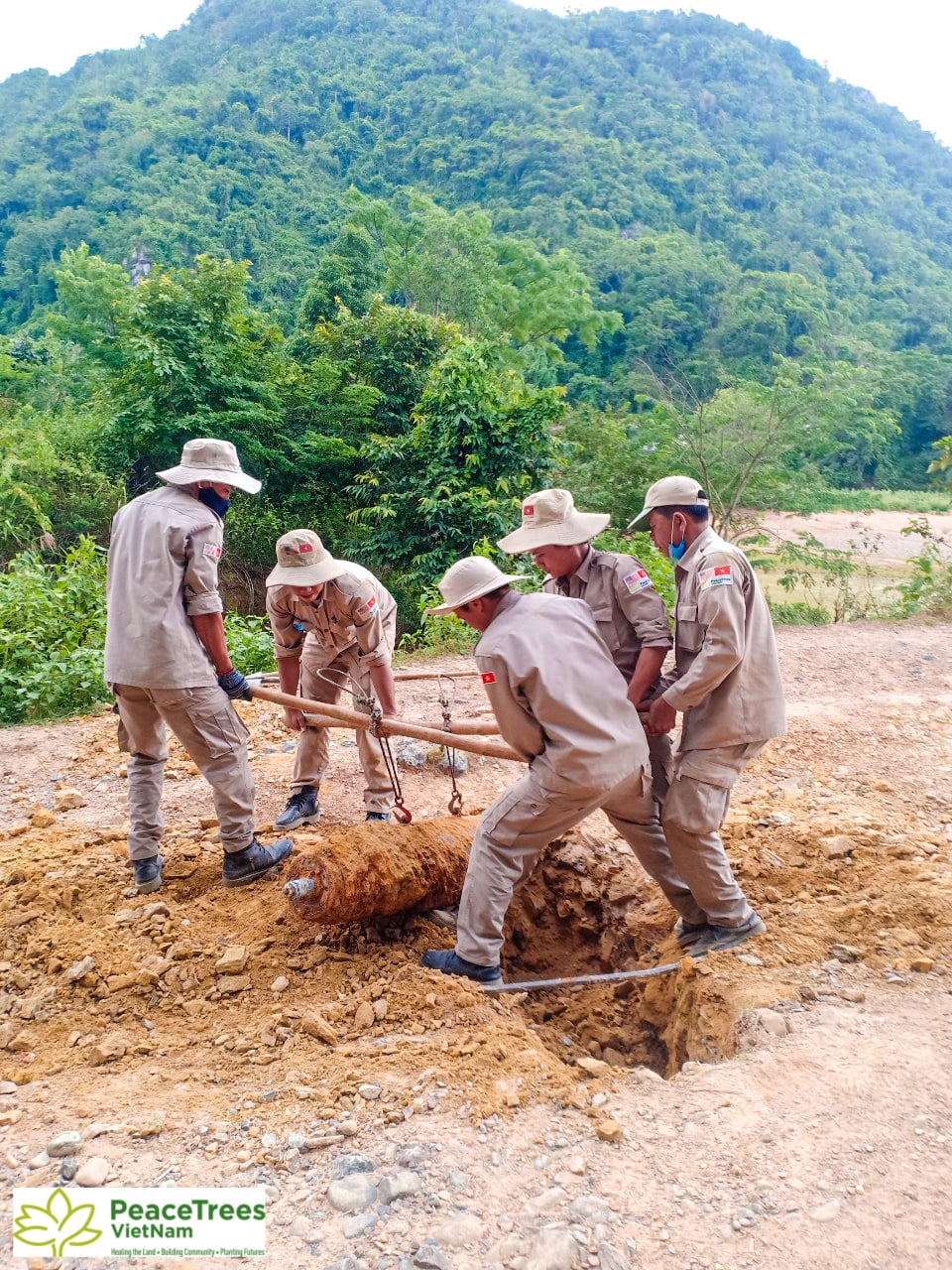 The team made efforts to remove the bomb from the ground. Source: PeaceTrees Vietnam
The second news was reported by people in Cu Bai village, Huong Lap commune, Huong Hoa district. Ho Van Duong, head of Cu Bai village, called the team when people found a bomb located at a depth of 1m, right below the road where people passed every day. After checking at the site, the EOD 1 team determined that this was an MK-82 bomb, in a "safe-to-move" status. The bomb then was also safely transported to the storage by the team for detonation later.
These are two of the many tasks that have been carried out by the Explosive Ordnance Disposal Response Team of the PeaceTrees Vietnam Quang Tri Project.
PeaceTrees Vietnam is the first foreign NGOs licensed by the Vietnamese Government to operate in UXO search and clearance. In which, it receives fund/grant from the US Department of State, Office of Weapon Removal and Abatement (WRA) for its operations in Quang Tri province since 2005, operate in Huong Hoa and Dakrong districts, focus on EOD and clearance; and integrate explosive ordnance risk education into its operation.
Earlier, sappers of the Military High Command in the central province of Quang Tri in conjunction with the US's Golden West organisation have successfully deactivated and removed two MK82 bombs and an AN-65 bomb weighting up to 500kg that was found in Huong Hoa district's Huong Lap commune.
MK82 and N-65 bombs were used by the US Army during the war, dropped from aircraft and caused great damage./.