22-year-old woman becomes Vietnam's youngest Covid death
The patient succumbed to the novel virus over three weeks after contraction.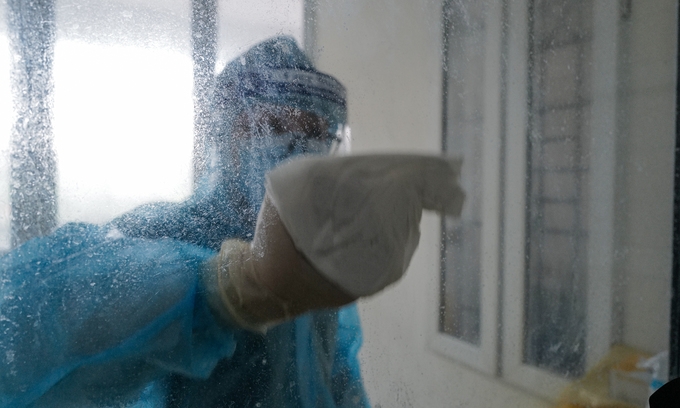 A medical worker cleans up the glass door at a Covid-19 testing laboratory in Bac Giang, May 26, 2021. (Photo: VNE)
A 22-year-old Covid-19 patient died in Hanoi Thursday night, becoming Vietnam's 47th coronavirus death and the 12th person to die in the nation's latest Covid-19 wave, VNE reported.
The woman, whose death was announced Friday noon, was diagnosed with aplastic anemia in March and was treated at the capital's National Institute of Hematology and Blood Transfusion. On April 21, her bloodstream was found infected with both bacteria and fungus. She was treated with numerous drugs, but her condition did not improve and she regularly experienced fever.
On April 29, she was transferred to the National Hospital for Tropical Diseases, where she was diagnosed with candidemia.
On May 5, she tested positive for the coronavirus. She was subsequently treated with several drugs and put on ventilators, among other treatments. But she didn't respond well with treatments, her blood cell count continued to decrease and her condition slowly turned worse.
She fell into septic shock and passed away Thursday night. Her cause of death were Covid-19, septic shock and candidemia.
She's the youngest person to die with Covid in Vietnam.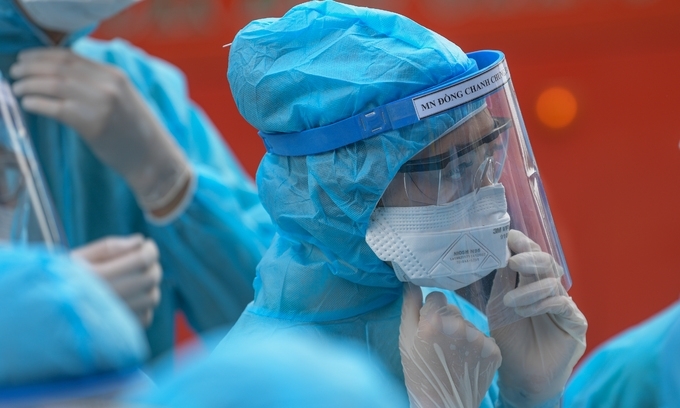 A medical worker prepares to take swab samples from workers at Bac Giang's Quang Chau industrial park for Covid-19 testing, May 15, 2021. (Photo: VNE)
Earlier on May 24, Vietnam reported for the first time a Covid-19 patient without underlying health issues died. It was a 38-year-old woman whose conditions worsened quickly after contracting the deadly Indian variants.
Her causes of death were pneumonia due to Covid-19, septic shock and advanced respiratory failure complications, according to the Ministry of Health.
In the fourth Covid wave that began a month ago, Vietnam has recorded 3,335 cases and 12 deaths, most of them at the National Hospital for Tropical Diseases, a frontline hospital in the Covid-19 fight but has been locked down after turning into a coronavirus hotspot.
The country earlier recorded 35 deaths from the second wave in Da Nang in July and August last year.
The fourth wave has been predicted as more prolonged and complicated. However, it has basically been put under control as most of the new cases are either under quarantine or from blockaded areas. Infection sources have also been effectively traced.