400 Vietnamese, Cambodian Students Exchange in Can Tho City
An art, sports and folk game exchange programme for students of Vietnam and Cambodia was held in the Mekong Delta city of Can Tho.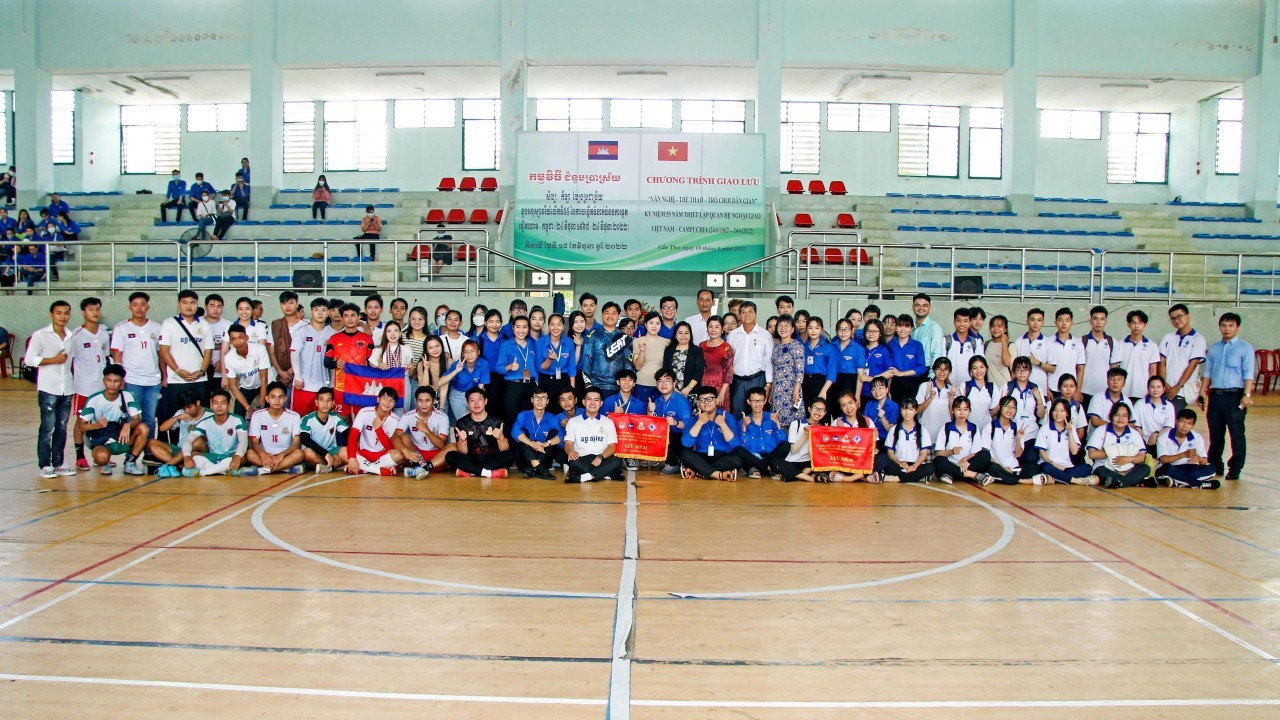 Students and officials pose for a group photo.
More than 400 Vietnamese and Cambodian students participated in cultural - sports exchanges, folk games in Can Tho city on June 18.
The event was jointly held by the Can Tho Union of Friendship Organization, the city's Vietnam - Cambodia Friendship Association, the Cambodian Consulate General in Ho Chi Minh City, Can Tho University, and the Youth Union of Can Tho.
The program included 400 Cambodian students in HCM City and Can Tho, Vietnamese students from Can Tho University, and representatives of the Can Tho Youth Union. They participated in futsal matches and some folk games such as tug of war, sack jumping, and bamboo dancing.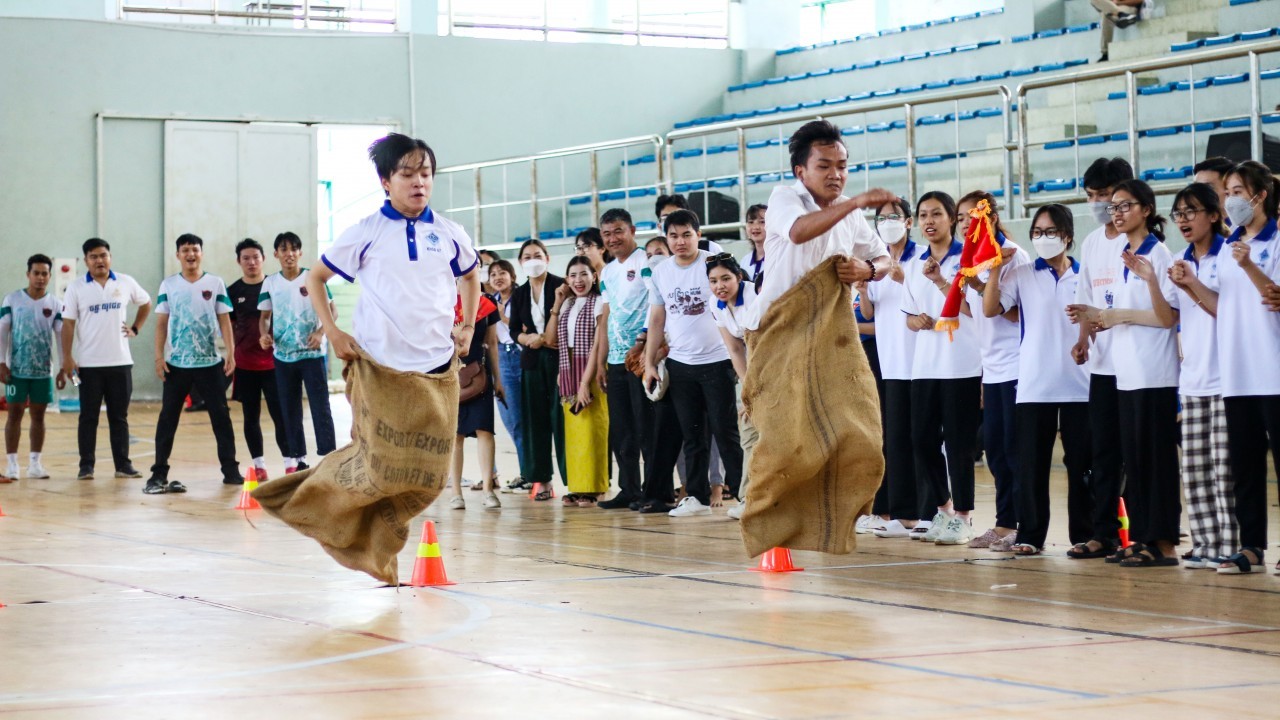 Sack jumping.
When speaking to the press, Seng Sambath, a student from Vietnam Aviation Academy in HCM City said that interesting sports and cultural exchange activities have helped him make many new friends; have the opportunity to practice his Vietnamese. Through the exchange, Sambath felt that Vietnamese friends were friendly, enthusiastic and hospitable.
Leung Y Lang, Cambodian student in Can Tho City expressed her excitement to meet fellow countrymen studying in Can Tho and HCM City. Lang also voiced her gratitude for the support and encouragement activities for Cambodian students in the difficult context due to the impact of the Covid-19 pandemic by the authorities, mass organizations of Can Tho city and the school where she's studying.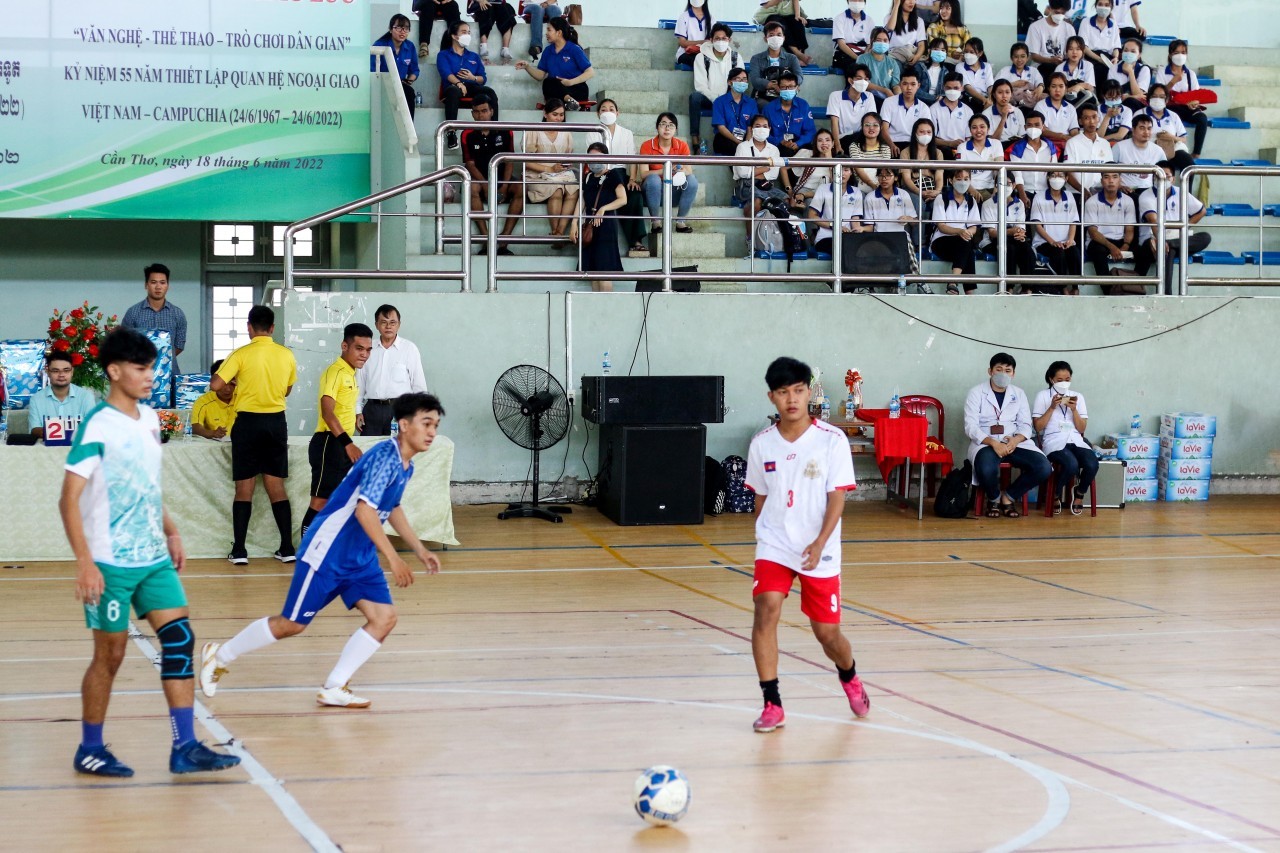 Futsal matches.
Meanwhile, Mai Le Trung Kien, a student of Can Tho University thought that the exchange event is a useful opportunity to help Vietnamese students better understand Cambodia, and at the same time, an opportunity to spread hospitality to international friends.
"Both teams participating today showed good sportsmanship and enthusiasm," Kien said.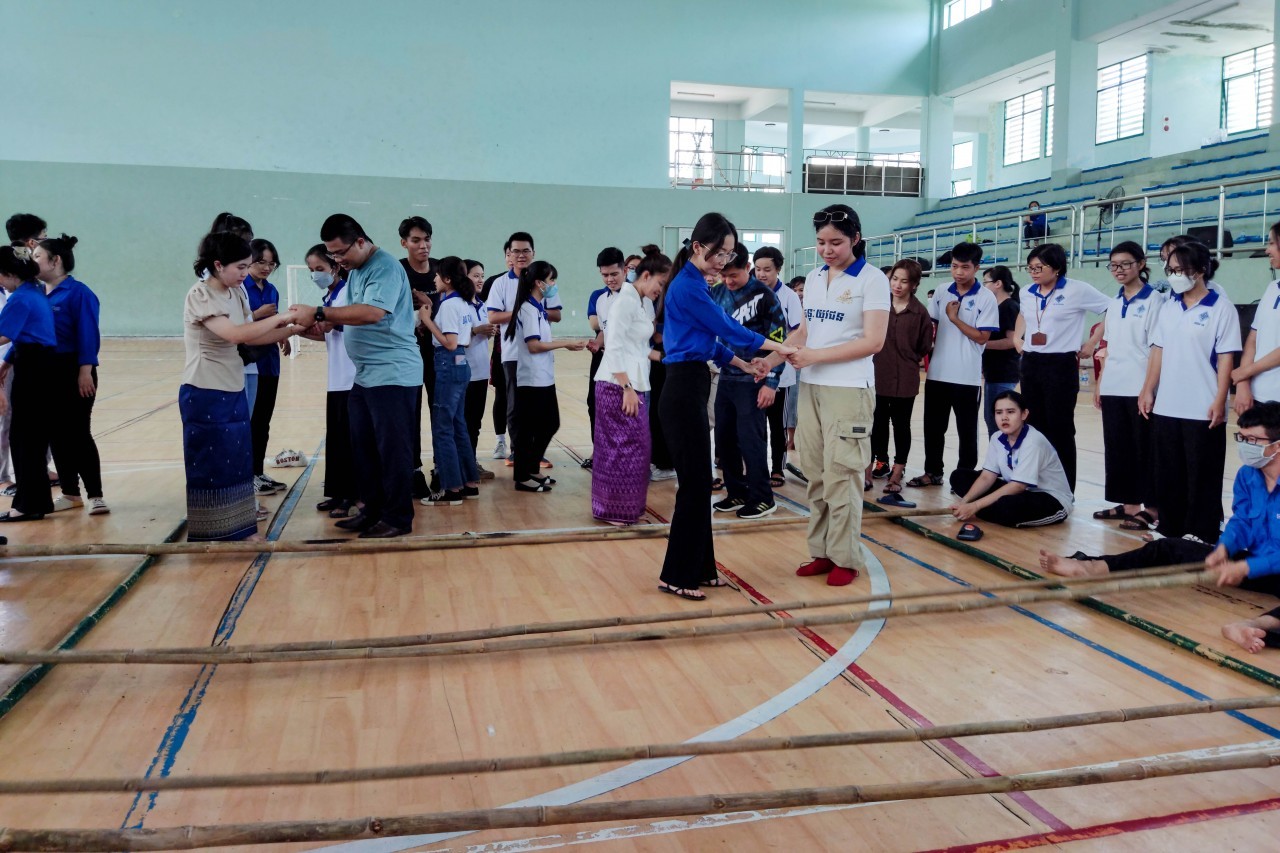 Cheraw dance is one of the traditional games at the event.
Speaking at the event, Cambodian Consul General in HCM City Sok Dareth emphasized the important role played by Vietnamese and Cambodian young people, saying that they are a "bridge" promoting diplomatic relations between the two countries.
He expressed his hope that the young generations of the two countries will enhance connections through exchange and sharing activities, thereby creating important foundations for more fruitful diplomatic relationship in the future.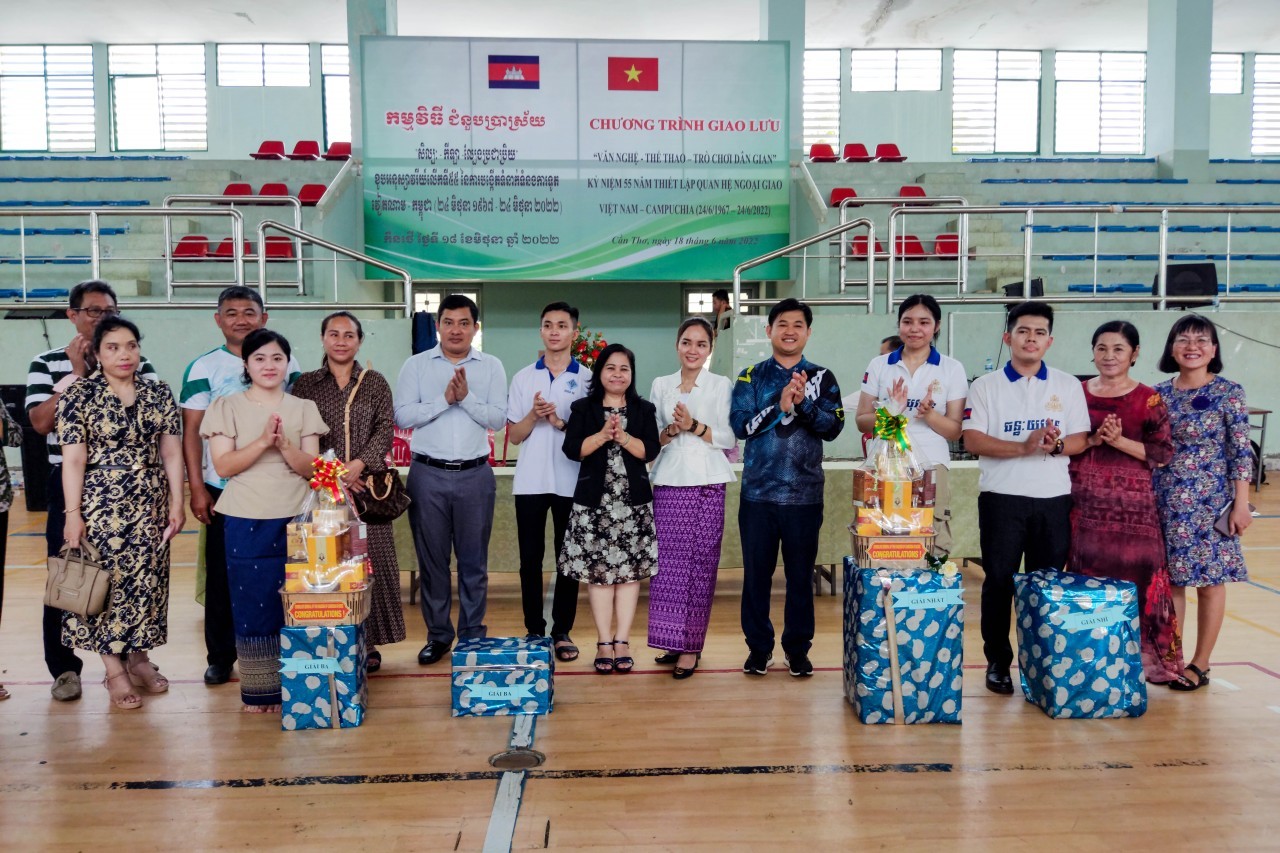 The organizers gives gifts to representatives of student groups participating in the exchange.
Nguyen Van Can, Chairman of Can Tho city's Vietnam - Cambodia Friendship Association, said that in the past time, the association has regularly coordinated with the Friendship Union to help its members with difficult circumstances, and Cambodian people, and provide scholarships for Cambodian students studying in Vietnam.
The exchange programme is expected to contribute to maintaining and developing the neighbourliness, traditional friendship, and comprehensive cooperation between Vietnam and Cambodia, and popularising the importance of preserving and developing the Vietnam-Cambodia relationship among people from all walks of life, especially youngsters, he said.
Previous, on June 17, a get-together also was held in Can Tho marking the 55th anniversary of Vietnam-Cambodia diplomatic relations (June 24, 1967-2022).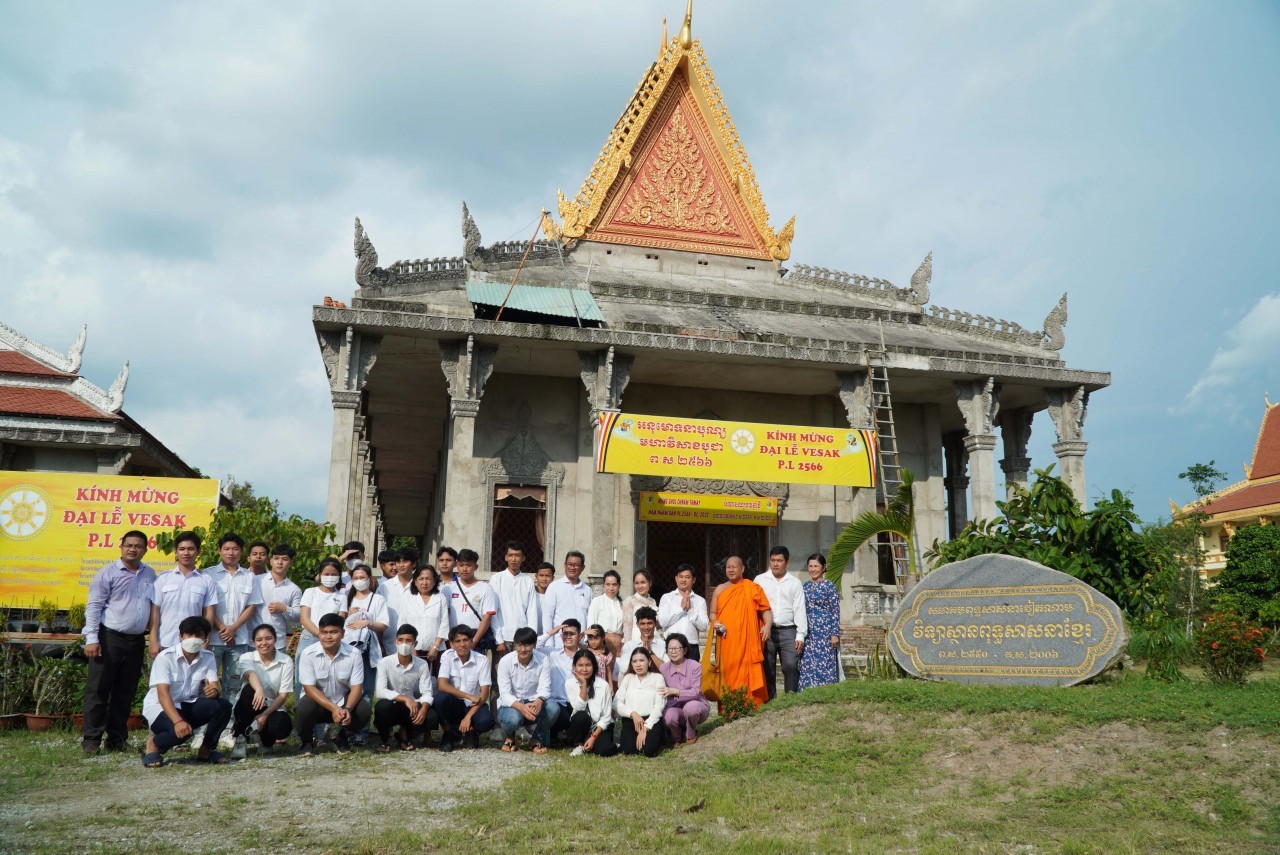 Cambodian Consul General in HCM City Sok Dareth with the delegation and Cambodian students take photos at the Khmer Theravada Buddhist Academy in the Mekong Delta city of Can Tho's O Mon district.
Addressing the event, Vice Chairman of the municipal People's Committee Nguyen Thuc Hien said that the city has supported and coordinated with the Cambodian side to organise many cultural and people-to-people exchange activities together with charity activities, including the provision of free medical check-ups and medicines to locals in Cambodia and Vietnamese Cambodian people hit by Covid-19.
At the same time, Can Tho has provided scholarships and created favourable conditions for Cambodian students to study in universities in the city, he added.
He said that recently, the city has send a delegation to Cambodia to work with the Cambodian Ministry of Home Affairs, Cambodian Royal Army units and localities to further foster the solidarity with the neighboring country and seek new cooperation opportunities with Cambodian partners.
In 2020 and 2021, despite Covid-19 impacts, the partnership between Vietnam and Cambodia still progressed in all fields from politics, defense, security to economy, trade, investment, culture, education, and local cooperation.
Cambodian Consul General Sok Dareth hopes youngsters of both countries will get closer together for deeper mutual understanding, while staying ready to pioneer in implementing historical missions, safeguarding and developing relations between the two countries.
Vietnam, Cambodia Seek Stronger Defence Ties

Vietnam and Cambodia have agreed to further promote cooperation between border management forces through such forms as information sharing and joint patrol organisation, to prevent ...