5 Must-Try Foods of An Giang Province
Mini savory pancakes, dumplings and pandan leave porridge are all dishes you should not miss when visiting Tan Chau town of An Giang province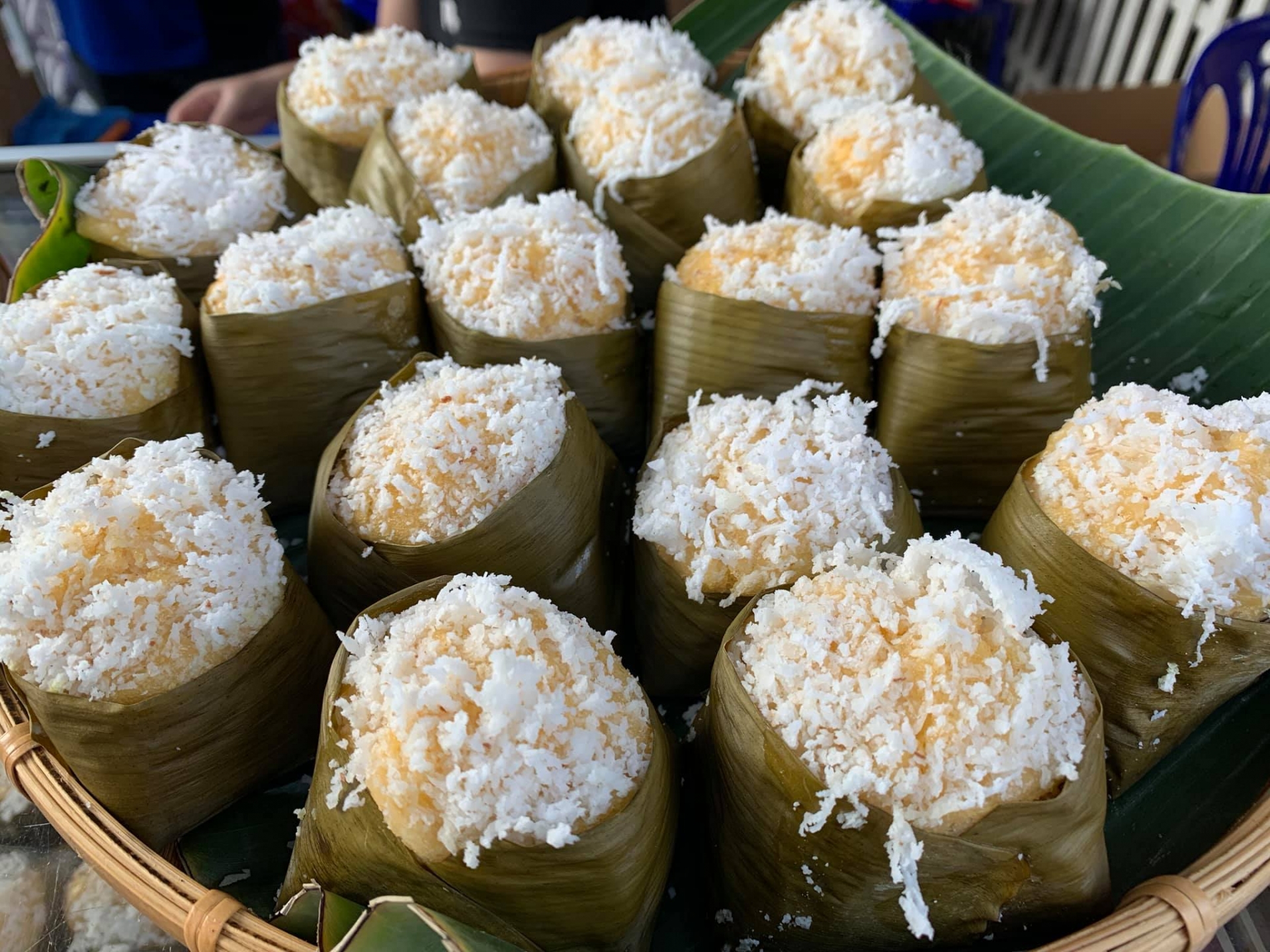 Tan Chau town, An Giang province, is home to a variety of special food. Photo Du Lich Mien Tay
Tan Chau town in the Mekong Delta province of An Giang is upstream of the Tien river.
The town is home to Vinh Xuong international river border with Cambodia and has the typical river life of the southern region. The local cuisine has many special dishes. Let's take a look at the five best dishes in Tan Chau:
Mini Savory Pancake (Banh Khot)
Banh Khot is a shrimp or mung bean pancakes deep-fried to a crunchy golden color.
Banh Khot at Tan Chau market is Khmer-style and made from rice flour diluted with coconut milk and chopped scallions. The cooks do not add turmeric powder to the cake so that Banh Khot version in Tan Chau is not yellow like Banh Khot found in the south.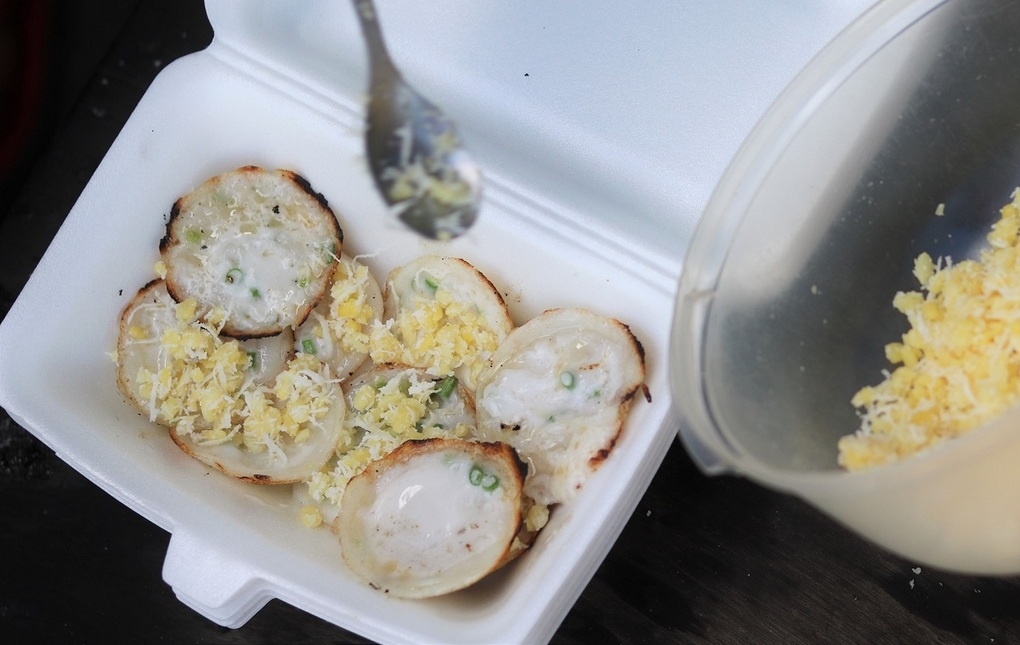 Photo: VnExpress
The pancake in Tan Chau is not served with raw vegetables like in other places. Rice flour is poured into earthenware molds that have been lightly oiled and fried until it turns golden brown. The cake has no filling and is eaten with dipping fish sauce and coconut milk.
Some shops at Tan Chau market add cooked green beans mixed with grated coconut to enhance the flavor.
Garlic Chive Dumplings (Banh He)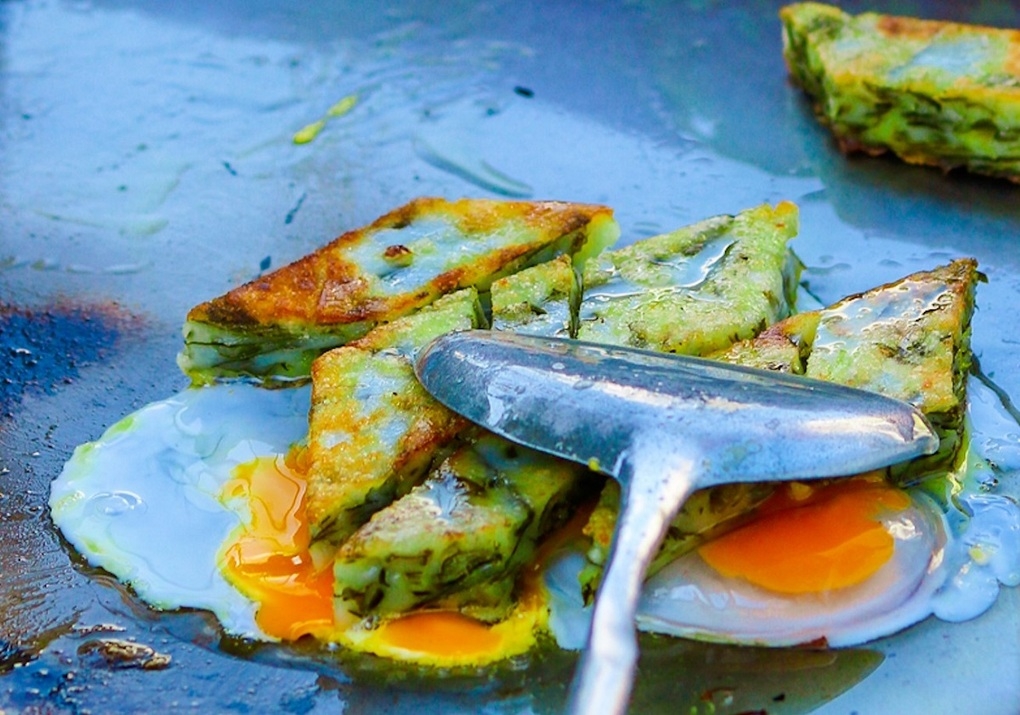 Photo VnExpress
Banh He is a Chinese dish sold in areas where many Chinese people live in Vietnam. Visitors to Tan Chau market should order a portion of garlic chive dumplings for their late afternoon meal.
The dumpling is made from diluted rice flour, mixed with finely chopped shallots with a little seasoning. The flour mixture is poured into a mold for steaming.
Sellers often cut the cake into small pieces and fry them until they get golden brown on both sides. Chicken eggs are also added to the pan and fried until just cooked. The crispy garlic chive dumplings which are dipped in soy sauce mixed with vinegar are soft inside and crispy on the outside.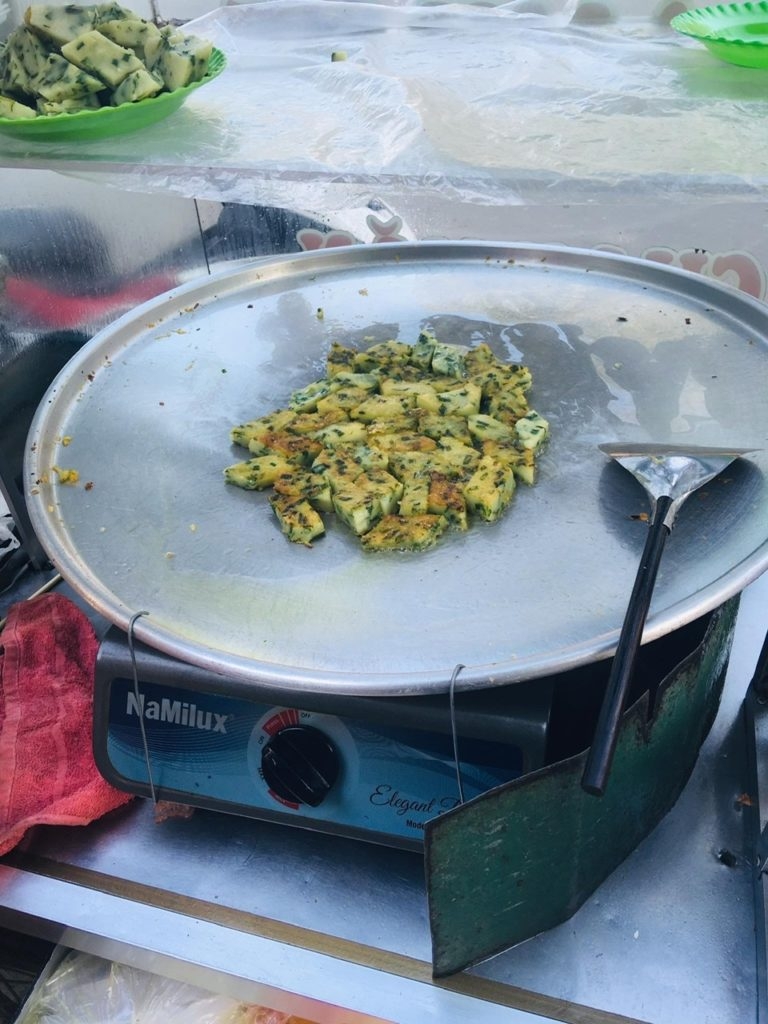 Photo Doi Song Phap Luat
Ball-Shaped Buns (Banh Bao)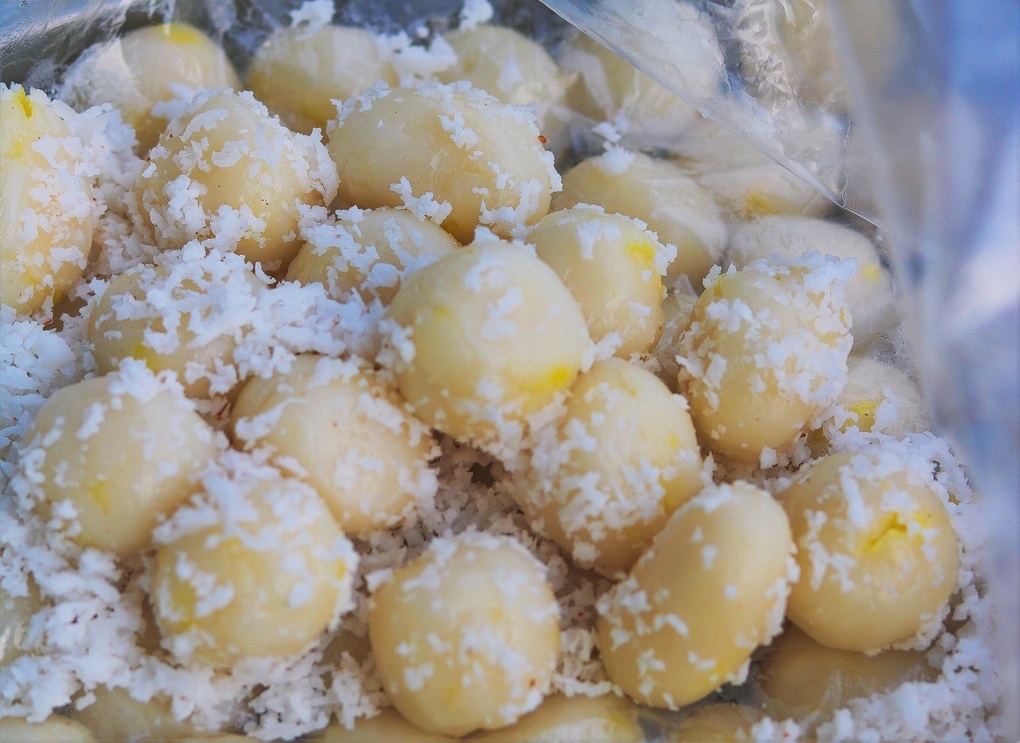 Photo VnExpress
The buns in Tan Chau have a small shape, different from other types of hot steamed flour dumplings.
The buns are made from glutinous rice flour and filled with green beans, peanuts, coconut or black sesame. The crust is thin, soft and ivory white. The bun coat is soaked in grated coconut.
Diners can feel the sticky rice smell and fatty taste of the soft pastry.
Sticky Rice (Xoi)
Sticky rice is a popular delicacy in rural markets in the Mekong Delta region, and Tan Chau market is no exception.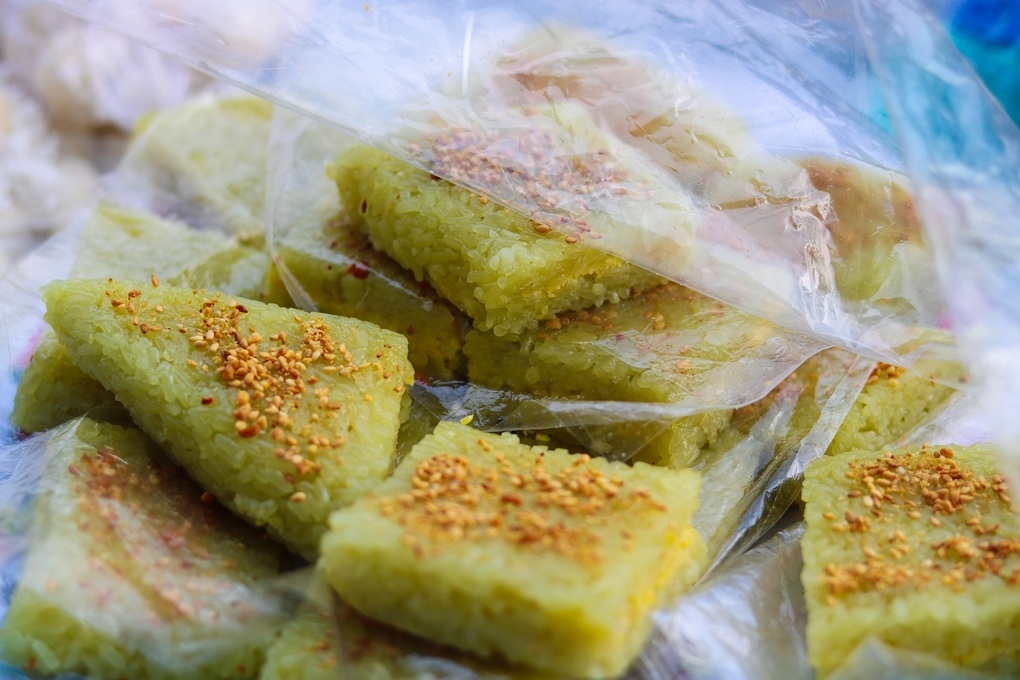 Photo: VnExpress
The dish is made from young sticky rice, coconut milk, pandan leaves, sugar, sesame seeds, and golden roasted peanuts.
Sticky rice in Tan Chau contains anise.
Pandan leaves give the dish a green color. Eating soft sticky rice mixed with fatty coconut milk and sipping a cup of tea is the best way to enjoy the dish.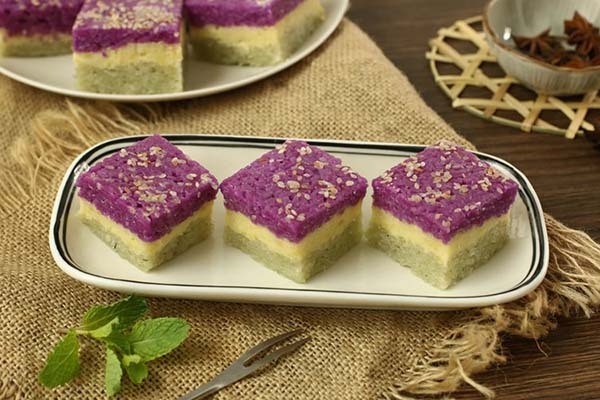 Photo Cet Edu
Porridge With Pandan Leaves
Photo: VnExpress
Porridge with pandan leaves is a simple dish of people living in the Mekong Delta region.
It is cooked from whole grain rice. Pandan leaves are added to create turquoise color and mild aroma. Softly-cooked black beans and red beans add the fleshy flavor to the dish.
A delicious bowl of porridge cannot be perfect without thick coconut milk mixed with a little sugar, and a little salt sprinkled on the surface of the bowl.
Diners can add more savory dishes to the porridge such as fried shrimp, pickled fish, salted duck eggs and salted peanuts to enhance the flavor.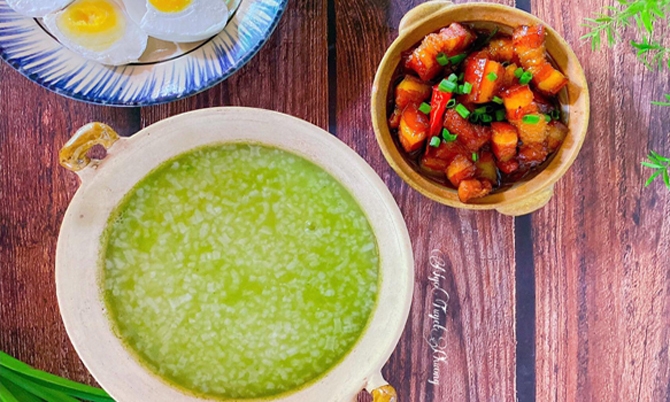 The porridge can be eaten with boiled eggs or steamed pork. Photo Ngoi Sao
Cow racing festival in An Giang

Cow Racing Festival has existed for a long time in the Seven Mountains Region of An Giang Province. The Festival is held on Sene Dolta ...