58-Year-Old Backpacker Conquers Five Mountains In The North
A 58-year-old woman has ridden her motorbike to conquer five mountains in the north amid chilly weather.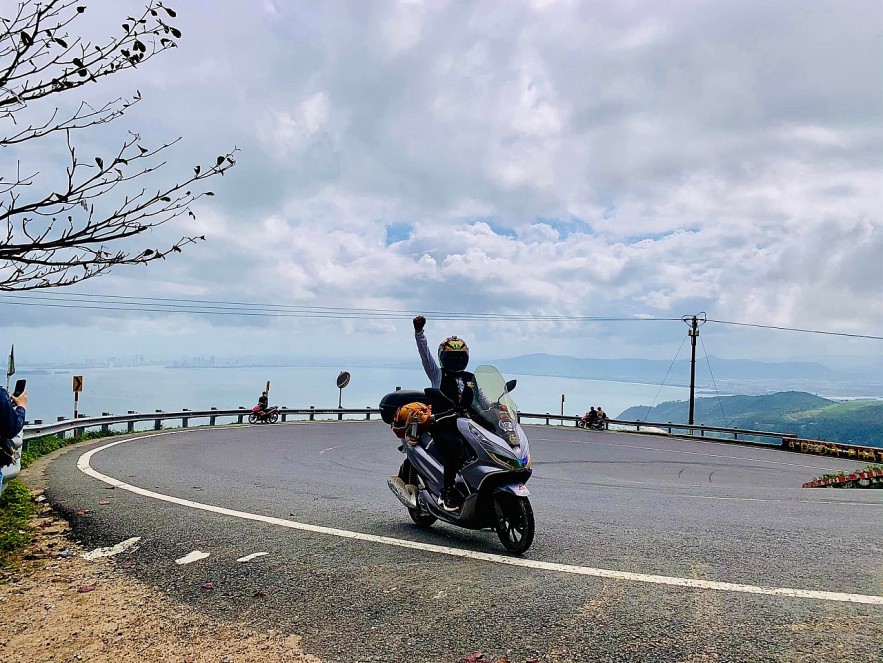 A PCX motorbike is Van's companion during the trip. Photo VnExpress
In December 2021, Bích Vân, 58, living in Central Highlands province of Gia Lai, took a trip to the north to explore Sa Pa Town in Lao Cai Province.
She sent her motorbike to Sa Pa first and then took a flight to Hanoi and traveled by coach to Sa Pa.
She made friends with another climbing lover on Facebook. They met in Sa Pa and started the journey to conquer the mountains.
Vân said in the past she did not love climbing but liked backpacking and traveling. She set challenges for herself to reach and see the sunrise on Fansipan Mount and conquer four mountains of Ngu Chi Son, Nhiu Co San, Bach Moc Luong Tu (Ky Quan San), and Lao Than.
In August 2021, she succeeded in reaching Ta Chi Nhu, Lung Cung, Ta Xua in Yen Bai Province và Chieu Lau Thi in Ha Giang Province.
This time she traveled to Sa Pa as she wants to experience the chilly weather of the north.
She equipped herself with Covid test kits, hand sanitizer liquid, and masks to protect herself during the trip.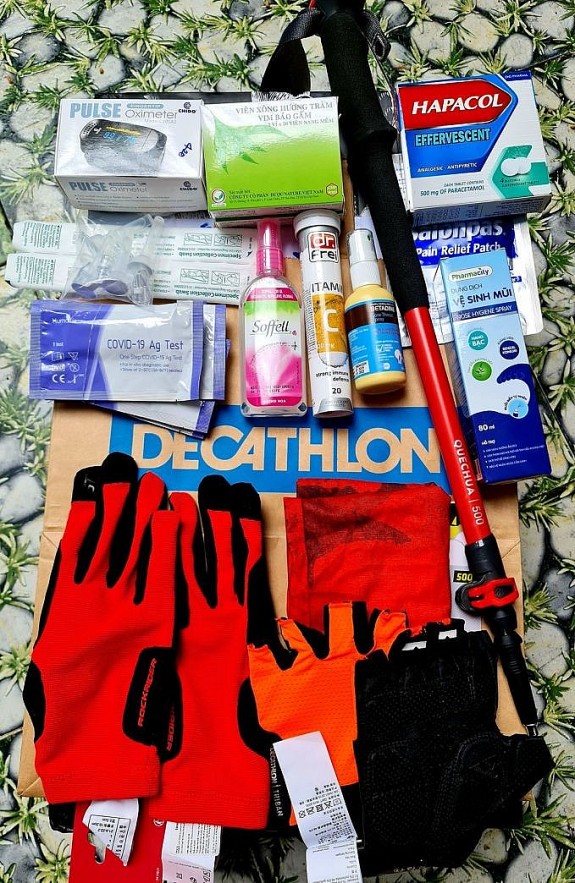 A kit of personal hygiene and protective equipment as carefully prepared by Van. Photo VnExpress
She took a cable car to Fansipan Mount and slept overnight there to enjoy the sunrise the next morning.
Taking the last cable car trip of the day, Van remembered that after reaching the Roof of Indochina, she could enjoy the sunset.
The most unforgettable memory she had during the trip was a night sleeping when it was minus 4 degrees on Fansipan Mount.
Van did not sleep well at the coffee shop at the peak but could not resist the joy of seeing the sunrise the next morning.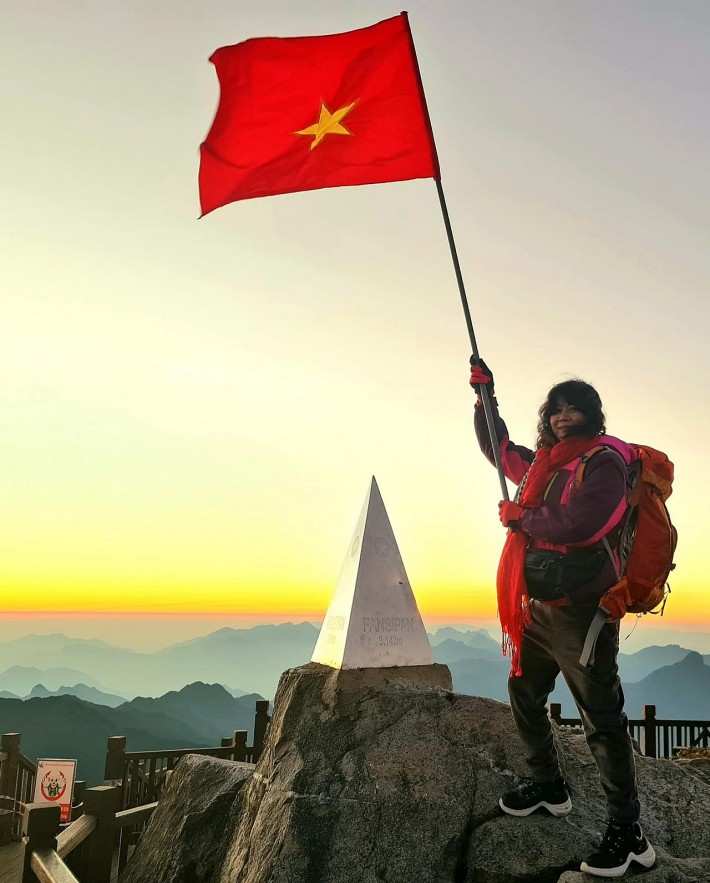 After a sleepless night in minus temperatures, Van finally enjoyed the sunrise and waved a Vietnamese national flag on Fansipan Mount, the Roof of Indochina. Photo VnExpress
Van conquers Ngu Chi Son Mount. Photo VnExpress
Finding the routes was another challenge for her. Google Maps was her helpful assistant but on small roads without mobile phone signal, she had to ask for the help of local ethnic people.
However, not all local people could speak Vietnamese so she had to print a big map and ask them to show the way.
Van always followed weather forecasts to plan her trip.
On sunny days she rode to conquer the mountains. But on rainy days she spent time exploring villages and learning local people's customs.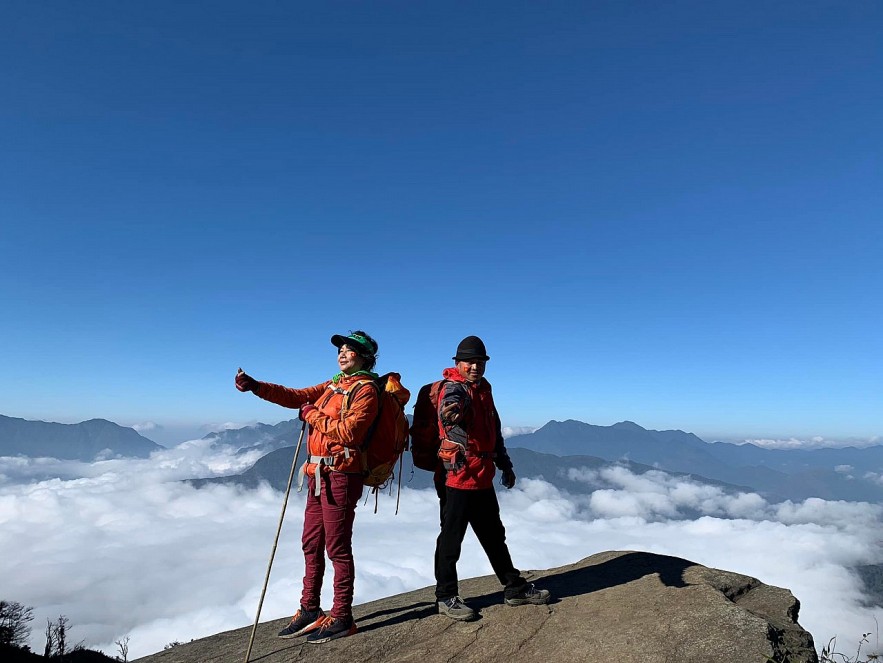 Van and a porter with a sea of clouds on Lao Than Mount. Photo VnExpress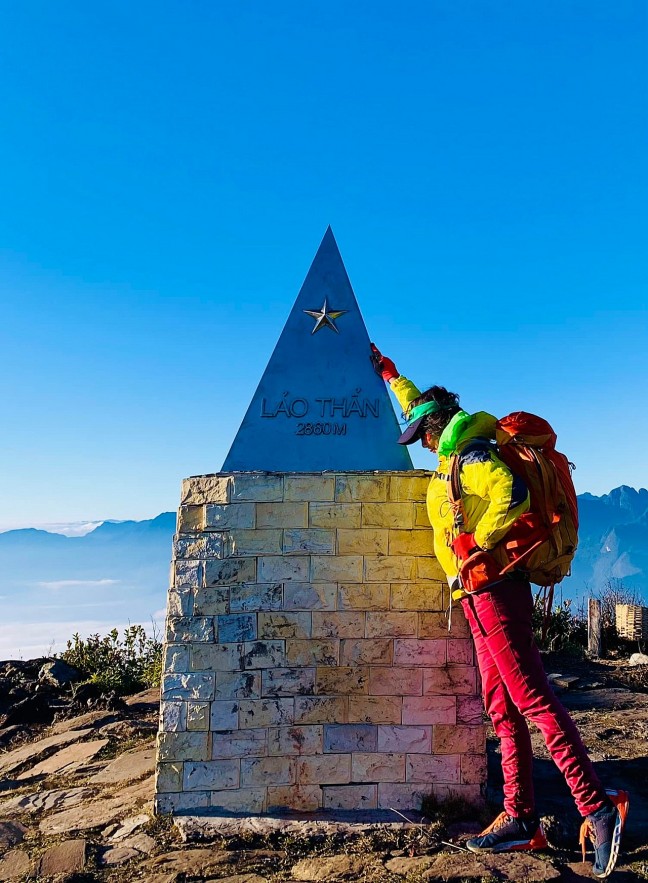 Among the five mountains she conquered in Lao Cai, Lao Than was the easiest. Photo VnExpress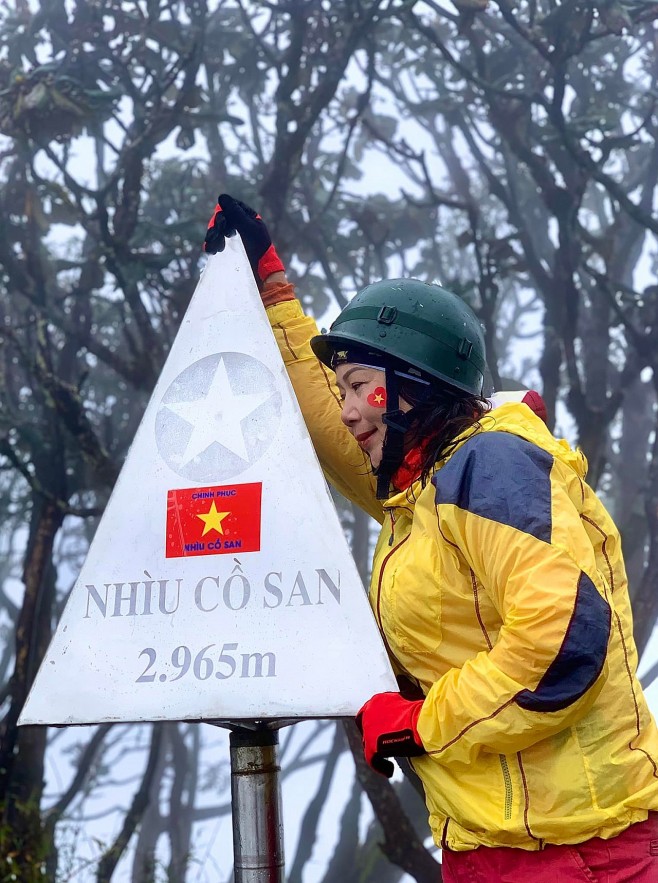 Reaching Nhiu San Co Peak at the height of nearly 3,000m. Photo VnExpress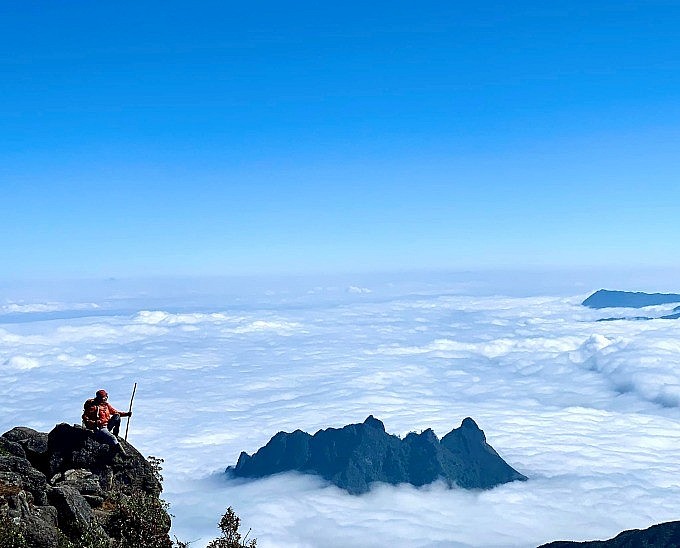 Van among the sea of clouds of Ky Quan San Mount. Photo VnExpress
Van said to conquer high mountains, backpackers needed to exercise regularly.
Because she lived in the Central Highlands, before the trip to the north, she trained herself by bathing in the rain a few times.
She confessed that she is quite a brave person, so was not afraid of taking the trip alone.
She knows her husband and children are always worried about her safety but still support her to fulfill her passion.
In March during the blooming azalea season, she plans to continue her trip to conquer more northern mountains as long as she is healthy enough and has time.