ASEAN Fair in Argentina Kicks Off With Vietnamese Customs
ASEAN countries with diplomatic representations in Argentina organized the annual Bazar fair on March 18, on Plaza Barranca in Buenos Aires.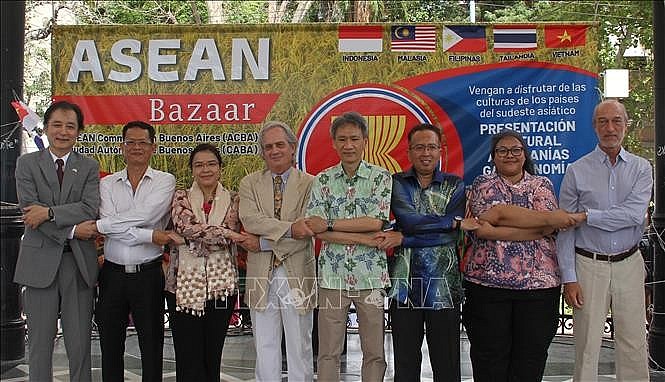 The event was attended by Ambassadors of ASEAN countries in Argentina and the Deputy Foreign Minister of the host country Pablo Tettamanti. Photo: Vietnamtimes
In addition to Ambassadors and members of ASEAN embassies in Argentina, the fair was also attended by Deputy Foreign Minister of the host country Pablo Tettamanti and a large number of international friends and local people.
According to the ASEAN Committee in Argentina, this event is an opportunity for countries to promote cultural exchanges and promote the image of their country and people. At the same time, it will improve understanding and further tighten the friendship and cooperation between ASEAN and Argentina.
At the fair, booths displaying handicrafts and products bearing national identity and traditional dishes of ASEAN member countries attracted a large number of visitors. In particular, the cultural space of Vietnam has attracted Argentine and international friends. They enjoyed unique handicraft products, attractive cuisine, traditional costumes such as ao dai and conical hats, magazines, and travel books.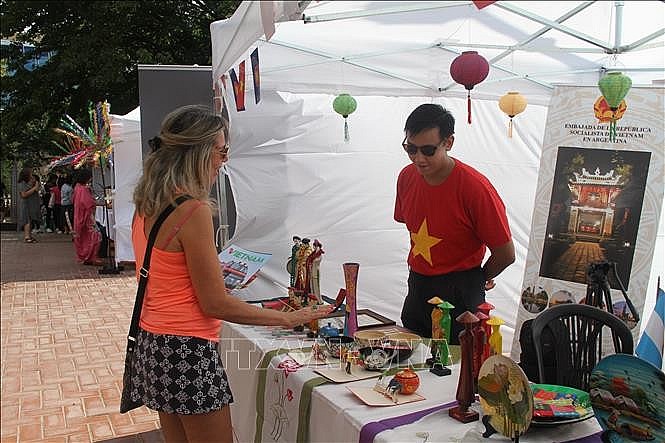 Visitors at the Vietnamese booth at the fair. Photo: Vietnamtimes
"The fair is a great opportunity for me to learn about the culture of Vietnam. I am very impressed with your booth, especially the photo magazines introducing the country and people of Vietnam," shared Diana Rosenfeld, a resident of Buenos Aires after visiting the Vietnam booth.
"For me, Vietnam is one of the countries with the most attractive cuisine in the world. The fair atmosphere here is so great! Everything makes me look forward to visiting your country as soon as possible," Rodolfo Lambertino, another local, said.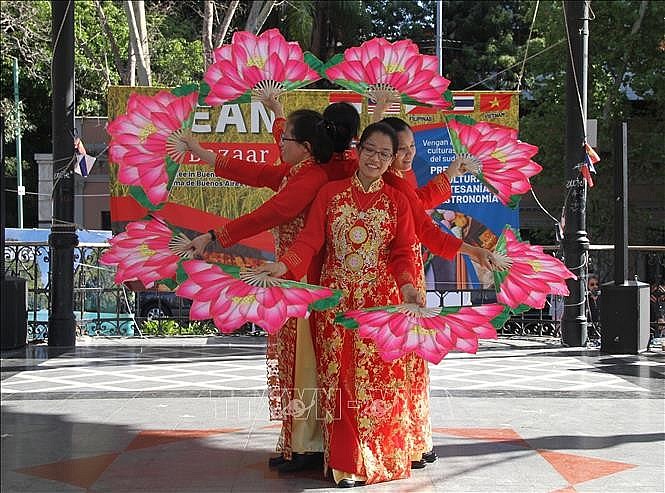 Photo: Vietnamtimes
At the fair, representatives of ASEAN countries also performed special performances of music, dance, and traditional martial arts, creating a festive and joyful atmosphere for the local people.