British Impressions of Vietnamese Durian
On May 4, Vietnam's Ri6 durian was first introduced to the UK market. Many British friends expressed their excitement toward this event, suggested ways for Vietnamese durians to approach and conquer new markets, and at the same time shared their feelings about durian flavor with the Vietnam Times reporters.
Femi Progress (England): Process durian into juice for easy access for users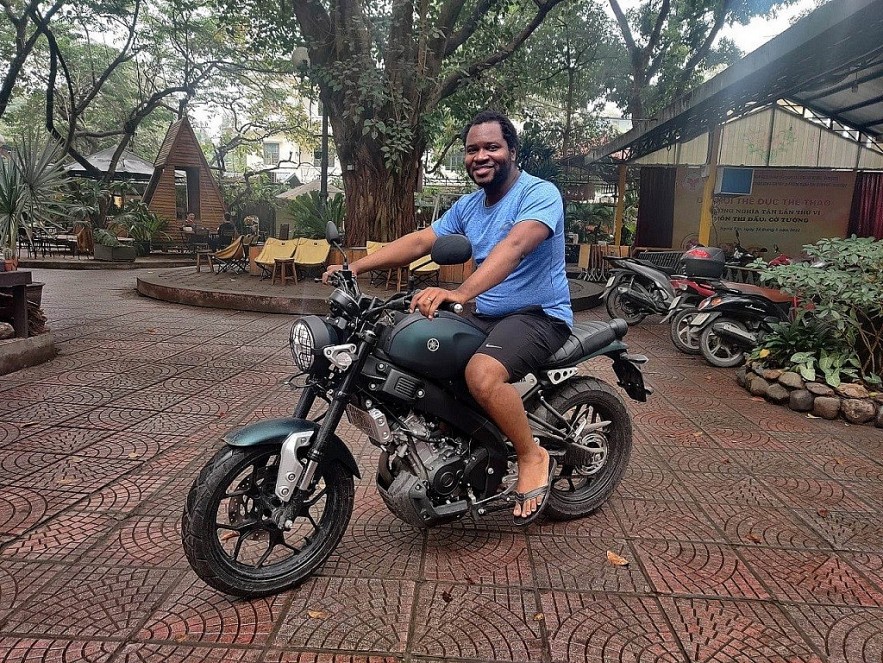 Femi Progress
I first ate durian in 2014. The taste is not mundane like watermelon, guava and so on. But, that smell is something else. I found it very repelling. With the durian appearance, it looks fascinating from the outside (the spikey and pointed hard shell) as well as the fruit itself (the colorful yellow glow). However, the strong and skunk smell is a serious turn off.
I tried the durian flavored ice cream not too long ago. It was nice and creamy but, that credit can easily go to the processing of the ice-cream and not necessarily the durian in it. But for a fact, I'd take the ice-cream 10 times over the actual fruit. The durian flavored ice-cream is nice though, I couldn't finish the entire bowl (courtesy of the strong/overpowering durian smell again). However, it's a flavor I'd have in light scoops from time to time - it's just never going to be my first choice.
The first time I had durian was in 2014 - here in Vietnam (in my apartment on Hoang hoa Tham with friends). My German friends seemed to like it but prohibited it from entering their hotel.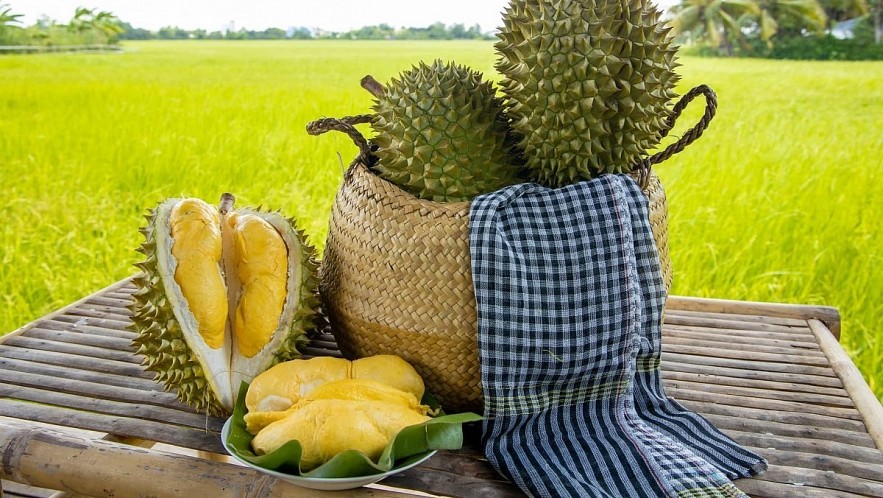 Ri6 is the most famous durian variety in the Mekong Delta in the early 1990s. Photo: KT
I know a lot of Vietnamese fruits. A ton of which I know the names and many more I can't remember/never knew their names. I love lychee, longan and mangosteen. There are a lot more that I can't remember right now but, I love lots of fruits here.
The British people are a little unpredictable but, I'm sure durian has fans all over the world and in time, it would find it's lovers and customers. Moreso, I assume the Vietnamese community in the UK, would be the first priority target in new market along with other derivative products (juices, salad add-ons, ice creams and so on).
Would I suggest durian for others? Not really. I'm almost certain that there's a population of people out there, who admire new things and would be happy to try things in bits. Hence, fruit being packaged into juices might be a gentle approach. Nevertheless, I believe some marketing gimmicks can always help.
Matthew Clive Jelf (Essex County, England): Durian lovers in the UK will no longer have difficulty finding this fruit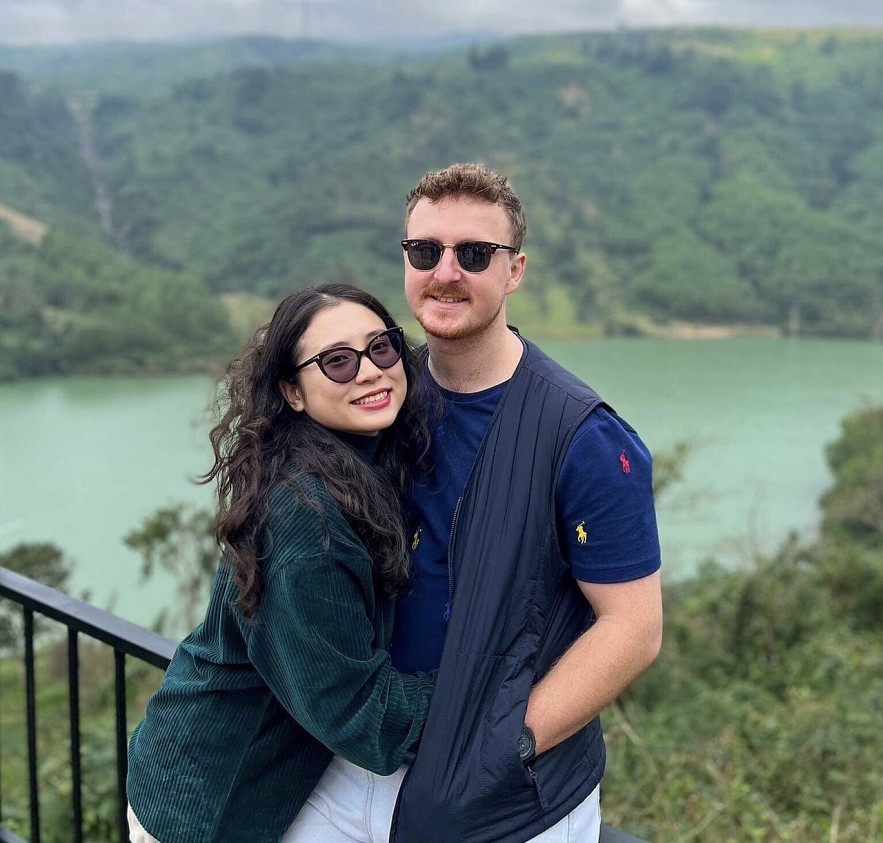 Matthew Clive Jelf (Essex County, England) along with his lovely Vietnamese wife
Durian is a fruit which is quite hard to be aquaitance with. The difference in cultural taste or sense of smell initially made many foreigners, especially from Western countries, afraid to approach durian. I also have not dared to taste durian for this reason.
In the UK, many kinds of Vietnamese fruits have appeared on store shelves such as dragon fruit, coconut, avocado, banana and durian is not easy to find.
Now, Vietnam's Ri6 durian shipment has officially been exported to the UK. Durian lovers will be eager for this particular information. They will not have a hard time finding and enjoying durian.
I will also want to "try" durian on an appropriate occasion because according to my girlfriend, once tried, the unique and sweet taste of durian will amazed people and even get them addicted.
Rajesh Achall, (Birmingham, United Kingdom): I like the sweet, rich taste of Vietnamese durian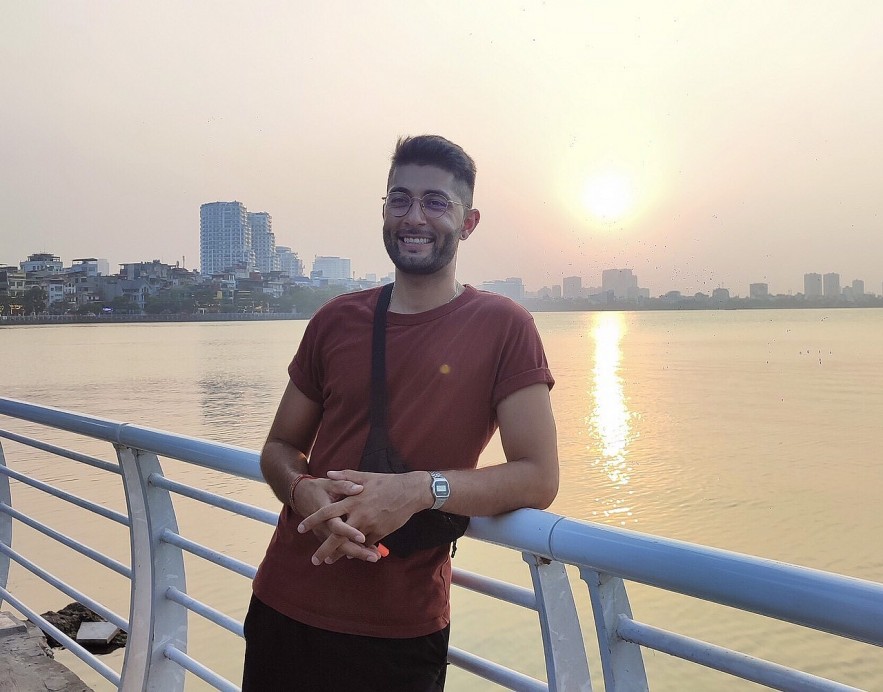 Rajesh Achall. Photo: Ollie Le Nguyen
England doesn't have as many fruits as a tropical country like Vietnam. I have never seen durian in the UK before I came to Vietnam eight years ago and got to know this special fruit whilst tasting it for the first time.
The smell of durian is quite strong and I think its scent could be quite a turn off to many people.
I have also tasted durian, although the scent is not very pleasant, but the durian is sweet, rich, the melt-in-your-mouth feeling from the durian buttery texture is extremely memorable.
Personally, I'm a vegan, so I love all fruit. Durian is one of the fruits I enjoy.
Thời Đại