Chilean President remembers Vietnam's charms and hospitality during 2012 visit
Chilean President Sebastian Pinera still remembered Vietnam's charms and hospitality during his 2012 visit.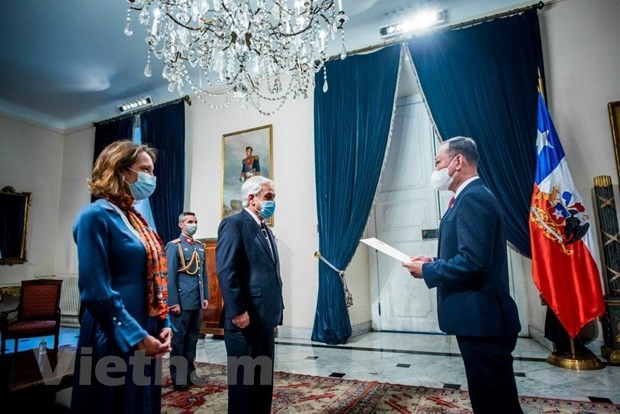 Vietnamese Ambassador to Chile Pham Truong Giang presents the credentials. Photo: VNA
Chilean President Sebastian Pinera recently made his statement after receiving the credentials presented by Vietnamese Ambassador to the country Pham Truong Giang.
Welcoming the diplomat, Pinera recalled his memory about Vietnam's charms and hospitality during his visit to the nation in 2012. He also expressed his admiration for Vietnam's heroic history.
Chile values its traditional relations and potential for cooperation with Vietnam, particularly when both nations are members of the Comprehensive and Progressive Agreement for Trans-Pacific Partnership (CPTTP), stated the Chilean leader.
For his part, Giang conveyed to the Chilean President, Government and people the greetings from Vietnamese Party General Secretary Nguyen Phu Trong, President Nguyen Xuan Phuc, and other high-ranking leaders.
Expressing an honour for his appointment on the occasion of the two nations celebrating the 50th founding anniversary of their diplomatic relations (March 25, 1971-2021), he vowed to do his utmost to contribute to the traditional friendship and multifaceted cooperation between the two countries.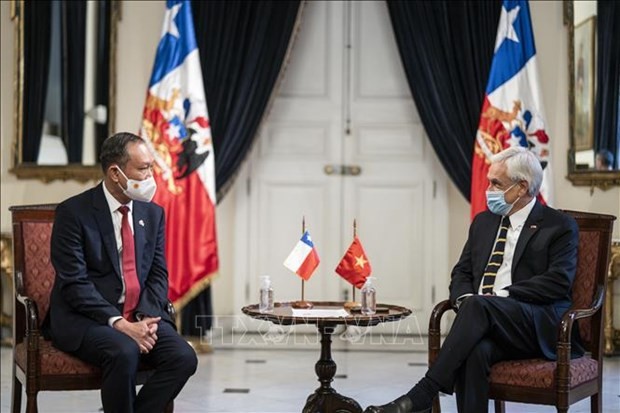 Chilean President Sebastian Pinera and Vietnamese Ambassador to the country Pham Truong Giang (L) at their meeting. Photo: VNA
Vietnam – Chile friendship and cooperation have grown significantly, especially after the two signed a free trade agreement (FTA) in 2011.
The two coutries hold similar stances on most of the key global issues and are proactively and responsibly participating in many multilateral mechanisms. Their top leaders have visited each other many times, while their cultural and educational relationship and people-to-people exchange have expanded continuously over the years, he added.
Despite Covid-19-related difficulties, the Vietnam's embassy has worked with Chilean partners to organise activities celebrating the five-decade relations, including publishing special issues on the University of Chile's radio channel to popularize the comprehensive partnership as well as Vietnamese economic, cultural, and tourism affairs.
Despite the difficulties posed by the Covid-19 pandemic, two-way trade in 2020 topped USD 1.28 billion , up 4.43% year-on-year and 2.5-fold higher than the figure recorded in 2013, prior to the FTA coming into effect.
Chile is now one of Vietnam's four largest trade partners in Latin America, while Vietnam is the largest trade partner of Chile in ASEAN.
Trade in goods in the first four months of this year rose 15.3% year-on-year to USD 401.1 million, with Vietnam's exports standing at USD 321.3 million, up 11.8%.