Coronavirus spread threat: Vietnam may halt spring festivals
In order to be proactive in preventing the spread of acute pneumonia caused by the novel coronavirus (nCoV), the Ministry of Culture, Sports and Tourism has recommended postponing or cancelling traditional festivals which are yet to start, and for those which already began, their scale, duration and activities should be reduced.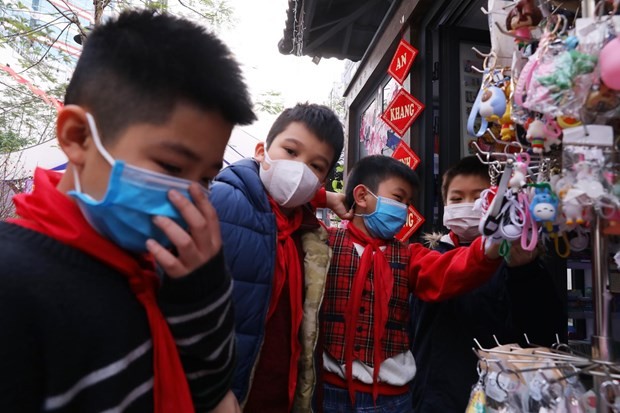 Children wear facemasks while visiting the Hanoi Book Street on January 31 (Photo: VNA)
The Prime Minister freshly issued a directive on the intensification of measures against the nCoV, in face of the complicated developments of the acute respiratory disease caused by the virus.
Localities sharing border lines with China must establish communications channels with their Chinese peers to intensify the work, the granting of permission for all the flights from China's affected areas to Vietnam and vice versa be suspended except special cases approved by the PM, the directive said.
It further added that the issuance of tourist visas to foreign visitors who are or were in China in the past two weeks must also be suspended except official visas on special cases, and the entry and exit with border passes halted.
For the Vietnamese people, spring is the season of festivals. Annually, after Tet (the lunar New Year festival), festivals are held in all regions of the country, from mountainous and rural areas to modern cities, lasting until the end of March of the lunar calendar.
Thousands of tourists from different parts of the nation always make pilgrimage trips to pagodas and temples throughout the country to pray for happiness, good luck and prosperity in the year ahead.
Therefore, localities are ordered to limit large gatherings and spring festivals. Authorities forbidden to send Vietnamese workers to China, and trade and exchanges with China discouraged during the time of the epidemic.
Around 40,000 visitors made the pilgrimage to Huong Pagoda in Hanoi's My Duc district on January 30, the sixth day of the Lunar New Year, to attend the opening of the longest running festival in the country.
The same day, thousands of people flocked to the Saint Giong Festival at Soc Son Temple in the city's Soc Son district.
This year, the festival is expected to welcome around 1.2 million visitors.
According to the Health Ministry, Vietnam has confirmed five nCoV patients, including two who are father and son from Wuhan, China. The son has recovered, while the father is still in isolation at Cho Ray hospital in Ho Chi Minh City.
Three remaining cases, all Vietnamese, were confirmed on January 30.
Of the five patients, four directly came from or returned from Wuhan, while one (the son of the Chinese father) had close contacts with the infected.