Enhancing Swimming Skills for Schoolchildren
There have been several cases of children drowning in early summer, leaving great pain and loss for families, schools and society. Despite conferences and seminars offering solutions, this situation recurs every year
After being affected by the Covid-19 pandemic and a bout of hot weather, children began to take up swimming without safety. They chose ponds, lakes, rivers, streams instead of swimming pools, which comes with a high risk of drowning.
On May 23, six 12th grade students from Cao Ba Quat High School played and swam at the spillway area 2 of Phu Ninh lake, Nui Thanh district. Suddenly, two of them named Luu Quoc B and Truong Van V drowned.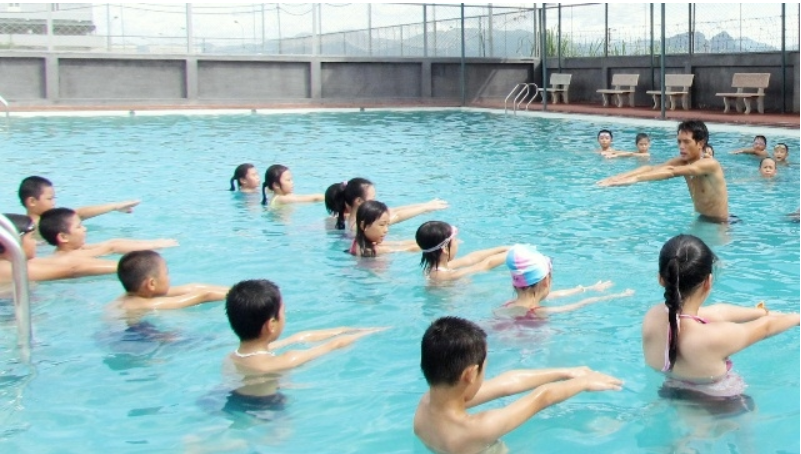 Children need to be taught life-saving skills to prevent drowning when summer comes. Photo: nhandan.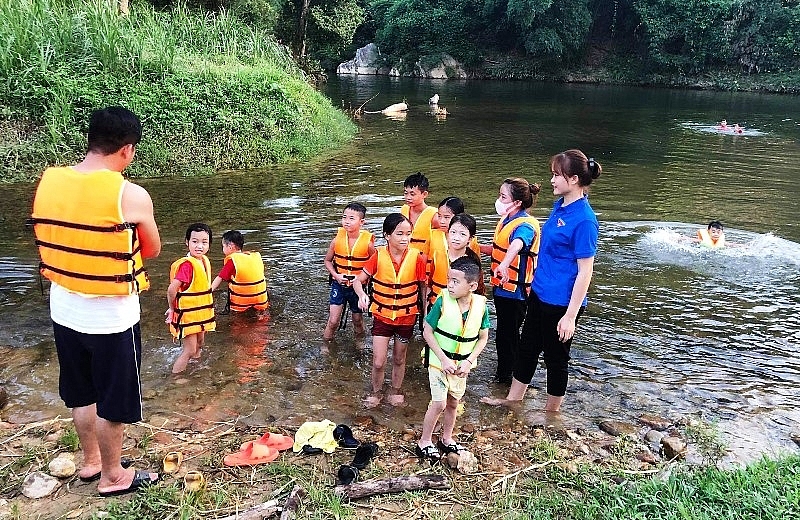 Provincial Youth Union members teach children how to swim. Source: Tuyen Quang Youth Union website
On May 31, a drowning occurred in Trang stream, Bac Phong commune, Hoa Binh province. The victims included Trieu Anh T., Duong Thi H., Phung Thi Q. and Bui Thi Ngoc C. It was so painful that when one child slipped, the other jumped into stream to save him and was swept away by the current.
According to the Ministry of Labor, Invalids and Social Affairs, more than 2,000 children die from drowning every year in Vietnam. This drowning rate of children in Vietnam is currently the highest in Southeast Asia and 10 times higher than that of developing countries. In Vietnam 53% of drowning cases occur when children play near ponds, streams, rivers, lakes, canals and ditches without supervision and protection.
Vietnam currently has thousands of rivers and canals, so the risk of child drowning remains high. However, the percentage of children who know how to swim and have survival swimming skills is low. Public awareness, especially in rural, remote and isolated areas about drowning prevention is still limited; the supervision and care of children in rural areas and economically disadvantaged areas can also be limited. Education on knowledge and skills to prevent drowning for children has not been implemented on a large scale or methodically. These are the main reasons why the children's drowning rate in Vietnam remains high.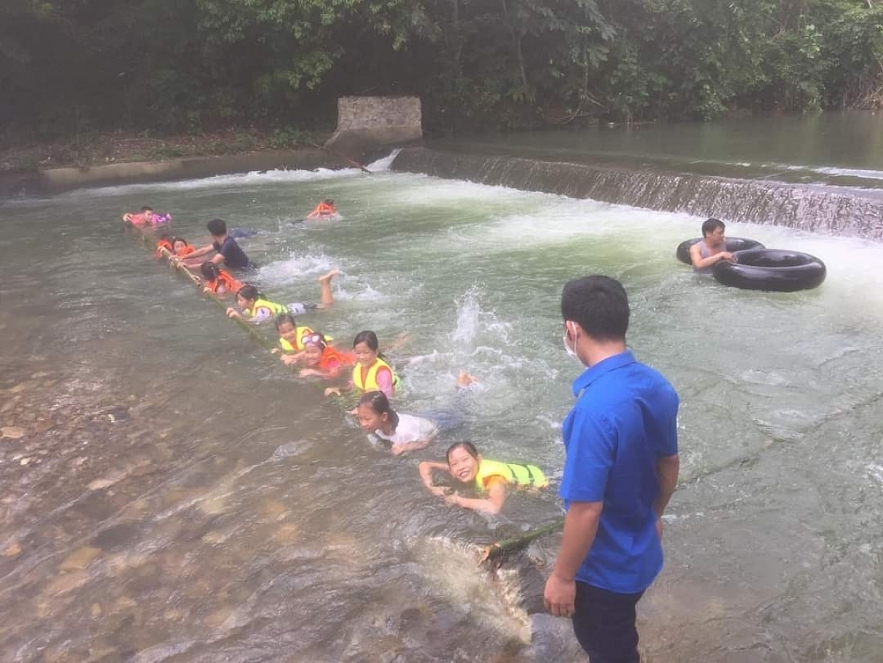 Teaching children to swim in Giao Hieu commune, Pac Nam district. Photo: VOV News.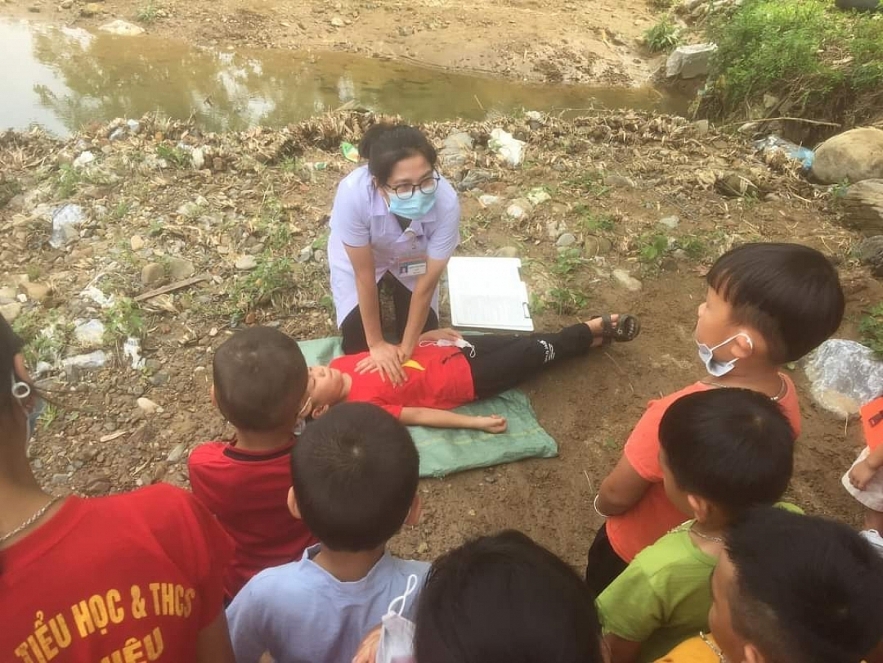 In addition to swimming and diving, children were also instructed on how to give first aid if necessary. Photo: VOV News.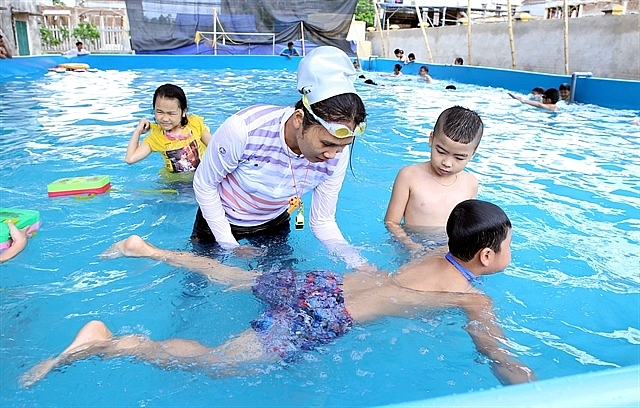 Teaching children how to swim in the northern province of Hưng Yên. VNA/VNS Photo Phạm Kiên
Ms. Tran Thi Minh, whose son studies at Thang Long School, Ba Dinh district, Hanoi, said: "Almost every summer, the mass media reflects on the situation of child drowning. We totally agree on contributing to the school for investment of equipment and materials for children to learn, to swim, to exercise their body and learn life skills."
However, according to the general assessment, the process of implementing swimming programs has many shortcomings. The construction of a mini-pool in the school was initially effective, but due to the lack of management, its effectiveness is limited.
At educational institutions in mountainous and rural areas, there is still a lack of physical facilities, so teaching swimming at schools is not popular. Children are not taught survival swimming skills, which leads to confusion with unexpected and dangerous situations.
People also rarely pay much attention to teaching this kind of skill for children. The supervision of families and schools for children inside and outside the school is not really strict. In addition, children also do not recognize dangerous places and have no escape skills when facing with accidents.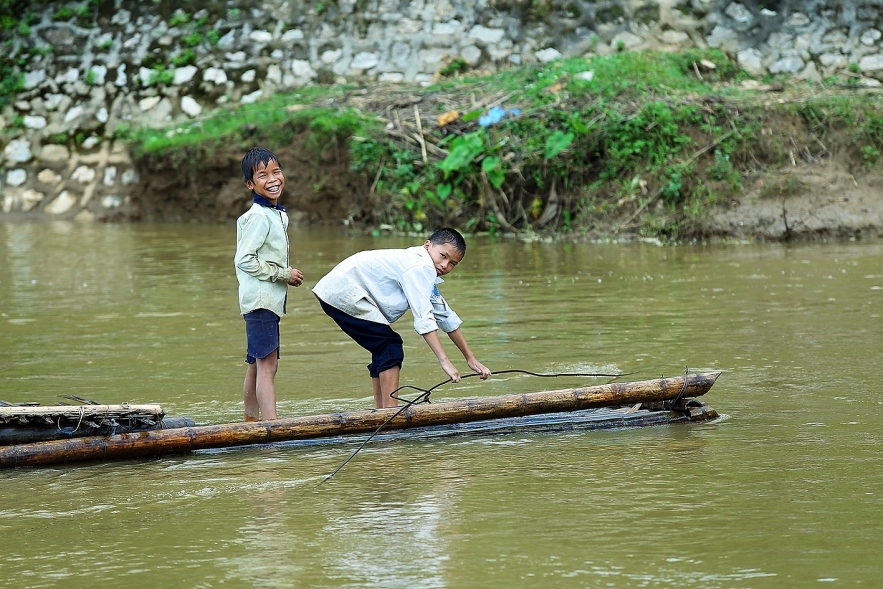 Photo: baodantoc.
Facing up to complicated development of the Covid-19 pandemic, Hanoi Department of Education and Training has recently issued a a document on strengthening child drowning prevention in the summer of 2021 to have a safe summer vacation.
Accordingly, heads of education and training departments of districts, towns, and principals of units under such departmens are required to enhance communication, education and awareness for children and students. By following these requirements, they are able to protect themselves when accessing to dangerous areas such as rivers, lakes, ponds or deep puddles.
The department also requests schools to cooperate with local unions to train survival swimming skills for students. Along with the above solutions, special attention should be paid to education and training to raise awareness, change behavior and equip children with safety skills to prevent drowning.
'Drowning Vaccine' A Must in Vietnam

The World Drowning Prevention Day, July 25, under the theme "Everyone is at risk of drowning, but it is also preventable" is first launched by ...