'Frontline' journalists in Da Nang and HCMC are soon to get Covid-19 jabs
Local authorities are asking press agencies to make a list of frontline reporters and journalists, whose working environment is vulnerable to the novel coronavirus, for the upcoming Covid-19 vaccination plan.
Reporters and journalists in Vietnam are named among the frontline workers list (Photo: Doanh Nhan Sai Gon)
On April 14, Nguyen Thi Phuong - Deputy Director of Da Nang Department of Information and Communications confirmed that the Department had sent documents to press agencies across the city. Da Nang is reportedly the first locality in Vietnam planning to vaccinate reporters and journalists who regularly work in high-risk environments.
Over the past year, many reporters and journalists have been risking their safety at Covid-19 hotspots to report up-to-the-minute events. By prioritizing the group, Da Nang authorities is proving that the city treasures their dedication, reassuring them to go on with their mission in the near future, according to Lao Dong.
Ngo Thi Kim Yen, Director of Da Nang Department of Health, said its vaccination plan and prioritized list are devised in line with the Government's Resolution No.21 on purchasing and using Covid-19 vaccines.
To date, Da Nang Department of Health has received 6,300 doses of the imported AstraZeneca vaccines. Medical staff at Covid-19 treatments facilities are first in line to get the prioritized jabs.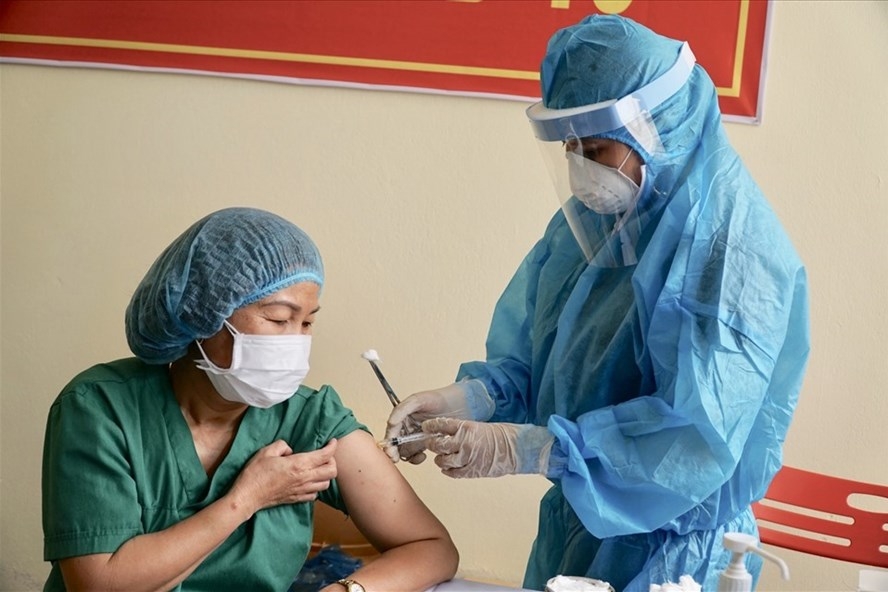 One doctor in Da Nang getting the vaccine (Photo: Lao Dong)
Meanwhile, the Ho Chi Minh City Department of Health on April 14 also tasked its Department of Information and Communications to coordinate with press agencies for the list of prioritized reporters and journalists.
In the latest Covid-19 distribution plan of the Ministry of Health, Ho Chi Minh City is allocated the largest number of Covax's AstraZeneca vaccine.
Of the 811,200 doses of AstraZeneca vaccine that arrived in Vietnam on April 1 via the global Covax program, Ho Chi Minh City will get over 56,000 jabs. Of the batch, the first 33,000 doses will be given to those medical staff unvaccinated in the first vaccination campaign, 7,000 doses for aviation personnel having close contact with passengers, 16,000 doses for other frontline workers, including reporters and journalists. The remaining 9,000 will be given to the vaccinated group as the second jab.
With 53,000 doses, Hanoi has the second biggest allocation from the Ministry of Health. Other pandemic-hit localities lately will also get the allocation. Hai Duong – the biggest epicenter in the so-called "third wave" in Vietnam is set to receive 43,000 doses, populous provinces like Thanh Hoa, Nghe An receives 18,000 – 20,000 doses each. Provinces bordering Cambodia are granted a larger proportion than the remaining localities in the prioritized list.
This marks the second Covid-19 vaccine distribution in Vietnam. The country kicked off its nationwide vaccination program on March 8, prioritizing frontline forces, border guards, high-achieving athletes, etc. To date, over 54,000 people have been vaccinated, no serious reactions post-injection are reported.
The list of prioritized groups in the second vaccination scheme will be expanded to essential workforces, including teachers, aviation staff, administrative staff, etc.
The country is also eyeing mass production of its homegrown Covid-19 vaccine Nanocovax in August if the three-phase human trial is completed in May.
Earlier last week, the Health Ministry called for all localities to quickly make lists of priority groups for free Covid-19 vaccinations because the AstraZeneca vaccine has a shelf-life of just six months.
Besides medical staff and frontline workers against Covid-19, others in the priority list that have been approved by the government include teachers, diplomatic personnel, customs and immigration officers, those working in essential services like transport, people aged 65 and above, the poor and those with chronic diseases that make them more vulnerable to the disease caused by the virus, as reported by VNE.
People who are seeking to study or work abroad or are living in pandemic-hit areas are also on the priority list for Covid-19 vaccination.
Vietnam aims to secure around 150 million vaccine doses to cover 70 percent of its 98 million population this year. For this it has sought assistance from the EU, the U.S., Japan, China, India and Russia in accessing vaccine sources.
So far, Vietnam has approved AstraZeneca's ChAdOx1 vaccine and Russia's Sputnik V Covid-19 vaccine for emergency use.