Giay Girl Creates Virtual Trek for Tourists to Explore Sapa
With only a phone with an Internet connection, Huong wears ethnic costumes and leads online tours of famous tourist attractions in Sapa to visitors via online software.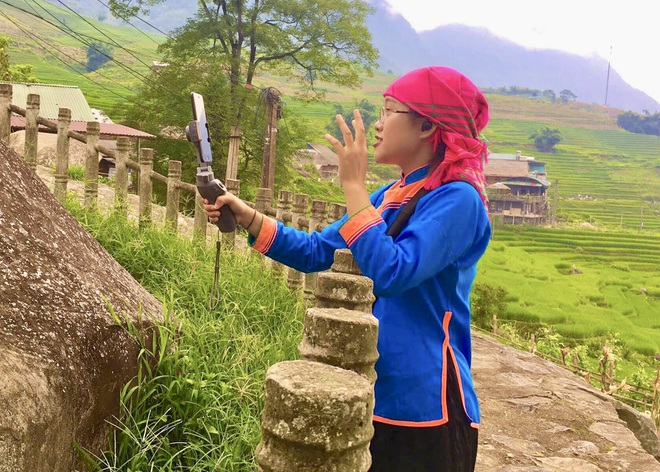 Huong is introducing tourist attractions in Sa Pa to viewers. Photo: Dantri
Promoting the homeland through Youtube
Growing up under the house and culture of the Giay ethnic group, Huong always loved and wished to spread her culture to more people.
In August 2020, Huong started a Youtube channel called "Huong Giay Sa Pa" to share videos about the culinary experience, culture, and daily life of Huong's family and Giay people in Lao Cai such as: Making moon cakes, black rice cakes, catching fish, Giay folk tales. There are videos that attract more than 20,000 views.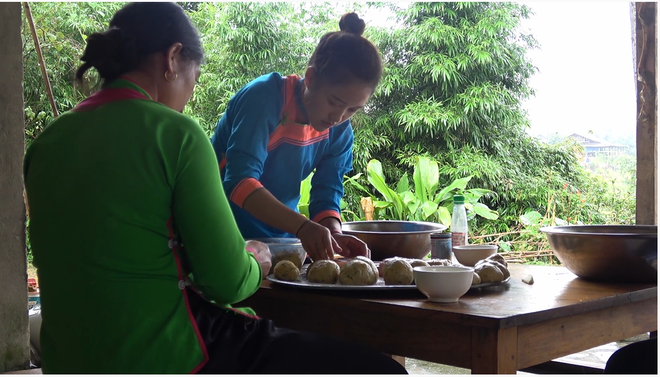 Huong and her mother in the video introduce how to make moon cake of Giay people. Photo: Dantri
The young girl started researching and leading tours for tourists coming to Sapa during the summer or Tet. But instead of going to familiar places like Cat Cat village and Stone church, the Giay girl leads visitors to places that only indigenous people know such as Seo My Ty, experiences Giay culture, eating black Chung cake, eating plum in the Giay style.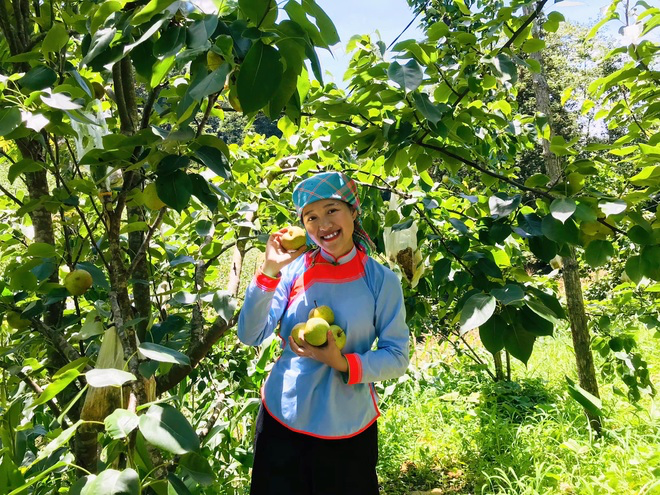 Ngoc Huong in Giay costume introduces Tai Nung pear specialty in Si Ma Cai (Lao Cai). Photo: Dantri
Creating online tours amid Covid-19 pandemic
When the Covid-19 pandemic broke out and has complicated developments, many localities had to implement the social distancing, Huong came up with the idea of ​​making an online tour, introducing domestic tourists to famous tourist destinations in Sa Pa and Lao Cai on the social networking platform and online software Zoom, Google Meet.
On Facebook, Youtube and Tiktok, Huong makes review videos for everyone or livestreams.
At the beginning of July, when she got the idea, the 22-year-old girl spent all her savings from working part-time to buy tools to make tours online. Huong bought an old Iphone, a gimbal (anti-vibration handle), tripod, and headphones.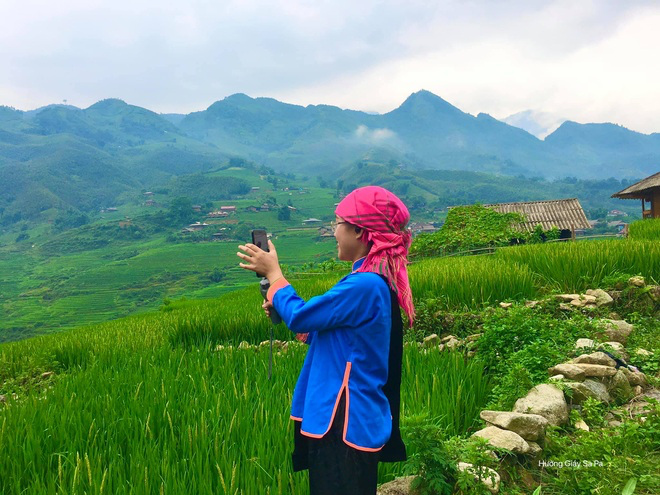 So far, she has done 3 online tours and started to charge VND50,000 (US$2.18)/person. Photo: Dantri
Although she has had experience in making travel vlog videos for nearly a year, this young woman shared that she is still very nervous and worried. Destinations or experiences are selected by Huong at the request of the majority of visitors and are suitable for online forms.
Before the tour goes on air, Huong will spend a day on field trips, gather information to create a script, and provide tourists with fascinating knowledge and experiences.
With the tour to learn about Sa Pa ancient rock, Huong divides the tour into 2 parts, part 1 will introduce general information about the history, location, shape of the rock, the value of drawings on the ancient rock. In the second part, she talks more deeply about the stories behind the rock drawings, taking visitors to the exhibition area of the ancient stone carving station.
As for the tour to learn about the unique hot springs in Sa Pa, the Giay girl leads visitors to experience a very different corner of Sapa in terms of climate, scenery and human culture in the Ho village of the Tay ethnic people to learn interesting stories about the only hot spring in Sapa.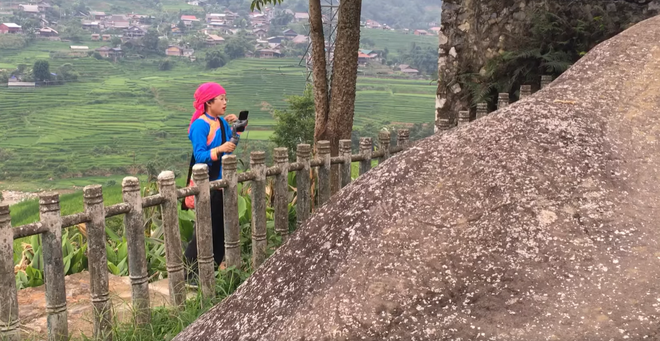 Each tour will last about 1.5 hours. Photo: Dantri
"Directing online tours faces many difficulties, especially the weather, so I always have a backup plan. In addition, there are difficulties in connecting to the Internet, blurry images or unclear sound. I will gradually find a way to fix," Huong said.
To increase interaction, interweaving the tour guide process, she will ask guests how they feel and encourage people to ask questions for her to answer. Many visitors expressed their interest in Huong's new way of doing things, especially during the pandemic when everyone is restricting travel. Traveling through the phone screen is also a way to entertain and relieve pressure.
The 22-year-old girl plans to establish a business in the near future to develop sustainable community tourism in the locality.
"With my love for my homeland, I will make efforts to develop local tourism, so that every visitor coming to Sapa and Lao Cai wants to come back to explore," Huong said.