HCMC running high risk of Covid-19 infection
Municipal authorities evaluate the infection risk in Ho Chi Minh city as very high, calling for more stringent preventive and control efforts.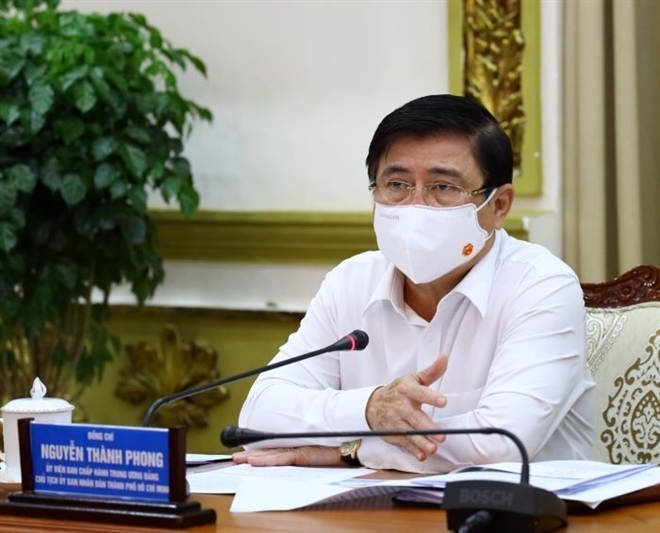 Nguyen Thanh Phong, chairman of the Municipal People's Committee at the meeting on May 10 (Photo: VTC News)
The large number of quarantine zones, hospitals and trespassing are contributing to the city's high vulnerability to infection, Nguyen Thanh Phong, chairman of the Municipal People's Committee, made the statement at the city's meeting of the Steering Committee for Covid-19 prevention and control on May 10.
"Ho Chi Minh city is facing a very high risk of Covid-19 infection, given the complicated development in Vietnam and other countries," Long added.
He went on by explaining that the high concentration of quarantine centers in the city is posing considerable cross-infection risk. On top of that, those finishing mandatory time might still have positive test results and spread the virus in the community unwittingly.
The second risk factor, according to Phong, comes from the increasing number of patients transferring from local to central hospitals and vice versa. Illegal entrance via airports, seaports and land borders also make the matter worse.
"Therefore, we must be vigilant," he stressed. "We must make more drastic efforts, change anti-pandemic strategy from defense to proactive fight."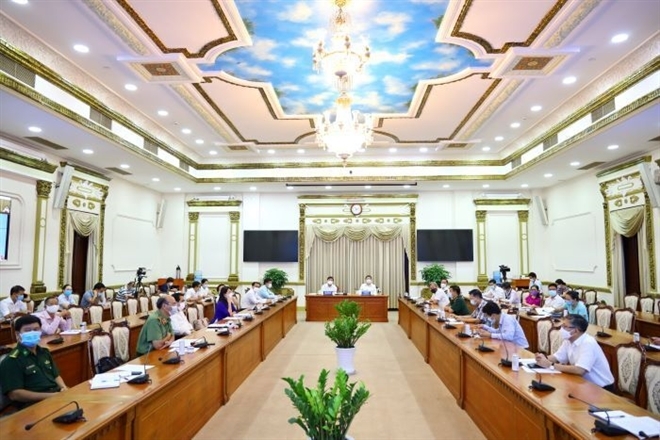 At the meeting (Photo: VTC News)
The city chairman also asked for re-establishment of traffic control points at all major roadways, further crackdown on anti-pandemic measures at Tan Son Nhat international airport, 60 seaports, all medical facilities, and industrial areas in the city.
Phong mandated all dining establishments to strictly follow the 5K regulations, which include khau trang (face masks), khu khuan (disinfection), khoang cach (distancing), khong tu tap (no gatherings), and khai bao y te (health declarations). Gatherings must contain 30 people at most.
"All eateries and other business establishments, in general, had better abide by the rules or they will be suspended," he stated.
Ho Chi Minh City recorded just one new infection since the 4th wave broke out in Vietnam on April 27. Meanwhile, the nation's tally tops 502 cases as of Tuesday noon.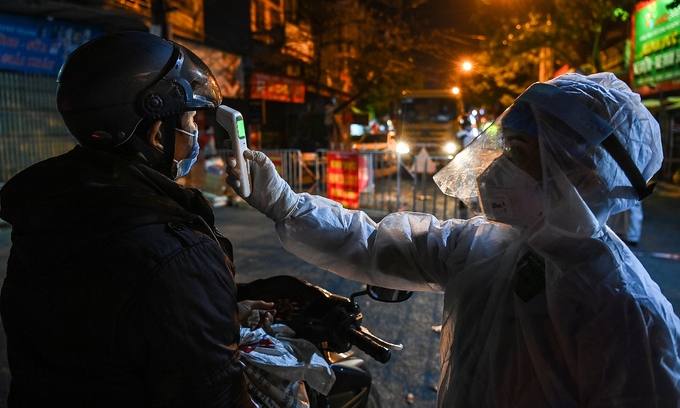 A medical staff checks body temperature of a man at a Covid-19 checkpoint in Hai Duong Province, February 15, 2021. (Photo: VNE)
Vietnam's Deputy Health Minister Do Xuan Tuyen on May 10 said that Vietnam is handling the pandemic well.
"The new infections reported during the past few days are all F1 cases, which have been put under quarantine and had samples taken for Covid-19 testing, so, the risk of contagion in the community is low. Although localities have quickly contact traced F1 cases, their testing capacity is still limited, leading to the slow announcement of testing results," Tuyen said, explaining the spike of Covid-19 cases in recent days.
Affirming that the current outbreaks are basically under control, Tuyen called for the continuance of the anti-pandemic principles of "preventing, detecting, quarantining, zoning, controlling and treating." He added that it was needed to "rapidly detect and localize to restrict the spread of disease to the community."
The Health Ministry has required localities to enhance their testing capacity including contact tracing, sample taking, as well as ensuring equipment, biological products and human resources, and localizing to the narrowest possible scale to avoid affecting socio-economic development. "It's also essential to strengthen to screen in high-risk areas to soon discover F0," he said.
In the meantime, Deputy Prime Minister Dam, head of the committee, urged localities that are yet to report any COVID-19 cases to remain vigilant and maintain close supervision.
Dam called on people to raise their sense of responsibility in the pandemic fight, for the sake of the country and the community, VNA reported.
"Our Covid-19 strategy remains unchanged," said Dam, referring to drastic measures in place, including swift contact tracing, early detection, isolation and testing.
"It is also imperative to tighten border control, and effectively manage people in quarantine facilities and those under self-isolation at home in order to stop the source of infection," said Dam.
He pointed to the fact that the virus is more transmissible in closed areas such as bars or massage parlors, that requires localities to effectively control these non-essential services.
He reminded localities to stay calm and take necessary measures so that they do not cause any chaos and negatively affect business operations as well as people's life.
"No country is safe when the world is unsafe. No Vietnamese is safe when the whole country is unsafe. Each individual must take responsibility first for himself and his relatives and then for the country and the community," he stressed.