HCMC's new Covid-19 cluster linked to 16 districts
Over 403 individuals have been identified as having direct or indirect contact with new Covid-19 patients in the southern city.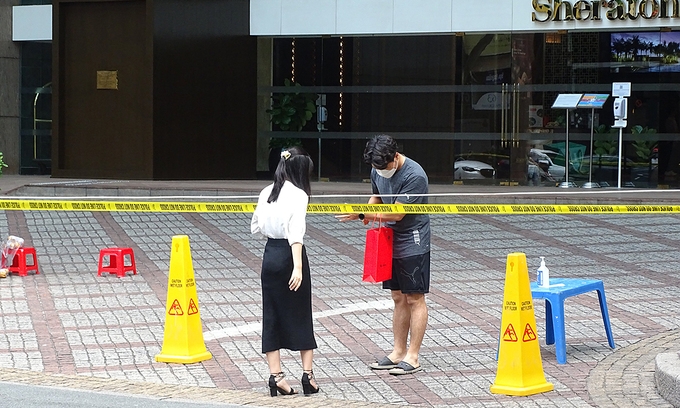 Sheraton Saigon Hotel in HCMC's District 1 is isolated after a chef tested positive with the novel coronavirus, May 27, 2021. (Photo: VNE)
Coronavirus-infected members of a religious mission either live, work or have had contact with people in 16 districts across HCMC. The information was announced at a meeting on Thursday as the city detected a new Covid-19 cluster started from a religious mission in Go Vap District the previous night.
The areas involved in the cluster are Districts 1, 3, 4, 5, 10, 12, Binh Chanh, Binh Thanh, Binh Tan, Go Vap, Hoc Mon, Nha Be, Phu Nhuan, Tan Binh, Tan Phu and Thu Duc City.
Until now, at least 25 people linked to the Revival Ekklesia Mission, including a chef at five-star Sheraton Saigon Hotel, have tested positive for the coronavirus, VNE reported.
Among them, 19 are members of the mission and six others have had contact with the infected members.
The cluster was detected after three members sought health checks with respiratory conditions at Gia Dinh Hospital in Binh Thanh District on Wednesday and tested positive.
By Thursday noon, 403 people have been identified as direct and indirect contacts of the infected. Among the 67 direct contacts, 23 have tested negative for the virus while the other results are not yet available.
Among the indirect contact, 326 have tested negative and 10 still await results.
At the facade of one medical center in Ho Chi Minh city (Photo: VNE)
"The infection level of this group is high," said Nguyen Tan Binh, director of HCMC's Department of Health.
Binh admitted that there was loophole in the city's pandemic prevention work and task forces have failed to detect the cluster earlier.
"It is possible that infection had spread around before the first three members were found positive on Wednesday night, and that the source of transmission had already existed in the community," he said.
Members of the mission, which describes itself as a Christian congregation and a non-denominational, evangelical, charismatic church, usually gather in a small house in a narrow alley in Go Vap District and almost all have tested positive.
Initial investigation found 22 members gathered several times in the alley house this month.
It has been confirmed that the mission has 24 official members but the actual figure of members could be higher because many families have joined it but just one family member registered.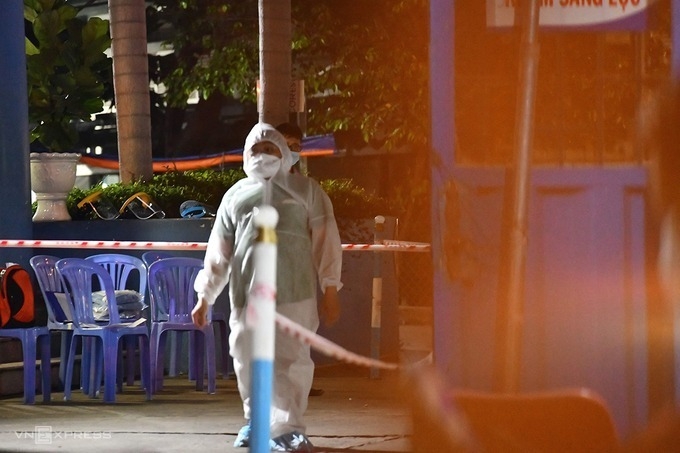 (Photo: VNE)
Prime Minister Pham Minh Chinh on May 26 urged competent agencies to take more drastic action to control Covid-19 outbreaks in northern Bac Ninh and Bac Giang provinces, the current two biggest hotspots while ensuring un-disrupted production and trade.
He directed agencies to work with Bac Ninh and Bac Giang to increase testing capacity, especially in quarantined areas, use technology, as requested by the Ministry of Information and Communications, seriously follow the "5K+vaccine" message, and tighten exits and entries.
The prime minister also asked for the upgrading of infrastructure and treatment capacity and the provision of more medical supplies for the two provinces to cope with the pandemic, particularly vaccines, and the consideration of quarantine for "F1" cases in households, factories, and enterprises.
Participants suggested imposing lockdowns and social distancing measures in more areas in the two provinces, closely monitoring quarantine, accelerating testing on a large scale, and prioritizing vaccinations for workers in local IPs, according to Vietnam Plus.
In the fourth Covid wave that began a month ago, Vietnam has recorded 3,105 cases in 30 cities and provinces. Bac Giang continues to lead in the number of infections at 1,564, while its neighbor Bac Ninh comes second at 654. Most of the patients are workers in industrial parks.
The country earlier recorded 36 deaths from the second wave in Da Nang in July and August last year.