Herbal Teas For Your Healthiness During Changing Seasons
Herbal tea is a healthy drink of many people's favourite, especially on cold days of winter and the uncomfortable humidity of the changing seasons. The following article will suggest you to try healthy herbal teas in the seasons for your beauty, health and relaxation
1. What benefits for your health with a cup of herbal tea on cold days?
In cold weather, hot drinks are chosen by many people to help warm the body and dispel the cold. In particular, these healthy herbal teas are a popular choice with the following benefits:
- Helps retain heat and warm the body.
- Enhances antioxidants, improves resistance and protects the body against flu, cold or cough as well as attack from other disease-causing viruses.
- Helps to significantly reduce mental fatigue, stress, bring a better sleep. From there, the body will also get a feeling of relaxation and comfort.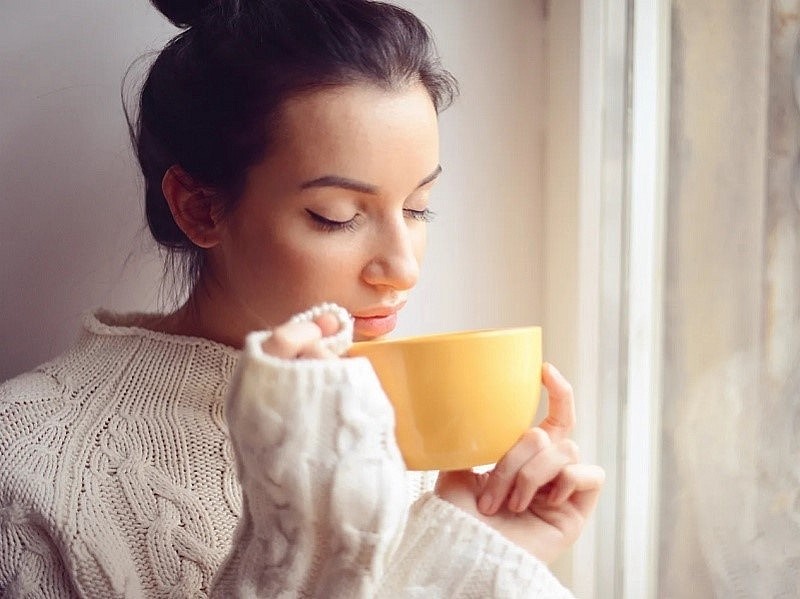 Herbal tea has the effect of warming the body, relieving fatigue and stress
2. Suggest healthy herbal teas in cold weather
Here are suggestions for healthy herbal teas on cold days that you should try to get their most benefits.
2.1. Ginger tea
In the cold weather of changing seasons, enjoying a cup of ginger tea will help you warm up effectively. Along with that, it is also beneficial for the respiratory tract, contributing to improving cold symptoms as well as having a good anti-bacterial and sinus-clearing effect. At the same time, this tea is also good for the health of the stomach, improving problems such as bloating, poor digestion.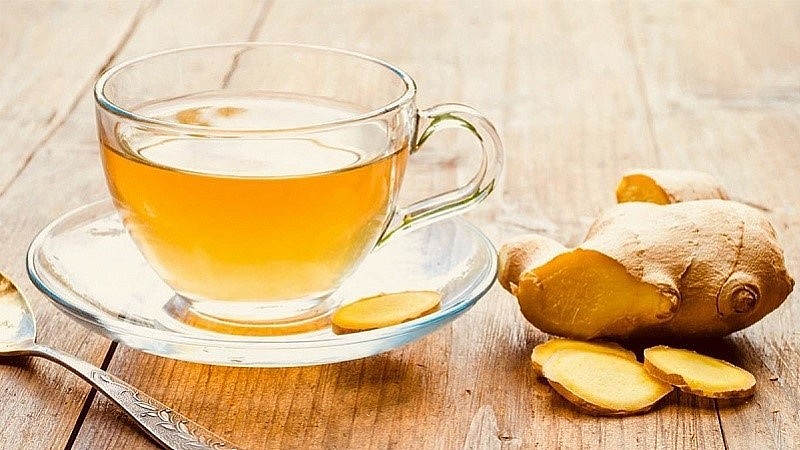 Ginger tea is beneficial for the respiratory tract, and improve cold symptoms
2.2. Mint tea
Peppermint tea is an herbal tea with good effects in the prevention of many diseases.
Specifically, the ingredients in mint leaves are rich in B vitamins, potassium and calcium that help strengthen the body's immune system. Therefore, it helps the body to be able to cope with some common diseases such as colds, flu, dry cough, etc. Along with that, it also helps the digestive system to be strengthened. Respiratory and gastrointestinal spasms are reduced.
It should be noted that this tea is not suitable for certain subjects such as young children, people with high blood pressure or people suffering from diabetes.
2.3. Chrysanthemum tea
This is also one of the frequently chosen winter healthy herbal teas. Specifically, drinking chrysanthemum tea will have the effect of reducing stress to relax the spirit and the sleep quality is also improved. Along with that, this tea will also contribute to help you improve headaches, dizziness as well as prevent colds, flu, high blood pressure, ...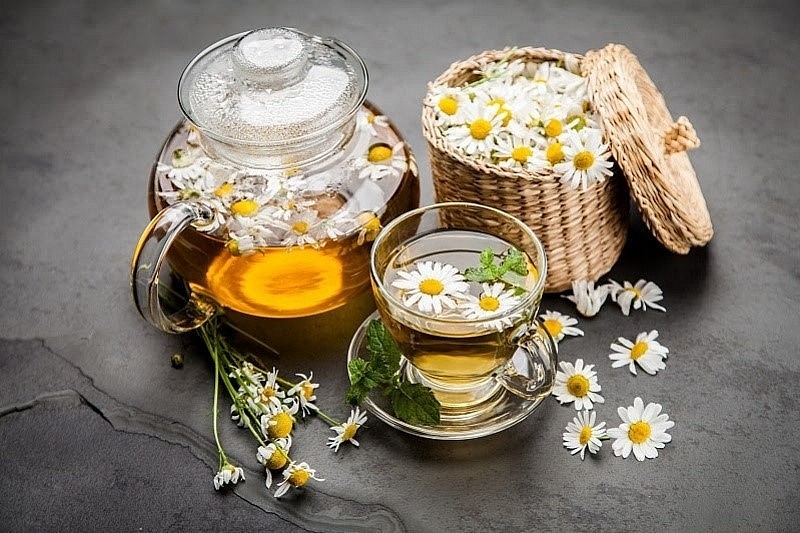 Drinking chrysanthemum tea helps relieve stress, relaxes the mind
2.4. Green tea
Green tea is also a familiar drink for many people possessing good health benefits. A cup of hot green tea in a winter or spring morning will help your body warm up and feel more alert.
However, you should not drink too much green tea during the day to avoid experiencing insomnia, fatigue, heart palpitations or affected digestive activity.
If you are too busy every morning to make a cup of green or herbal tea, it has a very nice and convenient way to enjoy your favorite drink:
Herbal Tea Dr. Thanh contains 9 precious herbs including honeysuckle, chrysanthemum flower, summer dried herb, dandelion flower, sprung licorice, primrose, licorice, arhat fruit, and myrrh flower. According to published scientific documents, these 9 types are all herbs rich in antioxidants.
Ingredients: Water, Lonicera Japonica Thunb 3,4%, Chrysanthemum 3,2 %, Momordica grosvenori 2,1%, Prunella vulgaris 1,8%, Gtycyrrhiza uralensis 1,6%, Plumeria rubra 1,5 %, Gossampinus maIabarica 0,7%, Mcrocas panicutula 0,5 %, Mesona chinensis Benth 0,5%, Acesulfame Potassium, Sucralose
Dr. Thanh Herbal Tea is one of the Tan Hiep Phat Group's ongoing achievements, alongside Number One and Zero Degree Green Tea. After only 45 days of study and manufacturing employing modern technology, Dr. Thanh was released.
"Dr. Thanh exhibits high safety when testing on animals by giving them the highest possible dose of product in liquid form, and when experimenting on volunteers by letting them consume the end products every day," according to research led by Nguyen Van Minh at Vietnam Military Medical Academy. According to the study, the tea has a high antioxidant capacity and has a significant impact on liver function and overall health.
2.5. Atiso tea
Regular drinking of artichoke tea can bring you deeper and better sleep. At the same time, with an abundant amount of fiber in artichoke flowers, it also supports the health of the digestive system.
Moreover, the presence of many antioxidants in this tea also aids in slowing down the aging process in the body. Besides, the antioxidants cynarin and silymarin of theirs can help restore liver function.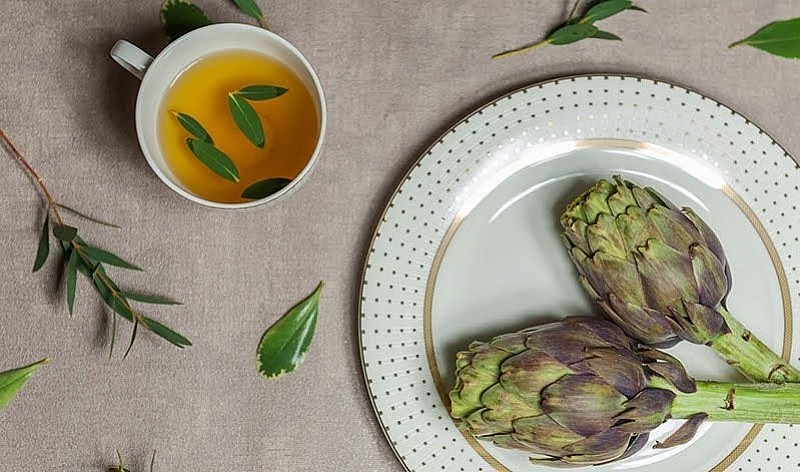 Artichoke tea has the effect of supporting the health of the digestive system
2.6. Lemongrass tea
In winter, when combining honey, cinnamon, lemon and mint leaves with lemongrass tea, it will be effective for you to treat colds and coughs. It also helps keep the body warm, clears the nose and throat, and soothes coughs.
Along with that, lemongrass tea also possesses antifungal, antibacterial, anti-parasitic and anti-inflammatory properties. This is a type of tea that can help you deal with and overcome unpleasant gastrointestinal symptoms such as bloating, indigestion, etc.
2.7. Honey cinnamon tea
In addition, you can also choose to use a cup of honey orange cinnamon tea on cold days. This is another healthy herbal tea that has a delicious combination of cinnamon, orange and honey with good benefits.
It both helps dispel the cold of winter while helping to improve the body's resistance, good for the digestive system, support weight loss and effectively prevent flu and sore throat.
Hopefully, the above herbal teas that are good for health in the cold weather of changing seasons,and to be useful suggestions for readers. You can consider choosing the right tea for you and your family members for health care and relaxing your body and mind.
Vietnamese Herbal Tea
To join in the celebration of International Children's Day on June 1st , Mr. David Riddle, CEO of Tan Hiep Phat Group and staff members have visited households of children orphaned by COVID-19 pandemic in Ho Chi Minh City to offer encouragement and presents.
June 01, 2023 | 15:04
Vietnamese Herbal Tea
T.T.H., a baker in Ninh Thuan, is expanding her bakery and developing her business after receiving VND 100 million from Number 1 Energy Drink. Also winning the prize, T.V.T in Kim Son (Ninh Binh) now has more money to pay for his children's education and his medical treatment.
May 25, 2023 | 09:56
Vietnamese Herbal Tea
In the hot summer, herbal teas that help cool down the body heat are loved by many people.
May 25, 2023 | 09:54
Vietnamese Herbal Tea
Night shift and occupations have become an indispensable part of the constant development of modern society. Many people are willing to work night shift because of the quietness and high income, but also struggle to find solutions to keep their energy and spirit awake.
May 25, 2023 | 09:18