"I will come home": Heartwarming drawings of doctors and nurses at Bac Giang
Behind each drawing is a touching and heartwarming story about the hardworks and sacrifice of the doctors, soldiers and volunteers at Bac Giang Province, a hotspot of Covid-19 pandemic in Vietnam.
The little girl cried when she saw her mother, Phung Thi Hanh (28 year olds and is a nurse at 103 Military Hospital) on TV has drawn attention from the social media. A lot of people has potrayed this touching image with lovely sketches. Photo: FB.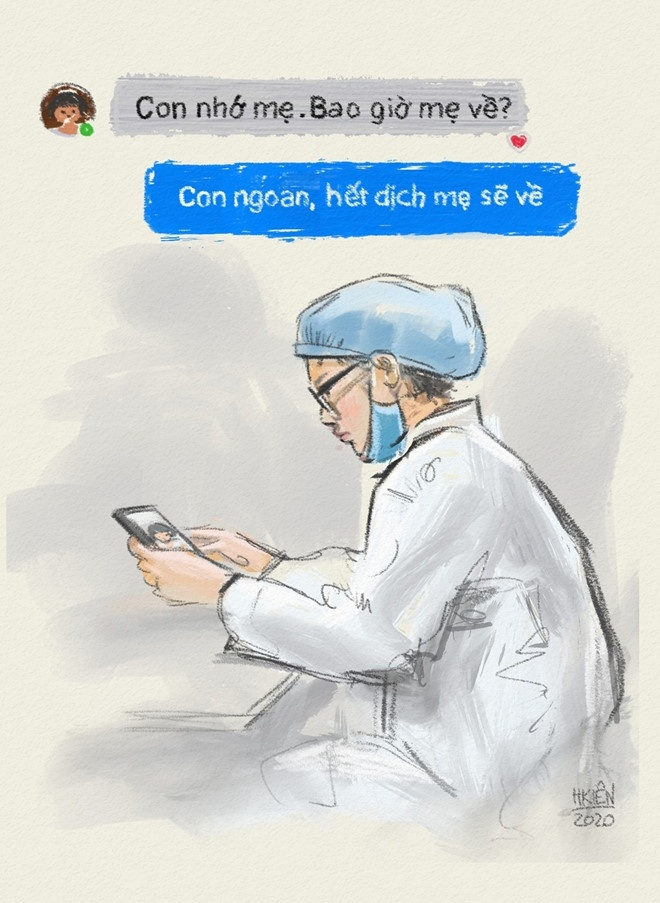 "My child, I will come home soon" is an encouragement to the doctors and nurses that the artist wants to convey through the drawing. "They have to leave their families and children behind to go fighting Covid-19 pandemic", "I'm grateful for all the medical staff and soldiers who are working hard on the front lines" are the positive comments from people in social media when the drawings were posted online. Photo: HKien.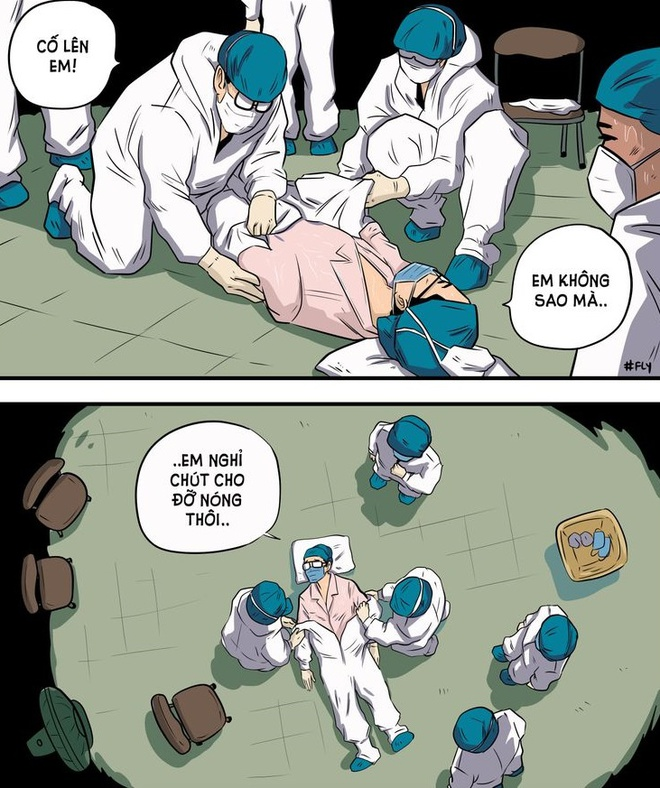 Pham Trung Anh, a medical student who volunteers at Bac Giang Province passed out because of exhaustion, and the touching image was captured and posted on social media. The picture was drawned by the artist of Thang Fly comic page on Facebook. It showed people a glimpse of the harsh reality, hard works and challenges that the doctors and nurses had to face in the fight against Covid-19 pandemic. Photo: Thang Fly.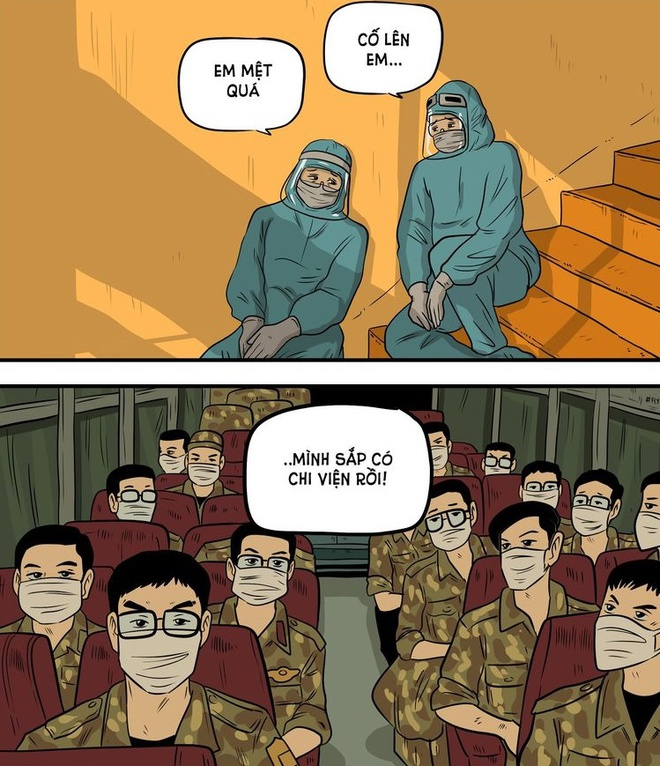 When Bac Giang Province becomes a hotspot for the Covid-19 pandemic as the infected cases increase everyday, a lot of doctors, nurses and medical students have volunteered to help people with medical supplies, equipment and treating the patients. Photo: Thang Fly.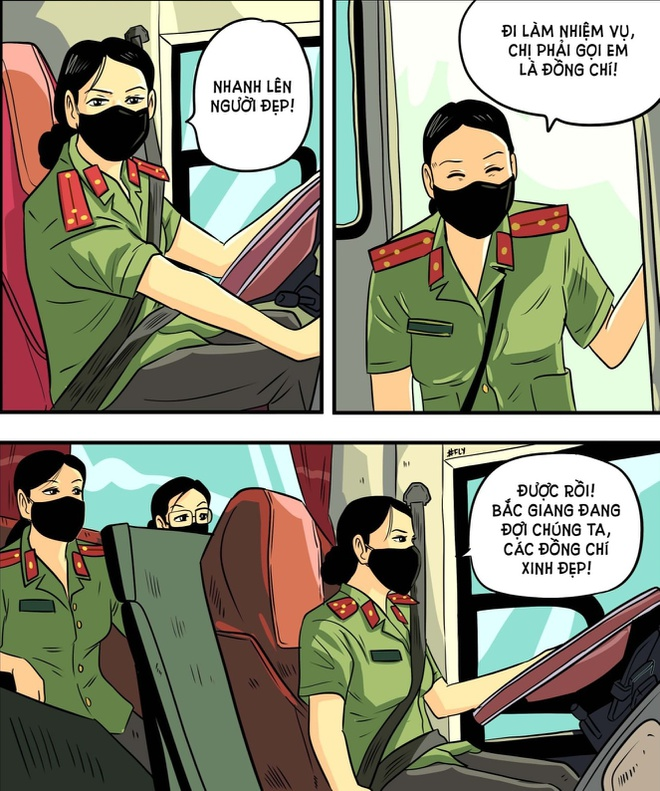 The drawing told the story of female nurses and doctors from 19-8 Hospital – Ministry of Public Security and Hospital of Traditional Medicine on their way to support people at Bac Giang Province. Photo: Thang Fly.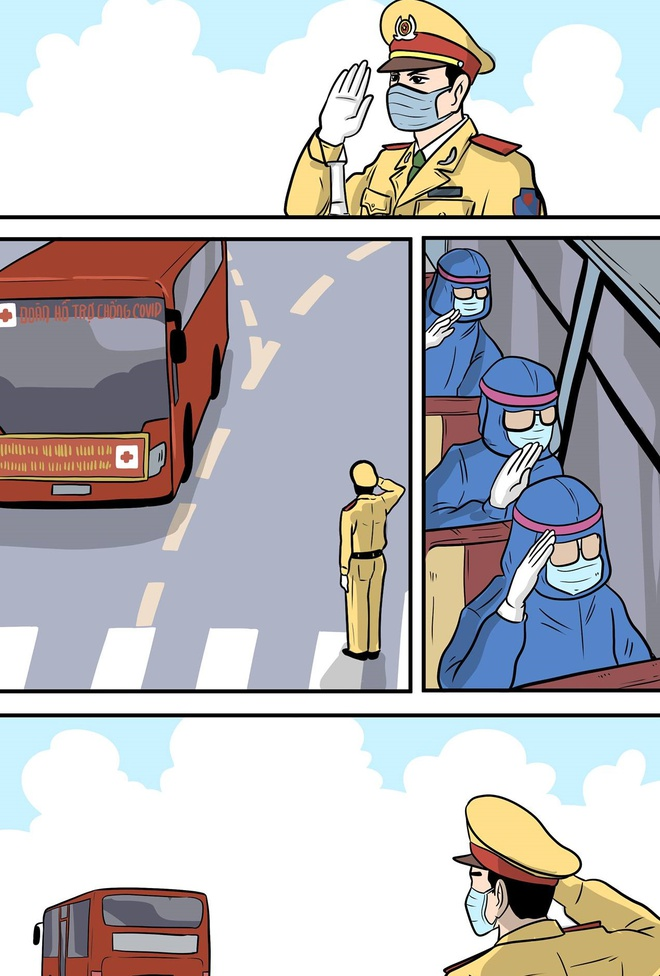 On May 16, a clip of Lieutenant Tong Ngoc Kien, an officer at Traffic Police – Order Team, Yen Dung District (Bac Giang) saluted the passing buses that carry the doctors and nurses to the hospitals. This meaningful moment was captured perfectly by the drawing. Photo: Thang Fly.