Japanese Mother Spends 16 Years Helping Children With Cancer In Vietnam
A kind-hearted Japanese woman has helped thousands of children suffering from cancer in the central region of Vietnam.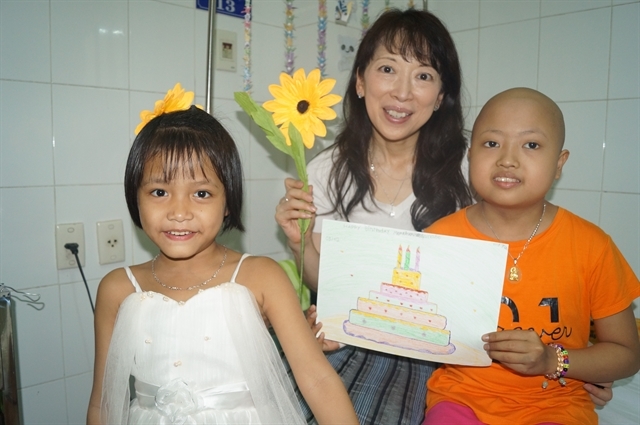 Kazuyo Watanabe (middle) and children with cancer at Hue Central Hospital. Photo courtesy of Kazuyo Watanabe
Although Kazuyo Watanabe does not have a traditional family, thousands of Vietnamese children who suffer from cancer call her mother.
The 54 year-old woman is now the president of Asian Children's Care League and keeps lending a hand to Vietnamese children with cancer.
On a July morning in Kamakura city, while speaking in front of sponsors, Kazuyo Watanabe started her speech with a story about an eight-year-old girl who traveled from Kien Giang province, Vietnam to Hue Central Hospital for radiation therapy. She had her neuroblastoma stem cell transplanted. Fifteen days after the surgery, the girl was discharged from the hospital.
Watanabe also told a story about a boy from Quang Tri province who was the first case in Vietnam with metastatic retinoblastoma and had a successful transplant thanks to the doctors.
In previous year, Watanabe would spend her Julys with cancer children in Hue, assisting their treatment and inspiring them to fight off the terminal illness. But due to the pandemic, she could not travel to Vietnam once every three months like before. Yet even abroad, her mission remains unchanged: Change the fate of Vietnamese children suffering from cancer.
"Despite being far away and separated from the children by the pandemic, my daily work is still all about children, families and doctors in Vietnam," Watanabe told VnExpress.
Sixteen years ago, when Watanabe was a university lecturer, a visit to the children's cancer treatment ward at Hue Central Hospital changed her life.
The Japanese women saw a children's cancer treatment area with poor facilities, mainly curing blood diseases. Even the treatment regimen was just blood transfusion, antibiotic injection and simple chemotherapy.
"At that time, both doctors and patients thought that children's cancer was an incurable disease. About 60% of families gave up treatment immediately after the cancer was diagnosed," she said.
As soon as she left the treatment area in Hue Hospital, Watanabe told everyone that children's cancer can be cured with early detection and adequate treatment and care.
Two months later, the Japanese woman returned to Vietnam with two Japanese doctors. They made assessment, examined, held consultations with patients and had treatment plans.
The Asian Children's Care League organized domestic and international training courses for Vietnamese medical staff. The organization also invited foreign experts and pediatric oncologists from all over Vietnam to help cancer patients in Hue.
Watanabe traveled to remote villages in Quang Binh, Quang Tri, Thua Thien-Hue and Quang Nam to meet patients who refused cancer treatment. She wanted to learn why they did not want to be treated and persuaded them to continue with a firm belief that cancer can be treated.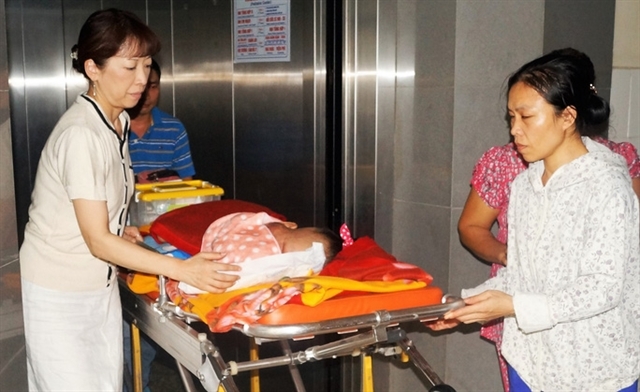 Kazuyo Watanabe spends most of her time with the patients when she is in Việt Nam. Photo courtesy of Kazuyo Watanabe
The first child Watanabe met and helped was an eight-year-old boy named Nguyen Anh Tai from Quang Tri, who had acute Lymphoblastic leukemia.
Tai was treated with a new regimen. Watanabe met him one time at the hospital and three times later at his house in Vinh Linh district. Thee young boy recovered at the age of 11 and go but had a relapse when he was 12 years old.
"He was very weak then and weighed only 24 kg after lying on the bed for three months," Watanabe said.
"All of children who were treated with cancer at the same time as Tai passed away. Tai's family members did not think he could survive," she said.
Then she traveled from Japan to Vietnam to visit Tai. Holding Tai's hands, she encouraged himself and his family not to give up.
"It was like a miracle, Tai could recover," Watanabe said.
Watanabe said Tai now had a girlfriend and planned to move from Ho Chi Minh city to Hanoi to work in media sector.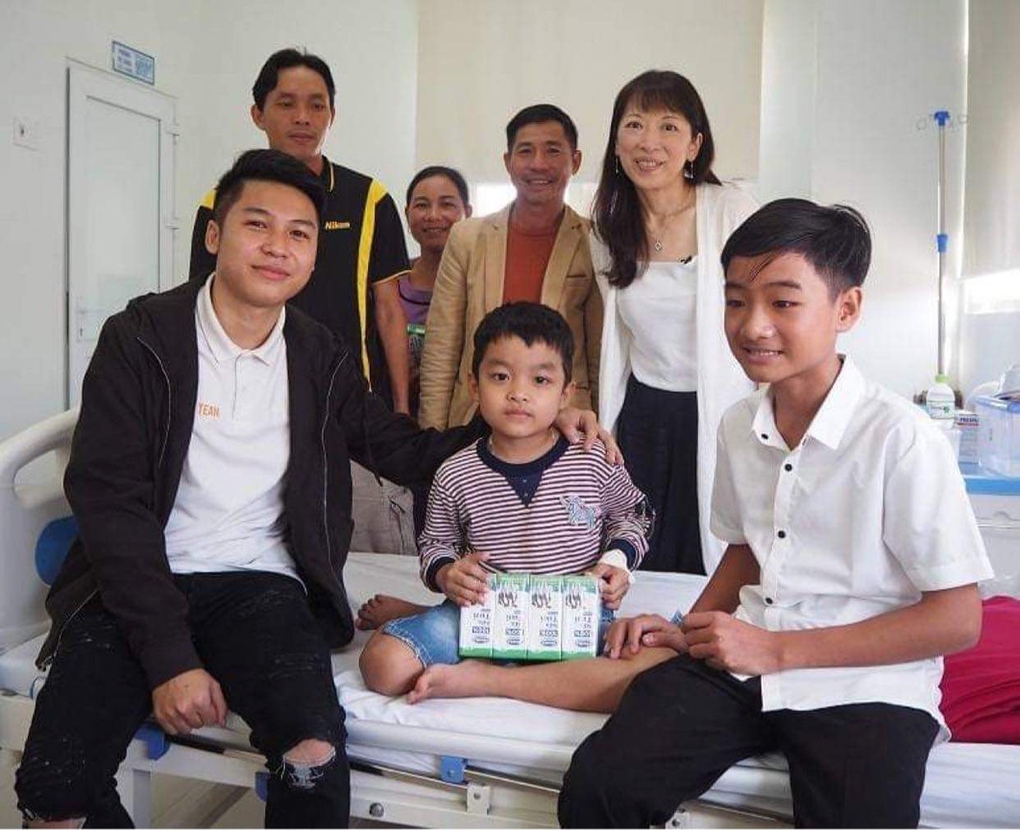 Nguyen Anh Tai (first from left) returns to Hue Central Hosptial to reunite with his 'mother' Watanabe in 2019. Photo courtesy of Kazuyo Watanabe
Ups and downs in 16 years
During 16 years in Vietnam, Watanabe and her organization held a series of meetings with medical staff and families to help them understand the disease, its psychological impact and provide them with treatment and travel expenses.
She also cooked nutritious meals for the children and set up a place called 'House of Hope' to host families of patients living far from the hospital. Le Thi Tu, a mother of a boy with blood cancer, said all of the children living in the house considered Watanabe as a mother.
"Although we do not share a common language, we can understand each other through our eyes, behaviors and sympathy," Tu said.
Tu will never forget the nights Watanabe visited every bed to see whether the children sleep or not. Watanabe often had lunch with children although the food was simply noodles and soy sauce.
Sixteen years being with Vietnamese children with cancer, there have been many ups and downs, but the biggest difficulty for Watanabe is facing the children's deaths of the children.
"It was really heartbreaking. The lives and smiles of the children who passed away are always in my heart. They have taught me so many things and have always been an inspiration and motivation for me to continue my mission," she said.
Thanks to the help of Watanabe, the cancer treatment dropout rate declined from 60% to 4-5%.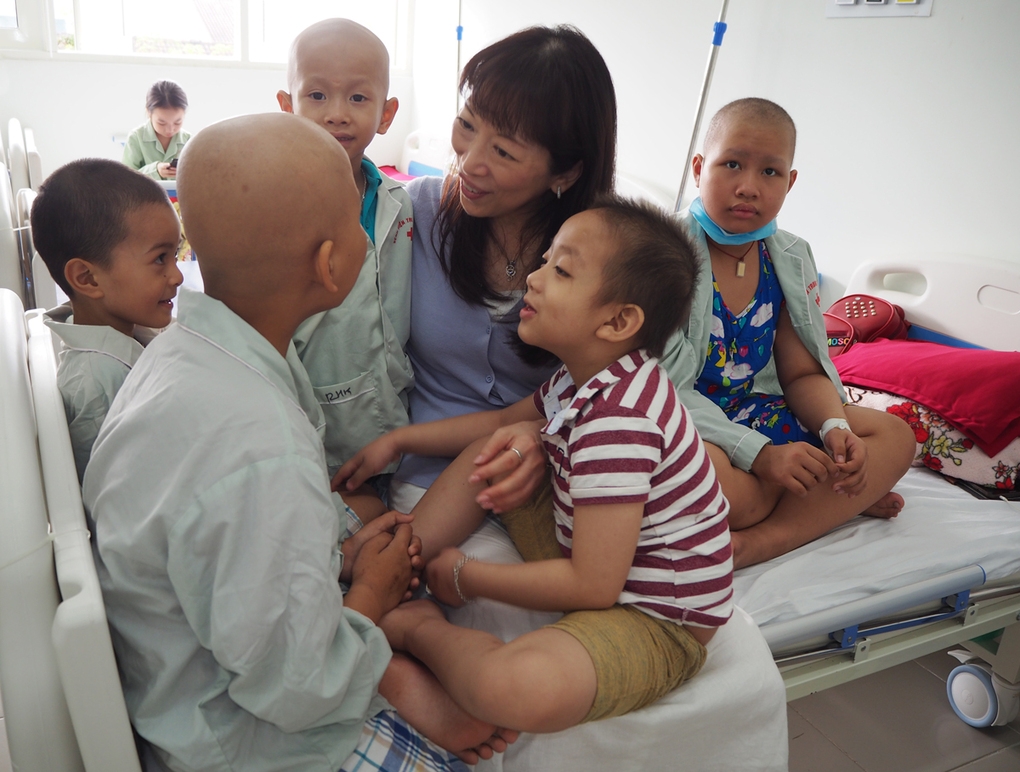 Kazuyo Watanabe plays with children at Hue Central Hospital. Photo courtesy of Kazuyo Watanabe
Chau Van Ha, deputy director of Hue Central Hospital's Pediatric Center, said "Before Watanabe came to help, we barely saved any children with cancer. Now the survival rate has reached 70%. Nearly 600 children have been helped by Watanabe's organization."
A lot of children with cancer have been successfully treated at Hue Central Hospital thanks to the help of Watanabe. Photo courtesy of the hospital
In 2018, the Asian Children's Care League established a pediatric cancer department at Hue Central Hospital. Since then, the hospital has not only treated patients in the central region but also received patients from Hanoi or Ho Chi Minh city.

"I hope that one day, this place will become a modern children's cancer treatment center reaching the level of advanced countries in the world," Watanabe said.