Lao Prime Minister concludes visit to Vietnam
Lao Prime Minister Thongloun Sisoulith left Hanoi on late December 6, concluding his three-day visit to Vietnam to co-chair the 43rd meeting of the Vietnam-Laos Inter-Governmental Committee on bilateral cooperation at the invitation of his Vietnamese counterpart Nguyen Xuan Phuc.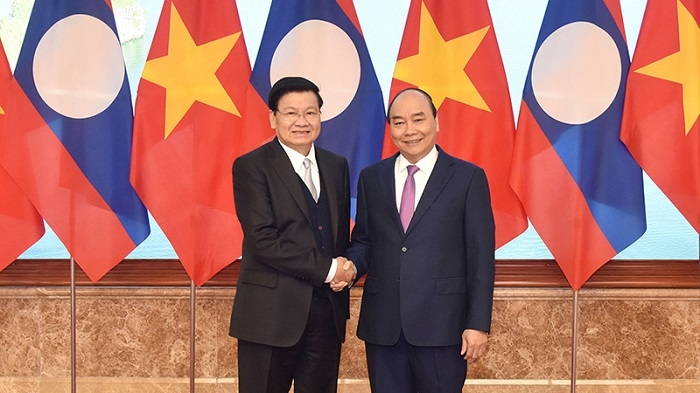 Prime Minister Nguyen Xuan Phuc (R) and Lao Prime Minister Thongloun Sisoulith. (Photo: NDO)
While in Vietnam, the Lao PM paid a courtesy call to Party General Secretary and State President Nguyen Phu Trong and met with National Assembly Chairwoman Nguyen Thi Kim Ngan.
At the meetings, the two sides reached high consensus on the cooperation orientations for 2021 and in the next five and 10 years.
They agreed to focus on effectively implementing major agreements between the two countries, including the Vietnam-Laos cooperation plan for 2021 and the deals signed on this occasion.
The two sides sketched out many drastic and practical measures to continue deepening bilateral political and diplomatic relations, strengthening the defence-security partnership and giving special priority to education-training collaboration.
The two sides will promote economic cooperation, while fostering the connectivity between the two economies, especially linkages in transport, infrastructure and telecommunications. They will encourage ministries, sectors localities, businesses and people of both sides to expand cooperation and mutual support.
At the same time, the two countries will work together to mobilise resources from international partners for joint projects and programmes.
The two sides vowed to continue coordinating closely with and support each other at regional and international forums, especially within the ASEAN, the Mekong Sub-region cooperation mechanisms and the United Nations.
The two countries will strengthen mutual consultations and assistance to enhance their position and national self-reliance, especially in issues related to security and strategy in the region, including the East Sea and Mekong issues. They pledged to work with other ASEAN countries to effectively cope with the COVID-19 pandemic, promoting intra-bloc solidarity and the central role of the ASEAN as well as the building of ASEAN Community.
The two PMs pledged to direct ministries, sectors, localities and relevant agencies of the two sides to work together to effectively implement bilateral agreements and commitments, including the creation of optimal conditions for businesses of both sides to cooperate in investment and production.
nhandan