MoMo, NGO help disadvantaged children get birth certificates
With the support and companionship of the MoMo, a mobile wallet and digital payment application, the Research Centre for Management and Sustainable Development (MSD) has successfully raised funds for two campaigns that will help disadvantaged children get personal documents.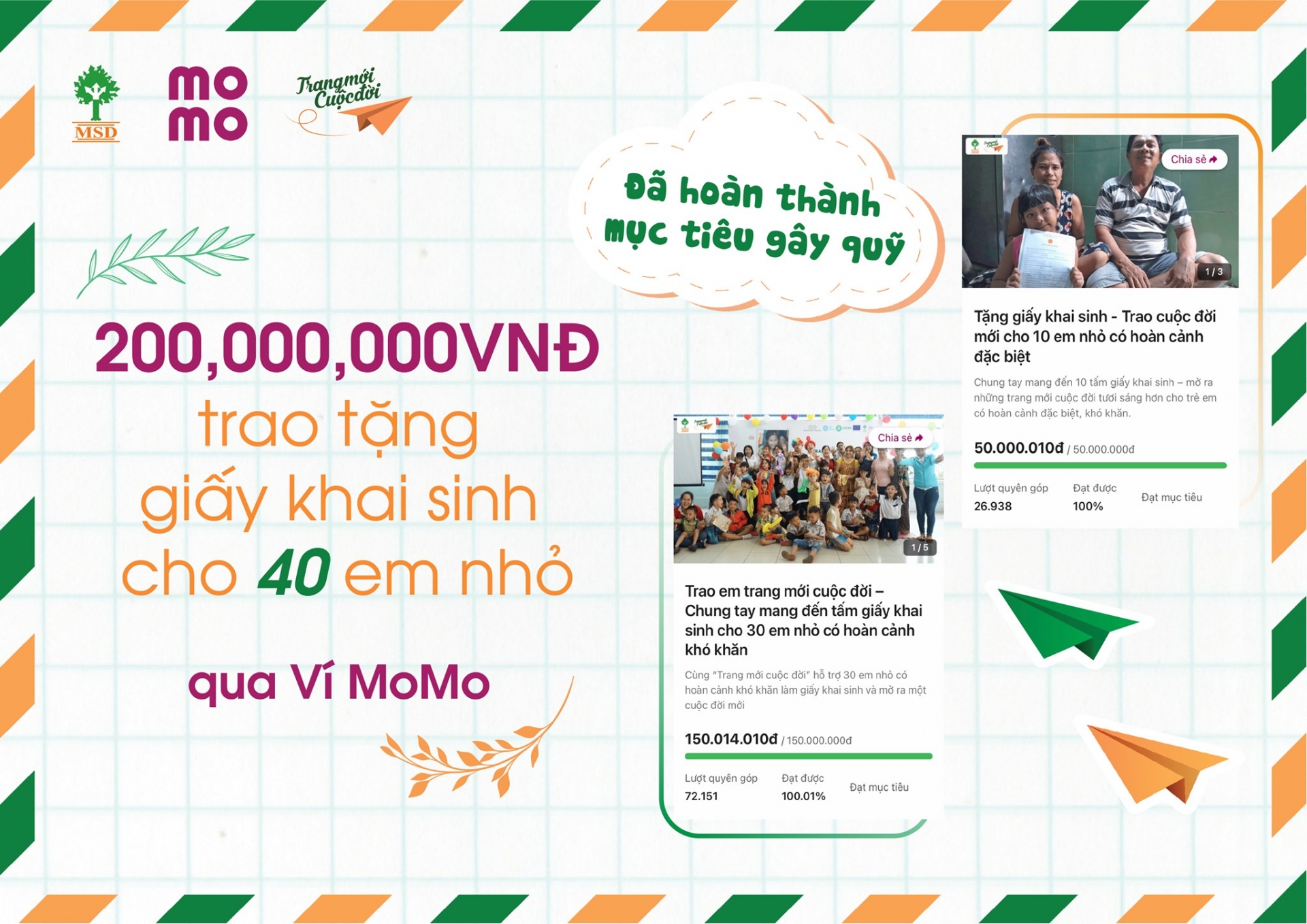 The "New Life Page" project helps invisible children get their personal documents, something they might otherwise struggle to do because of their circumstances.
Since 2014, MSD has started the the fundraising project "New Life Page" that provides provides assistance in birth certificate registration process for children in special and disadvantaged circumstances in Ho Chi Minh City.
The project educated disadvantaged children, connected them with the network of social workers, lawyers and local government to get the personal documents and access to public services and development opportunities: educating street children and families to take efforts in getting the personal documents; finding evidences for the children's identity; connecting the network of social workers, lawyers and local government; and supporting them with small scholarships.
MSD has call upon the donor and philanthropic community for two campaigns via MoMo which aimed to raise VND 150 million and VND 50 million from April 27 and April 29 respectively.
Thanks to contributions from the community through the MoMo Wallet, both campaigns were completed in less than 10 days with 99,089 donations and a total amount of over VND 200 million (about USD 8.600) which equals to personal documents for 40 disadvantaged children.
In addition, MoMo also pledged to sponsor an additional VND 45 million (USD 1.900) for the project - once again affirming the determination to accompany the "New Life Page" project and help invisible children get their personal documents and have a visible happy life.
The donations will be used by the project for documentation, identity verification, DNA testing (if necessary), implementation costs for social workers, lawyers, families in difficult circumstances, small gifts for children, etc.
A birth certificate is a 'passport' for children in their early life and one of the first papers to identify them and help them enjoy the rights of a citizen. With those papers, children have access to education, public services and social services.
Through New Life Page, MSD aims to help disadvantaged children, to receive birth certificates in order to access to education, health care, social insurance and other public services.
Over the past six years, the project has so far helped more than 200 children to be registered, attended school, cared for and protected.
You can still make your donation and call your relatives and friends for donation via MoMo Piggy Bank here or via Global Giving here.
Enhancing digital literacy for students

COVID-19 has reinforced the importance of integrating online education in the education programs, and the related capacity building needed for teachers and parents to support ...