More free 'rice ATMs' set up in Hue, Da Nang
For these people who are suddenly without income, businessmen and donors in the central city of Hue have set up 'rice ATMs' that dispense free rice in the city to tackle hunger amidst coronavirus.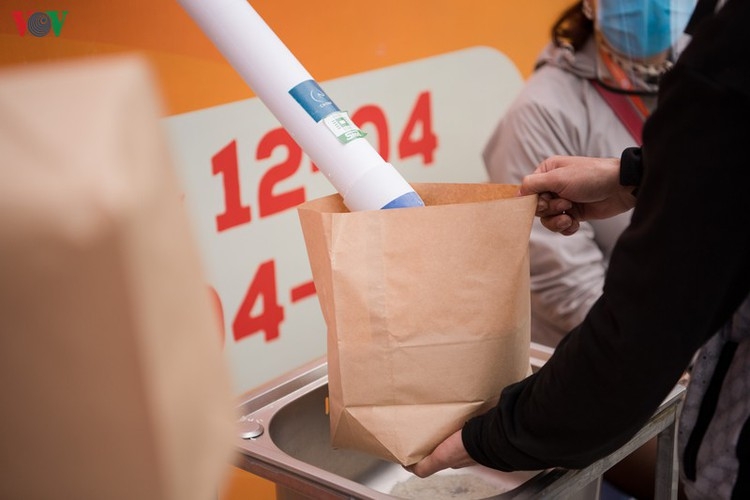 Underprivileged people receive paper rice bags in Hanoi. (Source: VOV)
According VNA, volunteers at colleges in the city set up the first site at the Phu Xuan private college at 28 Nguyen Tri Phuong Street on April 11 to give 2kg of free rice for each person.
Two more rice ATM machines were put into operation in Hue in the central province of Thua Thien-Hue on April 14. They are located on Ha Huy Tap and Nguyen Hue streets.
They said donors have been supplying free rice to poor local residents at several sites in the city to avoid large crowds gathering.
Earlier, free rice ATMs were installed in Ho Chi Minh City and Hanoi to help poor people during COVID-19 pandemic.
With Hanoi's first rice ATM machine being installed in Cau Giay district, the capital's second machine has been installed on 8 Quang Trung street in Ha Dong district.
In Tan Phu district of HCM City, news of the installation of the rice ATM has spread, resulting in long lines of people waiting to receive free rice.
A number of charitable people bring 50kg or 100kg of rice to donate to the cause, with some even using trucks to bring rice to the ATM machine.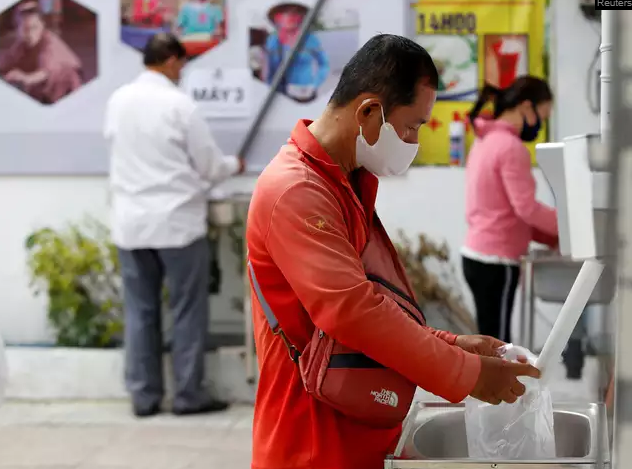 In Tan Phu district of Ho Chi Minh City, long lines of people wait to receive free rice. (Source: The Economic Times)
The Da Nang City Young Businessmen Association also said it would set up two free 'rice ATMs' to help poor people in Da Nang from next week.
Chairman of the association Ha Duc Hung said the first ATM would be installed at Trung Nu Vuong Street in downtown Hai Chau district before being spread to more locations in Hoa Vang, Cam Le, Thanh Khe and Lien Chieu districts.
The association has collected 40 tonnes of rice from donors in the city, and there are plans to gather more, he said, adding that the free rice ATMs would operate till end of June.
This meaningful initiative has received coverage in international media.
CNN, the US cable news network, said "A machine that gives out free rice -- it sounds too good to be true. But these "rice ATMs" have been set up around Vietnam to help those who need it most during the coronavirus pandemic."
Meanwhile, "This rice ATM has been helpful. With this one bag of rice, we can have enough for one day," Nguyen Thi Ly whose husband was among those who have lost their job, was quoted by Reuters.
India-based The Economic Times highlighted the idea with an article titled 'ATMs for rice are feeding Vietnam's poor'
With 266 COVID-19 casesand no deaths, Vietnam's response to the crisis has earned praise from the World Health Organisation (WHO).
Vietnam was the first nation outside of China to confirm a case of SARS back in 2003, yet it was also the first country confirmed by the WHO to have contained the outbreak./.