More than 100 Vietnamese fly home as COVID-19 cases rise in Indonesia
Vietnamese authorities worked with the Vietnamese Embassy to Indonesia, Vietjet Air, and relevant Indonesian agencies to bring home more than 100 Vietnamese citizens on April 26, VNA reported.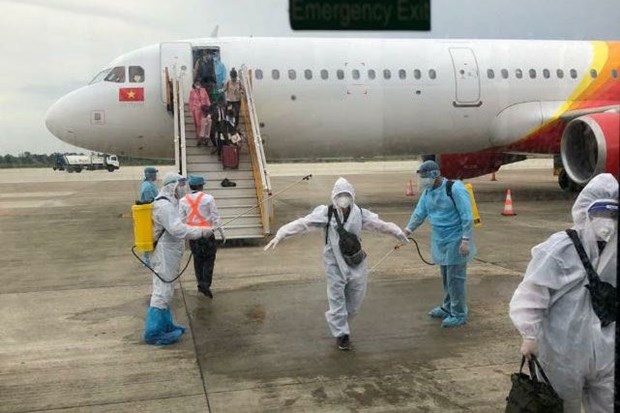 Spraying disinfectant at the airport. Source: baoquocte.vn
According to the Vietnam Aviation Civil Administration, another arranged-flights repatriate Vietnamese citizens from the United States, Canada, UAE, France, Russia, Spain and Thailand.
Earlier, Vietnam had arranged various flights to repatriate overseas citizens. Most recently is the flight to return home over 200 Vietnamese in Singapore April 24.
During the suspension of commercial routines between Vietnam and foreign countries due to the COVID-19, the Government has allowed the licensing of a number of single fights to bring home stranded overseas Vietnamese.
Under the Prime Minister's directive, priority will be given to the elderly, the sick and people under 18.
All the returnees must be placed in quarantine as soon as they land in the home country to prevent the spread of the coronavirus.
Vietnamese citizen bought home from Indonesia are those from disadvantaged backgrounds such as children, elderly people, and students.
The flight is set to land at Can Tho airport and all people on board will have a health check and be under quarantine in line with regulations.
In the flight to Indonesia, Vietjet Air also brought some Indonesian citizens back to home.
Vietnamese citizens abroad are advised to follow preventive measures in the host countries and refrain from going out and returning home at present.
Vietnamese relevant agencies and representative offices abroad will arrange some flights for those in difficult situations to return home, based on the disease developments at home and abroad and the country's reception and quarantine ability.
In Indonesia, confirmed cases increased by 275 to a total of 8,882, including 743 deaths. But 65 more patients have recovered over the last 24 hours, so that a total of 1,107 patients have left hospitals since the COVID-19 outbreak in Indonesia was first detected in early March, reported Jakarta Globe.
Indonesia has grounded all commercial flights except for cargo deliveries and stopped railway services and sea transportation until the first week of June to contain the outbreak.
The annual exodus during the Islamic holy month of Ramadan is also banned, with police and soldiers guarding provincial borders to stop vehicles and order all travelers to return to where they departed.
Vietnam recorded its second day of no fresh COVID-19 cases, keeping the country's tally of active infections at 270, while 16 cases have tested negative for SARS-COV-2 several times, the Ministry of Health announced on the afternoon of April 26./.