Recipe: Steamed carp with dracontomelon leaves – summer taste, with video
Dracontomelon fruit is quite familiar with many summer dishes, young dracontomelon leaves with a sour taste are used to prepare delicious and attractive dishes: Steamed carp with young dracontomelon leaves.
Steamed carp with young dracontomelon leaves. Video: Vnexpress
- Total time: 45 minutes (20 minutes preliminarily, 25 minutes steaming)
- Servings: 4-5 people
- Total calories: 806 kcal
1. Ingredients
- 1 carp of about 600-700 grams.
- 1 bunch of young dracontomelon leaves.
- Spices: salt, stock power, Sichuan pepper, chili, pepper, lemon.
- Vegetables served: young dracontomelon leaves, cucumber, carrot, dill.
- A little bit of lard (so that the steamed fish doesn't dry out).
2. Instruction
+ Carp are scaled, dissected and cleaned. Use granulated salt and lemon to rub to deodorize, rinse, and pat dry.
+ Pierce the fish a few diagonal slices so that when marinated, the spices are absorbed quickly as well as when steamed, it cooks faster and more evenly.
+ Select young twigs of dracontomelon, pick up the leaves, soak in dilute salt water, wash clean and drain. Pay attention not to take old leaves because of the acrid taste.
+ Put the young dracontomelon leaves in the mortar, add 1 tablespoon of salt, a little Sichuan pepper, 1-2 chili peppers, 1-2 teaspoons of stock power and then pound.
+ Wear gloves, take the mixture of crushed young dracontomelon leaves and apply it all over the fish. Add in the belly of the fish. Add 1 tablespoon of pork fat (or cooking oil) to help the fish not dry out when steaming.
+ Spread a layer of foil, line some young dracontomelon leaves underneath, put the fish on. Continue to take some young dracontomelon leaves to cover the fish. Then, wrap the foil tightly.
+ Marinate for at least 15-20 minutes or longer, then put in the refrigerator to allow the fish to absorb the spices.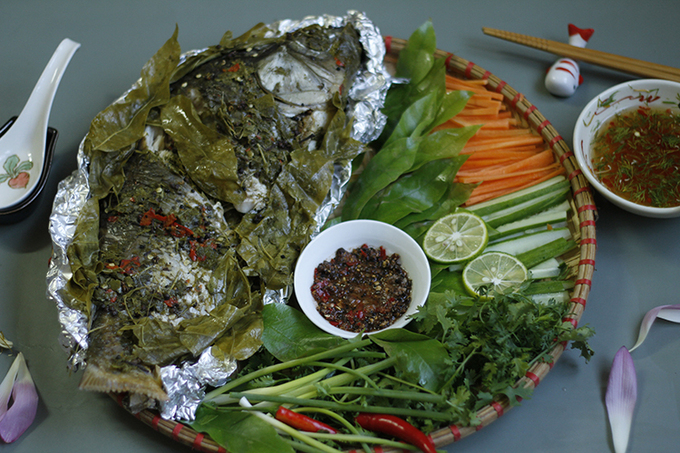 Fish meat mixed with the sour taste of young dracontomelon leaves, the aroma of Sichuan pepper and the spicy taste of chili make a delicious dish with a summer flavor. Photo: VnExpress
- Steam the fish:
+ Add enough water to the steamer.
+ Take the fish into the steamer for about 25 - 30 minutes to cook, depending on the weight and size of the fish.
- Dipping sauce: There are two types of dipping sauce, depending on your family's taste that you can adjust accordingly:
+ If dipping directly, dip with a mixture of granulated salt + Sichuan pepper + chili + a little crushed stock powder. Squeeze some lemon juice and mix well.
+ If rolled with rice paper and vegetables, dip it with garlic chili fish sauce and dill: 1 tablespoon sugar + 1 tablespoon lemon juice + 3 tablespoons filtered water. Stir the sugar completely and then add the fish sauce and garlic, minced chili, chopped dill at the end (dissolved sugar will help the garlic and chili rise to the surface).
- Present and enjoy:
+ Serve steamed fish, next to vegetables with vermicelli, rice paper and a bowl of dipping sauce.
+ Finished product requirements: The fish is a bit tough along with the sour taste of young dracontomelon leaves, the aroma of Sichuan pepper and the spicy taste of chili. In the hot weather of summer, this refreshing dish will definitely appeal to family members.