Run Through the Jungle: The Best Outdoor Activities in Vietnam
Vietnam is not only home to sparkling cities and breezy beaches; adventurers return to this unique country for outdoorsy thrills in remote areas.
Take a walk on the wild side in Vietnam, a country overflowing with outdoor adventures. Go kitesurfing off the rugged coastline, scale mountains for spectacular views, or burrow inside the world's largest caves -- so much awaits you in Vietnam's wonderful outdoors. Here's the "what, where, and how" on seven must-try experiences across the country.
Caving in Phong Nha
Phong Nha Cave is among the number of scenic spots of Vietnam, Phong Nha cave is distinguished by its magical beauty. Phong Nha cave is acknowledged one of the cultural heritage sites of the world with an unsurpassed wonder of nature. It takes you only 40 minutes by boat on the Son river to Phong Nha entrance.
Photo: Vietnam travel
This park has been recognized as a world natural heritage site by the United Nations Educational, Scientific and Cultural Organization (UNESCO) at its 27th general assembly session being held in Paris from June 30-July 5. The area is considered a paradise for researchers and explorers of grottoes and caves, and Vietnamese and British scientists have so far surveyed 20 with a total length of 70km. Of them, 17 are in the Phong Nha area and three in the Ke Bang area.
Phong Nha Cave was formed by tectonic happening in the heart of Ke Bang limestone mountains hundreds of millions of years ago. Traces the writing carved on the rock by ancient Cham language that Phong Nha Cham was found from time immemorial.
Populations of cave in Phong Nha-Ke Bang is considered "First wonders", is one of the world's most beautiful landscapes characterized as the longest underground rivers, caves and height widest, the sand in the cave is the longest and most beautiful stalactites ….. This can also be regarded as a paradise for the discipline of caves and cave tourism.
When entering the cave, be patient enough, because it is the longest underground river in the world you will emerge in a fairyland of stalactites that implicit a lost mystery. Nowhere in southeast Asia can you enjoy the most marvelous and magical cave like Phong Nha.
Rock climbing in Huu Lung
Intrepid travelers seeking adrenaline pumping thrill can choose to conquer virtually vertical mountain slopes in Lang Son Province.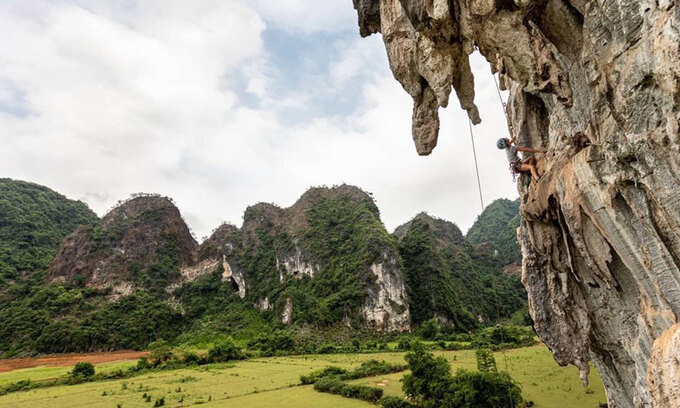 The mountain scenery at Huu Lung District, Lang Son Province. Photo courtesy of VietClimb
Yen Thinh Commune in Lang Son's Huu Lung District has a network of big mountains, many of them with vertical slopes. Provincial authorities are now looking to tap the commune's adventure tourism potential as a signature product, and a new rock climbing tour has been launched.
There are five main climbing spots now, with more than 110 climbing paths at many different levels. Two tours are offered every month for travelers to try and scale the tough slopes.
The price for a two-day-one-night tour is VND2.7 million ($116), and a one-day tour is VND1.3 million. The cost includes catering services, sleeping spot, climbing equipment, guide and transportation. Visitors who do not have specialized climbing shoes can rent a pair for VND100,000 a day.
The tours will have a technical assistant to help people climb to the top safely. As another safety measure, a maximum of 20 people are allowed to climb at one spot.
These tours, run by sports and entertainment company VietClimb, have been drawing many adventurous Vietnamese and foreigners interested in rock climbing.
Off-road biking in Sapa
With plenty of green space, rolling hills, and incredible scenery, Sapa is an active destination. Sapa is the home base for trekking day trips to surrounding villages and overnight homestays with local families. These journeys range from leisurely to challenging, with Mount Fansipan being the mother of all treks, but there's also room for cycling and, when the weather takes a turn, a hard-earned massage.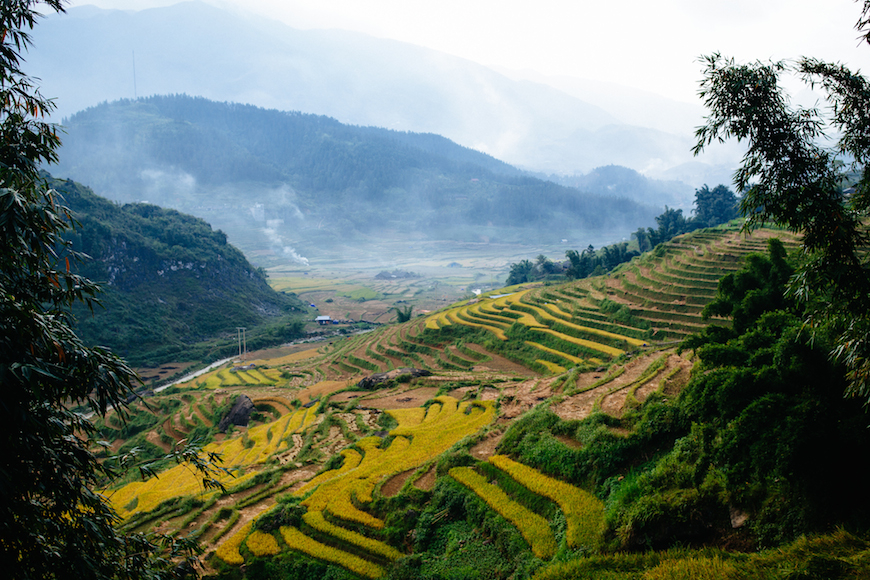 Photo: Vietnam travel
With dozens of small communities peppering the mountains and valleys of northwestern Vietnam, gaining access to the more authentic, untouched villages of the area requires at least some travel on foot up the steep inclines of the surrounding hills and along the muddy dirt paths that lead to Sapa's more remote residences. In town, easier walks to Cat Cat Village and around Dragon Jaw Mountain are blessed with paved roads and stone steps.
Once you leave town the highway branches off into smaller, rockier trails that bring you away from the buzz of Sapa's tourist center and out to peaceful paddies and stunning mountain vistas. For standard day-long treks and one-night homestays, bring along water and a sturdy pair of shoes. For longer excursions, especially to Fansipan, you'll need to stock up on proper trekking gear. Scores of shops in the area sell North Face goods, most of them knockoffs but some genuine, as well as a host of hiking boots, first-aid essentials, and the like.
There are a small number of local companies that arrange cycling tours or rent mountain bikes to individuals. These excursions are expensive, a fact justified by the quality of the equipment, but then take all the challenge out of the trip by driving travelers uphill before allowing them to roll down to the bottom. Some companies offer customized tours.
To combine cycling with a bit of sightseeing, rent a mountain bike and blaze your own trail up to Silver Falls and Tram Ton Pass.
Canyoning in Dalat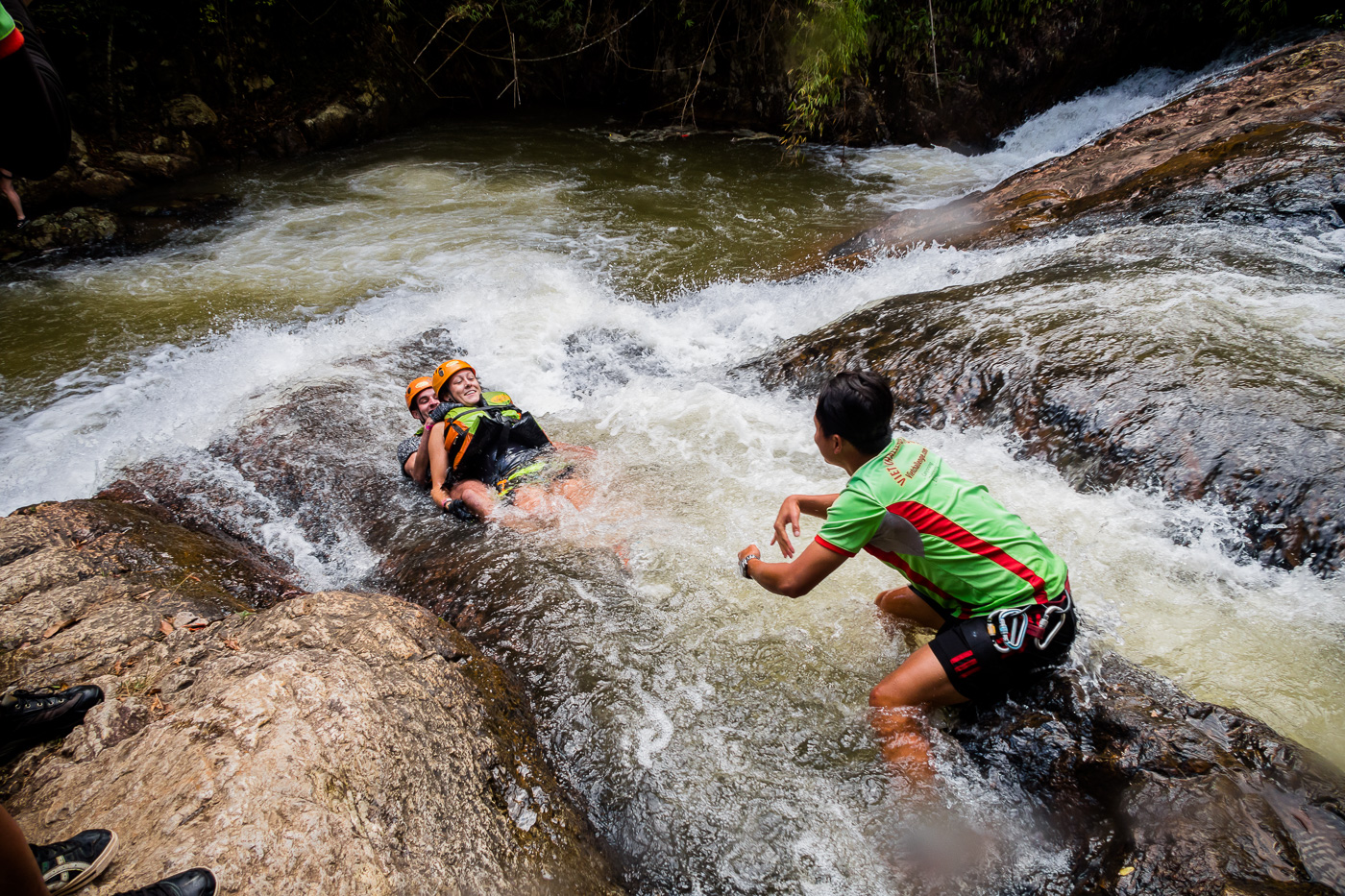 Photo: Bold Travel
Generally, Canyoning means to swing on a rope and across the falls. It is considered to be one of the best ways to explore and conquer nature as well as challenge your heart and your brain. We call it "Canyoning in Dalat" because it will give you a sense of being immersed in the white freshwater. Usually, you will be guided on how to use the rope and equip some must-have facilities to rappel down the dry cliffs or the wet cliffs by a team of professional instructors. Then, you can jump off the cliff, do water sliding, etc...depending on how you want to challenge yourself.
In Vietnam, one of the most suitable places to take a "Canyoning tour" is Da Lat. Canyoning Dalat tour is one of the most famous activities attracting a lot of tourists thanks to the naturally rugged terrain as well as a wide range of gorges in Da Lat. Therefore, Dalat is known as an ideal paradise for those who are passionate about taking a "swing over the falls - Canyoning in Dalat tour", simultaneously, for those who have not experienced this activity and want to try it for the first time.
"Dalat canyoning tour" will take place at Datanla Falls. Before starting this adventure, you will be fully equipped with some necessary protective items including wetsuits, helmets, harnesses, deceleration devices, life jackets, gloves, and so on. In particular, the guide will instruct you on how to use protective equipment in a safe way and solve some technical problems overhead as well as teach you some manipulative skills.
Camping in Cat Ba
Rugged, craggy and jungle-clad Cat Ba, the largest island in Halong Bay, has experienced a tourism surge in recent years. The central hub of Cat Ba Town is now framed by a chain of low-rise concrete hotels along its once-lovely bay, but the rest of the island is largely untouched and as wild as ever. With idyllic Lan Ha Bay just offshore, you'll soon overlook Cat Ba Town's overdevelopment.
Photo: Glamping Hub
Almost half of Cat Ba Island (with a total area of 354 sq km) and 90 sq km of the adjacent waters were declared a national park in 1986 to protect the island's diverse ecosystems. Most of the coastline consists of rocky cliffs, but there are some sandy beaches and tiny fishing villages hidden away in small coves.
Lakes, waterfalls and grottoes dot the spectacular limestone hills, the highest rising 331m above sea level. The island's largest body of water is Ech Lake (3 hectares).
Imagine opening your tent to the morning sun climbing over countless jungle-blanketed karsts, some thousands of years old. This is a reality on Cat Ba, a large island in northern Vietnam and one of the country's top outdoor adventure hubs. Here you'll find opportunities to climb, hike, and kayak around in lush, unspoiled landscapes. Green Valley Camp offers a range of choices for sleeping in the great outdoors, from sporty dome tents for back-to-basics camping to luxury bell tents for luxurious glampers.
Hiking in Pu Luong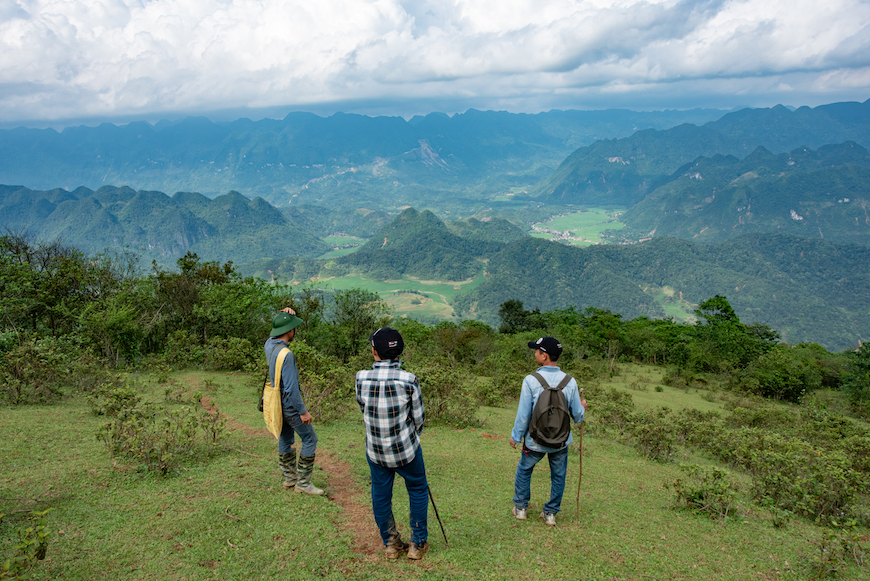 Photo: Vietnam travel
Stretching from Mai Chau to Cuc Phuong National Park, Pu Luong Nature Reserve may attract you thanks to its outstanding beauty and biodiversity along with minorities ethnic's cultural values. While nature has endowed this land with rich forest and limestone panoramas, it is the local's works during thousands of year that have turned the mountain slopes to alluring terrace rice fields. An interesting combination of natural and man-made influence makes this breathtaking scenery become an ideal choice for a short trip from Hanoi.
You'll find superb hiking opportunities across the northern highlands, especially in Pu Luong, a nature reserve southwest of Hanoi. Ringed by dramatic mountains that dominate the horizon, Pu Luong blends all the features that make the highlands of Vietnam so appealing. Strap on your hiking shoes and to tackle misty rainforests, cascading rice terraces, and remote minority hamlets. Afterwards, reward yourself with a cooling dip in one of the rock pools or waterfalls that flow through the reserve.
TIP: Base yourself in the villages of Ban Hieu or Ban Don, where your hotel or homestay can arrange hiking excursions you can tackle by yourself or with a guide.
Kitesurfing in Mui Ne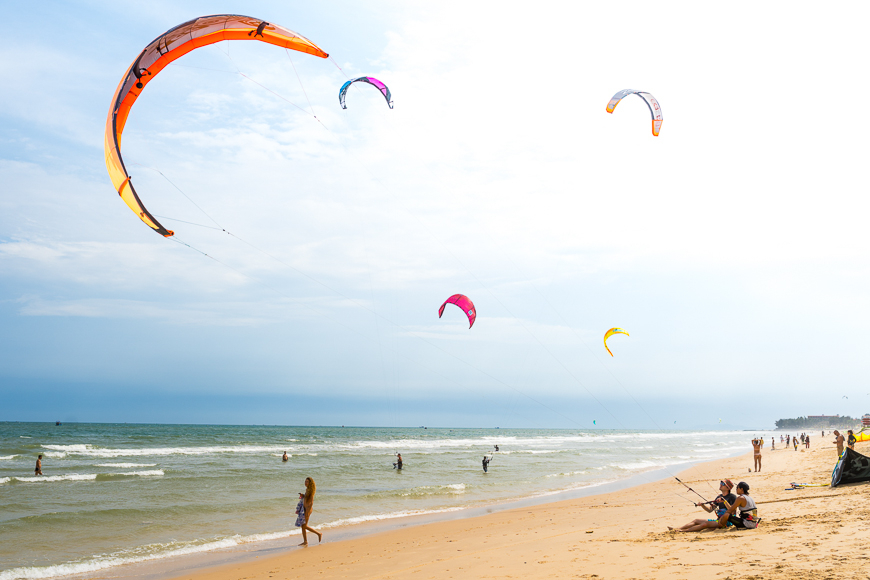 Photo: Vietnam travel
Once upon a time, Mui Ne was an isolated stretch of shoreline where pioneering travellers camped on the sand. Times have changed and it's now a string of beach resorts, which have fused into one long coastal strip. These resorts are, for the most part, mercifully low-rise and set amid pretty gardens by the sea. The original fishing village is still here, but tourists outnumber locals these days. There are a handful of luxury hotels (and a smattering of cheap guesthouses) but Mui Ne is mainly a midrange resort.
Kitesurfing is a huge draw – there are several excellent schools and world-class wind conditions between late October and April. One major problem the area faces is the steady creep of coastal erosion, particularly around Km 12. It's almost impossible to get lost in Mui Ne, as everything is spread out along a 10km stretch of highway.
Kayaking in Lan Ha Bay
One of the indispensable experiences for anyone's trip to Cat Ba is to kayak in Lan Ha Bay. Choosing kayaks to discover Lan Ha Bay will bring new experiences that cruise ships can't have. Going through the islands and small caves, the kayak takes you to the foot of the rocky mountains. The cheery island is a great space for watersports.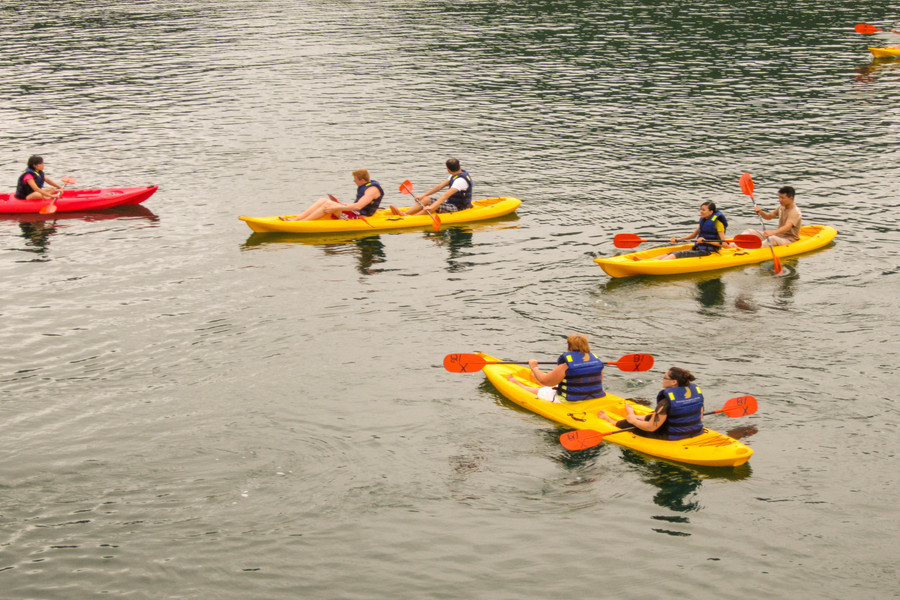 Photo: Origin Vietnam
Choosing kayaks to discover Lan Ha bay when traveling sandy will bring visitors new experiences that cruise ships can't have. Going through the islands and small caves, the kayak takes you to the foot of the rocky mountains, firsthand the view of the colorful landscape of the sea under the blue water, sparkling sun.
Most kayakers opt to spend an overnight cruise on Lan Ha Bay. You will be able to admire the beautiful limestone islands at close range, even touching them. For many tourists to Cat Ba Island. The most interesting thing is that they are sailing into the cave by kayak for the magnificent stalactites that nature has given to Cat Ba.