South Korean Couple Runs Vietnamese Food Restaurant To Support Single Parents
A couple in South Korea has opened a coffee shop with Vietnamese dishes in order to provide economic and emotional support for single foreign parents.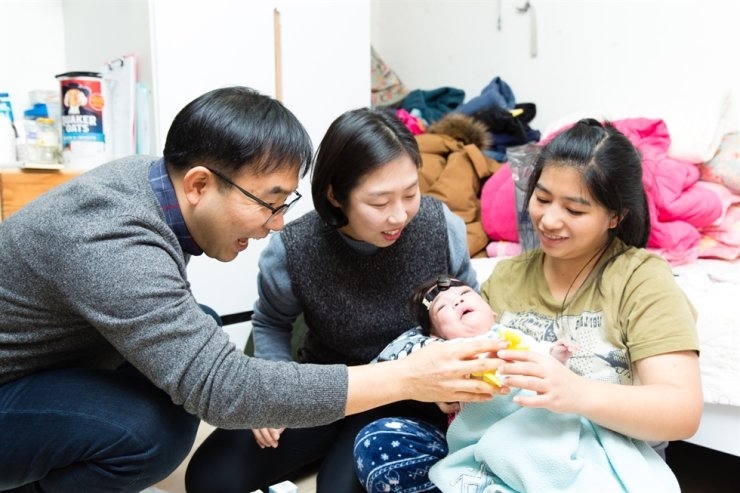 Cheong Jong-won (first from left) and his wife Kim Sung-eun (middle) visit a woman and her baby at her home in Seoul in March 2018. Photo Courtesy of Light and Salt
Cheong Jong-won, a pastor, and his wife Kim Sung-eun set up a social organization named Framily in 2016 to encourage such single foreign parents in South Korea to stand on their own feet by giving economic, emotional support and caring for their children.
Cheong said he launched the organization with an aim to become a friend and family for single foreign parents who are raising their child alone after divorcing, or the death of, their spouse.
Being a single parent is not easy in Korea, but it is especially tough for people of foreign nationality. On top of the burden of having to raise and educate their children on their own, they face hurdles due to social prejudice against foreigners and single parents, according to the Korea Times.
The couple runs a small coffee shop named Mom's Apron which brings job opportunities for single migrant mothers.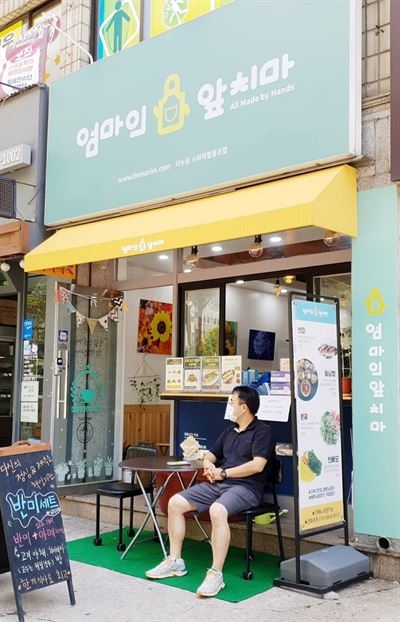 Cheong Jong-won sits in front of coffee shop "Mom's Apron" located in Gangbuk District, northern Seoul. Photo Courtesy of Cheong Jong-won
Located in a residential area in Gangbuk District, northern Seoul, the small but cozy cafe offers a variety of Vietnamese dishes, including banh mi (Vietnamese baguette sandwich), bun cha (noodles with grilled pork) and spring rolls, served with handmade tea.
"When we opened the cafe last December, we only had beverages on the menu. But we began to serve Vietnamese food as our chef, a single mother from Vietnam, has fabulous cooking skills," said Cheong.
"We currently have two employees both from Vietnam. Another migrant woman, also a single parent, will be joining us from August," he told the Korea Times.
"Although we can't offer big payments to our employees, they are satisfied because the work schedule allows them to spend more time with their children, unlike when they used to work nearly 12 hours a day in factories."
Support migrant women
The couple's support and care for multicultural families dates back to 2009 when Kim was a social worker at a state-run migrant support center in Seoul.
"We noticed that migrant women suffering from domestic violence or those going through divorce were in need of urgent help. But within the government program, it was difficult to give tailored support specifically for them."
Support programs for migrant women at government centers are usually limited to Korean language, cooking and culture classes to help them adapt to Korean society. Therefore, these women, who encounter various difficulties during and after marriage, can't seek help at such centers, Cheong said.
"In the case of migrant women, the most common reason for divorce is domestic violence, which leaves them with depression after their marriage ends. We try to give them emotional support by inviting them into our community for casual gatherings and trips, which gives them the feeling that they are not alone," Cheong said.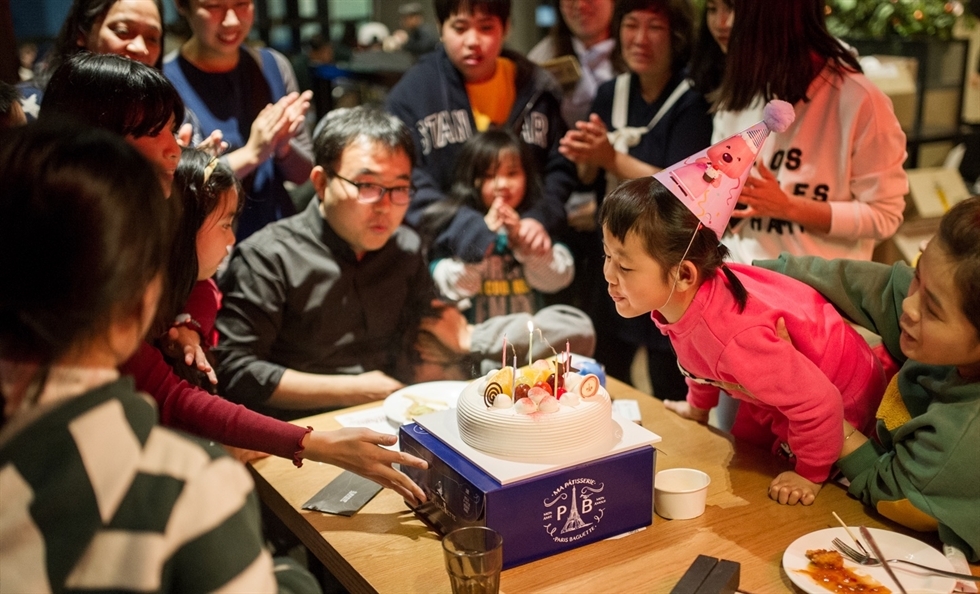 Members of "Framily" hold a birthday party for children in December 2018. Photo Courtesy of Cheong Jong-won
Cheong noted that "Framily" operates without any support from the government, only with donations from supporters, in order to give aid to all migrants, regardless of their legal status.

"Our programs are also open to undocumented migrants and their children. But if we begin to receive government funds, we might not be able to help them anymore," he explained.
In addition to bringing energy into their lives, Cheong and Kim help single foreign parents by providing childcare services. Children who are left alone at home while their parents are at work are invited to attend "weekend school," Saturdays, where they can engage in various recreational activities.
There are over 21,000 single mothers and 7,000 single fathers in South Korea, according to a 2019 government survey. But due to a lack of support, South Korea has seen an average of 127 cases of child abandonment by single parents annually over the past 10 years, according to data from the National Police Agency.

Financial aid for single parents in low-income brackets was expanded from 130,000 won to 200,000 won per month starting 2019.