Spectacular Giant Honeybee Nests Hanging on Cliffs in Cao Bang
Giant honeybee nests resembling humongous trays hanging on rock cliffs are a sight to behold in Cao Bang province. From these nests, ethnic Dao Tien extracts the beeswax, creating a unique method for printing patterns on clothes.
Hoai Khao, a mountainous hamlet in Nguyen Binh district of Cao Bang province, is famous for its folk melody Pao Dung, traditional clothes with sophisticated decorating patterns and majestic landscapes. A part of the Non nuoc Cao Bang Geopark, Hoai Khao is home to ethnic Dao Tien, dominated by the Ly and Chu families.
In spring, giant honeybees (Apis dorsata) come to the caves surrounding the hamlet, creating unique sights and unforgettable experiences for tourists.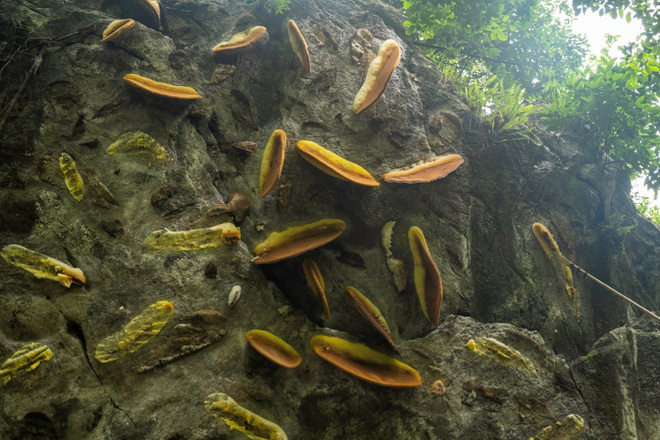 Giant honeybee nests on the rock cliffs in Hoai Khao. Photo: Dan Tri
Phung Van Cau, a lawyer in Cao Bang who has experienced joining local Dao Tien harvesting beeswax in the forest said "Honeybees coming to Hoai Khao to build nests are protected by locals. I have seen nests with a diameter of up to 1.5 meters. People in the hamlet work together to look after the nests. If the honey is taken away from the nests, the bees will also leave."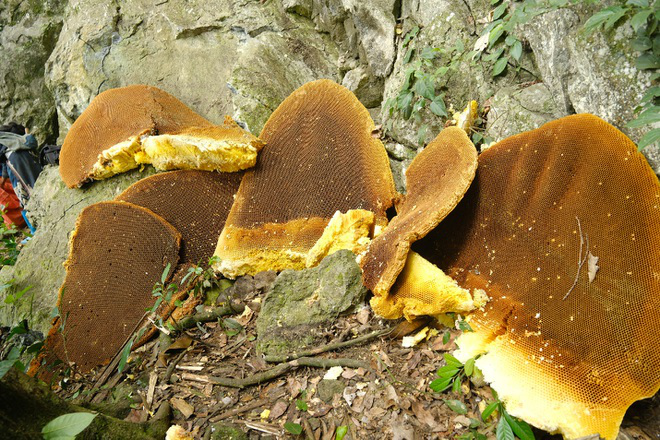 Locals begin to harvest beeswax from giant honeybee nests in early July of the lunar calendar. Photo: Dan Tri
In early July of the lunar calendar, after the giant honeybees have migrated and left behind humongous nests hanging on the cliff, people in Hoai Khao begin to extract beeswax. The hamlet's witch doctor is responsible for choosing the day during which to take down the nests. Before Hoai Khao locals start to enter the forest, the witch doctor will hold a ceremony to honor the forest god and the bee god. The doctor asks for the gods' permission so people can take the beeswax safely and prays that more bees will return to the forest in the next season.
Cau said amongst all the spots in Hoai Khao, honeybees would always come to Trang Venh and Ta Lac for nesting. Photo: Dan Tri
Vu Khac Chung, a photographer from Cao Bang province, was amazed at the size of the giant honeybees' nests. "I have taken a lot of photos about the landscape and people in Cao Bang, but this is the first time I saw so much beeswax and bee nests of that size," Chung said. "I have recorded every activity from taking the nests to cooking the wax. It was such a memorable experience."
"To take the beeswax, locals create stairways from bamboo, which are tied together using rope and forest vines. To take down the bee's nests, they make a long stick from different shorter sticks. On one end of the long stick is a makeshift knife made from a long, flat and slightly sharp piece of wood," Cau said. "Strong, healthy men from the hamlet are often assigned to climb on the cliffs to take down the nests while women and children are responsible for picking up the nests that fall."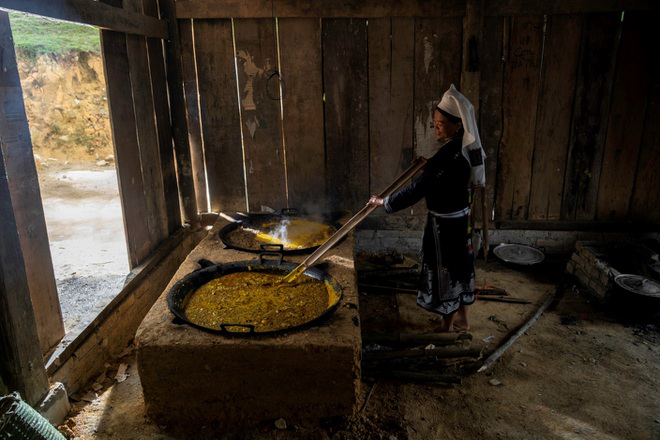 Back in the hamlets, locals will break the nests into smaller pieces and boil them until melted. Photo: Dan Tri
After removing impurities and retaining only the purest parts, locals let the melted nests turn into dense beeswax and divide them into equal parts to give to every household in the hamlet.
The Dao Tien in Hoai Khao has developed a unique method to embroider and print patterns on clothes using beeswax, which every woman in Hoai Khao is well versed in. With beeswax, Dao Tien women can print intricate geometric patterns and flower, plant, bird and other animal designs onto fabric to create the Dao Tien's sophisticated traditional clothes.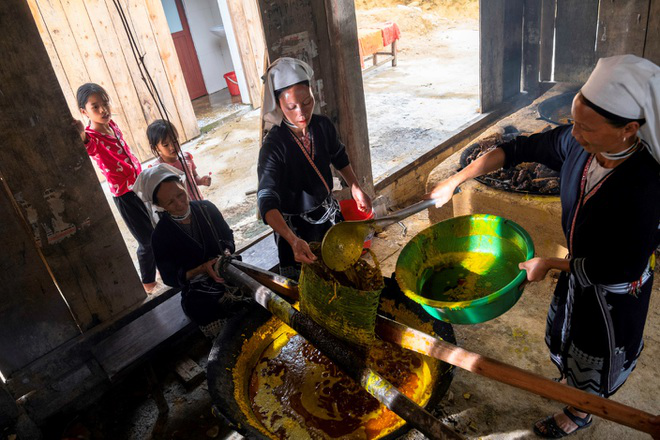 In a fruitful season, each household may receive 1.5 kg of wax for use throughout the year. Photo: Dan Tri
The Dao Tien's unique culture and their continued efforts to preserve traditional values have turned Hoai Khao into a favorite destination for many tourists, generating favorable conditions to develop sustainable and effective community-based tourism.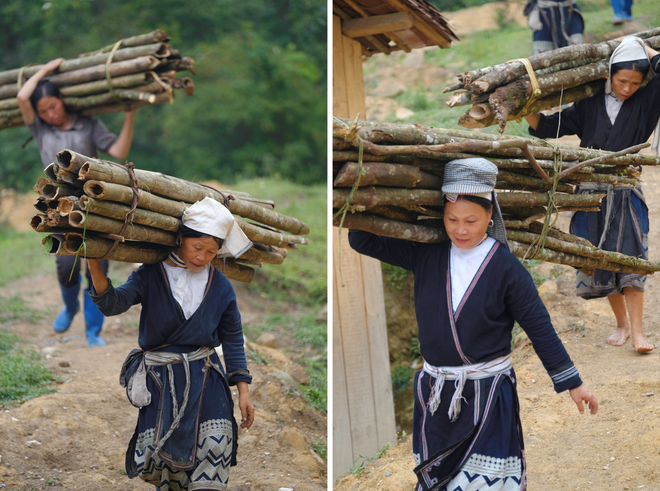 Dao Tien women in traditional clothes on which patterns are printed using beeswax. Photo: Dan Tri
Every season in Hoai Khao brings different, yet all the same, unforgettable experiences to tourists. In summer, tourists can indulge clean, fresh air of a well-protected mountainous area covered in endless green rice fields. When autumn comes, Hoai Khao paints a grandiose picture adorned by the golden color of the rice fields in the harvest season. To have that extra special experience harvesting giant honeybee's nests with locals, there is no better time than the seventh lunar month of the year.