Tedd Nash Pomaski - An American Artist Inspired By Hanoi's Moon
In a collection dedicated to his beloved Hanoi, American artist Tedd Nash Pomaski conducted a visual transcription of the many hidden meanings about the phases of the moon; perfect art for the Lunar New Year.
As the twelveth month in the Moon calendar arrived, Hanoi became rainy, damp and cold. From outside the big glass windowpane in Lane 173 Hoang Hoa Tham street looking in, a man was seen prepping paint brushes, canvas neatly, aligning big, colorful paintings to the white walls. For most of the time while in the white-walled room, the man feels the world dissapear. What's left is just him and his "two souls," talking to each other, in his creating process.
The artist is Tedd Nash Pomaski (American-Vietnamese from Hawaii). His "Moon" collection is a special series of 12 drawing sets dedicated to his beloved Hanoi. Each set consist 8-18 pieces that Tedd made over the period of almost 2 years, from 2021 til now.
This series was once publicly displayed in Hanoi Art Connecting Program last year (Hanoi Art Connecting is a networking program for the international art community in Vietnam. Their exhibitions were held at VCCA until the end of May 2022).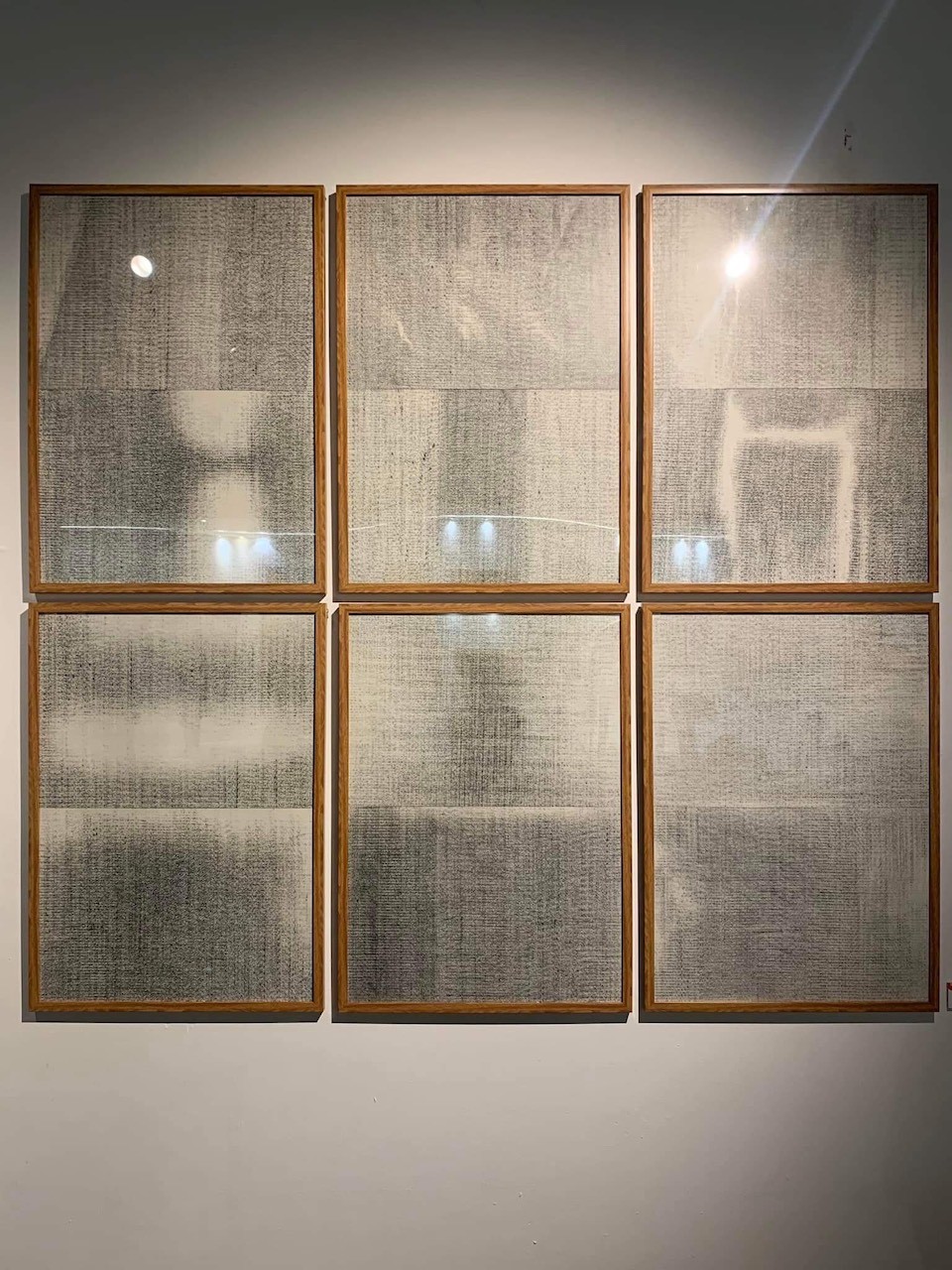 The "Moon" collection displayed in Hanoi Art Connecting Program in 2022 (Photo: Chau & Co Gallery)
Tedd Nash Pomaski (born 1975 in Hawaii) graduated from Rhode Island School of Design, studying architecture, textiles and painting.
Working in a variety of media, and ranging from abstraction to photo-realism, Pomaski's work is, at its core, about the passing of time, and moments of transition between life and death, creation and destruction, volume and void.
Since his first exhibition of paintings, at the age of nineteen, he has exhibited works around the world, including shows, namely New York city, Tokyo and London.
He is now a residence artist at Chau & CO art gallery (Hanoi).
Staying peaceful in times of chaos
Arriving here first time in 2015, he had no intentions of leading a life in Hanoi. "I came to Hanoi to meet my family and travel the country. i had no intentions of living here. within the first 3 hours in the city I knew that would change," said Tedd.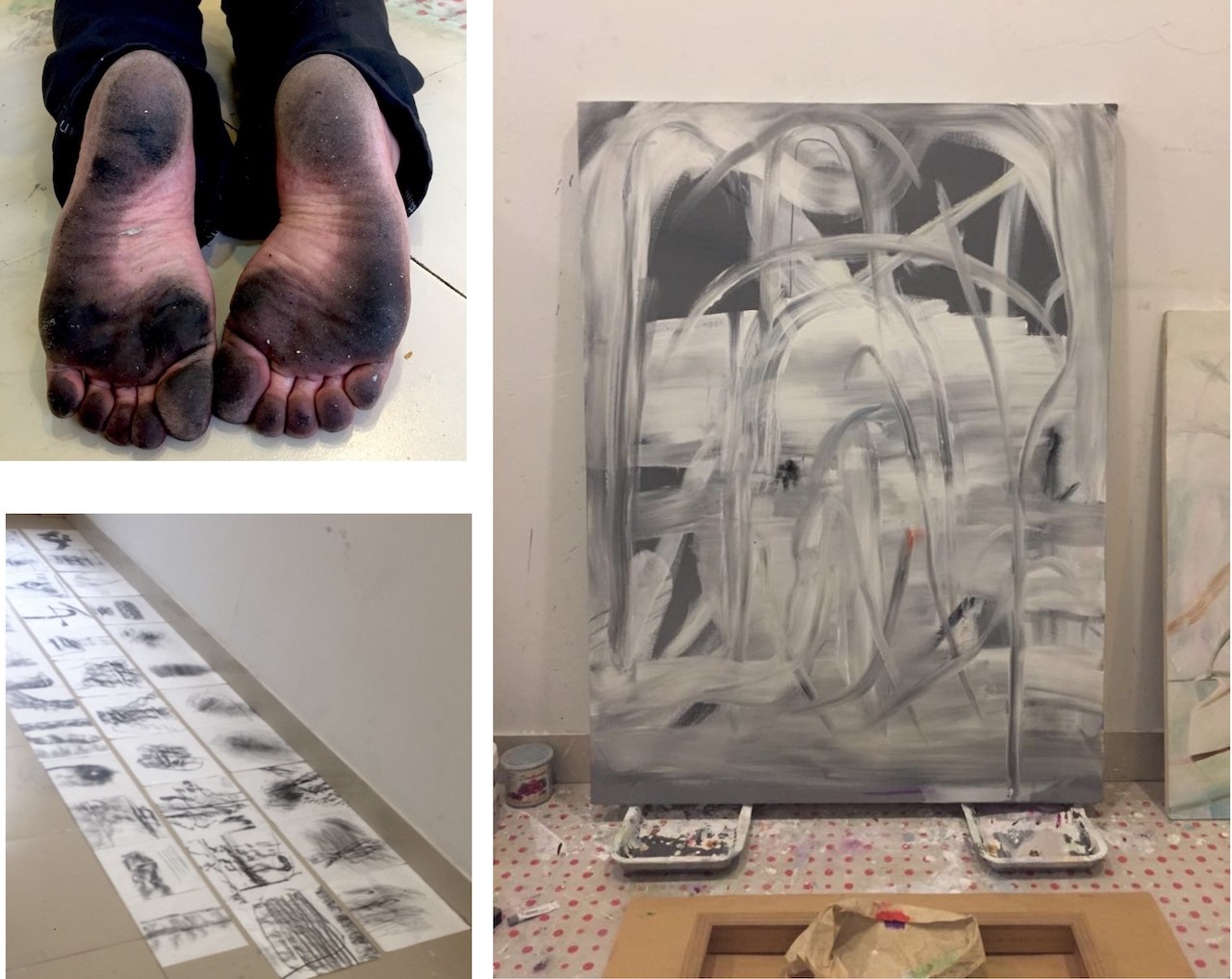 Tedd likes to explores by limitless possibilities by working in a variety of media (Photo courtesy of Tedd Nash Pomaski).
Recollecting his impression of the city, he never once regretted the decision to move from Hawaii to the Southeast Asian land. He believed Hanoi has become an inseperate and necessary part of his body, mind, and soul.
Hanoi transformed his philosophy of doing art, since Tedd used to live in New York and the harried and exhausting life brought no real moment of peace. Hanoi, on the other hand, was a place that he can "interact" with. Here, he found peace event in times of chaos.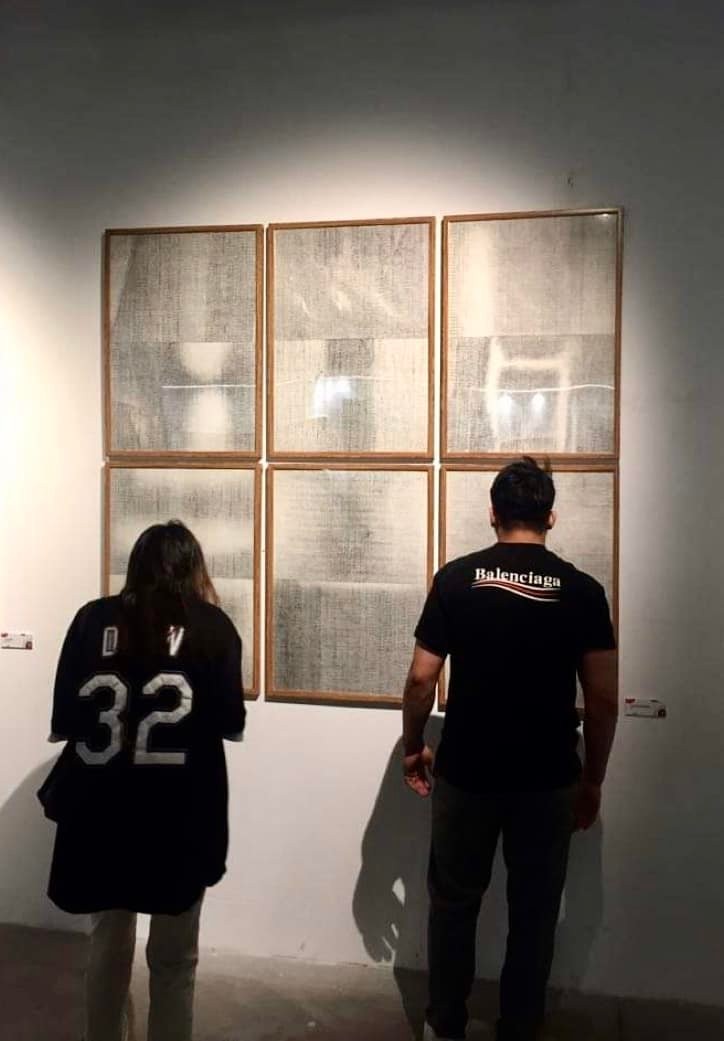 The "Moon" collection displayed in Hanoi Art Connecting Program in 2022 (Photo: Chau & Co Gallery)
"In Hanoi, the pace of life is different from anywhere esle. When i came here there became five modes of looking. Driving, Walking, Standing, Sitting and last, Dreaming. Everyday in Hanoi is better than the day before. It is more rich more complex and more 'reactive'."
What Tedd experienced from years living here, mixed with the strong Hawaiian belief of the human souls can travel between worlds, came his study of the moon phrases.
There is a moon calendar in Hawaii but is not the same as the Vietnam's one. According to Ted, that leds to more things to discover about the relationship between people and their "moon".
"I learned that [in Vietnam] each moon phrases is not only only relate to weather but also social and religious activities. In 2021, every month on the full moon, I would go out to my favorite spots to take records, photos and sketches in different places of Hanoi."
There is another special components that make the patterns stand out.
Tedd used bamboo mats, a common household item in Vietnam for a very important step to make graphite on paper drawings.
"[For most Vietnam people] everything happens on the mat, connect people together on the ground. The mat and the moon connected to me. They are also the core of Vietnamese culture: Nature. In the Old Quarter, I found the mat-maker to make the perfect mat to different paintings of the moon by pushing me against the mat" said Tedd, as he creates pencil strokes on the papers and make the white sheet gridded with black lines.
Understanding Hanoi's moon seasons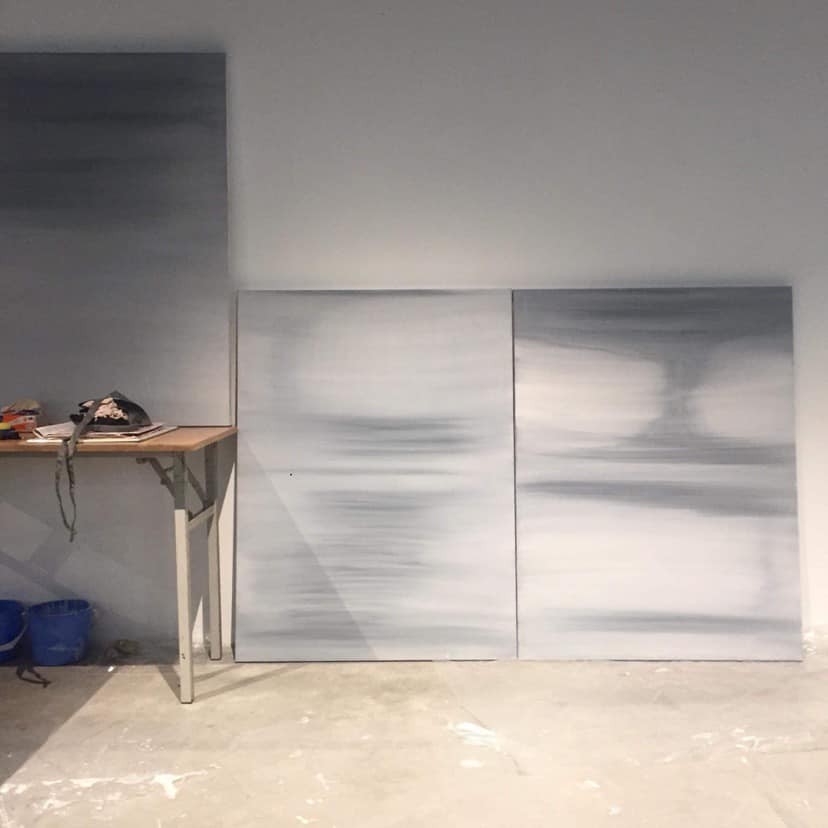 The "Moon" collection displayed in Hanoi Art Connecting Program in 2022 (Photo: Chau & Co Gallery)
The "Moon" collection, is a work which recounts the moment in which the lunar phrases end and another begins, in complete harmony with Nature. The simpliest, most natural thing about the moon orbiting the earth can have many hidden meanings. From Tedd's observations of the moon phrases to the visual presentation in paintings, these meanings are not translated into one definition.
"My art is suggestion rather than description. [It is] a translation from the spirit world to the physical world, thus the Polynesian philosophy of two-souls." said Tedd.
The abstract depiction of lights, shadow, shades all together will not fall into the typical "portraits of Hanoi". They rather combines suggestive patterns to show you that inside chaos and unruled images (by design), there is a distance between what meets the eyes and the true forms of things. Viewers are to filled in that distance by looking within themselves.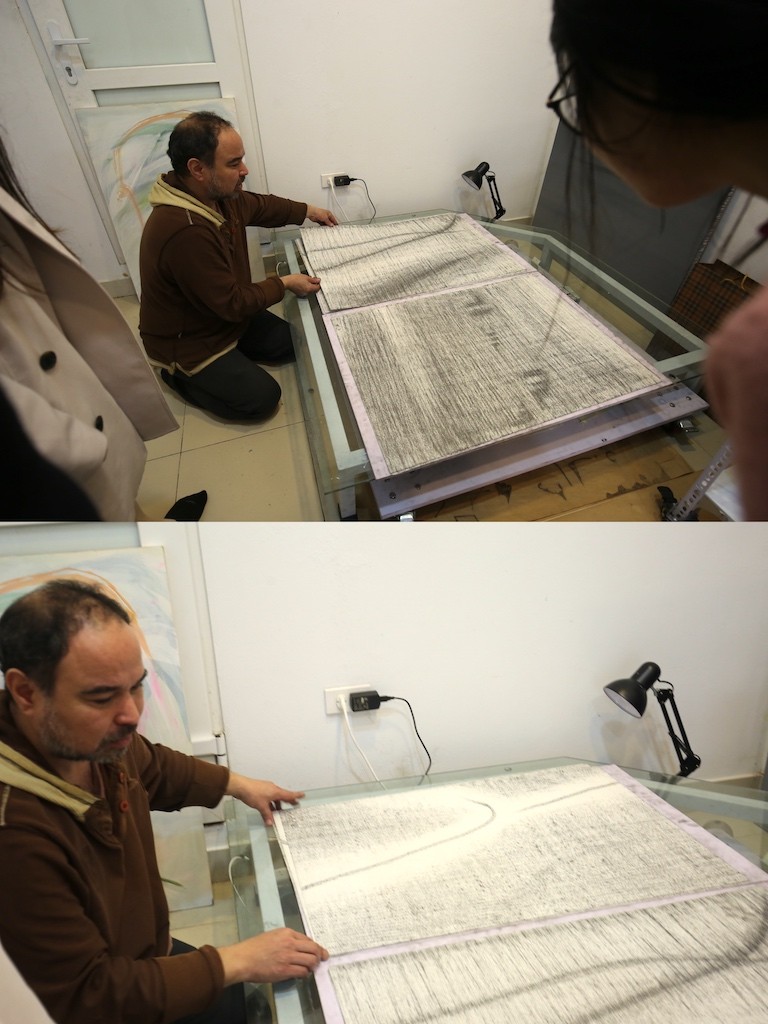 Tedd at his art studio in Hanoi (Photo: Nhung Nguyen)
Tedd's technical distances, on the other hand, are very distinctive. He utilized various documentation media: from video, still-photography, digital manipulation, to drawing. Many artforums and reviewers love his earlier works for these reasons.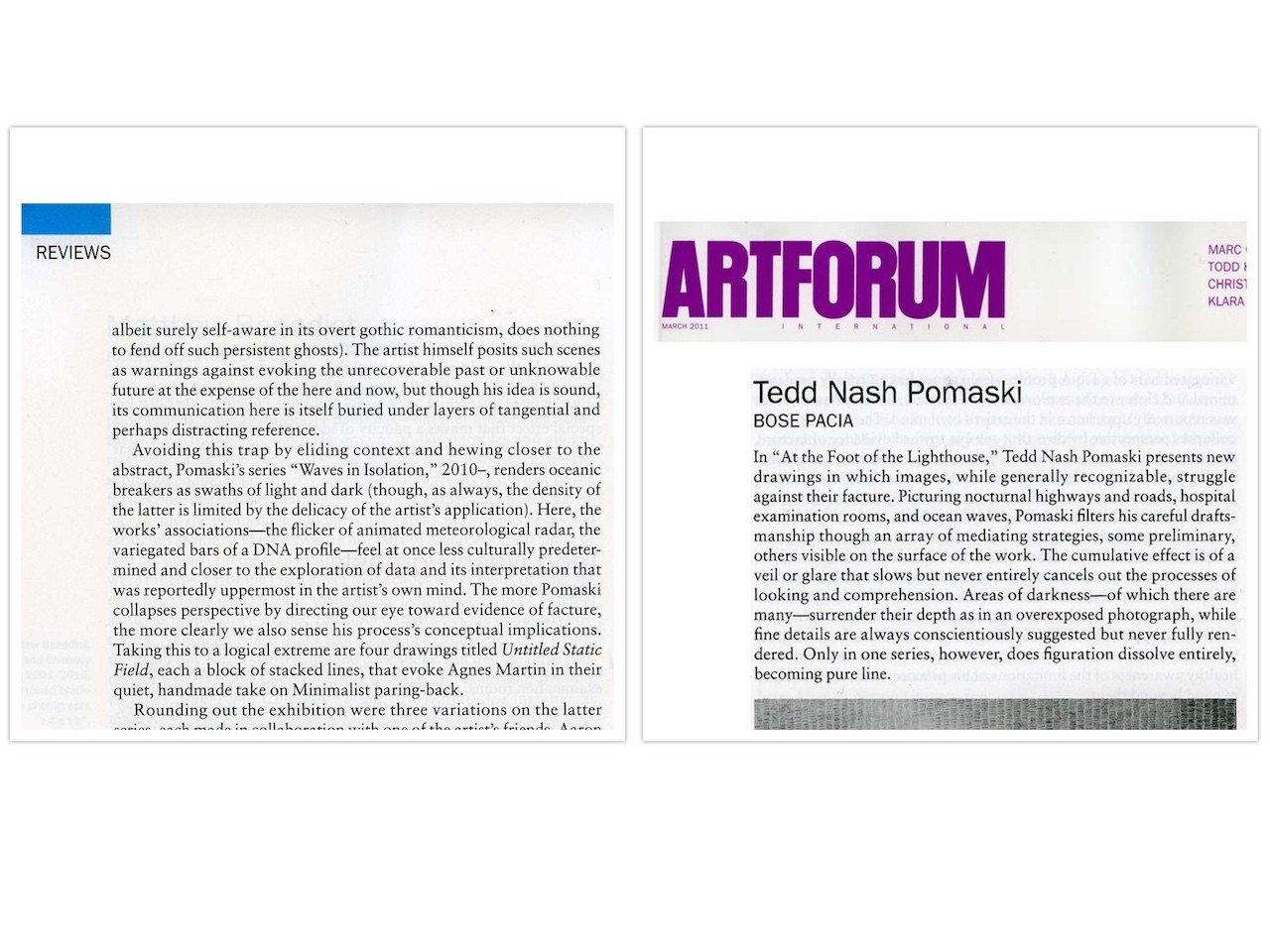 Screenshot of reviews for "At the Foot of the Light House" exhibition in New York, 2011 (Screenshot from Bosepacia.com).
Like the pictures of beautiful clear night with the big shiny orbed ball you saved on your phones, the series is the moon's image captured by Tedd's mind, and even beyond. He underlines the importance of the interaction between the location and the people.
"Mind is only one aspect. To me [creating] is the balance of intellect, emotion and instinct," said Tedd.
"Day" and "Night in the first spring pieces while working on the Moon series (Photo courtesy by Tedd Nash Pomaski).
This would never work with a portrait, only a still capture of the ever-moving life. Tedd believes the "living city" of Hanoi is both his school and playground. It is the school that teaches him one different way to work and the playground another way to enjoy life.
Although he doesn't work exclusively with black and white graphite on paper, Tedd's visionary and skills shine the brightest with the most basic and simple execution.