Three-layer quarantine model in Dong Anh district wins praises and awards
The three-layer quarantine model deployed in Dong Anh is a new approach in the district's effort to contain the Covid-19 pandemic. The initiative ensures both mandated anti-pandemic measures and people's daily life activities.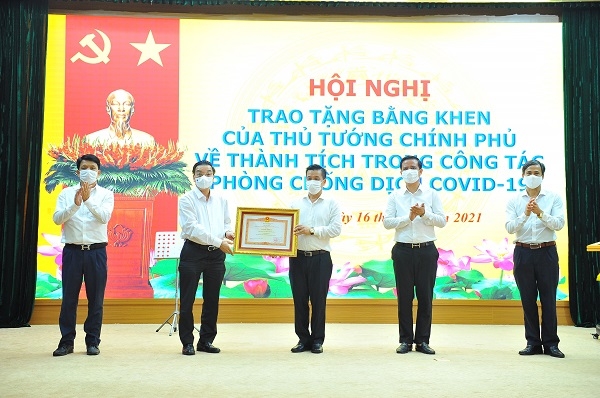 Chu Ngoc Anh, chairman of Hanoi People's Committee awarded the certificate of merits to four leaders with high achievements in the Covid-19 fight in Dong Anh (Photo: VGP )
The head of village and the certificate of merits from Prime Minister
As one of the four individuals receiving certificate of merits from the Prime Minister, Nguyen Huu Phan, Party cell secretary, head of Lo Giao village (Viet Hung commune, Dong Anh district, Hanoi) takes pride in receiving what he calls a precious reward. He credited the successful containment with the concerted efforts of all residents.
"I was under quarantine so I couldn't receive the award in person, but it is a great source of encouragement for me and other residents in the Covid-19 fight," Phan told Thoi Dai.
He said authorities of Viet Hung commune immediately activated the 7 safe residential clusters and developed the "three layers" plan when one new infection was detected in Lo Giao village. Detailed tasks were simultaneously assigned to each individual at checking points.
"People were kind of panicking as new cases emerged. Therefore, we played the message of reassurance on local loudspeakers. We also called for everyone to strictly follow the 5K rules and stay at home as much as possible," he added.
A team of volunteers was formed to deliver foods and other necessities to households yet to stock foods due to the sudden social distancing order. The communal subcommittee for Covid-19 prevention and control members also knocked on every door to make sure all families had acknowledged the importance of anti-pandemic measures.
Locals were encouraged to use social platforms, including Facebook, Zalo, for Covid-19 latest updates from authorities, as well as prompt informing of any suspected coronavirus symptoms they experience. Calling himself a "low-tech person", the 50-year-old Party cell secretary recalled how he had learned to use Facebook and Zalo on his smartphone.
The three-layer quarantine model in Covid-19 prevention
Dong Anh district has four places currently under social distancing order. Vietnam Hung commune is among the localities applying the three layers initiative with 51 checking points and 130 volunteers.
The three-layer quarantine model regulates that the first layers must tighten the quarantine of all F1's families, F2 and those having been to epicenters. The second layer is in charge of controlling the activities in the neighborhood of suspected coronavirus patients. The outermost layer must handle those going in and out of the commune. Along with the three-layer model, Dong Anh district also implements the "three-pre" program, which are "pre-evaluation", "preparation" and "pre-action".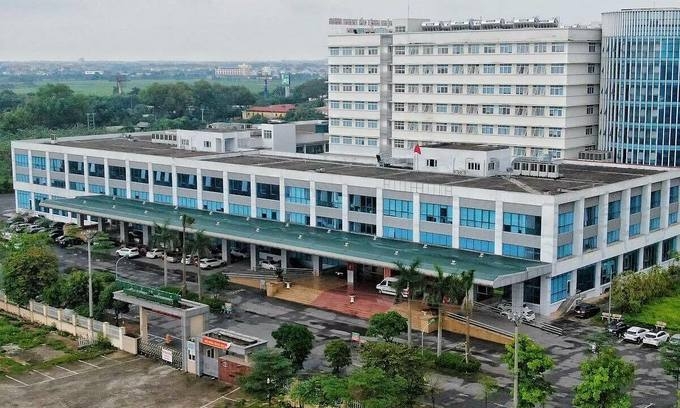 The National Hospital for Tropical Diseases in Dong Anh district, Hanoi (Photo: VNE)
According to Nguyen Duc Binh, vice chairman of Viet Hung Communal People's Committee, the first layer is very important as it lockdowns all individuals related to the development of the pandemic and must be strictly implemented.
The second layer manages medical control in the neighborhoods of all F1 and F2 cases. All anti-pandemic groups at villages and hamlets must have a sense of responsibility, strengthen contract-tracing efforts and promote communications among residents.
The third layer controls the commuting activities and goods transport. All people going in and out of the province must make medical declarations and have their body temperature checked.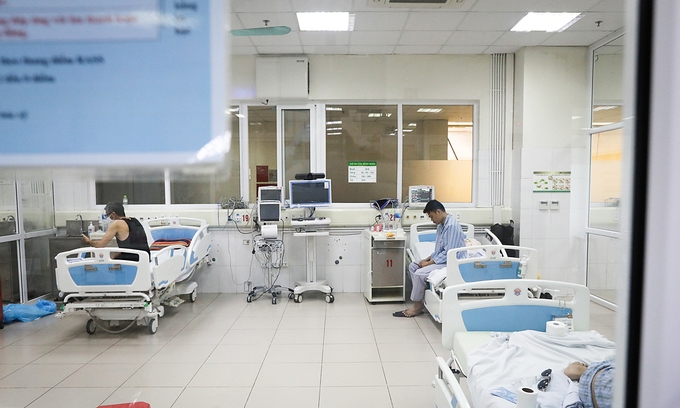 Covid-19 patients treated at the National Hospital for Tropical Diseases in Dong Anh, Hanoi, March 2020. (Photo: VNE)
The three-layer quarantine model will help tightly and effectively control the risk of possible infection sources while maintaining production and business activities in the outer areas.
Nguyen Duc Binh, vice chairman of Viet Hung People's Committee said 7 groups had been formed to ensure safety during the 15th National Assembly and People's Councils election on May 23. Each group includes 13 members who will instruct constituencies on anti-pandemic compliance during election time.
Extra ballot boxes will be sent to areas under social distancing or self-isolation.
According to Decision No. 714/QD-TTg (May 16, 2021), the Prime Minister decided to award certificates of merit to three collectives and four individuals in Dong Anh district (Hanoi) with achievements in the Covid-19 prevention and control work.
The three collectives include:
1. Residents and officials of Dong Anh district
2. Dong Anh district Medical center
3. Residents and officials of Lo Giao village, Viet Hung commune, Dong Anh district
The four individuals include:
1. Le Trung Kien, chairman of Dong Anh district People's Councils, Hanoi
2. Nguyen Xuan Linh, chairman of Dong Anh district People's Committee
3. Nguyen Tien Cuong, director of Dong Anh district Medical center
4. Nguyen Huu Phan, Party cell secretary, head of of Lo Giao village, Viet Hung commune, Dong Anh district, Hanoi city