Tourists Spots Highlighting the Vietnam-Thailand Special Relationship
Many places in Vietnam and Thailand show the close relationship between the two nations
President Ho Chi Minh memorial site in Udon Thani
President Ho Chi Minh memorial site in Udon Thani
In 2002, the government of Udon Thani province and the overseas Vietnamese association agreed to build a memorial site for President Ho Chi Minh at Noong On village, Chiang Phin commune, Thailand, now Udon Thani city, Northeast Thailand, as it was a place where the great leader lived.
The memorial site is ​​​​nearly 10,000 square meters and divided into two parts. The first area has Uncle Ho's restored residence with the main house and three thatched-roofed houses, the middle area for meetings and learning, Ho's office and living room; and a resting place.
The rest of the complex is a 2-storey multi-purpose house with a large yard. The exhibition booths introduce the site, images of Ho's life and activities, as well as the revolutionary struggle (including Vietnamese people in Thailand) under the leadership of the Party and Ho Chi Minh president.
The memorial area is a famous tourist attractions and attracts many about 23,000 thousand visitors each year.
Ban Dong Ho Chi Minh Museum in Phichit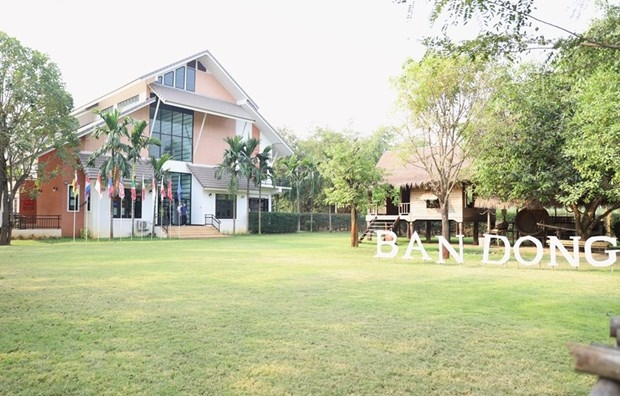 Ban Dong Ho Chi Minh Museum in Pamakab commune, Phichit province
The Ban Dong Ho Chi Minh Museum in Pamakab commune, Phichit province, is about 350 kilometers north of Bangkok. It is the third historical site of President Ho Chi Minh in Thailand, after the ones in Udon Thani and Nakhon Phanom.
Building started in December 2013, and it was inaugurated in 2018. Ban Dong Ho Chi Minh Museum, along with President Ho Chi Minh's relic site, is found on the campus of the Thailand - Vietnam Friendship Center is about 6,400 square meters. The museum consists of two floors displaying artifacts demonstrating the relationship of solidarity between Vietnam and Thailand.
Thai-Vietnamese friendship village in Nakhon Phanom province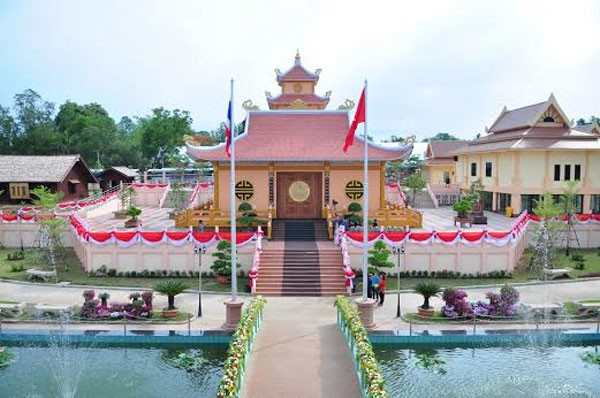 Thai-Vietnamese friendship village in May village, Nakhon Phanom province
Among cultural heritage related to President Ho Chi Minh in Thailand, May village in Muong district, Nakhon Phanom shows the activities of the Vietnam Revolutionary Youth League, the Friendship Association, and revolutionary organizations that preceded President Ho Chi Minh
May village is a Thai village of Vietnamese origin that was established more than 100 years ago. The people of May village live by farming (growing wet rice), gardening, growing vegetables, and trading throughout the Northeast. The language used for daily communication is both Vietnamese and Thai.
Vietnamese Memorial Clock Tower in Nakhon Phanom province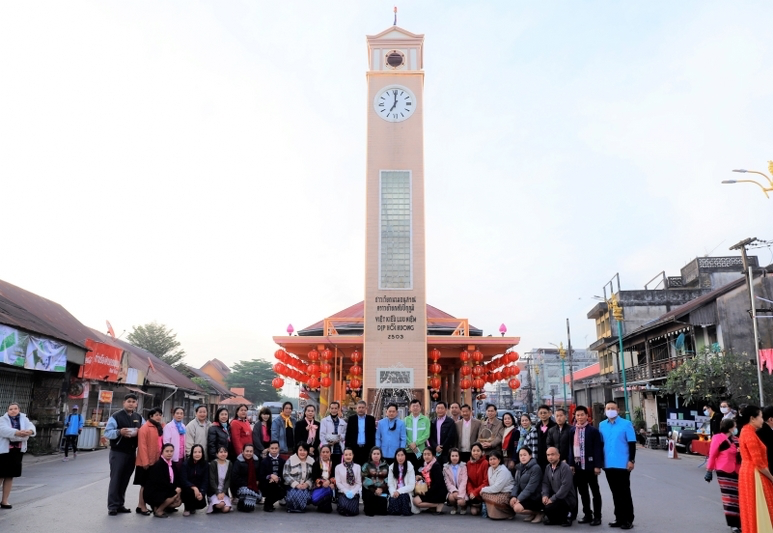 Overseas Vietnamese people attend the 60th anniversary celebration (1960-2020) of thr Vietnamese Memorial Clock Tower
In 1960, in response to Uncle Ho's letter calling for expatriates in Thailand to return home to build the country, the Vietnamese in Thailand and Nakhon Phanom eagerly registered to return. Before returning, the Vietnamese people donated money to build a Vietnamese Memorial Clock Tower in the center of Nakhon Phanom province, next to the Mekong River, to show gratitude to the country and people of Thailand for helping them in difficult times.
The 50 meter high clock tower was built on a beautiful road by the banks of the Mekong River. Above the four sides of the tower are mounted clocks, and the roof is designed in the style of traditional Vietnamese architecture. Behind the tower is a small house, where vestiges and pictures of Vietnamese people are kept. The center of the tower is inscribed with the words "Tower of overseas Vietnamese to commemorate the occasion of repatriation" in Thai and Vietnamese.
In Vietnam
Buu Long pagoda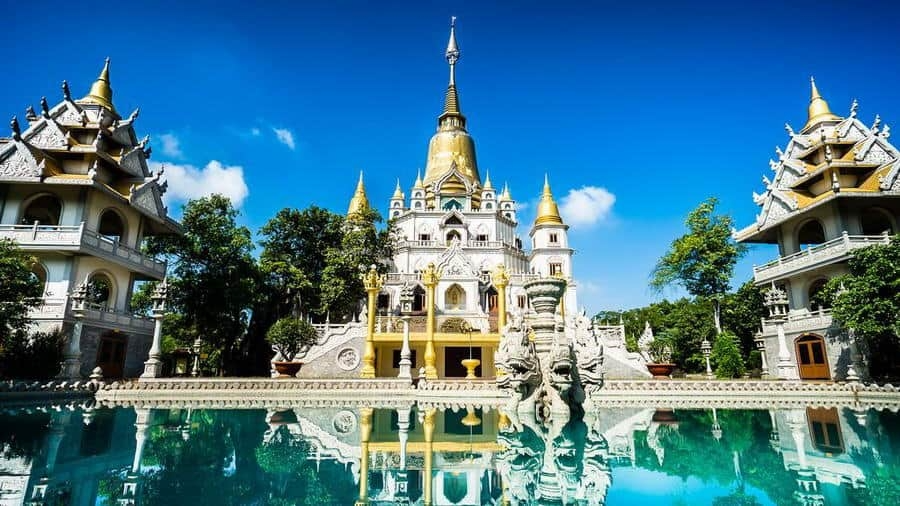 Buu Long Pagoda, located at 81 Nguyen Xien (Long Binh ward, Thu Duc city, Ho Chi Minh city)
Buu Long Pagoda is in Long Binh ward, Thu Duc city, Ho Chi Minh city. The temple was established in 1942, and in 2007 this Thai-style temple was restored It is a typical architectural work showing the harmonious combination of Thai and Indian cultures and essence of Nguyen Dynasty architecture. Tourists often call this the "Thai temple" in Vietnam.
"Thai Golden Temple" in Hung Yen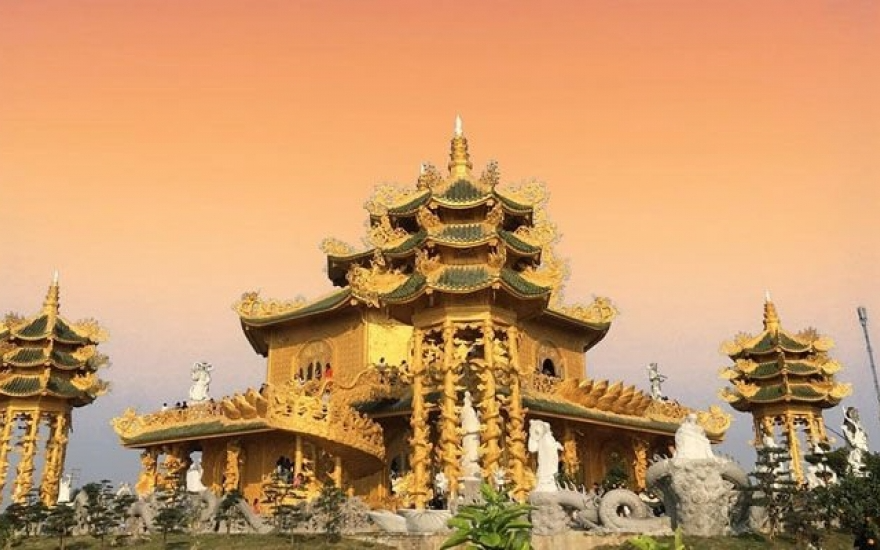 Phuc Lam Pagoda is located in La Mat village, An Thi district, Hung Yen province
The Phuc Lam Pagoda is in in La Mat village, An Thi district, Hung Yen province. With a golden appearance, and unique Thai architecture combined with golden lotus and golden dragon symbols, the pagoda is a much-loved is currently a spiritual destination for tourists..
The pagoda is set on a campus of about 4 hectares planted with many trees. With four towers and many large Buddha statues, the temple exudes a sacred, mysterious. At sunset, visitors can watch the temple glow.
Thien Lam Pagoda, golden pagoda in the ancient capital of Hue
Thien Lam Pagoda is located on Quang Te hill (Thuong 2 village, Thuy Xuan commune, Hue city).
Thien Lam Pagoda with its bold Thai architecture has long been a cultural and spiritual destination for tourists in Hue.
At Thien Lam Pagoda, you can admire the many beautiful statues. It houses a 1.6 meter tall statue of the Shakyamuni Buddha meditating on a treasure.