Two Cups of Tea Improves Blood Pressure and Lowers Cholesterol
USA - New research shows that flavan-3-ols found in tea can help reduce high blood pressure, cholesterol and high blood glucose.
Flavan-3-ols is a plant compound found in many foods and beverages, such as tea, berries, raisins, apples, and dark chocolate. For decades, studies have consistently demonstrated flavan-3-ols benefits in reducing risk of lifestyle-related diseases including heart disease, stroke, and type 2 diabetes… by improving blood pressure, cholesterol and blood glucose levels. Furthermore, flavan-3-ols has been proved to help protect human body cells from aging damage.
According to a research published in November by Advances in Nutrition journals, the consumption of 400-600mg of flavan-3-ols per day provides the above health benefits. Such amount of flavan-3-ols per day is equivalent to two cups of tea.
Dr. Kristi Crowe-White, the research leader, said: "Flavan-3-ol-rich foods, such as tea, are easily accessible, affordable and really have positive impact on people's cardiometabolic health "
Conducted by the collaboration between the The Institute for the Advancement of Food and Nutrition Sciences and the Academy of Nutrition and Dietetics, the study recommended the specific flavan-3-ols amount for daily consumption. It analyzed 157 existing trials and 15 studies on flavan-3-ols effects on human body.
As found by the study, among all evaluated foods and beverages, tea has the highest concentration of flavan-3-ols.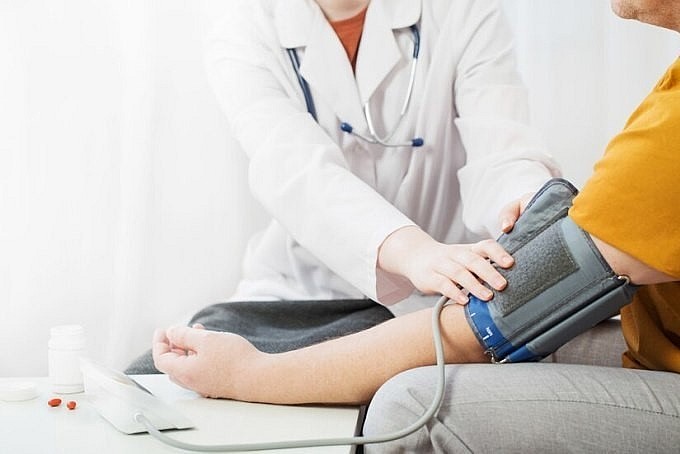 Illustration - Drinking two cups of tea a day can help reduce high blood pressure and blood lipids. Photo: Freepik
In April, the The Sixth International Scientific Symposium on Tea & Human Health also indicated that drinking tea can properly support cognitive function.
Herbal teas such as chamomile, mint… contain a natural compound called flavonoids - an antioxidant and L-theanine - an amino acid beneficial to cognition. Studies by Professor Louise Dye, University of Leeds, showed that high L-theanine and lower caffeine amount in tea are useful for concentration ability and attention enhancement.
Vietnamese Herbal Tea
To join in the celebration of International Children's Day on June 1st , Mr. David Riddle, CEO of Tan Hiep Phat Group and staff members have visited households of children orphaned by COVID-19 pandemic in Ho Chi Minh City to offer encouragement and presents.
June 01, 2023 | 15:04
Vietnamese Herbal Tea
T.T.H., a baker in Ninh Thuan, is expanding her bakery and developing her business after receiving VND 100 million from Number 1 Energy Drink. Also winning the prize, T.V.T in Kim Son (Ninh Binh) now has more money to pay for his children's education and his medical treatment.
May 25, 2023 | 09:56
Vietnamese Herbal Tea
In the hot summer, herbal teas that help cool down the body heat are loved by many people.
May 25, 2023 | 09:54
Vietnamese Herbal Tea
Night shift and occupations have become an indispensable part of the constant development of modern society. Many people are willing to work night shift because of the quietness and high income, but also struggle to find solutions to keep their energy and spirit awake.
May 25, 2023 | 09:18