Vietnam Covid-19 Updates (July 9): 1,423 New Cases, More Provinces Apply Social Distancing
Vietnam has recorded community infections in 57 of its 63 cities and provinces in the ongoing wave of Covid-19, which started on April 27.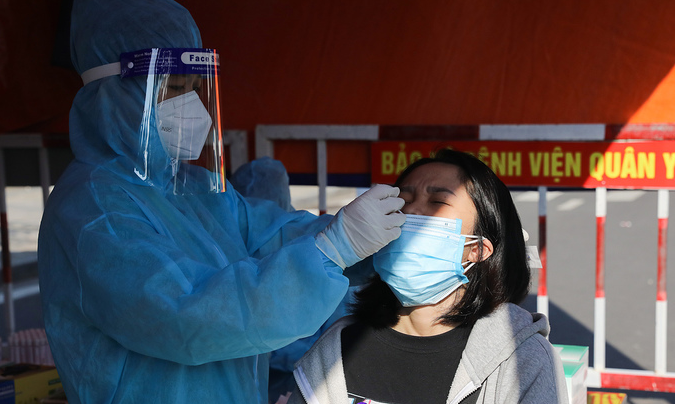 Photo: VN Express
1,423 new cases over the last 24 hours
Vietnam documented 355 new Covid-19 cases from 6 am to 12 pm on July 8, including 347 cases detected in quarantine facilities or sealed-off areas. Among the new infections, 200 were found in Ho Chi Minh City – the country's current largest outbreak, 91 in Dong Thap, 13 in Phu Yen, 11 in An Giang, 10 in Quang Ngai, seven in Ca Mau, four in Bac Ninh, three each in Khanh Hoa, Lam Dong, Gia Lai and Bac Giang, two each in Bac Lieu and Tra Vinh, and one each in Nghe An, Binh Dinh and Hanoi.
An additional 645 cases of Covid-19 were detected from 12 pm to 6 pm on July 8, raising the total number of cases logged on July 8 to 1,314, including 7 imported cases and 1,307 domestic infections. It is noteworthy that 1,226 cases were detected in quarantine facilities or areas under lockdown.
The local Covid-19 tally of Vietnam's ongoing wave was raised by 423 Friday morning, with Ho Chi Minh City recording the most. The southern metropolis registered 350 new patients. Of them, 307 were detected in isolated areas and quarantined zones, and 43 are being contact traced.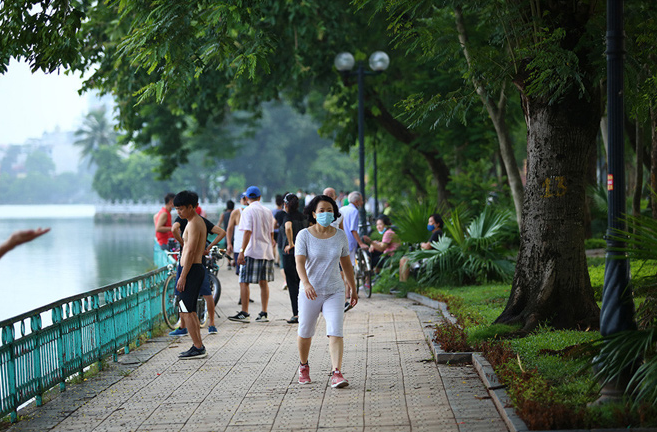 Photo: 24h
Hanoi suspends outdoor sports activities, physical exercise
Hanoi authorities have decided to suspend outdoor sports activities and physical exercise starting 6 pm on July 8 until further notice due to the complex developments of the Covid-19 pandemic.
The decision was signed by Vice Chairman of the Hanoi People's Committee Chu Xuan Dung to tighten preventive measures against the Covid-19 after the city saw a new spike in Covid-19 cases.
Leaders of local departments, agencies, and district-level People's Committees are tasked to request Hanoians to go out only for essential purposes, and rigorously observe the 5K message – Khau trang (Face masks), Khu khuan (Disinfection), Khoang cach (Distancing), Khong tu tap (No gatherings), and Khai bao y te (Health declarations) – and preventive rules set by the Government and city.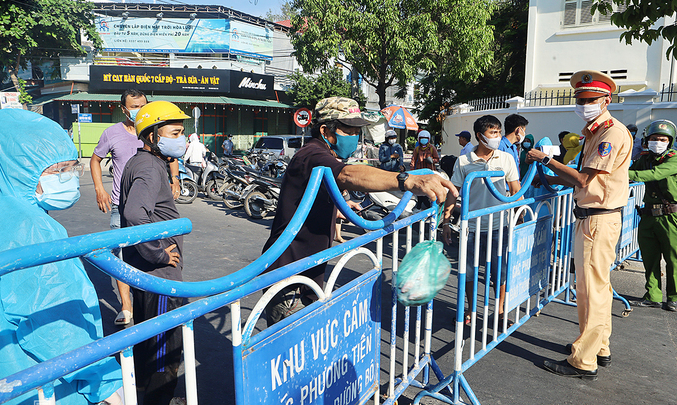 Photo: VN Express
More provinces impose social distancing
Dong Nai and Khanh Hoa will begin a stringent social distancing campaign Friday, the former throughout the province and the latter in certain areas including Nha Trang Town.
The social distancing period is imposed under Directive 16, which lays out the strictest conditions for such campaigns. Residents are required to stay home and only go out for basic necessities such as buying food or medicines or to work at factories or businesses that are allowed to open. People must stay at least two meters apart from each other, and no more than two people can gather at public places apart from workplaces, schools, or hospitals. The majority of public transportation will be shut down and there will be no travel to other localities.
The decision was taken by the provincial People's Committees following rising numbers of coronavirus infections.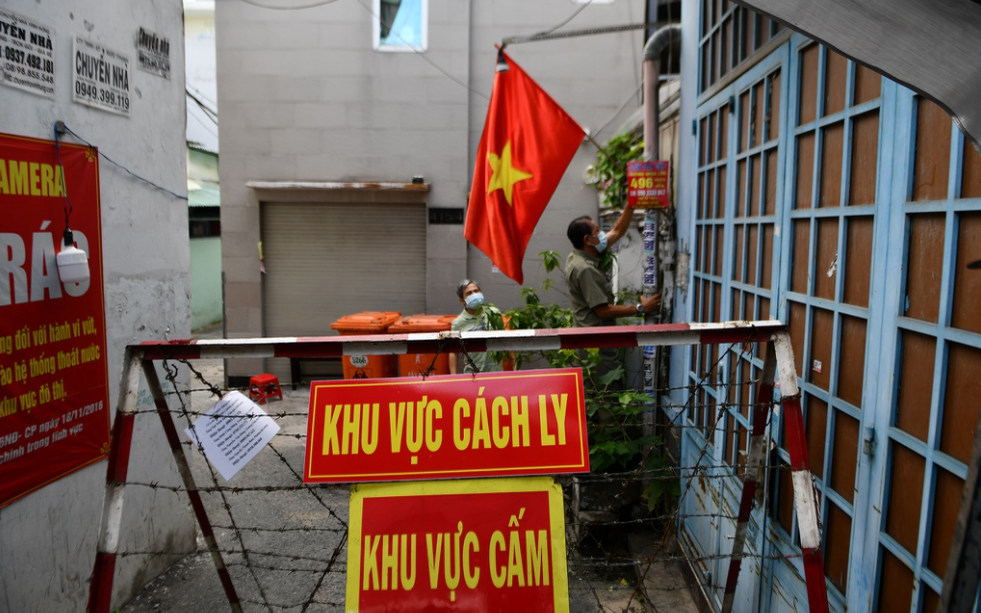 Photo: Zing News
Ho Chi Minh City-Phu Quoc flights suspended on Covid fears
The Ministry of Transport has suspended all flights between Ho Chi Minh City and popular tourist destination Phu Quoc Island from Thursday amid the continuing Covid-19 crisis in the city. They will only resume when the pandemic is brought under control.
Authorities in the Mekong Delta province of Kien Giang, home to Phu Quoc, had sought the suspension two days earlier saying the island has limited Covid testing capability and medical facilities and equipment for quarantine, and it could be very dangerous if the infection reaches its shores.
Provincial authorities are seeking to prioritize vaccination for the 100,000 residents of Phu Quoc as the island has got the green light from Politburo to trial vaccine passports. Earlier the ministry suspended flights between HCMC and Hai Phong and Quang Ninh in northern Vietnam, and Thua Thien-Hue, Quang Nam, Quang Binh, and Gia Lai provinces in the central region.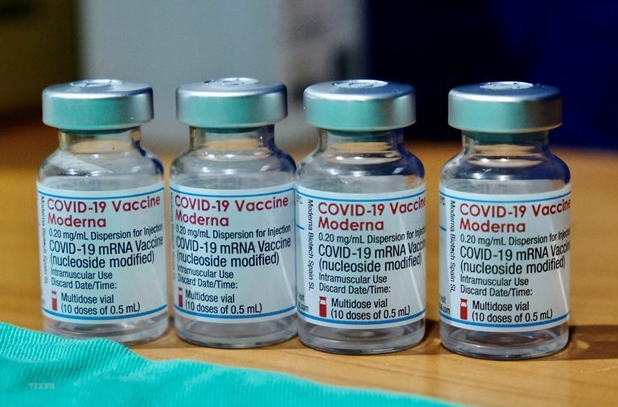 Photo: Vietnam Plus
Vietnam calls for sharing of information on Covid-19 vaccines
Foreign Ministry spokesperson Le Thi Thu Hang said amid the increasingly complicated Covid-19 situation, Vietnam hopes countries and international organizations to increase the sharing of information, technology, finance, and medical supplies, especially vaccines, to jointly prevent and control the pandemic and soon bring life back to normal.
Hang said that to date, Vietnam has received four types of vaccines, including nearly 4.4 million doses of AstraZeneca from the COVAX program and through purchase, along with 1.4 million doses of the vaccine donated by the Government of Japan; 2,000 doses of Sputnik V donated by the Russian Government; 500,000 doses of Vero-Cell by Sinopharm donated by the Chinese Government. On July 7, the first batch of close to 100,000 doses of the Pfizer vaccine arrived in Vietnam, she added.
According to the spokesperson, the COVAX program has also committed to giving priority to Vietnam in its upcoming vaccine allocations. It will deliver to Vietnam 2 million doses of the Moderna vaccine provided by the US Government through the mechanism, which is expected to arrive in Vietnam this week.
Vietnam has recorded community infections in 57 of its 63 cities and provinces so far in its ongoing wave of Covid-19, which started on April 27 and has been the nation's most challenging one by far.
Vietnam has recorded nearly 21,340 positive cases following the resurgence of the virus on April 27. Overall it has logged a total of 24,810 cases since the virus attacked the country in January 2020.
As many as 8,950 patients have recovered from the disease, and 105 patients have died of COVID-19 and other underlying illnesses.
The country has vaccinated more than 3.98 million people against the new coronavirus, and 249,532 have got two doses.